Check out more highlights from SABR Oral History Collection
What did it feel like to be at Yankee Stadium during Don Larsen's World Series no-hitter? How nervous was the youngest pitcher in major-league history when he took the mound to face the powerful Stan Musial at 15 years old? What was going through Larry Doby's mind when he took the field in 1947 and integrated the American League?
You can hear the answers to these questions and more from Jerry Coleman, Joe Nuxhall, Doby, and many other players in their own voices — thanks to the new SABR Oral History Collection website which launched this week at oralhistory.sabr.org.
The SABR Oral History Collection includes more than 500 audio files of interviews conducted with ballplayers (Major Leagues, Minor Leagues, Negro Leagues, AAGPBL), executives, scouts, authors, writers, broadcasters, and other figures of historical baseball significance. These interviews, some of which date back more than 50 years, were conducted by members of SABR's Oral History Research Committee; many of these recordings were digitized through a collaboration with the National Baseball Hall of Fame Library.
Here are some highlights from the collection:
In an interview with Larry Doby, recorded by SABR member Tom Harris in 1994, the Hall of Fame outfielder explained how Cleveland Indians owner Bill Veeck recruited him to play in the American League and the historic nature of his assignment, just three months after Jackie Robinson made his debut in the National League with the Brooklyn Dodgers:
"[Veeck said,] 'Well, we're doing something that hasn't been done before. You're the first in the American League. A lot of burden is on your shoulders. You've certainly got to able to perform. I'm not trying to frighten you but give you some ideas as to what you're up against.' It never phased me because I had been involved in athletics all my life and I've been fortunate to be blessed by God to have the ability to perform and perform well. So, as far as that was concerned, all I wanted to do was to get out there and play. I wasn't too concerned about what the situation was as far as the people were concerned, for how they feel. I'm not in baseball to try to make friends. I'm in baseball to perform and to be judged as a human being that's a major league baseball player."
Click here to listen to the full SABR Oral History interview with Larry Doby.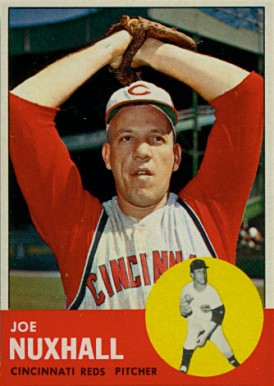 A few years earlier, as the demands of World War II decimated the rosters of major-league teams, the Cincinnati Reds signed a 15-year-old high school sophomore off the sandlots and threw him into the fire against a St. Louis Cardinals dynasty that was in the middle of a run of three consecutive NL pennants. In our interview with Joe Nuxhall, by Walter Langford in 1985, he talks about becoming the youngest pitcher in big-league history on June 10, 1944:
"One Saturday afternoon, we were playing the Cardinals … I think it was a 13-0 ballgame, so Mr. [Bill] McKechnie thought it would be a good time to see what the young kid could do. So he sent me down to warm up. Needless to say, when he told me to warm up, I just went haywire and was scared to death, nervous, and all that kind of stuff. You know, you look at it, a couple of weeks prior to that I was pitching against 12-, 13-, and 14-year-olds over here at Wilson Junior High and now all of a sudden I'm going to walk out there to face the likes of Stan Musial, Walker Cooper, and people like that. … The big thing of that one first appearance is the fact that I got the first batter out, and walked the second batter, got the third batter out, and had two strikes and no balls on the fourth batter. Then things fell apart for me. I always like to say it took eight years to get the third out of that inning."
Click here to listen to the full SABR Oral History interview with Joe Nuxhall.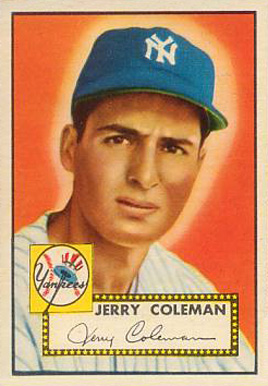 New York Yankees infielder Jerry Coleman was a witness to one of the greatest pitching performances of all time: Don Larsen's perfect game in Game Five of the 1956 World Series. In our interview with Jerry Coleman, by Walter Langford in 1988, the future Frick Award-winning broadcaster described what it was like to be at Yankee Stadium on that historic day:
"It kind of sneaked up on you. It was about the seventh inning before it really dawned on us. I would have loved to have played in that game. I did play in a perfect game in the minor leagues, but never in the big leagues. Of course, this was a classic of all times. … As we got down to the ninth inning, everybody on the bench became a manager. [Some of the guys] were running up and down the dugout trying to position people. Stengel yelled, 'Shut up! Goddamn it, I'm the manager on this club!' Everybody just sat down and watched after that. We were giving Casey a lot of help. … And of course, when it came down to that last pitch, you knew it was going to be called a strike, no matter what. It could have been in the middle of the dirt and it would have been a strike. [Dale] Mitchell went to his grave saying it was a high forkball."
Click here to listen to the full SABR Oral History interview with Jerry Coleman.
Check out more highlights from the SABR Oral History Collection at oralhistory.sabr.org.
Related links:
---
Originally published: April 4, 2018. Last Updated: April 4, 2018.
https://sabr.org/wp-content/uploads/2020/03/research-collection4_350x300.jpg
300
350
admin
/wp-content/uploads/2020/02/sabr_logo.png
admin
2018-04-04 09:00:00
2018-04-04 09:00:00
Check out more highlights from SABR Oral History Collection