SABR Interviews With Heroes of Octobers Past
As Major League Baseball gears up for the postseason, we took a whirl through the SABR archives for interviews with heroes of Octobers past conducted by members of our Oral History Research Committee.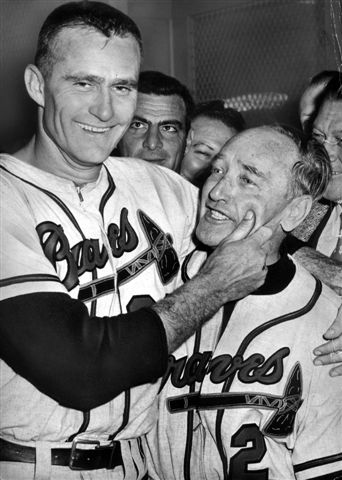 Over the last quarter-century, the SABR Oral History Committee has compiled hundreds of interviews of former players in the majors, minors, Negro Leagues and All-American Girls Professional Baseball League, along with executives, scouts, authors and writers, broadcasters and fans.
Find more SABR Oral History interviews at sabr.org/oralhistory.
Here are some excerpts from our collection:
Lew Burdette
Lew Burdette became the 10th pitcher to win three games in a single World Series in 1957. The Milwaukee Braves right-hander held the Yankees to seven hits in a 4-2 victory in Game 2, then hurled shutouts in Games 5 and 7 — the latter on two days' rest — to clinch the franchise's first championship in 43 years. Burdette finished with an 0.67 ERA in 27 innings and was named the World Series MVP.
🔈 In this audio clip from April 24, 1991, Burdette talks about the infamous "shoe polish" hit-by-pitch incident with Nippy Jones in Game 4 and beating Whitey Ford with a 1-0 shutout in Game 5. (Interview by Dan Austin.)
Hank Bauer
Hank Bauer won nine American League pennants and seven World Series with the New York Yankees and hit four home runs in the 1958 World Series as the Yankees avenged their 1957 defeat to Milwaukee in seven games. Bauer was a three-time All-Star who possessed a strong throwing arm in the outfield. Before his big-league began, he earned two Bronze Stars and two Purple Hearts while serving in the Marines during World War II.
🔈 In this audio clip from June 26, 1991, Bauer talks about his bases-loaded triple in Game 6 of the 1951 World Series against the New York Giants. (Interview by Irwin Bergman.)
Dusty Rhodes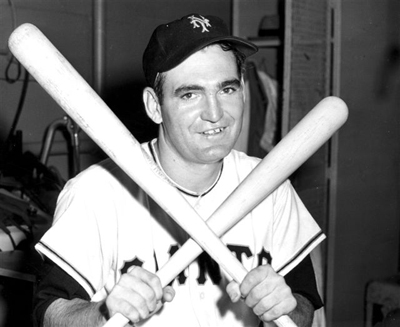 Dusty Rhodes hit two memorable home runs for the New York Giants in the 1954 World Series, including a game-ending three-run shot in the 10th inning of Game 1 that just barely cleared the short right-field porch at the Polo Grounds. In Game 2, Rhodes' pinch-hit single tied the game in the fifth inning, then he homered off Hall of Famer Early Wynn in the seventh as the Giants beat the Cleveland Indians, 3-1. They went on to sweep the heavily favored Tribe in four games.
🔈 In this audio clip from May 20, 2003, Rhodes talks about facing the Indians' pitchers often in spring training at Tucson, Arizona, and celebrating his World Series heroics back home in Alabama. (Interview by Rick Swift.)
Al Gionfriddo
Al Gionfriddo made one of the most famous catches in World Series history, stabbing a Joe DiMaggio liner in Game 6 of the 1947 World Series. The Brooklyn Dodgers outfielder had just entered the game as a defensive replacement in the sixth inning, with the Dodgers beating the New York Yankees 8-5, when DiMaggio came to the plate with two runners on and two outs. Gionfriddo's running stab in deep left field is remembered as much for DiMaggio's uncharacteristic reaction as for his effort; the famously stoic Yankee Clipper kicked the infield dirt near second base when he saw Gionfriddo catch the ball. It was Gionfriddo's last appearance in the major leagues.
🔈 In this undated audio clip from the mid-1980s, Gionfriddo reminisces about the play that made him a household name to a generation of Dodgers fans and his memorable appearance as a pinch-runner in Game 4 of the 1947 Series, when Bill Bevens lost a no-hitter with two outs in the ninth. (Interview by Gerald Tomlinson.)
Marty Marion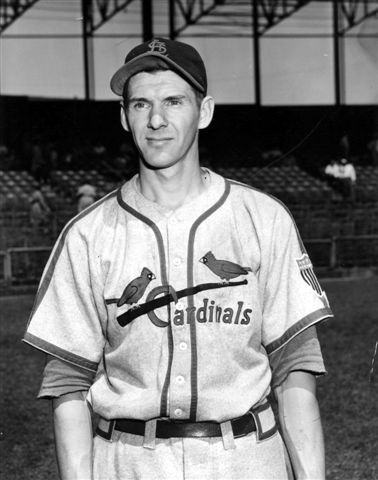 Marty Marion was the St. Louis Cardinals' star shortstop during the 1940s, helping the Redbirds to three consecutive National League pennants and earning 1944 MVP honors. He batted .357 with two doubles, a home run and a stolen base in a losing effort against the New York Yankees in the 1943 World Series. After World War II ended, he helped the Cardinals to another championship in 1946, defeating the Boston Red Sox in a dramatic seven-game World Series.
🔈 In this audio clip from May 10, 1985, Marion talks about beating the mighty Yankees in the 1942 World Series, playing through illness during the 1944 World Series and some of his Cardinals teammates during the war years, including Johnny Beazley, Harry Brecheen, Red Munger, Johnny Hopp and Danny Litwhiler. (Interview by Walter Langford.)
For more information on the SABR Oral History interview collection, visit SABR.org/oralhistory.
---
Originally published: September 30, 2011. Last Updated: October 26, 2021.
https://sabr.org/wp-content/uploads/2011/09/Lew-Burdette-and-Fred-Haney-1957-WS.jpg
480
342
jpomrenke
/wp-content/uploads/2020/02/sabr_logo.png
jpomrenke
2011-09-30 00:05:00
2021-10-26 00:10:15
SABR Interviews With Heroes of Octobers Past