Read SABR biographies of Baseball Hall of Fame's 2018 class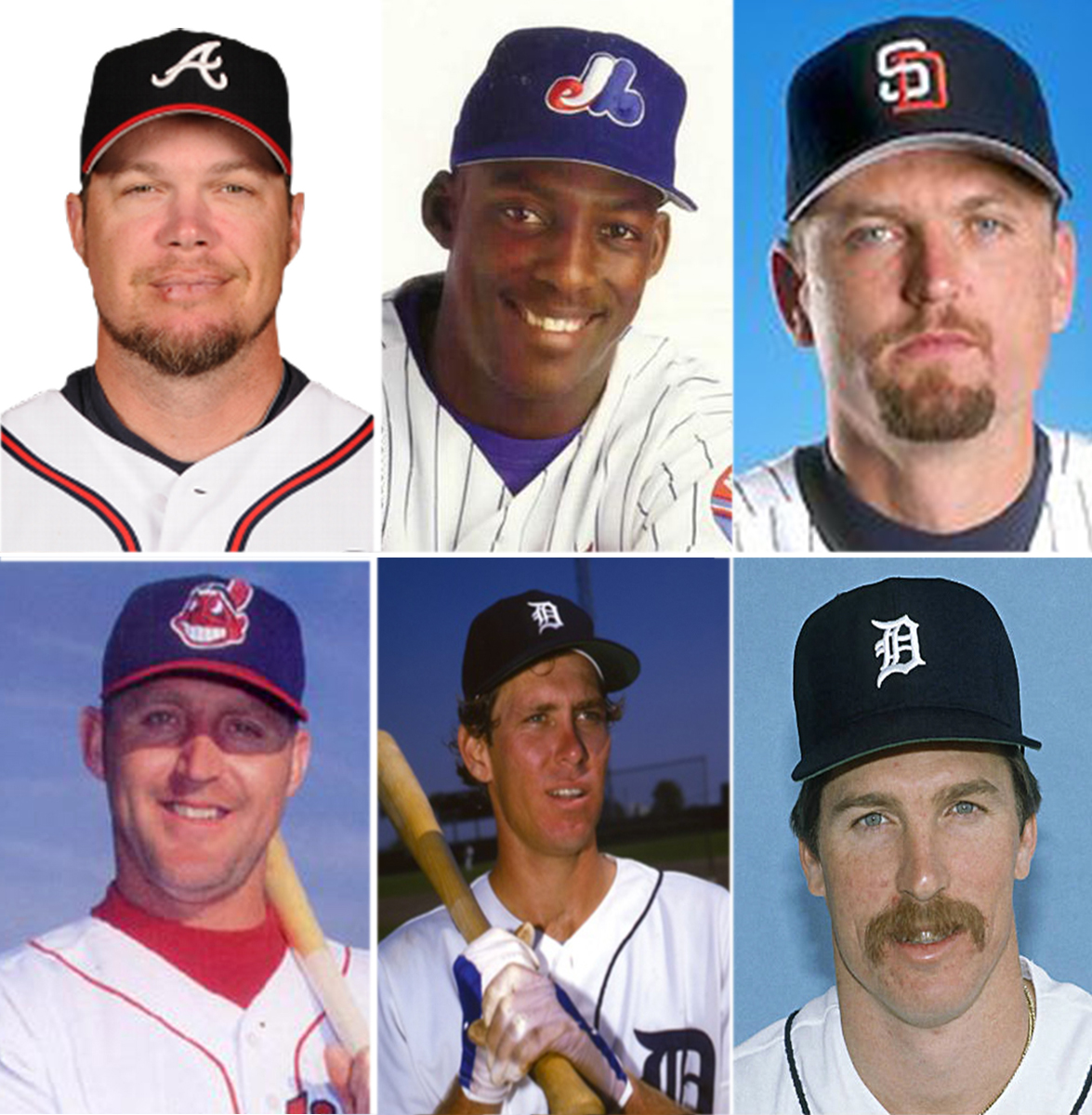 Chipper Jones, Vladimir Guerrero, Jim Thome, and Trevor Hoffman were announced as the newest inductees to the National Baseball Hall of Fame on January 24, 2018.
This weekend, they will be inducted into the National Baseball Hall of Fame in Cooperstown, New York, along with former Detroit Tigers stars Alan Trammell and Jack Morris, who were selected for induction to the Hall of Fame by the Modern Era Committee.
Jones, the 1999 NL MVP and star third baseman for the Atlanta Braves, received 97.2 percent of the 422 ballots cast by the Baseball Writers' Association of America in his first year on the ballot. He is the sixth member of the Braves' dynasty to make the Hall of Fame, joining Greg Maddux, Tom Glavine, and manager Bobby Cox (2014), John Smoltz (2015), and GM John Schuerholz (2017) in baseball's Valhalla. That group led Atlanta to 14 consecutive division titles, five pennants, and one World Series championship between 1991 and 2005.
Guerrero, the free-swinging Dominican outfielder with a rocket arm who drew comparisons to Roberto Clemente, received 392 votes (92.1 percent) in his second year on the writers' ballot. Guerrero came up with the Montreal Expos in 1996 and later won an MVP award for the then-Anaheim Angels in 2004.
Thome, who received 379 votes (89.8 percent) as a first-ballot selection, hit 612 home runs in his 22-season career with the Cleveland Indians and five other teams. As Joseph Wancho wrote in his SABR biography of the slugger, Thome was "a dependable, hard-working, blue-collar type of ballplayer whom fans cheered for … a 'throwback.'"
Hoffman, the San Diego Padres closer who missed election by just five votes in 2017, made it to Cooperstown in his third year on the ballot. The first pitcher to reach the 600-save milestone received 337 votes for 79.9 percent.
The 2018 Hall of Fame Induction Weekend will take place July 27-30 in Cooperstown, New York.
Seattle Mariners slugger Edgar Martinez fell 20 votes shy of induction in his ninth year of eligibility, receiving 297 votes for 70.4 percent. Pitchers Mike Mussina (63.5) and Roger Clemens (57.3), outfielder Barry Bonds (56.4) and pitcher Curt Schilling (51.2) were also named on more than half of the ballots cast.
Find all published SABR biographies for Baseball Hall of Fame inductees — including the Class of 2018 — by clicking here.
Join us on Induction Day! All baseball fans visiting Cooperstown this weekend are invited to join SABR's Cliff Kachline Chapter for its annual Induction Day meeting, starting at 6:30 p.m. on Sunday, July 29 at Tillapaugh's, just a block south of the Hall of Fame at 28 Pioneer Street. Our guest speakers are expected to include: Richard Sandomir of the New York Times and author of The Pride of the Yankees; along with SABR members Cary Smith, Ralph Carhart, and Chris Dial. Click here to learn more. For more information, contact chapter chair Jeff Katz.
---
Originally published: July 23, 2018. Last Updated: July 23, 2018.
https://h2j7w4j4.stackpathcdn.com/wp-content/uploads/2020/03/research-collection4_350x300.jpg
300
350
admin
/wp-content/uploads/2020/02/sabr_logo.png
admin
2018-07-23 01:46:26
2018-07-23 01:46:26
Read SABR biographies of Baseball Hall of Fame's 2018 class