One of the highlights of SABR 41 will be the weeklong Film Festival, which will be held in the Atlantic Room at the Long Beach Hilton from July 6-10.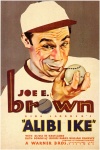 The films scheduled to be shown run the gamut from Headin' Home, a 1920 silent film starring Babe Ruth, to Holy Land Hardball, a 2011 documentary about the Israel Baseball League. Some films are as obscure as One Run Elmer, a 1935 Buster Keaton short, and some are as famous as 1992's A League of Their Own, a fictionalized account of the World War II-era All-American Girls Professional Baseball League.
You can also watch World Series highlight films involving the Dodgers and Angels; the premiere episode of the 1950s TV series Home Run Derby, which was filmed at Los Angeles' Wrigley Field, featuring Willie Mays vs. Mickey Mantle; documentaries such as The Life and Times of Hank Greenberg and Black Baseball in Indiana; and feature-length presentations including Eight Men Out and 61*.
Tentative show times are as follows — schedule is subject to change:
Wednesday, July 6: 4 p.m.-10:45 p.m. (Kill the Umpire, Slide Donald Slide, Jack and the Beanstalk, Goofy's "How to Play Baseball", Headin' Home, Buster Keaton Shorts, The Winning Team, Baseball Bugs, 1959 World Series highlights)
Thursday, July 7: 8:45 a.m.-11 p.m. (Talkin' Baseball slide show with George Land, Star Trek: Deep Space Nine, Have Gun Will Travel, Jews and Baseball, The Life and Times of Hank Greenberg, There Was Always Sun Shining Someplace: Life in the Negro Leagues, The Jackie Robinson Story, Black Baseball in Indiana, A League of Their Own, The X-Files)
Friday, July 8: 9 a.m.-11:15 p.m. (The Munsters, Pride of the Yankees, 1963 World Series highlights, 1965 World Series highlights, American Pastime, Mr. Baseball, The Stratton Story, Bang the Drum Slowly, Quantum Leap)
Saturday, July 9: 9 a.m.-11 p.m. (Alibi Ike, Angels in the Outfield (1994), Holy Land Hardball, 2002 World Series highlights, Eight Men Out, Safe at Home!, 61*, Remington Steele)
Sunday, July 10: 9 a.m.-4:30 p.m. (Home Run Derby: Mantle vs. Mays, 1966 World Series highlights, 1977 World Series highlights, Angels in the Outfield (1951), The Bingo Long Traveling All-Stars and Motor Kings, The Rookie)
For complete details of the films scheduled to be shown, along with their tentative show times, view the PDF file below:
https://sabr.box.net/shared/static/vmq7aukiod.pdf
(Please note that all films listed above may not be shown.)
To see a description and notes about each film, as compiled by SABR member Rob Edelman, click here.
The following guests are expected to introduce these films before they are shown:
Black Baseball in Indiana (6 p.m. Thursday, July 7)
During spring 2011, Ball State University English professor and Negro Leagues historian Geri Strecker led a group of fourteen undergraduate students in a 15-credit seminar researching African American baseball in Indiana from the late 1800s through the 1960s. One product of this research is a 30-minute documentary featuring archival photographs, vintage footage, and interviews with surviving players and historians. The narration is read by 1945 Indianapolis Clowns batboy Ludwig Johnson. "Black Baseball in Indiana" received rave reviews after a screening at the 2011 Cooperstown Symposium on June 1. For the SABR 41 screening, Geri and two of her students will introduce the film and discuss the project. Paul Weller edited the film, and Brent Allred arranged the original score of gospel, jazz, and bluegrass music.
A League of Their Own (7 p.m. Thursday, July 7)

David Lander is best known for his portrayal of Squiggy, the greasy neighbor with the spit-curl hair in the 1970's hit television series "Laverne and Shirley." A talented comic writer and actor, Lander has appeared in the films "Who Framed Roger Rabbit?", "Used Cars," "The Man with One Red Shoe" and played the announcer in "A League of Their Own." Diagnosed with multiple sclerosis (MS) in 1984, David maintains a very active schedule as a spokesperson and advocate for MS and the National Multiple Sclerosis Society (NMSS). His autobiographical memoir Fall Down Laughing: How Squiggy Caught Multiple Sclerosis and Didn't Tell Nobody has appeared on the Los Angeles Times best-seller list.
American Pastime (1:30 p.m. Friday, July 8)
Kerry Yo Nakagawa was a cast member, associate producer and behind-the-scenes filmmaker of "American Pastime," which won the Audience Favorite Award at the at San Francisco International Asian American Film Festival in 2007. Founder of the non-profit Nisei Baseball Research Project, Kerry is also the founding curator of the "Diamonds in the Rough" exhibit that has been displayed at the National Baseball Hall of Fame in Cooperstown, the Japanese Baseball Hall of Fame in Tokyo and museums around the country. He also authored Through A Diamond, 100 years of Japanese American Baseball.
Holy Land Hardball (12:30 p.m. Saturday, July 9)
Aaron Pribble is the author of Pitching in the Promised Land: A Story of the First and Only Season in the Israel Baseball League, published this year by University of Nebraska Press. Before his season in the IBL, Aaron played collegiate baseball at the University of Hawaii and then professionally in the Western and Central Baseball Leagues as well as in France. He lives in San Francisco and teaches at Tamalpais High School in Mill Valley, California.
For a complete schedule of SABR 41 events, click here.
For registration, hotel and all other information, click here to go back to the SABR 41 home page.
---
Originally published: May 25, 2011. Last Updated: April 17, 2020.
https://sabr.org/wp-content/uploads/2020/03/research-collection4_350x300.jpg
300
350
jpomrenke
/wp-content/uploads/2020/02/sabr_logo.png
jpomrenke
2011-05-25 18:21:25
2020-04-17 08:52:46
SABR 41: Film Festival