SABR 49: Jim Creighton selected as Overlooked 19th Century Baseball Legend for 2019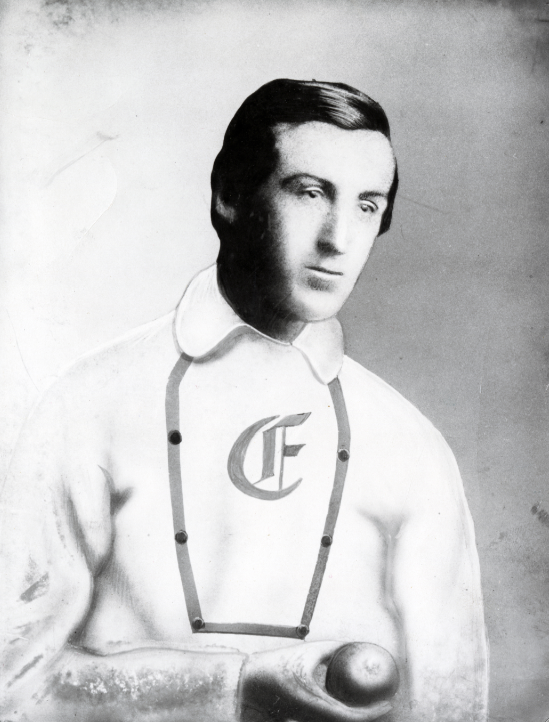 James "Jim" Creighton has been selected as SABR's Overlooked 19th Century Baseball Legend for 2019. The announcement was made on June 29, 2019, at the Nineteenth Century Committee's annual business meeting held at SABR 49 in San Diego.
In May, members of SABR submitted their votes for the 2019 Overlooked 19th Century Base Ball Legend — a 19th-century player, manager, executive or other baseball personality not yet inducted into the National Baseball Hall of Fame in Cooperstown, New York.
Previous Overlooked Legends were Pete Browning in 2009, Deacon White (2010), Harry Stovey (2011), Bill Dahlen (2012), Ross Barnes (2013), Doc Adams (2014), Tony Mullane (2015), Jack Glasscock (2016), Bob Caruthers (2017), and William Hoy last year. White became the first Overlooked Legend to be inducted into the Hall of Fame in 2013.
Creighton was baseball's first superstar and possibly its first professional. His life came to a tragic end just six months after his 21st birthday, making the young ballplayer a baseball legend and fueling the lore that makes baseball our national pastime. He was a tremendous hitter but made his mark on baseball history by revolutionizing the pitcher position with his swift and accurate pitching that didn't allow batters to get a solid hit on the ball.
Creighton grew up in either Brooklyn or Manhattan and took a liking to both cricket and baseball, for which he would excel at both sports. It has been written that he created a ball club with his childhood peers called Young America in 1857. He then joined the Niagaras of Brooklyn and became their second baseman. In 1859, Creighton filled in for the Niagaras regular pitcher John Shields by taking the mound against the Star Club of Brooklyn. The rest is history (and lore).
Creighton threw with a sweeping low delivery and a wrist snap that increased the spin on the ball, causing the ball to rise to the catcher's shoulder. As John Thorn has written, "he possessed an unprecedented combination of speed, spin, and command that virtually defined the position for all those who followed." After the game, the Star Club snapped up the new pitching phenom and by the following year he was a member of the Excelsior Club of Brooklyn. It wasn't until he started pitching for the Excelsiors in 1860 that he became the game's most dominant pitcher. Creighton had the benefit of playing with the greatest catcher of the time in Joe Leggett, who was adept at handling swift pitching and limited his passed balls in comparison to others of the day. The battery was the best in the nation in 1860 and the Excelsiors were the best team in the land despite not officially beating the reigning champion Atlantics in a best-of-three series. The Excelsiors went on the first baseball tour earlier in the season, which enhanced Creighton's reputation outside of Brooklyn as his contemporaries and fans witnessed his attention-grabbing delivery and success. On November 8, 1860, Creighton pitched the first recorded shutout against the St. George Cricket Club' 25-0.
In 1861, the Excelsiors did not play any matches and Creighton played in just six games in 1862 before he passed away on October 18. It appears he died from a ruptured inguinal hernia. How that exactly happened will never be known, but in baseball lore it occurred on October 14 against the Unions of Morrisania when he hit a home run. His death made him a baseball immortal. His pitching changed the game forever. Creighton was a pioneer who changed the focus from tossing the ball to the batter so they could put the ball in play to trying to get the player out and not giving the hitter a clean shot at the ball. Due to his success, others would soon follow this strategy and there was no turning back. Creighton died at his father's home and was buried with a large monument in Brooklyn's Greenwood Cemetery, a popular tourist spot for baseball enthusiasts.
Creighton has been an Overlooked Legend finalist every year since 2012. This year, he finished ahead of runner-up Bud Fowler, a first-time finalist. Here are the final election results, with their point totals:
Jim Creighton – 595 points
Bud Fowler – 496
Bobby Mathews – 492
Charlie Bennett – 444
Tommy Bond – 418
Chris Von der Ahe – 415
Al Reach – 396
George Stovey – 379
George Van Haltren – 376
Paul Hines – 360
Dickey Pearce – 285
Joe Start – 233
For an extended biography of Jim Creighton, see his SABR bio written by John Thorn.
For more information on the Overlooked 19th Century Baseball Legends Project, visit SABR.org/overlooked-19th-century-baseball-legends or contact project co-chairs Adam Darowski or Joe Williams.
For more coverage of SABR 49, visit SABR.org/convention.
---
Originally published: June 29, 2019. Last Updated: July 19, 2022.
https://sabr.org/wp-content/uploads/2020/03/research-collection4_350x300.jpg
300
350
admin
/wp-content/uploads/2020/02/sabr_logo.png
admin
2019-06-29 10:44:53
2022-07-19 14:42:16
SABR 49: Jim Creighton selected as Overlooked 19th Century Baseball Legend for 2019