SABR BioProject celebrates 2,000th biography
It's fitting that our 2,000th published SABR biography is of a Boston Red Sox call-up who played just five games in the major leagues.
After all, some of our favorite articles produced by the SABR Baseball Biography Project since it was formed in 2002 are of the "cup of coffee" players whose stories had never been told, such as Flame Delhi, the first major leaguer from Arizona, or Israel "Jay" Pike, the brother of baseball's first great Jewish star.
That's part of the fun of the SABR BioProject: You can read about anyone in baseball from A (Hank Aaron) to Z (Bob Zuk). You can also browse all of our biographies by category, to find bios of Hall of Famers or players from a specific team. Or look for the non-players we've written about, with "biographies" of ballparks, whole leagues and other significant baseball topics.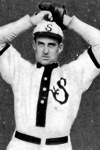 What is the BioProject? It's arguably SABR's most ambitious research project yet. Led by Mark Armour, the BioProject is an ongoing effort to produce comprehensive, peer-reviewed biographical articles on every person who ever played or managed in the major leagues, as well as other subjects significant to baseball history. It's a project that, we hope, will never end.
Today, we published biography No. 2,000: Doc Moskiman.
The Oakland native made 11 plate appearances for the Red Sox in a controversial stint in 1910 and later became a physician and sporting goods salesman. His bio is written by our most prolific BioProject author, Bill Nowlin, and edited by Len Levin.
We've got hundreds of SABR biographies like it in progress, and adding more every week. We've even compiled some of them into books focusing on special team or theme. Fourteen BioProject books have been published so far, including our newest title released last month: Opening Fenway Park With Style: The 1912 World Champion Boston Red Sox, edited by Bill Nowlin.
You can also look for our new BioProject books published this spring as part of the University of Nebraska Press' "Memorable Teams in Baseball History" series: Pitching, Defense, and Three-Run Homers: The 1970 Baltimore Orioles, edited by Mark Armour and Malcolm Allen; and The Team That Forever Changed Baseball and America: The 1947 Brooklyn Dodgers, edited by Lyle Spatz.
All newly published biographies are posted at SABR.org/bioproj/recent.
The SABR BioProject home page is at SABR.org/BioProject.
Get involved! Any SABR member can contribute to the BioProject. Don't see your favorite player listed? Visit our BioProject Resources page or read the BioProject FAQs section here. Then e-mail bioassign@sabr.org to get started.
---
Originally published: June 12, 2012. Last Updated: June 12, 2012.
https://sabr.org/wp-content/uploads/2020/03/research-collection4_350x300.jpg
300
350
jpomrenke
/wp-content/uploads/2020/02/sabr_logo.png
jpomrenke
2012-06-12 11:19:38
2012-06-12 11:19:38
SABR BioProject celebrates 2,000th biography