SABR BioProject reaches 3,000 published biographies
The SABR Baseball Biography Project has passed another milestone with its 3,000th published biography.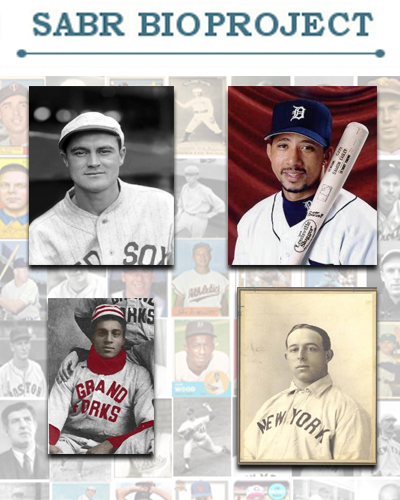 This week's batch of new SABR bios includes a diverse group of players that epitomizes what the BioProject is all about. We believe everyone in baseball has a story, and our goal is to tell those stories. The new bios include stories about:
Formed in 2002, the BioProject has been SABR's most ambitious and, perhaps, most productive research project. Led by Mark Armour, along with vice-chairs Jan Finkel, Len Levin, Warren Corbett, Bill Nowlin, Lyle Spatz, and Emily Hawks, the BioProject is an ongoing effort to produce comprehensive, peer-reviewed biographical articles on every person who ever played or managed in the major leagues, as well as other subjects significant to baseball history. It's a project that, we hope, will never end.
"The most gratifying thing about this project is the number of people who now rely on our biographies as source material," Armour said. "Our biographies show up in book bibliographies or acknowledgments fairly regularly, and our own bibliographies have helped researchers as well.
"I have often said that our project is only possible because of the incredible foundation laid by the Biographical Research Committee, Retrosheet, the Baseball Index, and several other projects big and small. And now, we have become part of the foundation ourselves."
More than 560 SABR members have contributed as authors for the BioProject, where you can read about anyone in baseball from A (Hank Aaron) to Z (Bob Zuk). Some of our favorite articles produced by the BioProject are of the "cup of coffee" players whose stories had never been told, such as Flame Delhi, the first major leaguer from Arizona. You can also read about Sadaharu Oh, Japan's legendary all-time home run leader, or stars from the All-American Girls Professional Baseball League, such as Sophie Kurys of the Racine Belles.
We've got hundreds of SABR biographies in progress, and we're adding more every week. We've even compiled some of them into books focusing on special teams or themes. More than two dozen BioProject books have been published so far, including our most recent team book on the 1935 Tigers, Detroit's first World Series champion. You can download many of them for free at SABR.org/ebooks or buy paperback editions at the SABR Bookstore.
You can also browse all of our biographies by category, to find bios of Hall of Famers or players from a specific team. In addition, we have pages for Broadcasters, Executives, Managers, Scouts, Spouses, Umpires and a lot more on the BioProject website at SABR.org/BioProject.
The BioProject has also spawned two successful offshoots in the SABR Baseball Ballparks Project, led by Scott Ferkovich, and the SABR Games Project, led by Greg Erion.
It's easy to get involved. Any SABR member is eliglble to write for the BioProject, the Ballparks Project, or the Games Project. If you'd like to help contribute, visit our BioProject Resources page or read the FAQs section to get started. If you're not a SABR member, visit SABR.org/join to learn more or to sign up for an annual membership.
---
Originally published: January 7, 2015. Last Updated: January 7, 2015.
https://sabr.org/wp-content/uploads/2020/03/research-collection4_350x300.jpg
300
350
jpomrenke
/wp-content/uploads/2020/02/sabr_logo.png
jpomrenke
2015-01-07 19:49:02
2015-01-07 19:49:02
SABR BioProject reaches 3,000 published biographies