SABR Digital Library: The Babe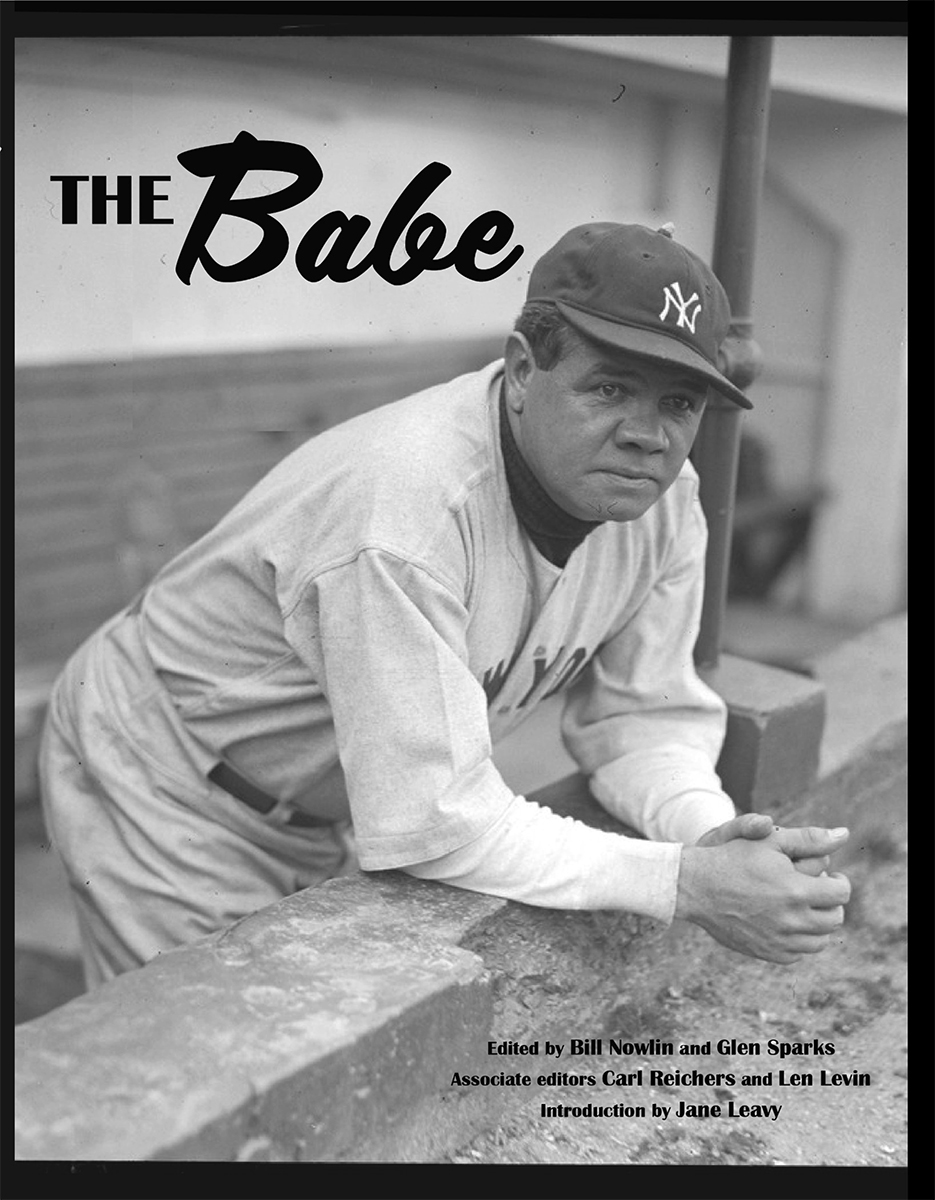 Time to call your shot and add our newest SABR Digital Library baseball book to your collection:
The Babe
Edited by Bill Nowlin and Glen Sparks
Associate editors: Carl Riechers and Len Levin
Introduction by Jane Leavy     
ISBN (e-book): 978-1-9701-5917-2, $9.99 
ISBN (paperback): 978-1-9701-5916-5, $29.95
8.5″ x 11″, 312 pages
Babe Ruth thrilled baseball fans with his tremendous home-run swing. He made friends—and some enemies—with his loud, larger-than-life personality. The list of books about Ruth could fill a few bookshelves. Most recently, SABR awarded the prestigious Seymour Medal to Jane Leavy for her 2018 biography entitled The Big Fella, and she contributes the introduction to this book we call The Babe.
A baseball book published under that title is quite naturally about the great slugger for the New York Yankees, who led the American League in home runs 12 times and lived life large during the Jazz Age.
This book includes the contributions of over 50 SABR members: 30 articles, plus accounts of 50 notable games from The Babe's career. He hit tape-measure long balls, fought with managers, won more than 90 games as a pitcher, and gave time and money to children's charities.
In no way is this an exhaustive last word on Babe Ruth. That might be an impossible chore. We do believe this book will help readers get a fuller picture of baseball's most fabled figure, a man still famous today and still revered in the game he loved.
Contributors include: Josh Berk, Nathan Bierma, Mark Blaeuer, Thomas J. Brown Jr., Frederick "Rick" Bush, Alan Cohen, Fr. Gabriel Costa, Herb Crehan, Reynaldo Cruz Díaz, Richard Cuicchi, Paul E. Doutrich, Mike Dugan, Don Duren, Rob Edelman, Rob Fitts, T.S. Flynn, James Forr, Carolyn R. Fuchs, John Gabcik, Ed Gruver, Mike Haupert, Leslie Heaphy, Rock Hoffman, Paul Hofmann, Mike Huber, Bill Jenkinson, Jimmy Keenan, Tara Krieger, Kevin Larkin, Jane Leavy, Len Levin, Mike Lynch, Brian "Chip" Martin, David McDonald, Skip Nipper, Bill Nowlin, Chad Osborne, Pete Palmer, Tim Rask, Tim Reid, Carl Riechers, Harry Rothgerber, Gary Sarnoff, Tom Schott, Joe Schuster, Curt Smith, Steve Smith, Wayne Soini, Glen Sparks, Lyle Spatz, Mark S. Sternman, Cecilia Tan, Stew Thornley, Saul Wisnia, Gregory H. Wolf, Allan Wood, and Jack Zerby.
SABR members, get this e-book for FREE!
Buy the book
About the SABR Digital Library

For more than 40 years, SABR and its members have led the way in publishing the best baseball historical and statistical research. Our publications program is shifting to take advantage of new methods of publishing. Not only will we continue to publish new books like Can He Play? A Look At Baseball Scouts and Their Profession (2011); Detroit Tigers 1984: What A Start! What A Finish! (2012); Sweet '60: The 1960 Pittsburgh Pirates (2013); Inventing Baseball: The 100 Greatest Games of the 19th Century (2013); Scandal on the South Side: The 1919 Chicago White Sox (2015); Nuclear Powered Baseball/The Simpsons (2016), Au jeu/Play Ball: The 50 Greatest Games in the History of the Montreal Expos (2016); Cuban Baseball Legends (2016); No-Hitters (2017); Bittersweet Goodbye: The Black Barons, the Grays, and the 1948 Negro League World Series (2017), Major League Baseball A Mile High: The First Quarter Century of the Colorado Rockies (2018), and The 1995 Cleveland Indians: The Sleeping Giant Awakes (2019), which showcase the best efforts of SABR's members, chapters and committees, but new technology makes it possible for us to bring out-of-print titles like Nineteenth Century Stars (2012); The Fenway Project (2013); '75: The Red Sox Team That Saved Baseball (2015), The 1967 Impossible Dream Red Sox: Pandemonium on the Field (2017), and Go-Go to Glory: The 1959 Chicago White Sox (2019) back again.
Books will be available in digital formats as well as paperbacks produced by "print on demand" (POD).
SABR members will get discounted rates for all Digital Library publications, including many for free. If you're not a member, click here to join SABR.
Stay tuned throughout the year for new (and old!) titles that we'll be adding to the SABR Digital Library. To learn more about SABR Publications, contact Publications Editor Cecilia Tan at ctan@sabr.org.
Having trouble downloading our e-books? To view PDF files on your computer, click here to download the free Adobe Reader software. Having trouble downloading e-books to your Kindle, Nook, Sony Reader or iPad? Click here for additional help.
---
Originally published: October 23, 2019. Last Updated: March 1, 2021.
https://sabr.org/wp-content/uploads/2020/04/The_Babe_ebook-cover-1200px.jpg
1200
935
admin
/wp-content/uploads/2020/02/sabr_logo.png
admin
2019-10-23 15:35:39
2021-03-01 01:45:35
SABR Digital Library: The Babe