SABR Digital Library: The Base Ball Palace of the World: Comiskey Park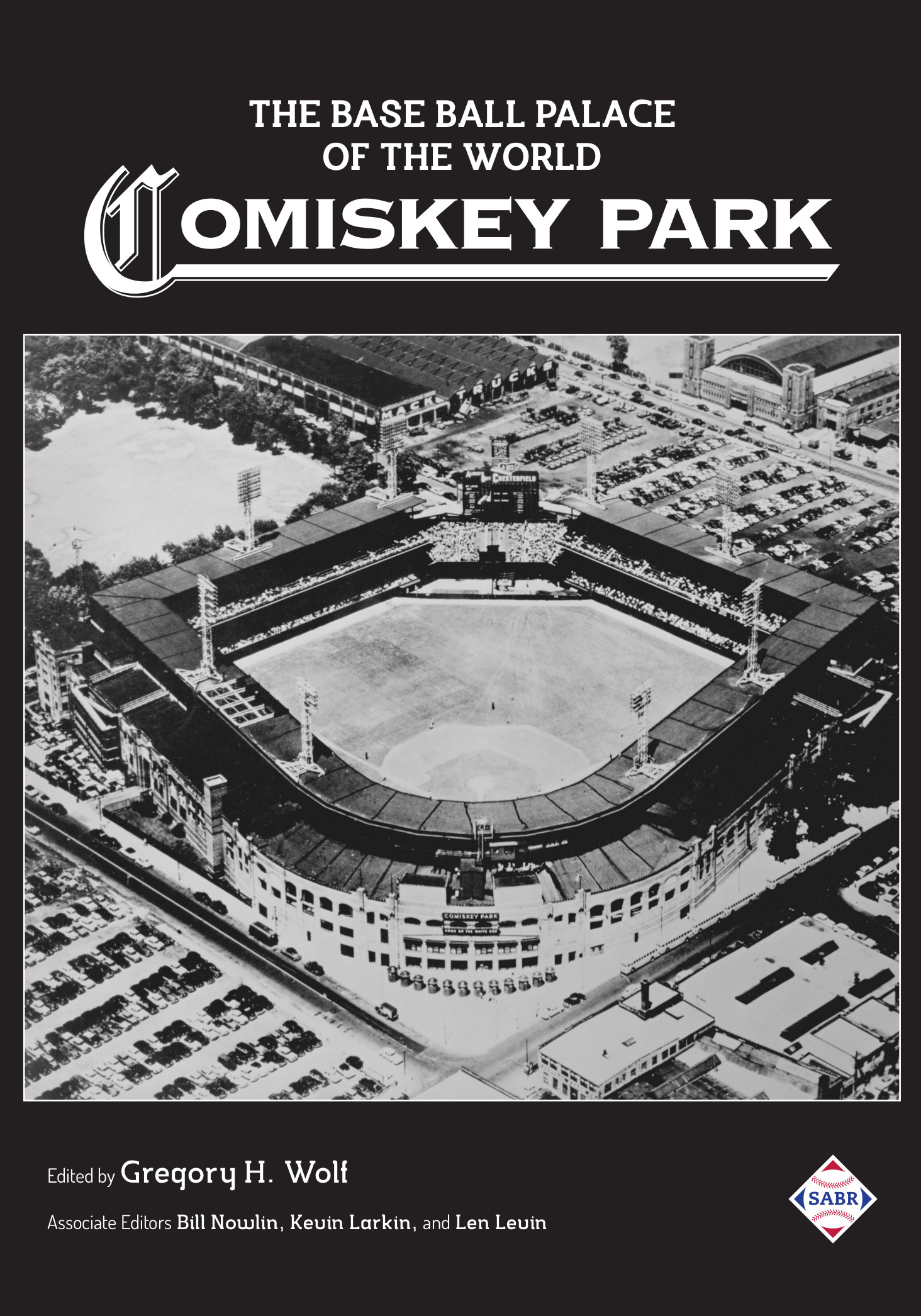 Fire up the pinwheels and add a baseball book to your collection with our newest title from the SABR Digital Library:
The Base Ball Palace of the World: Comiskey Park
Edited by Gregory H. Wolf
Associate editors: Bill Nowlin, Kevin Larkin, and Len Levin    
ISBN (e-book): 978-1-9701-5915-8, $9.99 
ISBN (paperback): 978-1-9701-5914-1, $29.95
8.5″ x 11″, 320 pages
Comiskey Park, affectionately known as the "Base Ball Palace of the World," was the home of the Chicago White Sox for parts of nine decades, from 1910 to 1990. Despite being built on the site of a former dump, the ballpark's address was one of baseball's most iconic. At the intersection of 35th Street and Shields Avenue, it sat in the Armour Square neighborhood on the near-southwest side of the city.
The Base Ball Palace of the World: Comiskey Park is our humble volume which aims to evoke memories of the storied ballpark and introduce others to its exciting history through detailed summaries of more than 80 games played there and several feature essays. The volume is a collaborative and tireless effort of 50 SABR members.
Among the gems presented in this book we have Big Ed Walsh's no-hitter in 1911, several Negro League contests including the 1933 East-West All-Star Game, the 1919 and 1959 World Series, Disco Demolition Night, the 1933 and 1983 MLB All-Star Games, and many more.
Contributors include: Frank Amoroso, John Bauer, Nathan Bierma, Stephen D. Boren, Thomas J. Brown Jr., Ken Carrano, Matthew M. Clifford, Alan Cohen, Richard Cuicchi, Katie Dickson, Greg Erion, Doug Feldmann, Scott Ferkovich, Dan Fields, Brian Frank, John Gabcik, Gordon J. Gattie, Paul Hofmann, Mike Huber, Robert Kimball, Norm King, Adam Klinker, Russ Lake, Kevin Larkin, Bob LeMoine, Brandon Lee, Len Levin, Michael T. Lynch, Michael Marsh, Mark Mullane, Bill Nowlin, Will Osgood, Bill Pearch, Tom Pardo, Jacob Pomrenke, Alan Reifman, Richard Riis, C. Paul Rogers III, Joe Schuster, Lyle Spatz, Mark S. Sternman, Stew Thornley, Joseph Wancho, Bob Webster, Steven C. Weiner, Gregory H. Wolf, Bob Wood, Brian P. Wood, Brian Wright, and Don Zminda.
SABR members, get this e-book for FREE!
Buy the book
About the SABR Digital Library

For more than 40 years, SABR and its members have led the way in publishing the best baseball historical and statistical research. Our publications program is shifting to take advantage of new methods of publishing. Not only will we continue to publish new books like Can He Play? A Look At Baseball Scouts and Their Profession (2011); Detroit Tigers 1984: What A Start! What A Finish! (2012); Sweet '60: The 1960 Pittsburgh Pirates (2013); Inventing Baseball: The 100 Greatest Games of the 19th Century (2013); Scandal on the South Side: The 1919 Chicago White Sox (2015); Nuclear Powered Baseball/The Simpsons (2016), Au jeu/Play Ball: The 50 Greatest Games in the History of the Montreal Expos (2016); Cuban Baseball Legends (2016); No-Hitters (2017); Bittersweet Goodbye: The Black Barons, the Grays, and the 1948 Negro League World Series (2017), Major League Baseball A Mile High: The First Quarter Century of the Colorado Rockies (2018), and The 1995 Cleveland Indians: The Sleeping Giant Awakes (2019), which showcase the best efforts of SABR's members, chapters and committees, but new technology makes it possible for us to bring out-of-print titles like Nineteenth Century Stars (2012); The Fenway Project (2013); '75: The Red Sox Team That Saved Baseball (2015), The 1967 Impossible Dream Red Sox: Pandemonium on the Field (2017), and Go-Go to Glory: The 1959 Chicago White Sox (2019) back again.
Books will be available in digital formats as well as paperbacks produced by "print on demand" (POD).
SABR members will get discounted rates for all Digital Library publications, including many for free. If you're not a member, click here to join SABR.
Stay tuned throughout the year for new (and old!) titles that we'll be adding to the SABR Digital Library. To learn more about SABR Publications, contact Publications Editor Cecilia Tan at ctan@sabr.org.
Having trouble downloading our e-books? To view PDF files on your computer, click here to download the free Adobe Reader software. Having trouble downloading e-books to your Kindle, Nook, Sony Reader or iPad? Click here for additional help.
---
Originally published: October 16, 2019. Last Updated: August 20, 2020.
https://sabr.org/wp-content/uploads/2020/04/Comiskey_cover_2100px.jpg
2092
1464
admin
/wp-content/uploads/2020/02/sabr_logo.png
admin
2019-10-16 17:04:42
2020-08-20 18:37:17
SABR Digital Library: The Base Ball Palace of the World: Comiskey Park