SABR Digital Library: Braves Win! The 1995 World Champion Atlanta Braves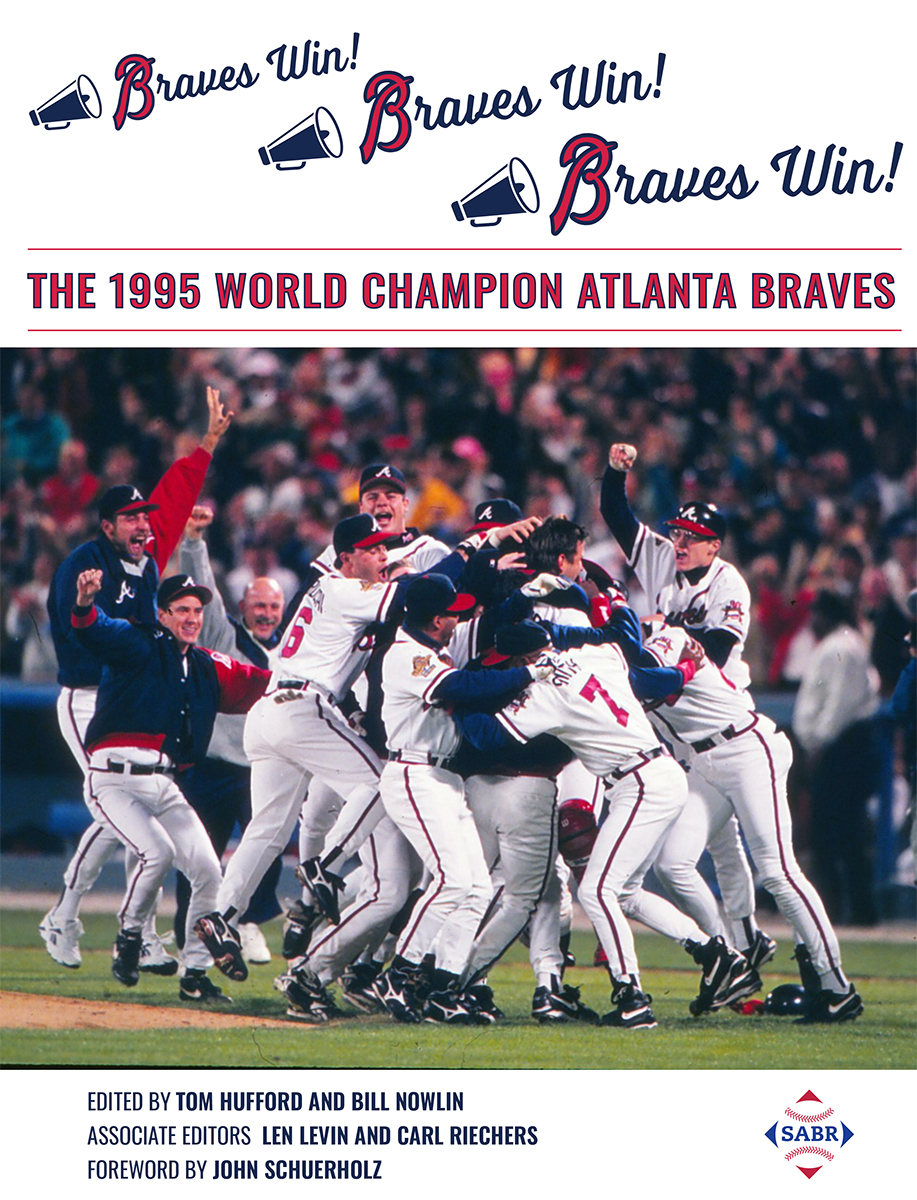 Add a championship baseball book to your collection from the SABR Digital Library:
Braves Win! Braves Win! Braves Win! The 1995 World Champion Atlanta Braves
Edited by Tom Hufford and Bill Nowlin
Associate editors: Len Levin and Carl Riechers
Foreword by John Schuerholz
ISBN (e-book) 978-1-9701-5922-6, $9.99
ISBN (paperback): 978-1-9701-5923-3 , $34.95
8.5″ x 11″, 484 pages
It has been 25 years since that magical night in Atlanta, October 28, 1995, when the Braves became the first team in any professional sport to give Atlanta a world championship.
Braves Win! Braves Win! Braves Win! The 1995 World Champion Atlanta Braves presents biographies of each of the 40 players who took the field in a Braves uniform in 1995. Many had long and successful big-league careers, and for others their time in The Show was brief. But they all contributed to that championship season, and they all have interesting stories. Nine players made their major-league debuts with the 1995 Braves, and for three team members, that season marked the end of their big-league careers.
Four members of the 1995 Atlanta Braves — Tom Glavine, Chipper Jones, Greg Maddux, and John Smoltz — along with manager Bobby Cox and general manager John Schuerholz (who wrote the book's foreword) have been enshrined in the National Baseball Hall of Fame and Museum, in Cooperstown, New York.
This book from the SABR Digital Library features exciting stories of the 10 most notable games of the 1995 season, and not all were in the postseason, as you might have thought. You will find behind-the-scenes stories of many of the Braves' front office personnel, who worked tirelessly, both at the major-league and the minor-league levels, to mold a championship organization. Not all are familiar names, but each played an integral part in making the Atlanta Braves the team they are today.
What this 1995 team accomplished was the pinnacle of a nearly 30-year run of excellence for the Braves, and that tradition continues.
A dedicated group of 56 SABR members contributed to this book as researchers, authors, and/or editors. Contributors include: Mark Armour, Jesse Asbury, Bob Barrier, Matt Bloss, Richard S. Brimer, Thomas J. Brown Jr., Ken Carrano, Alan Cohen, Warren Corbett, Joe Cox, Richard Cuicchi, Tim Deale, Kyle Eaton, Millard Fisher, Sam Gazdziak, Peter M. Gordon, Paul Hofmann, Mike Huber, Tom Hufford, Bill Johnson, Chris Jones, Greg King, Justin Krueger, Bob LeMoine, Len Levin, Dan Levitt, Lee Lowenfish, Scott McClellan, Wynn Montgomery, Alan Morris, Bill Nowlin, Tony S. Oliver, Bill Pearch, Laura H. Peebles, Jacob Pomrenke, James Lincoln Ray, Carl Riechers, Joel Rippel, C. Paul Rogers III, Steven D. Schmitt, J. Scott Shaffer, Curt Smith, Dana Sprague, Creg Stephenson, Mark S. Sternman, John Struth, Sean Teters, Stew Thornley, Clayton Trutor, Cosme Vivanco, Nick Waddell, Joseph Wancho, Darin Watson, Bob Webster, Steve West, Gregory H. Wolf, and Jack Zerby.
SABR members, get this e-book for FREE!
Buy the book
About the SABR Digital Library

For more than 40 years, SABR and its members have led the way in publishing the best baseball historical and statistical research. Our publications program is shifting to take advantage of new methods of publishing. Not only will we continue to publish new books like Can He Play? A Look At Baseball Scouts and Their Profession (2011); Detroit Tigers 1984: What A Start! What A Finish! (2012); Sweet '60: The 1960 Pittsburgh Pirates (2013); Inventing Baseball: The 100 Greatest Games of the 19th Century (2013); Scandal on the South Side: The 1919 Chicago White Sox (2015); Nuclear Powered Baseball/The Simpsons (2016), Au jeu/Play Ball: The 50 Greatest Games in the History of the Montreal Expos (2016); Cuban Baseball Legends (2016); No-Hitters (2017); Bittersweet Goodbye: The Black Barons, the Grays, and the 1948 Negro League World Series (2017), Major League Baseball A Mile High: The First Quarter Century of the Colorado Rockies (2018), and The 1995 Cleveland Indians: The Sleeping Giant Awakes (2019), which showcase the best efforts of SABR's members, chapters and committees, but new technology makes it possible for us to bring out-of-print titles like Nineteenth Century Stars (2012); The Fenway Project (2013); The 1967 Impossible Dream Red Sox: Pandemonium on the Field (2017); Go-Go to Glory: The 1959 Chicago White Sox (2019); and Green Cathedrals (2020) back again.
Books will be available in digital formats as well as paperbacks produced by "print on demand" (POD).
SABR members will get discounted rates for all Digital Library publications, including many for free. If you're not a member, click here to join SABR.
Stay tuned throughout the year for new (and old!) titles that we'll be adding to the SABR Digital Library. To learn more about SABR Publications, contact Publications Editor Cecilia Tan at ctan@sabr.org.
Having trouble downloading our e-books? To view PDF files on your computer, click here to download the free Adobe Reader software. Having trouble downloading e-books to your Kindle, Nook, Sony Reader or iPad? Click here for additional help.
---
Originally published: April 30, 2020. Last Updated: August 20, 2020.
https://sabr.org/wp-content/uploads/2020/05/1995-Atlanta-Braves-book-cover.jpg
1200
917
admin
/wp-content/uploads/2020/02/sabr_logo.png
admin
2020-04-30 00:51:52
2020-08-20 18:42:08
SABR Digital Library: Braves Win! The 1995 World Champion Atlanta Braves