SABR Digital Library: Green Cathedrals, Fifth Edition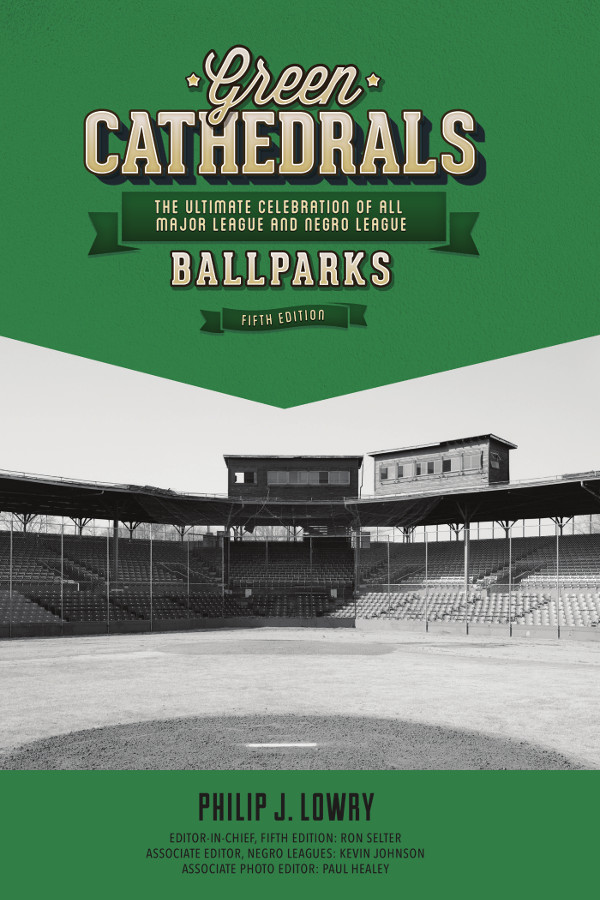 Add a majestic book on baseball palaces to your collection from the SABR Digital Library:
Green Cathedrals: The Ultimate Celebration of All Major League and Negro League Ballparks, Fifth Edition
Author: Philip J. Lowry
Editor-In-Chief: Ron Selter
Associate Editor, Negro Leagues: Kevin Johnson
Associate Photo Editor: Paul Healey
ISBN (e-book) 978-1-9438-1656-9, $9.95
ISBN (paperback): 978-1-9438-1657-6, $29.95
8.5″ x 11″, 332 pages
Green Cathedrals is the "Bible of ballparks," the reference that documents every ballpark that has ever played host to either the major leagues or the Negro leagues. This fifth edition is the first update to Green Cathedrals since 2006, and it now includes 583 ballparks, with the addition in particular of many Negro leagues parks that have been documented in the intervening years. From the 1870s to the present, from Akron to Zanesville, from the 23rd Street Grounds to Yankee Stadium, this volume is the authoritative and complete reference on ballparks.
Of course the game's most beloved parks of past and present — from Ebbets Field and Shibe Park to Wrigley and Fenway — are here, but so are the myriad small-town fields that hosted big-league games, like Renziehausen Park in McKeesport, Pennsylvania, and Duncan Field in Hastings, Nebraska. Dates, dimensions, and other stats for each park are included, along with 176 photos, and the entries are dotted with historical anecdotes and curiosities, from the field where the outfield grass was so high a hit turned into an inside-the-park home run (Wheeling, West Virginia) to the ballpark destroyed by a 1953 tornado (Waco, Texas).
"A must for baseball bibliophiles… More than an excellent reference, it is fascinating to leaf through." — USA Today
"This book contains just about everything you would ever want to know about part and present major league baseball parks… It's a book triple play — excellent reference, great browsing, and terrific nostalgia." — The Sporting News
SABR members, get this e-book for FREE!
Buy the book
About the SABR Digital Library

For more than 40 years, SABR and its members have led the way in publishing the best baseball historical and statistical research. Our publications program is shifting to take advantage of new methods of publishing. Not only will we continue to publish new books like Can He Play? A Look At Baseball Scouts and Their Profession (2011); Detroit Tigers 1984: What A Start! What A Finish! (2012); Sweet '60: The 1960 Pittsburgh Pirates (2013); Inventing Baseball: The 100 Greatest Games of the 19th Century (2013); Scandal on the South Side: The 1919 Chicago White Sox (2015); Nuclear Powered Baseball/The Simpsons (2016), Au jeu/Play Ball: The 50 Greatest Games in the History of the Montreal Expos (2016); Cuban Baseball Legends (2016); No-Hitters (2017); Bittersweet Goodbye: The Black Barons, the Grays, and the 1948 Negro League World Series (2017), Major League Baseball A Mile High: The First Quarter Century of the Colorado Rockies (2018), and The 1995 Cleveland Indians: The Sleeping Giant Awakes (2019), which showcase the best efforts of SABR's members, chapters and committees, but new technology makes it possible for us to bring out-of-print titles like Nineteenth Century Stars (2012); The Fenway Project (2013); '75: The Red Sox Team That Saved Baseball (2015), The 1967 Impossible Dream Red Sox: Pandemonium on the Field (2017), and Go-Go to Glory: The 1959 Chicago White Sox (2019) back again.
Books will be available in digital formats as well as paperbacks produced by "print on demand" (POD).
SABR members will get discounted rates for all Digital Library publications, including many for free. If you're not a member, click here to join SABR.
Stay tuned throughout the year for new (and old!) titles that we'll be adding to the SABR Digital Library. To learn more about SABR Publications, contact Publications Editor Cecilia Tan at ctan@sabr.org.
Having trouble downloading our e-books? To view PDF files on your computer, click here to download the free Adobe Reader software. Having trouble downloading e-books to your Kindle, Nook, Sony Reader or iPad? Click here for additional help.
---
Originally published: March 11, 2020. Last Updated: August 20, 2020.
https://sabr.org/wp-content/uploads/2020/04/Green-Cathedrals-V-cover-600x900-1.jpg
900
600
admin
/wp-content/uploads/2020/02/sabr_logo.png
admin
2020-03-11 12:24:45
2020-08-20 18:40:24
SABR Digital Library: Green Cathedrals, Fifth Edition