SABR Digital Library: The Glorious Beaneaters of the 1890s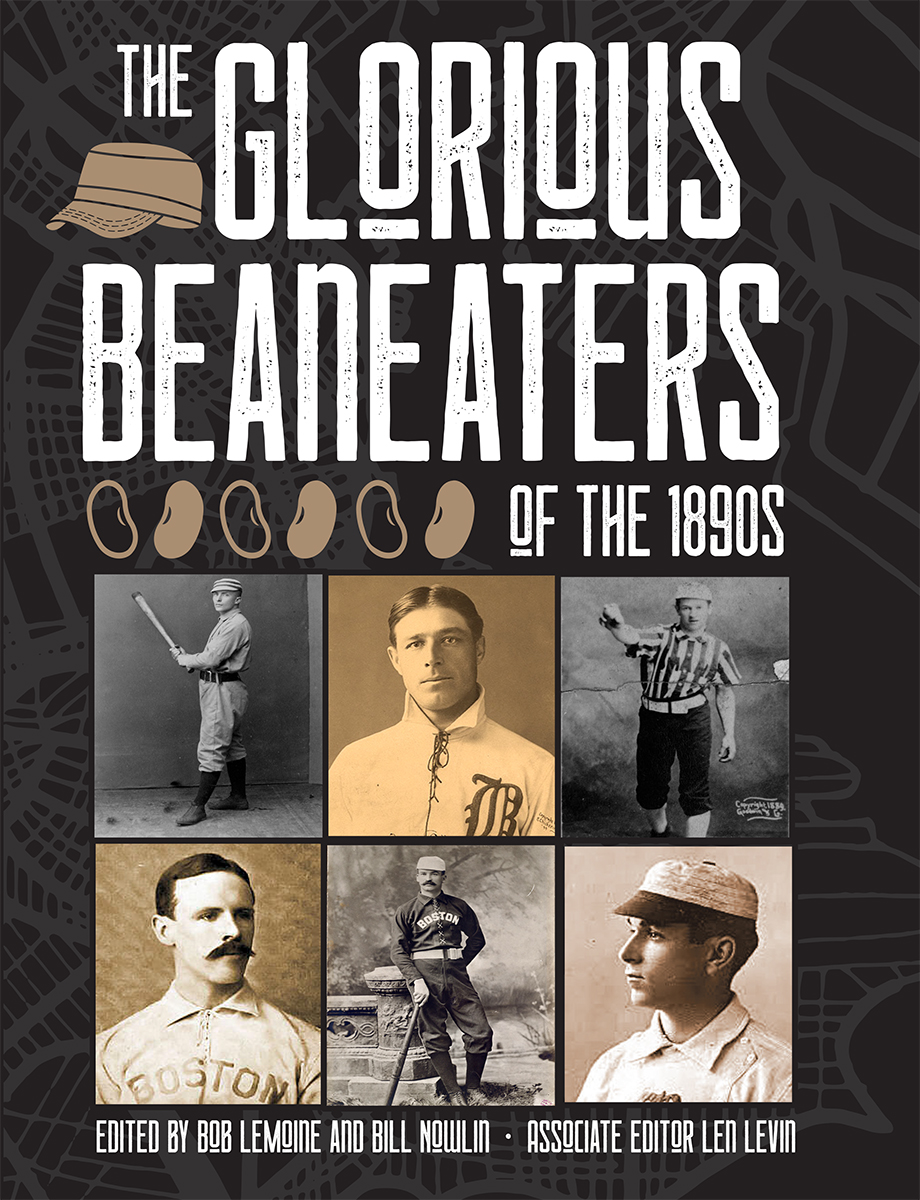 Add a championship book to your collection from the SABR Digital Library:
The Glorious Beaneaters of the 1890s
Edited by Bob LeMoine and Bill Nowlin
Associate Editor: Len Levin
ISBN (ebook): 978-1-9701-5918-9, $9.99
ISBN (paperback): 978-1-9701-5919-6, $29.99
8.5″ x 11″, 437 pages
More than a century has passed since the "glorious Beaneaters" era of Boston's baseball history in the 1890s. While Boston would soon have a second baseball club that would capture the hearts of New England (the Red Sox), never again would there be such dominance over a decade as the Beaneaters accomplished. The team won five pennants in the decade. Nine of these players are enshrined in the National Baseball Hall of Fame.
This book includes biographies of every player to appear with the team in the 1890s, as well as year-by year-recaps of seasons 1891 through 1899, bios of the owner and manager, articles on the ballparks they played in, recaps of 50 of the team's most thrilling and historic games, and articles on the team's impact on pop culture and 1890s baseball.
Legendary manager Connie Mack called that era "a turbulent decade of the so-called roughhouse days in baseball. The Boston Beaneaters were ready for any fray, ever willing to take on the pugnacious Baltimore Orioles and give them a dose of their own medicine."
"The tumultuous 1890s witnessed a player revolt against high-handed and monopolistic management," wrote baseball historian John Thorn, "The game was in a period of consolidation, or hibernation, or stagnation; one's perspective depended upon whether he were an owner, fan, or player."
This book represents the combined efforts of more than 50 writers and editors from the Society for American Baseball Research. Contributors include: Matt Albertson, Dennis Auger, John Bauer, Charlie Bevis, Richard Bogovich, Thomas J. Brown Jr., Jean-Pierre Caillault, Matt Clever, Alan Cohen, Rory Costello, Jerrod Cotosman, Richard Cuicchi, Charles F. Faber, Bill Felber, David Fleitz, Brian Frank, Peter M. Gordon, Terry Gottschall, Gerry Goulet, Steve Hatcher, Paul Hofmann, Mike Huber, Joanne Hulbert, Bill Lamb, Kevin Larkin, Bob LeMoine, Len Levin, Dan Levitt, William H. Lyons, Mike McAvoy, Brian McKenna, Eric Miklich, Seth Moland-Kovash, Chad Moody, Bill Mortell, Rob Nee, David Nemec, Rochelle Llewelyn Nicholls, Bill Nowlin, Ralph Peluso, Mark Pestana, Richard Riis, Joel Rippel, Bob Ruzzo, Mark Souder, Glen Sparks, Lyle Spatz, Mark S. Sternman, J.W. Stewart, Trey Strecker, Andy Terrick, Stew Thornley, Richard "Dixie" Tourangeau, Gregory H. Wolf, and John Zinn.
SABR members, get this e-book for FREE!
Buy the book
About the SABR Digital Library

For more than 40 years, SABR and its members have led the way in publishing the best baseball historical and statistical research. Our publications program is shifting to take advantage of new methods of publishing. Not only will we continue to publish new books like Can He Play? A Look At Baseball Scouts and Their Profession (2011); Detroit Tigers 1984: What A Start! What A Finish! (2012); Sweet '60: The 1960 Pittsburgh Pirates (2013); Inventing Baseball: The 100 Greatest Games of the 19th Century (2013); Scandal on the South Side: The 1919 Chicago White Sox (2015); Nuclear Powered Baseball/The Simpsons (2016), Au jeu/Play Ball: The 50 Greatest Games in the History of the Montreal Expos (2016); Cuban Baseball Legends (2016); No-Hitters (2017); Bittersweet Goodbye: The Black Barons, the Grays, and the 1948 Negro League World Series (2017), Major League Baseball A Mile High: The First Quarter Century of the Colorado Rockies (2018), and The 1995 Cleveland Indians: The Sleeping Giant Awakes (2019), which showcase the best efforts of SABR's members, chapters and committees, but new technology makes it possible for us to bring out-of-print titles like Nineteenth Century Stars (2012); The Fenway Project (2013); '75: The Red Sox Team That Saved Baseball (2015), The 1967 Impossible Dream Red Sox: Pandemonium on the Field (2017), and Go-Go to Glory: The 1959 Chicago White Sox (2019) back again.
Books will be available in digital formats as well as paperbacks produced by "print on demand" (POD).
SABR members will get discounted rates for all Digital Library publications, including many for free. If you're not a member, click here to join SABR.
Stay tuned throughout the year for new (and old!) titles that we'll be adding to the SABR Digital Library. To learn more about SABR Publications, contact Publications Editor Cecilia Tan at ctan@sabr.org.
Having trouble downloading our e-books? To view PDF files on your computer, click here to download the free Adobe Reader software. Having trouble downloading e-books to your Kindle, Nook, Sony Reader or iPad? Click here for additional help.
---
Originally published: December 23, 2019. Last Updated: August 20, 2020.
https://h2j7w4j4.stackpathcdn.com/wp-content/uploads/2020/04/Glorious-Beaneaters-cover-1200px.jpg
1200
920
admin
/wp-content/uploads/2020/02/sabr_logo.png
admin
2019-12-23 12:05:33
2020-08-20 18:39:20
SABR Digital Library: The Glorious Beaneaters of the 1890s