SABR Digital Library: Whales, Terriers, and Terrapins: The Federal League 1914-15
Add a whale of a book to your collection from the SABR Digital Library: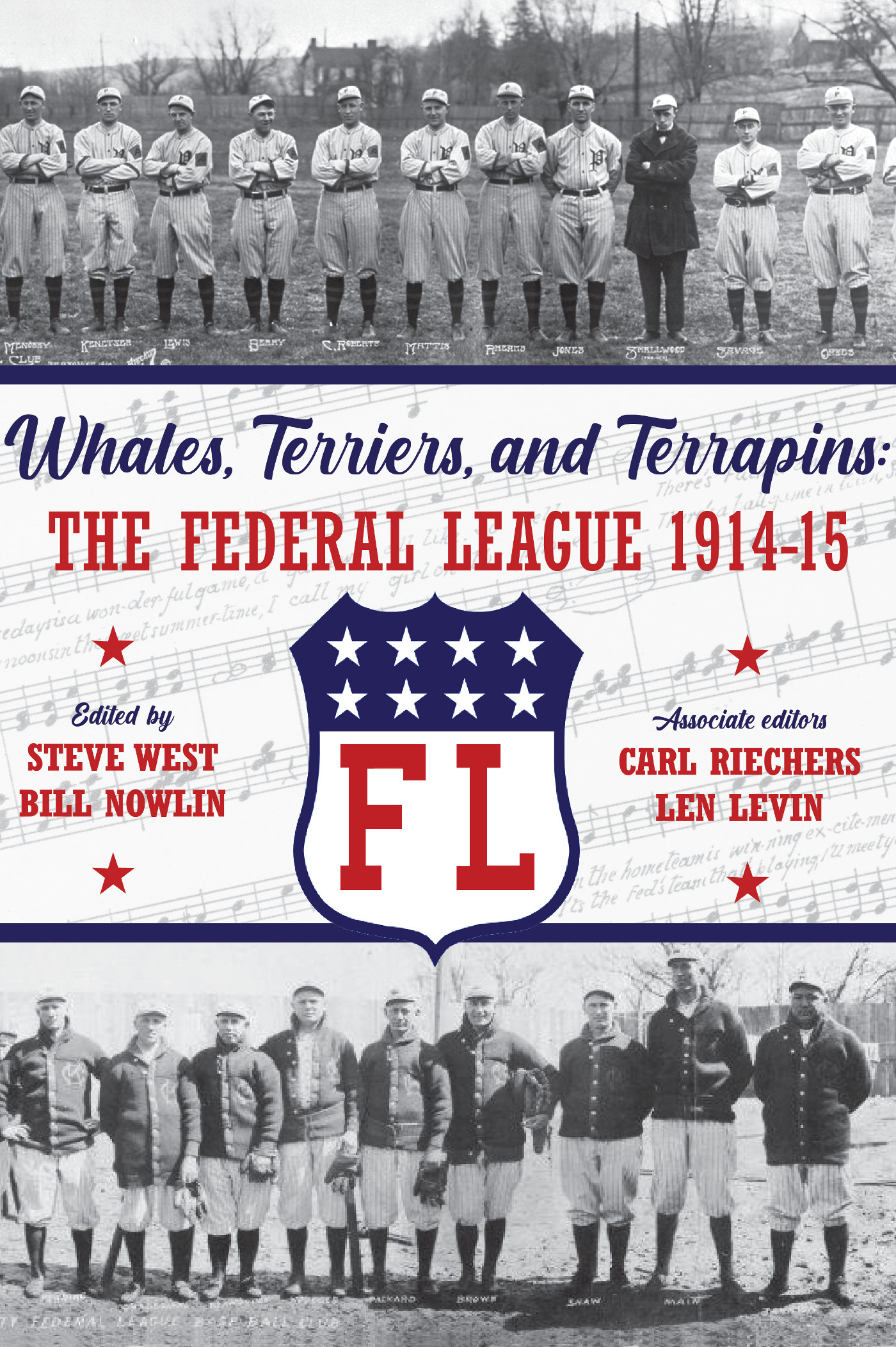 Whales, Terriers, and Terrapins: The Federal League 1914-15
Edited by Steve West and Bill Nowlin
Associate editors: Carl Riechers and Len Levin
ISBN (e-book) 978-1-9701-5920-2, $9.95
ISBN (paperback): 978-1-9701-5921-9, $29.95
8.5″ x 11″, 472 pages
The Federal League formed in 1913 as an "outlaw league" in six cities across the Midwest. In 1914 it added two teams and declared itself a major league. The league's owners "stole" players from the two existing major leagues and put teams in some of the same cities. Both the American and National Leagues struck back. After the 1915 season, with several Federal League teams struggling financially, the two more-established leagues bought out several teams. This caused the collapse of the Federal League.
The impact of the Federal League on baseball is still felt today. The league filed one of the first antitrust lawsuits against Organized Baseball. The case ended up in the court of Judge Kenesaw Mountain Landis, who looms large in baseball history. Although that case was settled, a later lawsuit went all the way to the Supreme Court. The Court decided that baseball is entertainment and thus not subject to antitrust law. This decision has had a wide-ranging effect on the business of baseball. For a physical reminder of the Federal League, one can still see the ballpark built for the Chicago Whales, now known as Wrigley Field.
This book contains biographies of a number of the key players and executives, and game accounts of some of the most interesting games during the league's brief existence.
The enthusiasm for this book on the Federal League was so great that 54 SABR members quickly signed up to make the book a reality. Contributors include: Matt Albertson, Bob Barrier, Rich Bogovich, Maury Bouchard, Thomas J. Brown Jr., Dan Busby, Frederick C. Bush, Matthew Clever, Jerrod Cotosman, Richard Cuicchi, Tom Drake, Jeff Findley, Adam Foldes, Brian M. Frank, Paul Hofmann, Mike Huber, Joanne Hulbert, Bill Johnson, Jimmy Keenan, Anne Keene, Adam Klinker, Sean Kolodziej, Kevin Larkin, Jim Leeke, Bob LeMoine, Dan Levitt, Chad Moody, Rob Nee, Skip Nipper, Bill Nowlin, Chad Osborne, Mark Pestana, Chris Rainey, Richard Riis, Joel Rippel, C. Paul Rogers III, Benjamin Sabin, Steve Schmitt, Harry Schoger, Blake W. Sherry, Steve Steinberg, Mark S. Sternman, Andy Terrick, Cindy Thomson, Bob Webster, Steve West, Robert Peyton Wiggins, Phil Williams, Gregory H. Wolf, Brian Wood, Jack Zerby, and John Zinn.
SABR members, get this e-book for FREE!
Buy the book
About the SABR Digital Library

For more than 40 years, SABR and its members have led the way in publishing the best baseball historical and statistical research. Our publications program is shifting to take advantage of new methods of publishing. Not only will we continue to publish new books like Can He Play? A Look At Baseball Scouts and Their Profession (2011); Detroit Tigers 1984: What A Start! What A Finish! (2012); Sweet '60: The 1960 Pittsburgh Pirates (2013); Inventing Baseball: The 100 Greatest Games of the 19th Century (2013); Scandal on the South Side: The 1919 Chicago White Sox (2015); Nuclear Powered Baseball/The Simpsons (2016), Au jeu/Play Ball: The 50 Greatest Games in the History of the Montreal Expos (2016); Cuban Baseball Legends (2016); No-Hitters (2017); Bittersweet Goodbye: The Black Barons, the Grays, and the 1948 Negro League World Series (2017), Major League Baseball A Mile High: The First Quarter Century of the Colorado Rockies (2018), and The 1995 Cleveland Indians: The Sleeping Giant Awakes (2019), which showcase the best efforts of SABR's members, chapters and committees, but new technology makes it possible for us to bring out-of-print titles like Nineteenth Century Stars (2012); The Fenway Project (2013); The 1967 Impossible Dream Red Sox: Pandemonium on the Field (2017); Go-Go to Glory: The 1959 Chicago White Sox (2019); and Green Cathedrals (2020) back again.
Books will be available in digital formats as well as paperbacks produced by "print on demand" (POD).
SABR members will get discounted rates for all Digital Library publications, including many for free. If you're not a member, click here to join SABR.
Stay tuned throughout the year for new (and old!) titles that we'll be adding to the SABR Digital Library. To learn more about SABR Publications, contact Publications Editor Cecilia Tan at ctan@sabr.org.
Having trouble downloading our e-books? To view PDF files on your computer, click here to download the free Adobe Reader software. Having trouble downloading e-books to your Kindle, Nook, Sony Reader or iPad? Click here for additional help.
---
Originally published: April 8, 2020. Last Updated: August 20, 2020.
https://h2j7w4j4.stackpathcdn.com/wp-content/uploads/2020/04/Federal-League-book-cover.jpg
2104
1400
admin
/wp-content/uploads/2020/02/sabr_logo.png
admin
2020-04-08 05:24:45
2020-08-20 18:41:10
SABR Digital Library: Whales, Terriers, and Terrapins: The Federal League 1914-15