Lou Gehrig: A Fortnight in Hartford, June 1921
---
Editor's note: This article was originally published in 2021 as part of the SABR Century 1921 Project.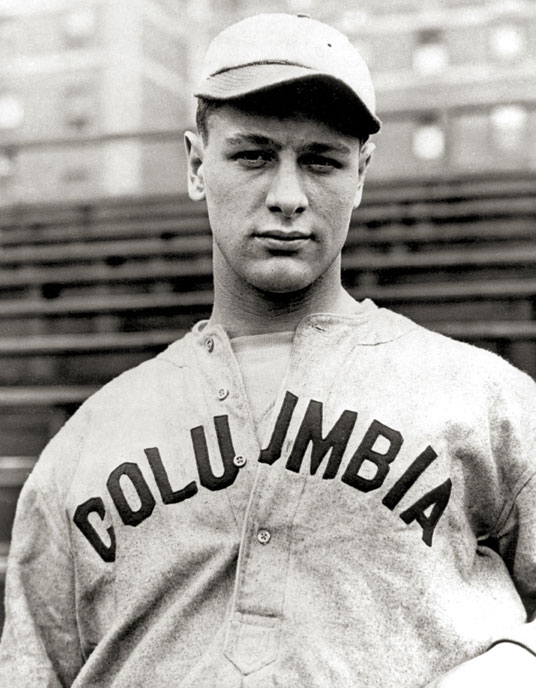 In 1921 Arthur Irwin, at age 63, was in the twilight of a long career in baseball when he was named manager of the Hartford Senators of the Eastern League. He was also a scout for the New York Giants. On April 6 his Senators had played an exhibition against Columbia University and Irwin was favorably impressed by Columbia's first baseman — so impressed that he arranged for a tryout for Lou Gehrig with John McGraw's Giants. McGraw was not interested in pursuing Gehrig, but Irwin suggested that Gehrig join the Hartford Club and play under an assumed name before returning to Columbia in the fall.
Gehrig, in his first semester at Columbia (he had graduated from high school in January 1921), was ineligible to play in games against other colleges but was eligible to play in exhibitions. In Hartford's game at Columbia, the Senators defeated Columbia, 4-3 despite a pair of homers by Gehrig in two at-bats, as ably described by A.B. M'Ginley in the Hartford Times.
"The first time up he picked a high one and slammed it to the center field stands and leisurely made his way around the bases. When he came up again, (Doc) Durgin, the Maine boy who was pitching for Hartford, was all set for revenge. He got a strike on Gehrig but the next one he sent through, Gehrig leaned on and it went sailing out of the enclosure, past a big sundial and almost into the school of Mines. It was a mighty clout, worthy of the Babe's handiwork.1
On June 3, the following headline appeared in the Hartford Times: "Lefty Gahrig [sic], New Clouter, To Be in Local Lineup To-Day Against Pittsfield." The article beneath recounted Lou's two-homer performance in April and mentioned a home run he had hit at Cubs Park (now Wrigley Field) as a high-school player in 1920.2 That home run, a grand slam, had cemented the win as his Commerce High School defeated Chicago's Lane Technical High School, 12-6, for the National Schoolboy Championship.3
Arthur Irwin was quick to inform the local media that his new first baseman would be playing under an assumed name.
Commented the Hartford Courant: "Lou Lewis, Arthur Irwin's latest discovery, was planted on the initial sack. The youngster, who is only eighteen years old, appeared to be a bit nervous. After he gets accustomed to surroundings, he may develop. They seldom fail to make the grade with Irwin teaching the ways of baseball."4
And so, Henry Louis Gehrig was introduced to Connecticut. Hartford had a new ballpark in 1921, Clarkin Field (renamed Bulkeley Stadium in 19285), and, for a fortnight in June, a new first baseman.
In Gehrig's first game, on June 3, he went from goat to hero in a matter of seconds. In the seventh inning, his inability to make a play on a slow roller by Pittsfield pitcher Al Pierotti wound up giving the visitors runners at first and second with one out. On the next play, Lou redeemed himself, digging a throw out of the dirt to complete an inning-ending 1-5-3 double play. In Hartford's half of the inning, he sacrificed the tying run, Heinie Scheer, to second base. The Senators then took a 2-1 lead, and they held on to win by that score.6
In Gehrig's second game with Hartford, on Saturday, June 4, the Senators were matched up against Waterbury. Batting fifth in the order, he led off the second inning. He tripled on the first pitch and scored his team's second run of the game on a single by Phil Neher. Hartford went on to win, 5-3.7
Gehrig's first RBI came a day later as the Senators traveled to Albany for a 10-2 win. His second-inning single scored Fred Bailey with the first run of the game and the Senators piled it on from there. The next day's Hartford Courant referred to him as "Lewis, the 18-years old youngster who is being touted as a 'Babe' Ruth.'"8
On June 8, in a 10-6 win over Pittsfield, Gehrig had his third multiple-hit game with Hartford and hit his first double of the season. He was going for his third hit of the game when, as described in the Courant, "he slammed a terrific drive that traveled at a mile-a-minute clip into (right fielder Bill) McCorry's gloved hand. It was the hardest hit ball of the game."9 With five wins in Gehrig's first six games with the Senators, Hartford had climbed into first place in the Eastern League. Bill McCorry was the definition of a career minor leaguer. He first played in 1906 at the age of 18. He played in five decades, finishing his career at age 54 in 1942. He appeared, as a starting pitcher, in just two big-league games, with the 1909 St. Louis Browns, losing both decisions and going 0-for-5 at the plate.
The double in the third inning slammed against the "B" in the "Buick" sign. Apparently, had Gehrig hit the "U" in the sign, he would have gotten a car. An affidavit signed by a youngster with a good view of the fence (from a tree just outside the fence) verified that Gehrig's shot slammed into the "B."10
On June 10 Hartford lost 4-2 in 13 innings to Bridgeport. In the ninth inning, Gehrig hit a ball that bounced off the pitcher, putting runners on first and second with one out in the tie game. But he was picked off first base and the rally went for naught.11
The next day's game was another disappointment as Hartford lost to New Haven, 8-3. Gehrig's muff of a throw in the sixth inning allowed New Haven to score the first of three runs in the inning.12
On June 14, the team picture was published in the Hartford Times with a young Lou Gehrig.13
The 1921 Hartford club of the Eastern League, as published in the Hartford Times on June 14, 1921, when Lou Gehrig — playing as "Lou Lewis" — was on the team. (COURTESY OF ALAN COHEN)
A fifth-inning RBI triple on June 14 brought Gehrig's batting average to .262, as the Senators defeated Springfield, 9-1, to secure their hold on first place.14 He came into the game as a replacement in the fourth inning when outfielder Brick Kane was injured, and first baseman Harry Hesse was moved to left field.15
In his final game with Hartford, on June 15, Gehrig went 1-for-4 in a 9-2 loss at Springfield. His only hit was a first-inning liner off the first baseman's shin that rolled across the infield, allowing Hesse to score from third base.16 His final average with the Senators was .261 (12-for-46), with a double, two triples, and four RBIs.
On June 16, the scheduled game with Waterbury was called off. A fire had consumed the Waterbury ballpark and all the team's equipment. By the time the Senators took the field against New Haven on June 17, Lou Lewis was no longer with the team. Columbia coach Andy Coakley had discovered that his player was in Hartford and spirited him back to New York.
The departure of "Lou Lewis" was not mentioned in either the Hartford Courant or the Hartford Times.
Not long after Gehrig left the Senators, manager Arthur Irwin was hospitalized. A month later, he was said to have committed suicide jumping from a ship in the Atlantic Ocean. The Senators fell from contention and finished the season in fifth place with a 73-78 record.
Gehrig was suspended for one year of athletic activity by Columbia. He took to the gridiron in the autumn of 1922 and played baseball for Columbia in the spring of 1923 before signing with the New York Yankees. After riding the bench for a month (only seven game appearances with five at-bats) with the Yankees in 1923, he was sent to Hartford, where he had 24 homers in 59 games to lead the team to the Eastern League championship.
ALAN COHEN serves as Vice President-Treasurer of SABR's Connecticut Smoky Joe Wood Chapter and is datacaster for the Hartford Yard Goats, the Double-A affiliate of the Rockies. His biographies, game stories and essays have appeared in more than 40 SABR publications. His work on youth ballgames awakened an interest in the role of Babe Ruth in these games. Alan has continued to expand his research into the Hearst Sandlot Classic (1946- 1965), which launched the careers of 88 major-league players, and had Babe Ruth as its honorary chairman in 1947. He has four children and six grandchildren and resides in Connecticut with wife Frances, their cat Morty, and their dog Buddy.
Acknowledgments
This story was vetted by Bill Nowlin, fact-checked by Carl Riechers, and copy-edited by Len Levin.
The author is grateful to the staff at the Connecticut Historical Society in helping him gain access to the Hartford Times.
Sources
In addition to the sources shown in the Notes, the author used Baseball-Reference.com., the Encyclopedia of Minor League Baseball, and the following:
Eig, Jonathan. Luckiest Man: The Life and Death of Lou Gehrig (New York: Simon & Schuster, 2005), 29-32.
Notes
1 A.B. McGinley, "Senators Win with Two Home Runs Against Them — Defeat Columbia 4-to-3," Hartford Times, April 7, 1921: 15.
2 "Lefty Gahrig, New Clouter, to Be in Local Lineup To-Day Against Pittsfield; Gahrig Joins Irwin's Club," Hartford Times, June 3, 1921: 22-23.
3 Alan Cohen, "National High School Powerhouses Meet in the Friendly Confines," in Wrigley Field: The Friendly Confines at Clark and Addison (Phoenix: Society for American Baseball Research, 2019), 50-51.
4 "With the Senators," Hartford Courant, June 4, 1921: 14.
5 Norman Hausmann, "Bulkeley Stadium: Hartford's Last Home to Pro Baseball," in 100: The 100 Year Journey of a Baseball Journeyman: Mike Sandlock, (Phoenix: Society for American Baseball Research, 2016), 215-218.
6 "Lucky Seventh Sees Locals Rally to Win," Hartford Courant, June 4, 1921: 14.
7 "Bailey's Bat Helps to Defeat Brasscos," Hartford Courant, June 5, 1921: 4, 1.
8 "With the Senators," Hartford Courant, June 6, 1921: 6.
9 "With the Senators," Hartford Courant, June 9, 1921: 18.
10 "Senators are Undisputed Tenants of Top Place for First Time This Year," Hartford Times, June 9, 1921: 16.
11 "Bridgeport Brown Derbies Edge Out Senators in Thirteen Inning Battle," Hartford Times, June 11, 1921: 14.
12 "Senators Break Even over Week End; Drop Ponies but Lose to Indians," Hartford Times, June 13, 1921: 14.
13 "Chasing Pennant at Merry Clip," Hartford Times, June 14, 1921: 16.
14 "Sloan Flashes Return to Form, Locals Win," Hartford Courant, June 15, 1921: 14.
15 "Senators Continue Merry Race for Flag by Walloping Ponies, 9-to-1," Hartford Times, June 15, 1921: 16.
16 "Donovan Effective in Pinches, Senators Lose," Hartford Courant, June 16, 1921: 14.
https://sabr.org/wp-content/uploads/2020/03/research-collection4_350x300.jpg
300
350
sabr
/wp-content/uploads/2020/02/sabr_logo.png
sabr
2021-07-24 18:34:30
2021-08-05 01:02:42
Lou Gehrig: A Fortnight in Hartford, June 1921