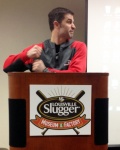 The Pee Wee Reese Chapter's 2015 SABR Day meeting was a resounding success. A total of 27 members and guests from Louisville and Indiana attended, the largest number for at least six years. More would have attended had it not snowed the evening before, no doubt scaring some attendees away, especially those who had to travel from around Kentucky. The meeting was held on January 24, 2015, at the Louisville Slugger Museum.
 
Featured speaker Chris Burke, former MLB'er with three teams, was very entertaining, enlightening and frank about his experiences. He gave a dramatic recreation of the most famous HR in Houston Astro history. Dr. Rodger Payne, a die-hard Kansas City Royal rooter, gave a research presentation on "Can Small Market Teams Compete" which was outstanding and very timely. It deserves a wider audience. Faithful member Bud Thieman gave a brief remembrance of the '97 Convention in Louisville, and he introduced award-winning front-office executive Mary Barney, the first Redbirds staffer hired when Baseball returned to Louisville in 1982. The Trivia Contest overseen by Dr. Jack Sullivan was more fun than ever with Bob Sawyer winning the $50 cash prize again, and Brian Lepley coming in second. Next year, we plan to have cash awards for the top Two finishers.
Everyone present left with a door prize and new friendships.This was the best gathering the Chapter has had in a long time. We will soon be checking with valued partner Anne Jewell, Director of the Louisville Slugger Museum and Factory, to see if we can reprise a SABR Night at the Bats game in the LSM Suite this July.
Respectfully submitted,
Harry Rothgerber