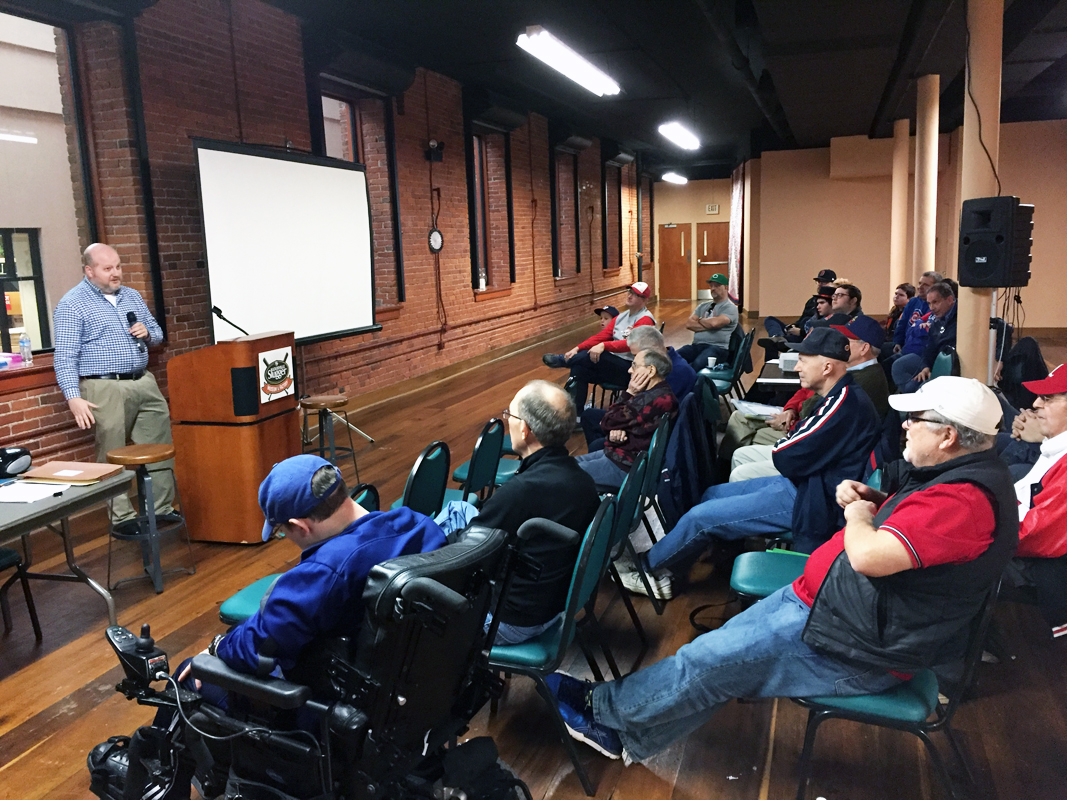 Unlike the ice and snow of past years, rainy weather (and 54 degrees) greeted 27 members and guests at the annual SABR Day gathering of the Pee Wee Reese SABR Chapter on January 27, 2018, at the Louisville Slugger Museum and Factory. Participants travelled from as far away as Indianapolis, Cincinnati and Lexington to attend. The kind folks at the LSM&F provided an attractive, ample meeting space, including coffee, bottled water and light refreshments.
After introductions and a brief business meeting, author Joe Cox discussed his newest book, Almost Perfect, about perfect game near-misses. He played a number of audio recordings to complement his presentation, and he also discussed how he conducted his research. He donated both that book and his upcoming Immaculate Innings book to our silent auction. Then, John Erardi, a HOF voter who covered the Reds for a Cincinnati newspaper for 31 years, discussed his newest book, Tony Perez: From Cuba to Cooperstown, and showed interesting photos from his collection. He answered questions and received much acclaim for his insightful presentation.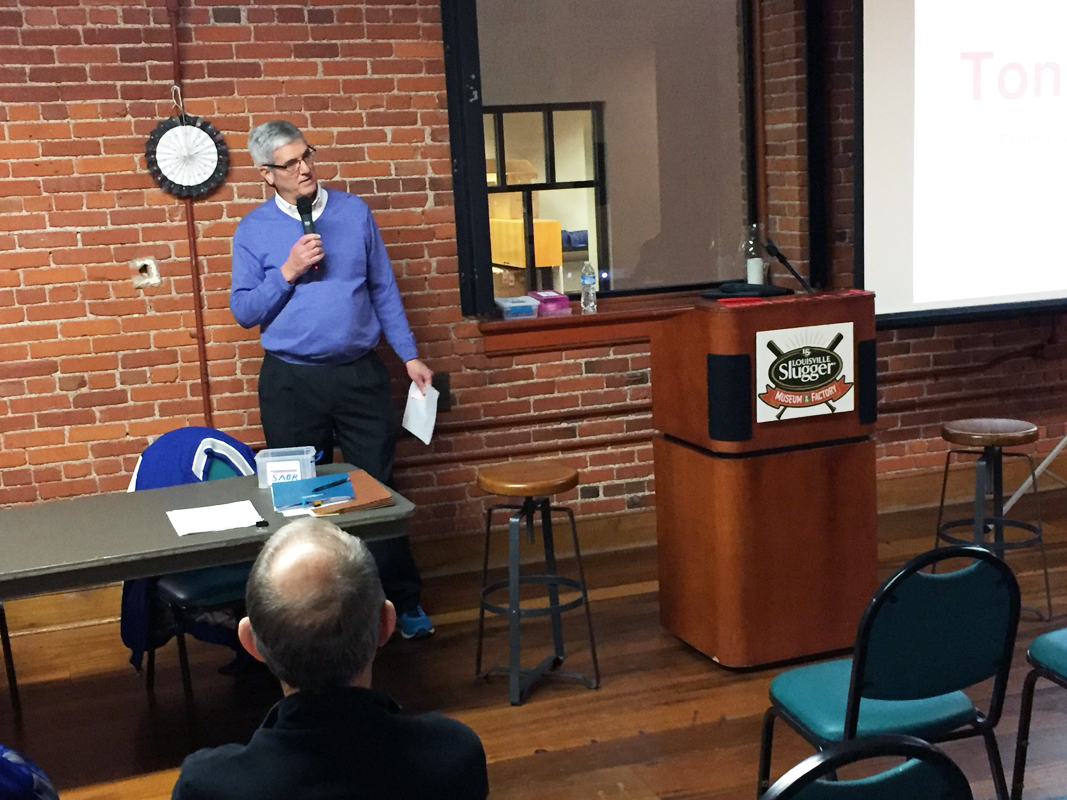 Dr. Jack Sullivan again prepared a challenging 25-question written Trivia Contest, with new Louisville Bats media and public relations manager Alex Mayer (20 points) edging out faithful SABR members Robert Sawyer and Cox (both 19 points) for first place. Sawyer won a tie breaker, and the top two both received cash prizes. Everyone present left with a door prize, courtesy of the book collection donated by the estate of deceased member Charles Faber. Guest Jeff Hollis won a one-year complimentary SABR membership, courtesy of the Chapter. Three silent auction prizes generated fan interest and helped fill the Chapter's coffers. Much laughter and camaraderie filled the day.
It was also announced that the Louisville Bats Baseball Club will honor the Chapter's namesake, Pee Wee Reese, on July 28, 2018, to celebrate the 100th anniversary of Pee Wee's birth. The game-event will include distribution of replicas of the Reese statue that stands in front of Slugger Field and appearances by members of the Reese family.
Harry Rothgerber once again served as master of ceremonies for a lively and very enjoyable day. With his customary deadpan wit, he kept the program moving and on schedule, and filled any gaps (such as setting up powerpoints for speakers) by picking door prize winners so everybody walked away with a nice baseball book or souvenir item.  
Steering committee member Ryan Schroer was recognized for his leadership in developing and maintaining the Chapter Facebook page. The membership was informed about the current discussion regarding the renaming of the Society.
We look forward to our next event this summer at Louisville Slugger Field.
— Harry Rothgerber