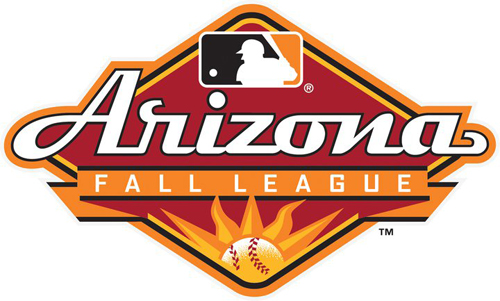 We hope you'll join us for the eighth annual SABR Arizona Fall League Experience, which will be held Thursday, November 3 to Saturday, November 5, 2016. All baseball fans are welcome to attend.
The event will feature four AFL games — at four different ballparks — showcasing baseball's top prospects. We'll also have a ballpark dinner at Scottsdale Stadium with a special guest speaker and the Arizona Major League Alumni auction on Friday evening.
On Saturday, November 5, attendees will join members of SABR's Flame Delhi Chapter for their regional fall meeting, with research presentations and guest speakers. We'll conclude the conference with the nationally televised Fall Stars Game on Saturday evening at Surprise Stadium. All of this, including transportation, is included in one low registration price.
Register now by clicking here! Registration is $195 for all SABR members and guests (early registration has now expired.)
Host hotel: SABR's recommended hotel is the Holiday Inn Express & Suites (3131 N. Scottsdale Rd., Scottsdale, AZ 85251) in Old Town Scottsdale. Click here to book your room online or call the hotel at (480) 675-7665 and mention "SABR" to book your room at our special group rate of $116/night (plus tax).

Your registration fee includes all game tickets; an AFL Media Guide; a special evening with Arizona Major League Alumni; and transportation to and from all events.
The Arizona Fall League (mlbfallball.com) is baseball's premier player development league. In the first seven years of the conference, attendees were treated to sneak peeks at Mike Trout, Bryce Harper, Buster Posey, Stephen Strasburg, Nolan Arenado, Gerrit Cole, Billy Hamilton, and Gary Sanchez before they hit the big leagues.
Learn more about Arizona baseball history by downloading Mining Towns to Major Leagues: A History of Arizona Baseball, SABR's 1999 convention journal that was recently republished as an e-book at the Flame Delhi Chapter's website, SABRAZ.org.
For more information, contact SABR Flame Delhi Chapter president Rodney Johnson at sabrrodney@aol.com.
Please note: Local or visiting SABR members can purchase an extra or optional ticket to the Friday night ballpark dinner and ballgame at Scottsdale Stadium for $35. Click here to purchase your ticket for Friday, November 4 (includes dinner). Please contact Rodney Johnson at sabrrodney@aol.com for details. Visit SABR.org/AFL for a full schedule.
2016 SABR Arizona Fall League Experience
Detailed schedule
Thursday, November 3

3:00-5:00 p.m.: Registration at hotel
5:45 p.m.: Bus leaves hotel for Talking Stick at Salt River Fields
6:35 p.m.: Peoria Javelinas vs. Salt River Rafters, Salt River Fields
9:00 p.m.: Return to Holiday Inn Express
Friday, November 4

11:30 a.m.: Bus leaves hotel for Peoria Sports Complex
12:35 p.m.: Glendale Desert Dogs at Peoria Javelinas, Peoria Sports Complex
3:30 p.m.: Return to Holiday Inn Express
4:45 p.m.: Bus leaves hotel for Scottsdale Stadium
5:00 p.m.: Ballpark dinner and AZ Major League Alumni auction at Scottsdale Stadium with special guest speakers: former Chicago Cubs outfielder Byron Browne, AFL president Steve Cobb, and more.
6:30 p.m.: Mesa Solar Sox vs. Scottsdale Scorpions, Scottsdale Stadium
9:30 p.m.: Return to Holiday Inn Express
Saturday, November 5

10:00 a.m: Flame Delhi Chapter Meeting at Holiday Inn Express. Guest speakers: Broadcasters Panel with Oakland A's voice Vince Cotroneo and Marty Lurie of KNBR; Barry Bloom will interview former MLB pitcher John D'Acquisto; former scout Bernie Pleskoff on the Fall Stars Game prospects; and member presentations TBA. 
12:30 p.m.: Optional lunch at Lo-Lo's Chicken & Waffles
3:15 p.m.: Bus leaves hotel for Fall Stars Game
5:10 p.m.: Fall Stars Game, Surprise Stadium
8:30 p.m.: Return to Holiday Inn Express
---
For stories and photos from past AFL Experiences, click on a link below: