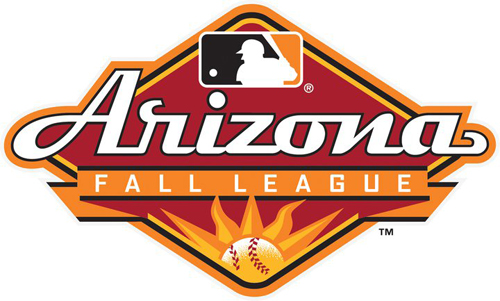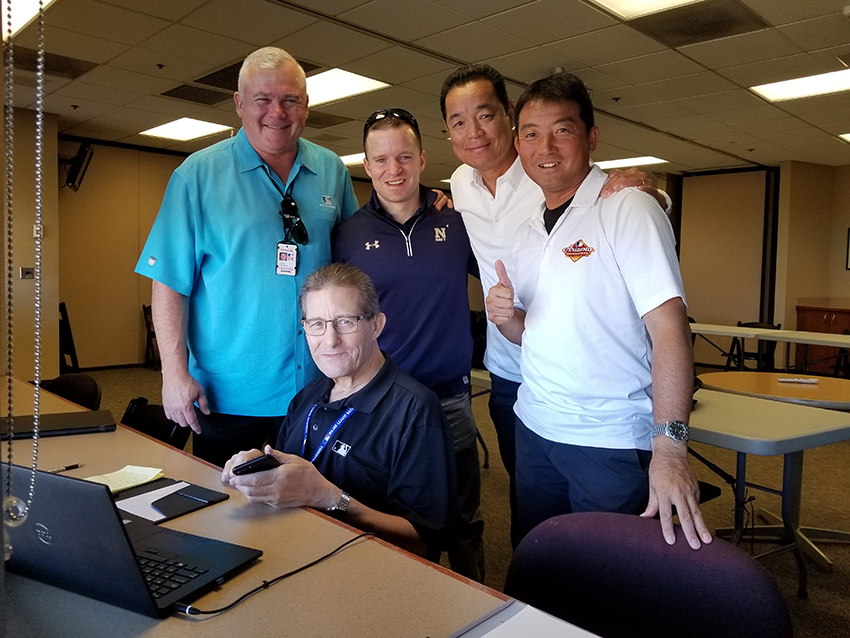 The 10th annual SABR Arizona Fall League Experience was held Thursday, November 1 to Saturday, November 3, 2018. The event featured four AFL games showcasing baseball's top prospects.
On Friday afternoon before the game at Scottsdale Stadium, we heard from Rich Rieker, Director of Umpire Development for Major League Baseball; umpires Dan Merzel and Jansen Visconti; MLB Umpire Supervisor Tom Lepperd; and Takeshi Hirabayashi, Umpire Supervisor in Japan's Nippon Professional Baseball league.
On Friday night, attendees came together for a special taco bar dinner at our host hotel, The Saguaro, which was just steps away from Scottsdale Stadium and many Old Town Scottsdale attractions.
On Saturday morning after our conference breakfast, attendees joined members of SABR's Hemond-Delhi Arizona Chapter for their regional fall meeting with research presentations and guest speakers, including Scott Bush, SABR Chief Executive Officer; Bernie Pleskoff, baseball scout and analyst at Clubhouse Corner, who provided a 2018 AFL prospect breakdown; and a panel discussion on MLB rules changes and pace of play with national baseball columnists Barry Bloom and Tony DeMarco, San Francisco Giants radio broadcaster Marty Lurie, and former Chicago Cubs general manager Ed Lynch.
The conference concluded with the nationally televised Fall Stars Game on Saturday evening at Surprise Stadium, where Kansas City Royals catching prospect Meibrys Viloria gave the West team a thrilling 7-6 victory with a walk-off single in the ninth inning. San Diego Padres prospect Buddy Reed took home MVP honors after his game-tying triple scored Vladimir Guerrero Jr. of the Toronto Blue Jays, MLB's No. 1 overall prospect, before Viloria's heroics.
Click here to view more photos from the 2018 SABR Arizona Fall League Experience.
2018 SABR Arizona Fall League Experience schedule

Thursday, November 1
10:30 a.m.-12:30 p.m.: Registration open at The Saguaro hotel lobby
12:35 p.m.: Surprise Saguaros at Mesa Solar Sox  
4:00-6:00 p.m.: Registration open at The Saguaro hotel
6:00 p.m.: Walk to Scottsdale Stadium
6:35 p.m.: Peoria Javelinas at Scottsdale Scorpions, Scottsdale Stadium
Friday, November 2
11:00 a.m.: Walk to Scottsdale Stadium
11:30 a.m.: Pregame guest speaker: Rich Rieker, Director of Umpire Development for Major League Baseball, and other umpires at Scottsdale Stadium
12:35 p.m.: Mesa Solar Sox at Scottsdale Scorpions, Scottsdale Stadium
3:30 p.m.: Return to The Saguaro hotel
5:30 p.m.: Taco bar dinner at The Saguaro hotel
Saturday, November 3
8:00 a.m.: Conference breakfast at The Saguaro hotel
9:00 a.m: Hemond-Delhi Arizona Chapter meeting at The Saguaro hotel
1:30 p.m.: Lunch on your own
3:30 p.m.: Bus leaves The Saguaro hotel for Fall Stars Game in Surprise
5:00 p.m.: Fall Stars Game, Surprise Stadium
Appx. 8:30 p.m.: Bus returns to The Saguaro hotel (after the game)
---
For stories and photos from past AFL Experiences, click on a link below: