The eighth annual SABR Arizona Fall League Experience was held Thursday, November 3 to Saturday, November 5, 2016. The event featured three AFL games at three different ballparks — one fewer than usual, thanks to a rare Arizona storm that postponed our opening game — including the Fall Stars Game showcasing baseball's top prospects.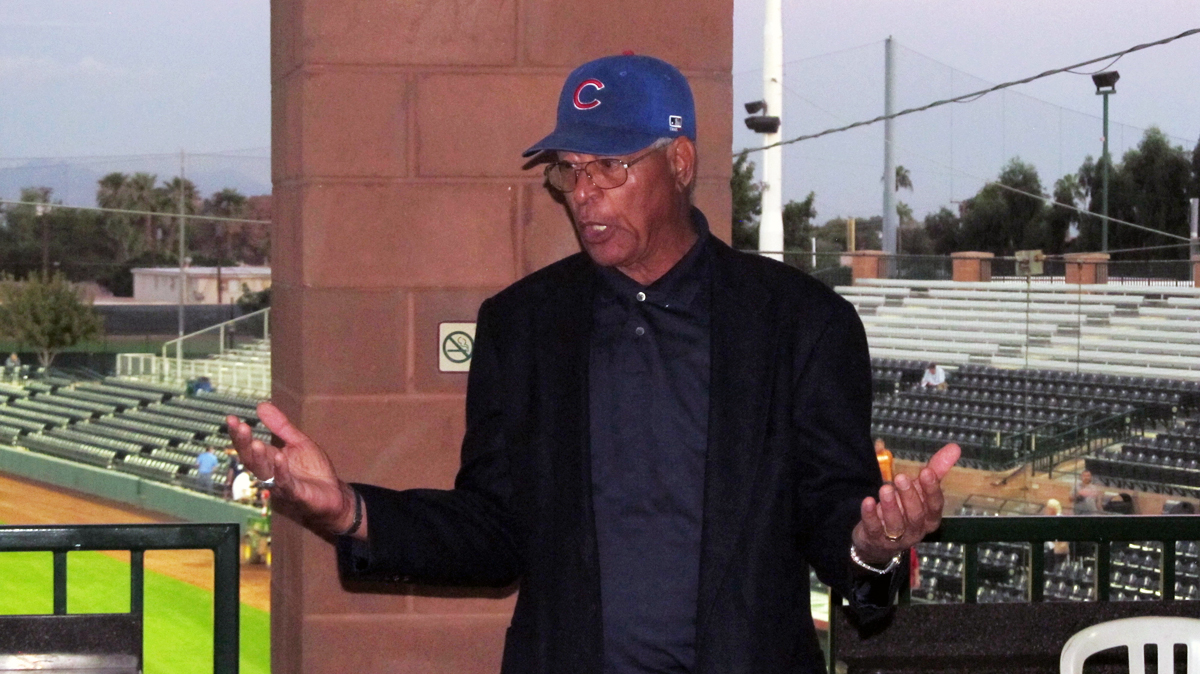 Click here to check out a photo gallery from the 2016 SABR Arizona Fall League Experience or view more photos below.
On Friday, November 4, attendees were treated to a ballpark dinner at Scottsdale Stadium along with the Arizona Major League Alumni auction. AFL president Steve Cobb spoke about the history of the fall league, AFL alumnus Mike Piazza's induction into the Baseball Hall of Fame, and the attendance boost this year because of the presence of football star Tim Tebow. Former Chicago Cubs outfielder Byron Browne talked about some interesting events from his career, including Sandy Koufax's perfect game in 1965, being involved in the historic Curt Flood trade, and being roommates with Lou Brock, Billy Williams, and other greats.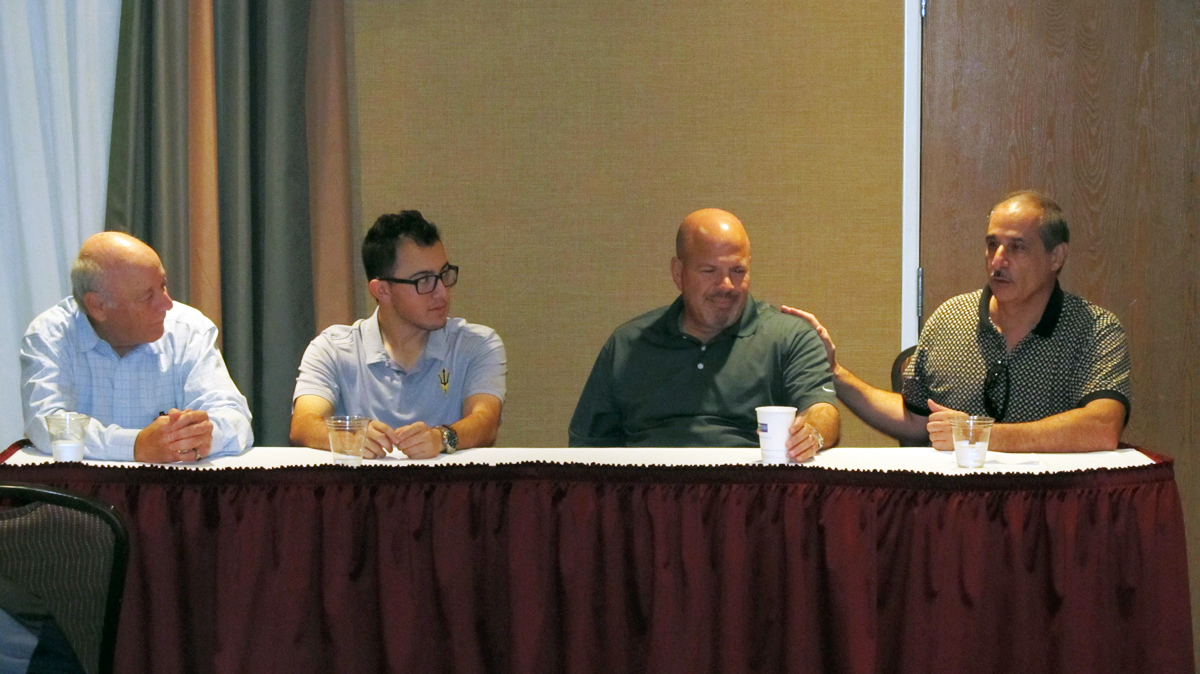 On Saturday, November 5, attendees joined members of SABR's Flame Delhi Chapter for their regional fall meeting. Our guest speakers included a panel on baseball broadcasting with Oakland A's voice Vince Cotroneo, his son Dominic Cotroneo of Arizona State University, and Marty Lurie of KNBR in San Francisco, moderated by Tony DeMarco. Denise Stillman spoke about plans to develop land near the "Field of Dreams" movie site in Dyersville, Iowa, while Chuck Johnson gave a presentation on the Arizona Rookie League. Former scout Bernie Pleskoff gave his recommendations on who to watch in the Fall Stars Game. MLB.com columnist Barry Bloom and former MLB pitcher John D'Acquisto talked about the Chicago Cubs winning the World Series and shared stories from John's new autobiography, Fastball John. After lunch, the conference concluded with the Fall Stars Game on Saturday evening at Surprise Stadium.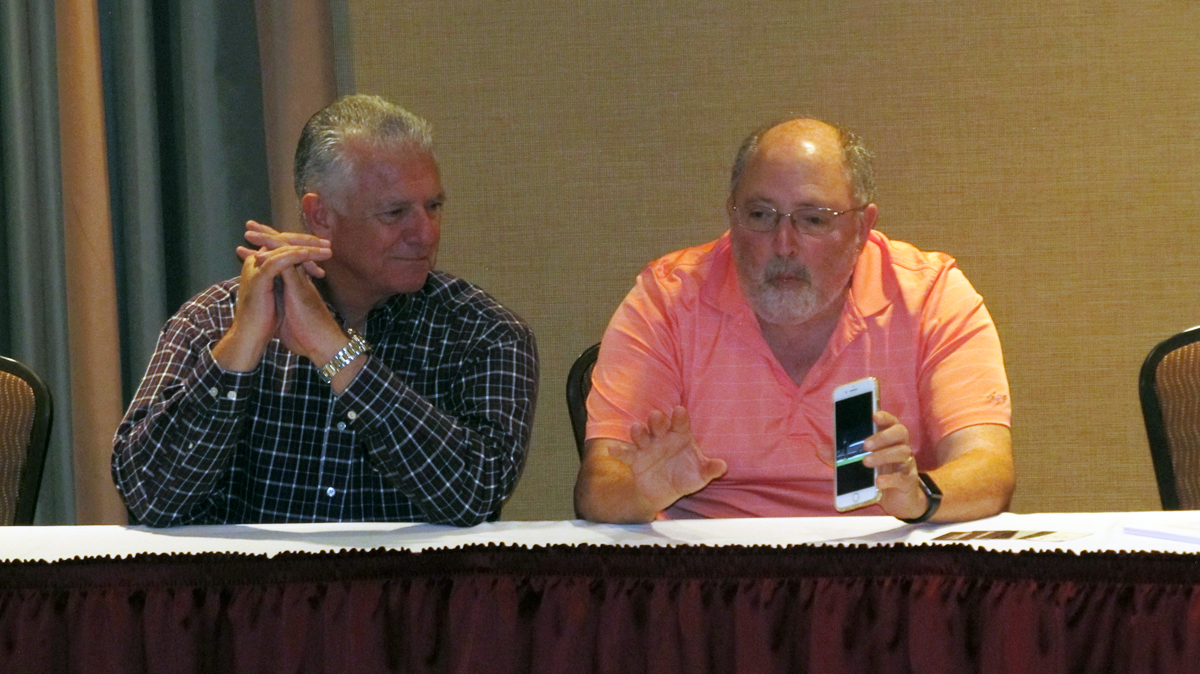 The Arizona Fall League (mlbfallball.com) is baseball's premier player development league. In the first seven years of the conference, attendees were treated to sneak peeks at Mike Trout, Bryce Harper, Buster Posey, Stephen Strasburg, Nolan Arenado, Gerrit Cole, Billy Hamilton, and Gary Sanchez before they hit the big leagues.
Learn more about Arizona baseball history by downloading Mining Towns to Major Leagues: A History of Arizona Baseball, SABR's 1999 convention journal that was recently republished as an e-book at the Flame Delhi Chapter's website, SABRAZ.org.
All baseball fans are welcome to attend the SABR Arizona Fall League Experience. Check out photos from the conference below:
2016 SABR Arizona Fall League Experience
Detailed schedule
Thursday, November 3

3:00-5:00 p.m.: Registration at hotel
5:45 p.m.: Bus leaves hotel for Talking Stick at Salt River Fields
6:35 p.m.: Dinner at Rosati's Pizza in Scottsdale, in lieu of postponed game at Salt River Fields
9:00 p.m.: Return to Holiday Inn Express
Friday, November 4

11:30 a.m.: Bus leaves hotel for Peoria Sports Complex
12:35 p.m.: Glendale Desert Dogs at Peoria Javelinas, Peoria Sports Complex
3:30 p.m.: Return to Holiday Inn Express
4:45 p.m.: Bus leaves hotel for Scottsdale Stadium
5:00 p.m.: Ballpark dinner and AZ Major League Alumni auction at Scottsdale Stadium with special guest speakers: former Chicago Cubs outfielder Byron Browne and AFL president Steve Cobb
6:30 p.m.: Mesa Solar Sox vs. Scottsdale Scorpions, Scottsdale Stadium
9:30 p.m.: Return to Holiday Inn Express
Saturday, November 5

10:00 a.m: Flame Delhi Chapter Meeting at Holiday Inn Express & Suites on Scottsdale Road
12:30 p.m.: Optional lunch at Lo-Lo's Chicken & Waffles
3:15 p.m.: Bus leaves hotel for Fall Stars Game
5:10 p.m.: Fall Stars Game, Surprise Stadium
8:30 p.m.: Return to Holiday Inn Express
---
For stories and photos from past AFL Experiences, click on a link below: