The seventh annual SABR Arizona Fall League Experience — with a new name, but same great experience — was held November 5-7, 2015. The event featured four AFL games showcasing baseball's top prospects, including games at Scottsdale Stadium and Camelback Ranch, our first trip to Glendale; dinner at Don and Charlie's in Scottsdale, home to one of the great sports memorabilia collections you will ever see, and a ballpark dinner at Salt River Fields at Talking Stick, along with the Fall Stars Game.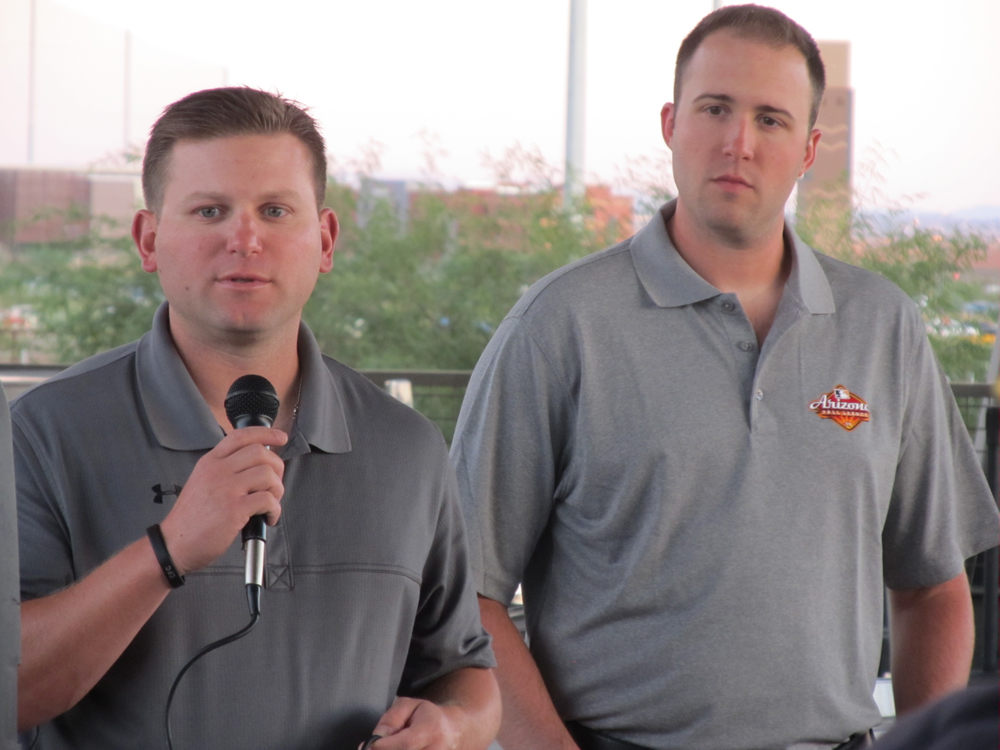 Click here to check out a photo gallery from the 2015 SABR Arizona Fall League Experience or view more photos below.
On Thursday, November 5, conference attendees took in a game between the Peoria Javelinas and Scottsdale Scorpions at Scottsdale Stadium. Giants outfield prospect Mac Williamson doubled and drove in two runs in the Scorpions' 5-2 win. On Thursday evening, AFL umpires Clint Fagan and Nicholas Lentz spoke to the SABR group about the challenges of a professional umpiring career and learning the new "pace of play" rule changes.
On Friday, November 6, AFL Experience guests attended a game between the Mesa Solar Sox and Glendale Desert Dogs at Camelback Ranch. Dodgers catcher/infielder Kyle Farmer homered and had four RBIs in the Desert Dogs' 7-6 victory. The game was followed by a special dinner at Don and Charlie's in Scottsdale, where Arizona Major League Alumni president Lou Klimchock, who spent 12 years in the big leagues, and his grandson Mitch Nay, now a minor-league infielder in the Toronto Blue Jays organization, talked about the "generation gap" and the differences in their experiences in pro ball.
On Saturday, November 7, attendees joined members of SABR's Flame Delhi Chapter for their regional fall meeting, with guest speakers Barry Bloom and Bernie Pleskoff of MLB.com. Bloom spoke about his recent trip to the World Series and his thoughts on offseason moves by the San Diego Padres and Arizona Diamondbacks, while Pleskoff gave his scouting report on which players to watch at the Fall Stars Game. Chapter member Chuck Johnson made a presentation on Dernell Stenson, the former Cincinnati Reds outfielder and AFL prospect who was killed in 2003. A sportsmanship award is presented in his honor to a fall league player each year. Jacob Pomrenke also spoke about new developments in the Black Sox Scandal, the fixing of the 1919 World Series, subject of a new SABR e-book, Scandal on the South Side.
The SABR AFL Experience concluded with the nationally televised Fall Stars Game from Salt River Fields at Talking Stick. Yankees catcher Gary Sanchez won MVP honors with a two-run homer and an impressive throw to catch the Giants' Christian Arroyo attempting to steal. The Pirates' Austin Meadows and the Reds' Alex Blandino also homered for the West team in an 8-3 win in front of a Fall Stars Game-record 6,793 fans.
The Arizona Fall League (mlbfallball.com) is baseball's premier player development league. In the first six years of the conference, attendees were treated to sneak peeks at Mike Trout, Bryce Harper, Buster Posey, Stephen Strasburg, Nolan Arenado, Gerrit Cole, and Billy Hamilton before they hit the big leagues.
Learn more about Arizona baseball history by downloading Mining Towns to Major Leagues: A History of Arizona Baseball, SABR's 1999 convention journal that was recently republished as an e-book at the Flame Delhi Chapter's website, SABRAZ.org.
All baseball fans are welcome to attend the SABR Arizona Fall League Experience. Check out photos from the conference below:
Detailed schedule
Thursday, November 5
9:00 a.m.: Registration at hotel
11:30 a.m.: Walk or ride to Scottsdale Stadium
12:35 p.m.: Peoria Javelinas at Scottsdale Scorpions, Scottsdale Stadium
3:30 p.m.: Return to Holiday Inn Express
4:30 p.m.: Depart for dinner and game at Salt River Fields via hotel shuttle
5:00 p.m.: Ballpark dinner and guest speaker and AZ MLB Alumni Raffle
6:35 p.m.: Mesa Solar Sox vs. Salt River Rafters, Salt River Fields
9:00 p.m.: Return to hotel
Friday, November 6
11:00 a.m.: Depart hotel for game via All Aboard America Bus
12:35 p.m.: Mesa Solar Sox at Glendale Desert Dogs, Camelback Ranch
3:30 p.m.: Return to Holiday Inn Express
5:00 p.m.: Complementary beer and wine happy hour at hotel
6:15 p.m.: Depart for Don and Charlie's
6:30 p.m.: Dinner with special guests Lou Klimchock and Mitch Nay
9:30 p.m.: Return to Holiday Inn Express
Saturday, November 7
10:00 a.m: Flame Delhi Chapter Meeting at Holiday Inn Express. Guest speakers and chapter members research to be presented.
12:30-5:15 p.m.: On your own for lunch or to explore the shops of Old Town Scottsdale. Free hotel shuttle available.
5:30 p.m.: Depart for Fall Stars Game
6:10 p.m.: Fall Stars Game, Salt River Fields at Talking Stick
9:15 p.m.: Return to Holiday Inn Express
---
For stories and photos from past AFL Conferences, click on a link below: