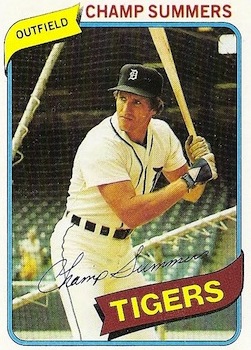 Baseball history is filled with all variety of wonderful-sounding names. But has there ever been a more perfect name for a baseball player than Champ Summers? "With a name like that, you gotta be half-way decent anyway," Champ would say years later. "If my name had been George, nobody would have noticed me, but Champ?" Growing up, Summers had to constantly prove that he was as great and as tough as his name implied. "A kid would come up to me and say, 'What's your name?' I'd say 'Champ.' He'd say 'Champ?' And away we'd go. I got into more than a few fights because of my name." As evidence of his pugilistic past, Champ's left cheek was adorned with a large scar: "It happened a long time ago, when I used to roam the streets."
It was his father, himself a boxing champion from his days in the Navy, who gave Champ his nickname. "When I was born I was so ugly I looked like I'd been beaten around in the ring. They called me 'Champ.'" There was also a slightly different version of the tale. "Dad took one look at me when I was born and said, 'He looks like he just went ten rounds with Joe Louis.' It's a sad story, but true." His father always made it clear that he would be known as "Champ."
He was born John Junior Summers II, on June 15, 1946, in Bremerton, Washington, the home of the Puget Sound Naval Shipyard. During World War II, the city's population topped out at around 80,000. The war effort was at its peak, and workers flocked to the area to take advantage of the availability of shipbuilding jobs. Bremerton's history featured a few notable residents. Jazz legend Quincy Jones' family moved to the city when Quincy was ten. It is the birthplace of Bill Gates Sr., the father of Microsoft founder Bill Gates. The latter's grandfather ran a furniture store along with an ice cream parlor in the downtown area. Scientology founder L. Ron Hubbard attended Union High School and began his writing career while living in Bremerton.
A copy of Champ's birth certificate reveals his father's name as John Junior Summers, originally from Sparta, Illinois. On the document, the elder Summers listed his occupation as "self-employed photographer." His mother, Bette Irene Mace, wrote that she was a housewife, born in Big Lake, Washington. The family home was at 3002 Preble Street, in Bremerton. A self-described hustler and scrapper, Champ spent a lot of his formative years hanging around pool halls. His father would give him an allowance of $5 at the beginning of each week. By the end of the week, however, Champ had often made three times that amount playing pool. He would return the five-spot to his old man and keep the rest for himself. Despite having plenty of opportunities to get into trouble, Champ credited his strong home life with keeping him on the straight and narrow. When he turned 17, however, Champ decided to get a tattoo of a Playboy Bunny etched on his right shoulder. He would live to regret the frivolous decision. "I've been paying the price ever since," he said in later years. "Who wants to be 60 years old and sitting in a rocking chair with a Playboy Bunny tattoo?"
Eventually, the Summers family moved to Illinois. Champ graduated from Madison Senior High in 1965. He was a natural athlete, lettering in basketball, football, tennis, track and cross-country. He was also a swimmer and a diver: "I never was the best at anything, but I was always able to do everything." Up to this point in his life, however, he had not yet played baseball seriously. "All the opportunities were there for me to play," he later claimed. "I just didn't have any interest in the game."
Champ liked to tell the story of his brush with greatness when he was a senior in high school. He was at the tennis court one day, when along came a young kid Champ figured to be about 13 years old, with his mother and grandmother trailing behind him. In one account of the story, the kid's mom asked Champ if he would mind hitting the tennis ball around with her son, to which Champ agreed. In the other version, it was the kid himself who challenged Champ to a match. Champ, never one to back down, agreed, soundly defeating the kid by a score of 6-4. Nevertheless, Champ thought the kid had the goods, and said so to his mother. According to Champ, his name was Jimmy Connors. Given that the two lads grew up 20 miles apart with six years separating them, the tale is plausible.
Upon graduating from high school, Champ enrolled in Nicholls State College in Louisiana. He played basketball, but after what he calls a misunderstanding with the coach, he dropped out after only a year and a half. The "misunderstanding" actually involved Champ punching out a fellow player on the team. "I went to Vietnam for that," Champ revealed later. "They kicked me off the team. So I dropped out of school, and the Army grabbed me. It was the best thing that ever happened to me. Vietnam was tough. It made me a different person. I saw them put people in bags and decided they were going to know I had been there before they put me in one. I became more aggressive, more assertive. I came back home and got an education, something I hadn't wanted before. If I hadn't punched that guy and gotten kicked out of school, I wouldn't have gone to war, and I might have settled for the kind of life my father had led." Champ said that his father had "worked on the railroad all his life. I had worked with him. I didn't want to do that."
Champ spent a total of 11½ months in Vietnam. The first six were spent as a paratrooper. The rest of his service time was on the beach, as a lifeguard. But while jumping out of planes, Champ witnessed firsthand the horrors of war, forcing him to grow up quickly. "I don't like to talk about it. Looking back now, it was probably a good thing for me. . . . It made me feel how insignificant I was." Champ narrowly escaped with his life in one instance. While at the wheel of a truck, he drove over a land mine. Fortunately, there were sand bags on the floor of the vehicle, which absorbed much of the shock. Champ suffered a concussion and a broken nose.
After his discharge from the Army, Champ decided to hit the books, and began attending Southern Illinois University Edwardsville in 1970. He studied to be a teacher, as well as a high school coach. He played on the basketball team for two seasons, averaging 18.8 points per game, including one game in which he scored 53. He was a talented enough player to earn a tryout with the Memphis Tams of the old American Basketball Association. At some point, he was also offered a tryout with the Dallas Cowboys of the NFL: "The Cowboys ... had heard about me and thought I had possibilities." Champ had never played college football, however, and never followed up on the offer.
While at SIUE, Champ met his future wife, Barbara, a fellow student. After dating for about a year, they got married in 1971.
It was during Champ's senior year that he first began to play baseball on a team. "I was playing a little slow-pitch softball and one day one of my friends said I should go out for the baseball team. Sounded like a good idea. They had a couple of nice (road) trips coming up. I'd get a couple of days off from school to make them. Why not?" At the time, Champ assumed that the skills needed for playing slow-pitch would translate to baseball. "You run around in the outfield and catch the ball just the same, don't you?" Champ approached the baseball coach, Roy Lee, and told him he wanted to try out for the team. Naturally, Lee expressed skepticism when Champ told him he hadn't played baseball of any kind since he was 13, and not in any organized fashion. Nobody could blame Lee for wanting to give Champ the brush-off, but the latter kept pressing his case. Lee gave in against his better judgment, and Champ got in the cage and swung the bat. The rest, as they say, is history. Champ swatted a pinch-hit homer his first time at bat in a game.
Champ would later look back fondly on his days at SIUE. He said his greatest thrill in college was ranking in the top ten in the NCAA in home runs (7) and RBIs in 1971. He was also voted SIUE's Athlete of the Year in 1971, hitting .340. Years later, former SIUE baseball coach Gary "Bo" Collins said, "I'd go out on a limb and say Champ might have been the best athlete that ever played at SIUE. I think he could have played any sport. He was a tremendous athlete." Collins could still remember the day Champ came for his tryout, "riding down to the field on a Harley without a shirt on ... his hat on backwards."
Despite Champ's success as a college player, he was not drafted upon graduation: "No one would take a chance (on) a guy 24 years old." But Champ's baseball odyssey was not coming to a close. It was only the beginning.
While playing at SIUE, Champ had been spotted by George Bradley, a scout for the Oakland A's. He liked what he saw in Champ, despite his relatively advanced age. Charlie Finley, the owner of the A's, wasn't too excited about signing a player who was almost 25 and whose only baseball experience was 35 games in college. Bradley was a good salesman, however, and talked Finley into giving Champ a contract. "I owe Bradley a lot," Champ admitted later. "He stuck his neck out for me."
At first, Champ himself wasn't sure he wanted to sign with Oakland, but his wife Barbara urged him to at least give it a try. If nothing else, he could say years later that he had played professional ball. On June 12, 1971, Champ signed on the dotted line for a reported $500 per month, no signing bonus, and reported to Class A Coos Bay-North Bend in the Northwest League. In 65 games, Champ hit .252 with three home runs and 34 RBIs. Champ hated the 15-hour bus rides, the lousy truck-stop food, and the dirty hotel rooms, but again, it was Barbara who encouraged him to give it at least one more year, knowing that it was something that Champ really wanted.
He played the following year at Burlington (Iowa) in the Class A Midwest League, finishing with 10 homers, 54 RBIs, and a .308 average in 97 games. In 1973, Champ earned a promotion to AAA Tucson, where he hit .333 in 94 games, but with only 8 homers. He began the next season at Tucson again, but soon Oakland decided he had earned a promotion. Champ Summers finally appeared for the first time in a major-league contest on May 4, 1974, at the ripe old age of 27. Against the Indians in Oakland, he was inserted as a defensive replacement in the top of the ninth for none other than Reggie Jackson. In the bottom of the inning, Champ got his first major-league at-bat against Gaylord Perry, hitting into a line-drive double play to the first baseman. Thus, in his first game as a big leaguer, he both replaced a Hall of Famer and faced a Hall of Famer. His first hit came in the opening game of a doubleheader at the Oakland Coliseum on May 14, 1974. It was a pinch-hitting appearance in the ninth inning against the Kansas City Royals' Doug Bird, a ground-ball single to center.
By early June, Champ was sent back to Tucson. His numbers at Oakland were not good. In 20 games, he had only three hits in 24 at-bats for a .125 average, with no homers and three RBIs. At Tucson he hit only .263 with 10 homers and 59 RBIs in 94 games. That October, Oakland won its third straight World Series. Champ, though not on the team after June 10, received a Series share of $100 from the A's. (According to Champ, the check was actually $93 after taxes.)
That first season in Oakland, Champ lived with Reggie Jackson. Reggie, no stranger to self-promotion, taught Champ a thing or two. "I was autographing baseballs one day," Champ recalled, "and Reggie wanted to know why I was signing them John Summers. He asked if I had a nickname. I told him I had one, but I was afraid of what the other players would think if I used it. Reggie said, 'This is show business. If there were two Summers with the same ability, one named John, and the other name Champ, which do you think the fans would remember?'"
1975 saw Champ start the season at Tucson once again. On April 29, however, after only 17 games, he was informed that he could pack his bags for Chicago. Wrigley Field would be his new home. He was the player to be named later in a deal the Cubs and A's had made on April 6, when Chicago sent pitcher Jim Todd and cash to Oakland.
Champ spent the rest of 1975 in the Windy City, mostly as a reserve outfielder and pinch hitter. He hit .231 with one home run and 16 RBIs in 76 games. That home run, however, on August 23 at Wrigley Field, was his first in the majors, and a pinch-hit grand slam.
After the season, Champ headed south to play for Culiacan in the Mexican Pacific League. He played every day and made the All-Star team. Culiacan, however, was having a bad season, and wanted to look at younger players. They released Champ in September. He was picked up by Mazatlan, which paid him $2,000 to help them for the stretch run. After Mazatlan failed to make the postseason, Champ was drafted by Navajoa for the playoffs, where he hit .500 in the semifinals, which Navajoa took in seven games. Hermosillo was the ultimate winner of that year's Caribbean Series.
Back in a Cubs uniform for 1976, Champ barely eclipsed the Mendoza Line at .206, with three home runs in 83 games. The Cubs had labeled Champ as nothing more than a pinch hitter. Perhaps the team felt that he was unable to hit lefthanders, was too much of a defensive liability, or that he was simply too old. Champ, as well, may have been concerned that his age was hindering his advancement. At some point, he had apparently told representatives from Topps Chewing Gum that his baseball card had incorrectly given his year of birth as 1946, rather than 1948. When they questioned him about it further, he noted that his birth certificate, which listed 1946, was wrong, but had later been corrected. Topps didn't believe him, and after they unearthed his birth certificate from 1946, and offered it as evidence, that was the end of the matter.
On February 16, 1977, Champ was traded from Chicago to the Cincinnati Reds for outfielder Dave Schneck. He would become the team's primary pinch-hitter from the left side. The Big Red Machine was coming off its second consecutive World Series championship. Champ knew that, barring injury, there was just no way he was going to break into such a great lineup. He understood his role on the team. "Now, I'm trying to stay in the big leagues. I've got over two years in. I know I can play here, come off the bench and hit. Cincinnati isn't interested in developing me. I'm 29. They are interested in a special service from me. I don't have to sell myself to them. I know I can hit." Champ's new manager, Sparky Anderson, agreed. "A club as deep as we are can afford a specialist like Summers." Champ struggled for much of the year finishing with a .171 average in 59 games, with three homers and 6 RBIs. By the end, he was pressing so much, and so worried that the Reds were going to demote him, that he said he could hardly function. His highlight was an inside-the-park home run in June at Riverfront Stadium. After nearly collapsing at the plate, he later admitted that, during his mad dash around the bases, he had almost choked after swallowing his entire wad of tobacco, and had come close to no making it to home. That year, the Reds were bridesmaids to the Dodgers. Still, Champ earned a second-place check for $2,011.35.
The following summer proved to be a pivotal one in Champ's career, but it wouldn't be spent in Cincinnati. Just before Opening Day, the Reds optioned him to their Triple-A Indianapolis farm team. Champ had a monster season for the Indians, hitting 34 homers with 124 RBIs, while batting .368. His OPS was a sizzling 1.130. "This season here," Champ said when it was all finished, "I'll never forget. It has probably turned my whole life around." Indianapolis came from 12 games back to win the pennant. Champ won the American Association MVP award, as well as The Sporting News' Minor League Player of the Year award. Champ's bat wasn't the only thing sizzling in Indy that summer; the weather was exceptionally hot and muggy. "I spent $3,500 on deodorant," Champ joked.
Called up to the Reds in September, he wound up hitting .257 in 13 games with one home run, a titanic clout into the top-tiered red-level seats at Riverfront. After the season, Champ joined the Reds on their tour of Japan, hitting .370 with five homers.
When the 1979 season rolled around, Champ found himself back on the Reds, but again it was tough for him to crack an outfield of Ken Griffey, George Foster, and Cesar Geronimo. Champ never got untracked, and after hitting only .200 with one homer in 27 games, the Reds dealt him on March 27 to the Detroit Tigers for a player to be named (later announced as pitcher Sheldon Burnside). Champ claims to have never blamed Sparky Anderson for not giving him a chance to play every day in Cincinnati. "It wasn't all me, and it wasn't all Sparky. What were they going to do with me?" Champ reasoned. "The team had an overabundance of talent and I wasn't a proven player."
Tigers manager Les Moss had high hopes for his new acquisition. "He's always been a helluva ballplayer wherever I've seen him," he gushed. Moss, however, wouldn't see Champ very long in Detroit. On June 14, the skipper was unceremoniously let go. Taking his place would be Champ's former manager at Cincinnati, Sparky Anderson, who had been fired by the Reds the previous November after their disappointing second-place finish. The Tigers felt they simply couldn't pass up the opportunity to hire one of the most successful managers in the game. Moss had to go, through no fault of his own, really, since the Tigers were playing decently enough at 27-26. Platooning in left and right field, Champ played 90 games for Detroit. His left-handed swing was tailor-made for Tiger Stadium's short right-field porch. He hit a career-high .313, with a .414 on-base percentage, while slugging .614. He banged out 20 home runs with 51 RBIs. He struck out only 33 times. His ratio of one home run for every 12.3 times at bat was excellent. "I don't think I was a very happy person until day one when I got to Detroit," Champ commented at season's end. "I feel like I'm taking my mask off. Will the real Champ Summers please stand up? I feel like I've finally gotten my curtain call." Champ felt ready to shed his reputation as a platoon player. Sparky, however, saw Champ as a very good hitter, but a part-time one. The Tigers, meanwhile, finished fifth in the American League East, with a record of 85-76 (56-50 under Sparky).
Champ was very popular in Detroit, especially with the fans in the right field bleachers, which came to be known as "Champ's Camp." He gained some national recognition in 1979 after a group of fans held up a banner during a Game of the Week telecast when the Tigers played in Milwaukee. The banner read "Champ Summers Fan Club, Berkeley, Calif." The club was organized by Brad Battson, a law student at the University of California Berkeley, who frequented games at the Oakland Coliseum. Battson was looking for a player to support, and was drawn by Champ's ability to overcome the odds. "Champ Summers is one of us. Champ is the forgotten man, the guy who is all heart and only needed a chance and a little encouragement to be as great as any superstar. Every time Champ rounds the bases following one of his thunderous home runs, he runs with us. Champ Summers is the common man finally recognized." The fan club, which numbered about 30 people, organized a tour to follow their hero from city to city. The recognition Champ received in Detroit did not go unappreciated. "I love it here," he said. "I love the fans. Even when I do badly, they're on my side. Hey, I could be pumping gas today. I know how lucky I am to be here."
The 1980 season saw Champ continue to play primarily as the DH against righthanded pitching, while making spot appearances in the outfield and at first base. Appearing in 120 games, he hit .297 with 17 homers and 60 RBIs. His slugging percentage was .504, as the Tigers finished fourth at 84-78. But Champ didn't appear to fit into the Tigers' plans for the future. After the season, he was nearly traded to Seattle in a package deal for Floyd Bannister. While attending the club's winter press caravan, Champ was disappointed to find that he wasn't given much mention in the team's 1980 highlight film. Visibly upset, he left the caravan and returned home to Arizona. Champ reportedly received a million-dollar offer to play baseball in Japan, but the Tigers refused to release him from his contract. "I wonder how far I could have hit the ball over there," he said. "I guess I'll never know."
By 1981, Champ's playing time was being significantly reduced. In May, he and Sparky had a 45-minute closed-door meeting in the manager's office. Champ emerged angry, and would not reveal much to the press, other than to comment, "I have nothing to say. I'm not a crybaby, and I'm not going to sulk." But Champ would continue to be unhappy over his lack of at-bats. In June, he stood in the middle of the Tiger clubhouse and aired his grievances to anyone willing to listen. "I told 'em to get rid of me," he said later. "I wish I could be a free agent. I'd go to Pakistan. Or Japan." That season, the Tigers were in the middle of a race, narrowly losing out to Milwaukee for the second-half division title (due to the players' strike, the leagues played a split season). It was a frustrating season for Champ, as he hit a mere three home runs (with just one of them at Tiger Stadium) with 21 RBIs in 64 games, while averaging .255.
On March 4, 1982, Champ was traded from the Tigers to the San Francisco Giants for third baseman-first baseman Enos Cabell and cash. "(The Giants) must want me," Champ commented. "It was pretty obvious there was no place for me in Detroit." Giants manager Frank Robinson welcomed the trade: "It's good to have a guy like that on the bench because you know he has the capability of hitting it out of the park with one swing." In 70 games for San Francisco, Champ hit .248 with four homers and 19 RBIs. He particularly excelled as a pinch-hitter, with 10 hits in 31 at-bats, including two home runs and eleven RBIs. "It takes a special type to be a good pinch hitter up here," Robinson remarked at the time, "and Champ is a very good one. A super one." The Giants came in third in the NL West that year with a record of 87-75. Off the field, it was a year of change for Champ, as he and Barbara went through a divorce.
The next season was a disastrous one for Champ. After being diagnosed with degenerative arthritis in his left shoulder, he went under the knife, effectively ending his year on June 26. He did manage to return to get four at-bats as a pinch-hitter in September, but went hitless. Playing in only 29 games all season, Champ hit a dismal .136, with no homers and only three RBIs. In December, the Giants sent Champ to the San Diego Padres for utilityman Joe Pittman and a player to be named later (career minor leaguer Tommy Francis).
The summer of 1984 would be one of highs and lows for Champ. Relegated strictly to pinch-hitting duty, and now in his late 30s, he knew he was reaching the end of the line as a player. On August 12, he found himself involved in one of the most violent and ignominious days in baseball history. In a game involving the Padres and the Atlanta Braves, several bench-clearing brawls broke out during the contest. During one of them, Champ made a mad dash on his own straight for the Braves' bench in order to get a piece of pitcher Pascual Perez, who had plunked Alan Wiggins earlier in the game. "He was hiding in there," Champ said later. He was confronted at the dugout by a hulking Bob Horner (on the DL with a broken wrist at the time), who proceeded to throw Champ to the ground, assisted by two Atlanta fans who had jumped out of the stands. Several Braves players quickly swarmed onto the pile as Champ lay in the dirt. He also got a cup of beer thrown on him by one rowdy customer. After the dust cleared, a total of nineteen players and coaches had been ejected, and five fans had been arrested. Champ received a fine (the amount was undisclosed) and a three-day suspension.
The Padres finished at 92-70, 12 games in front of Atlanta, to gain their first-ever division title. As for Champ, he only saw action in 47 games all year, and struggled to hit .185 with 12 RBI. His only home run of the year, and the final one of his career, came on April 10, at Jack Murphy Stadium. (Interestingly, Champ's first big-league homer, as well as his last, was a pinch-hit grand slam.)
It was the Padres and another upstart team, the Chicago Cubs, who battled each other in the National League Championship Series. After falling behind two games to none in the best-of-five round, the Padres swept the next three from Chicago to take the National League pennant. Champ got only two pinch-hit at-bats in the playoff series without getting a safety. In the World Series, San Diego squared off against Champ's former team, the Detroit Tigers, winners of 104 games that year. The Tigers ran over the Padres in five games. Champ had been looking forward to seeing some playing time against his old club, but Dick Williams chose to use Kurt Bevacqua as the DH against right-handed pitchers, even though Bevacqua hit from the right side.
After the first two games in San Diego, the Series moved to Tiger Stadium. Champ got a standing ovation from the packed house during the pre-game introductions in Game Three. His only appearance in the Series, however, was as a pinch-hitter in Game Four. Facing off against former mate Jack Morris in the eighth inning, he struck out swinging. It would be his final at-bat in a big-league uniform. But Champ received a National League championship ring for 1984, along with a Series share of $130,000.
Champ wasn't offered a contract by any club after the season. Now 38 and out of baseball, he tried his hand as a salesman for a Mercedes dealership in Southern California, but didn't particularly like it. In December of that year, his future wife Joy entered his life. "We met in a bar," she reminisced. "It was a bar in La Jolla. A beautiful bar," she laughed. They got married exactly one year later, and settled down in La Jolla, where Champ enjoyed playing golf year round.
Still, Champ had the itch to get back into baseball. He grabbed the opportunity to be the hitting instructor for the Columbus Clippers, the New York Yankees' Triple-A International League affiliate, which were managed by Bucky Dent. In September of 1989, Yankees owner George Steinbrenner fired skipper Dallas Green, promoting Dent to the managerial post in the Bronx. Champ, too, was called up to the big club, as a hitting coach.
Over the winter of 1989-90, Champ found himself playing baseball once again, this time with the Ft. Myers Sun Sox of the Senior Professional Baseball Association. This was a newly-formed winter league for players age 35 and over, with teams dotted throughout Florida. The league featured many notable former big leaguers, such as Vida Blue, Rollie Fingers, Bert Campaneris, Milt Wilcox (all former teammates of Champ), Dave Kingman, Mickey Rivers, Willie Mays Aikens, Joaquin Andujar, Jon Matlack, and manager Earl Weaver. Campaneris was the oldest player in the league at 47. The commissioner was Curt Flood. The eight-team league played a 72-game schedule. "We were worried they weren't going to be able to finish the season," Joy later said. "(We thought) all these older players were going to get hurt running around. And that's exactly what happened to Champ. He blew out two hamstrings." He hit .292 in only ten games for the Sun Sox. The league folded during its second season, before it could finish out the schedule, due to financial woes.
As the spring of 1990 rolled around, Champ was again the Yankees' hitting coach. But by June 18, Bucky Dent was fired, along with several of his staff, Champ included. The Yankees coaching job would be Champ's last gig in Major League Baseball.
Champ enjoyed the retired life in La Jolla with Joy, playing golf and taking it easy. In 1995, a new independent baseball circuit called the Western Baseball League was formed. One of the teams was the Grays Harbor Gulls, playing in Aberdeen, Washington. Its manager was former San Diego Padres slugger Nate Colbert. According to Joy, Champ got a phone call from Colbert one day, asking him if he wanted to be the club's hitting coach. Champ couldn't refuse. He stayed with the Gulls for one summer, before going back to La Jolla for the next three years.
Then, in 2001, Champ signed on to manage the Gateway Grizzlies, who played in Sauget, Illinois, in the independent Frontier League. With Champ at the helm in the club's initial season, the Grizzlies finished with a record of 37-44. After the last out was made that summer, Champ hung up his baseball uniform for the last time. He and Joy retired to Ocala, Florida, along with their French Bulldog named Bebe, and their Shar Pei named Bullwrinkle (in honor of the breed's wrinkly face).
Champ was a guy who loved to talk. Joy recalled the time Southern Illinois University Edwardsville honored Champ in 2006 by inducting him into their sports hall of fame, as a baseball and basketball player. Champ was the only inductee at the ceremony who didn't prepare notes for his speech. "He just went up there and spoke for twenty minutes. The next speaker got up and said, 'Well, there's no way I can top that,' which everyone thought was really funny."
Joy remembers Champ as a man who talked the talk, and walked the walk. When not on the links, he could often be seen in front of his Playstation III, or maybe watching sci-fi. For Champ, the perfect meal would be a burger and fries with a Busch Light. Joy has fond memories of the time she and Champ spent 22 months travelling around the country in their "fifth wheel," a type of roomy camper pulled by a pickup truck. "We met the most interesting people from all walks of life," she recalled.
Champ was diagnosed with kidney cancer in May 2010. He fought the disease for nearly two and a half years before dying on October 11, 2012. In addition to Joy, he was survived by his mother Bette, his stepchildren Pamela George and Leisa Mitchell, and Joy's grandchildren, Annabelle and Emmeline George.
Bo Collins, his old baseball coach at SIUE, visited Champ near the end of his life. "He always talked about how lucky he'd been," Collins said. "He said he happened to be in the right place in the right time right before something bad was supposed to happen. And he usually came out smelling like a rose."
"He loved playing in Detroit the most," Joy remembers. "He loved and adored Sparky. He loved the fans."
Sources
The American Spectator
Belleville New-Democrat
Cincinnati Enquirer
Crain's Detroit Business
The Daily Times (Portsmouth, Ohio)
Detroit Free Press
The Enid News and Eagle
St. Louis Post-Dispatch
San Francisco Chronicle
San Francisco Examiner
The Sporting News
Baseball-reference.com
In addition to the above sources, the author would especially like to thank Joy Summers, for her wonderful storytelling during a telephone interview with author, January 2013