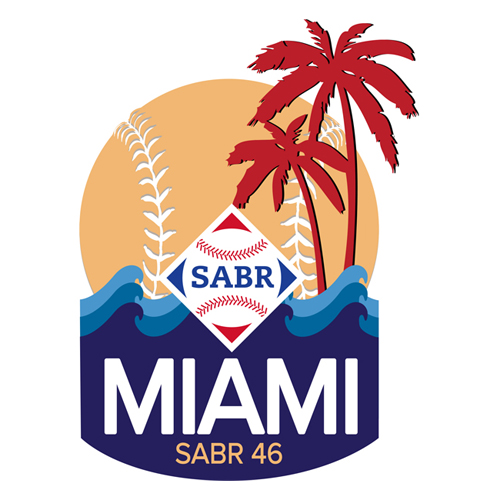 SABR 46
July 27-31, 2016
Hyatt Regency Miami
400 SE 2nd Ave.
Miami, FL 33131
(305) 358-1234
We hope you'll join us for what promises to be a spectacular SABR 46 convention in the summer of 2016 in Miami, Florida. Hotel and conference registration for the 2016 convention is now available. Click here for more information on SABR 46 registration rates and optional sessions. Or click here to register for SABR 46.
The annual SABR convention, which is open to all baseball fans, often includes top featured speakers from around the baseball world — front office executives, players, managers, scouts, writers and analysts — innovative panel discussions, groundbreaking research presentations, major and minor league games, tours of historic ballparks, the SABR Trivia Contest, the Awards Luncheon, and most of all, the opportunity to make and renew baseball friendships over the course of this spectacular and memorable event.
SABR 46 information
Top speakers and panelists


SABR 46 will have top featured speakers from around the baseball world, like front office executives, players, managers, scouts, writers and analysts. Here are some of our featured speakers and panelists:
Michael Hill, Miami Marlins' President of Baseball Operations
At our special pregame ballpark session at Marlins Park on Friday, July 29, we will welcome some of baseball's all-time greatest players to SABR 46. The session will include:
Barry Bonds, Marlins hitting coach and baseball's all-time home run champion
Don Mattingly, Marlins manager and former All-Star first baseman 
Andre Dawson, Marlins front-office executive and Hall of Fame outfielder
Tony Perez, Marlins front-office executive and Hall of Fame first baseman
Eduardo Perez, ESPN analyst, former major-leaguer, and son of HOFer Tony Perez

Reminder: You must have a ballgame ticket to enter Marlins Park for the SABR 46 ballpark session.
Our convention in South Florida will also feature a distinct Latin flavor, with panels and presentations on many aspects of Latin-American baseball history. Stay tuned for more details on speakers and panelists at SABR 46.
2003 Marlins Championship Panel
Jack McKeon, who managed the Marlins to the 2003 World Series and spent parts of 16 seasons as an MLB manager
Juan Pierre, who spent 14 seasons in the majors and recorded more than 2,200 hits and 600 stolen bases
Jeff Conine, known as "Mr. Marlin," the only player who was part of both World Series championship teams in 1997 and 2003.
Moderator: Dave Van Horne, Ford Frick Award-winning broadcaster who has been the Marlins' primary radio play-by-play announcer since 2001
Perspectivas del Béisbol: Covering Baseball for Hispanic Fans On ESPN Deportes
Ozzie Guillen, the outspoken former major-league shortstop and manager who led the Chicago White Sox to the 2005 World Series championship
Ernesto Jerez, an Emmy Award-winning play-by-play announcer for ESPN Deportes' "Sunday Night Baseball" since 1995
Enrique Rojas, an ESPN Deportes reporter who has covered MLB and the winter leagues for more than 20 years
Moderator: Leonte Landino, the chairman of SABR's Luis Castro/Latin America Chapter who produces all baseball properties on ESPN Deportes and writes for ESPNDeportes.com
César Brioso, a digital producer for USA Today and the author of Havana Hardball: Spring Training, Jackie Robinson, and the Cuban League
Peter C. Bjarkman, who is considered to be one of the foremost authorities on Cuban baseball history; he is the author of Cuba's Baseball Defectors: The Inside Story and A History of Cuban Baseball, 1864-2006
Adrian Burgos Jr., a professor of history at the University of Illinois and the author of Cuban Star: How One Negro League Owner Changed the Face of Baseball and Playing America's Game: Baseball, Latinos, and the Color Line
Moderator: Anthony Salazar, chairman of SABR's Latino Baseball Research Committee and editor of its newsletter, La Prensa del Béisbol Latino
Miguel "Mike" de la Hoz, former infielder who played parts of nine MLB seasons from 1960-69
Leo Posada, outfielder for the Kansas City Athletics from 1960-62 and the uncle of Jorge Posada
Jackie Hernandez, a shortstop who helped the Pittsburgh Pirates win the 1971 World Series
Gonzalo "Cholly" Naranjo, who pitched for the Pirates in 1956.
Moderator: Jose Campos
Raul Striker Jr., Miami Marlins' Spanish-language TV play-by-play announcer
Reynaldo Cruz, Cuban journalist who writes for the newspaper Ahora!, and founder/editor of the Universo Béisbol digital magazine
Jorge Ebro, Miami Marlins beat writer for El Nuevo Herald
Moderator: Chuck Hildebrandt, chair of SABR's Baseball and the Media Committee
Click here for more information on our featured speakers and panelists. The complete schedule will be announced soon.
Get your copy of The National Pastime convention journal

All SABR 46 attendees will receive a souvenir print edition of The National Pastime, our annual convention journal, focusing on baseball teams, players and events in the Miami area. All SABR members, whether you attend the convention or not, will receive the expanded e-book edition of The National Pastime in their inboxes later this summer.

A note from our hosts
With unbridled excitement, the South Florida Chapter is looking forward to hosting the 2016 SABR national convention. We are thrilled to continue on the tradition of gathering SABR members from not only the four corners of the United States, but friends from other parts of the world, including Latin America, England, Australia, and Asia.
Miami is known for its vibrant diverse culture, international flair, and generous spirit of making all who come to the Magic City feel welcome. For the second time in SABR's history, the national convention will be held in Florida. Like most metropolitan areas, Miami has its own unique history with baseball: from the humble beginnings of town ball; to the first organized professional leagues beginning with the inclusion of the Miami Seminoles in the early 1910s, a long history of minor league baseball including teams competing in the Florida International League from Fort Lauderdale, West Palm Beach, Miami, and Miami Beach; the Miami Marlins of Bill Veeck and Satchel Paige competing in the International League, the training ground for upcoming talent in the Florida State League, as well as a rich history of spring training baseball dating back to the early 20th century.
Many exciting and informative sessions are being planned for SABR 46, including dozens of presentations with an array of interesting speakers, numerous panel discussions, and representatives from professional baseball, including the hometown Miami Marlins. In addition, the Philadelphia Phillies and St. Louis Cardinals will be in town in conjunction with the convention, and ballgame outings will be planned for all to enjoy at beautiful Marlins Park.
For those of you who are interested in other local goings-on, outside activities will be coordinated so everyone can partake and absorb the Miami experience. Suggestions for local eateries, museums, and local hot spots will be provided.
As we like to say, Bienvenidos a Miami.
Many happy innings,
Sam Zygner
Chair, South Florida Chapter
---
Related links: