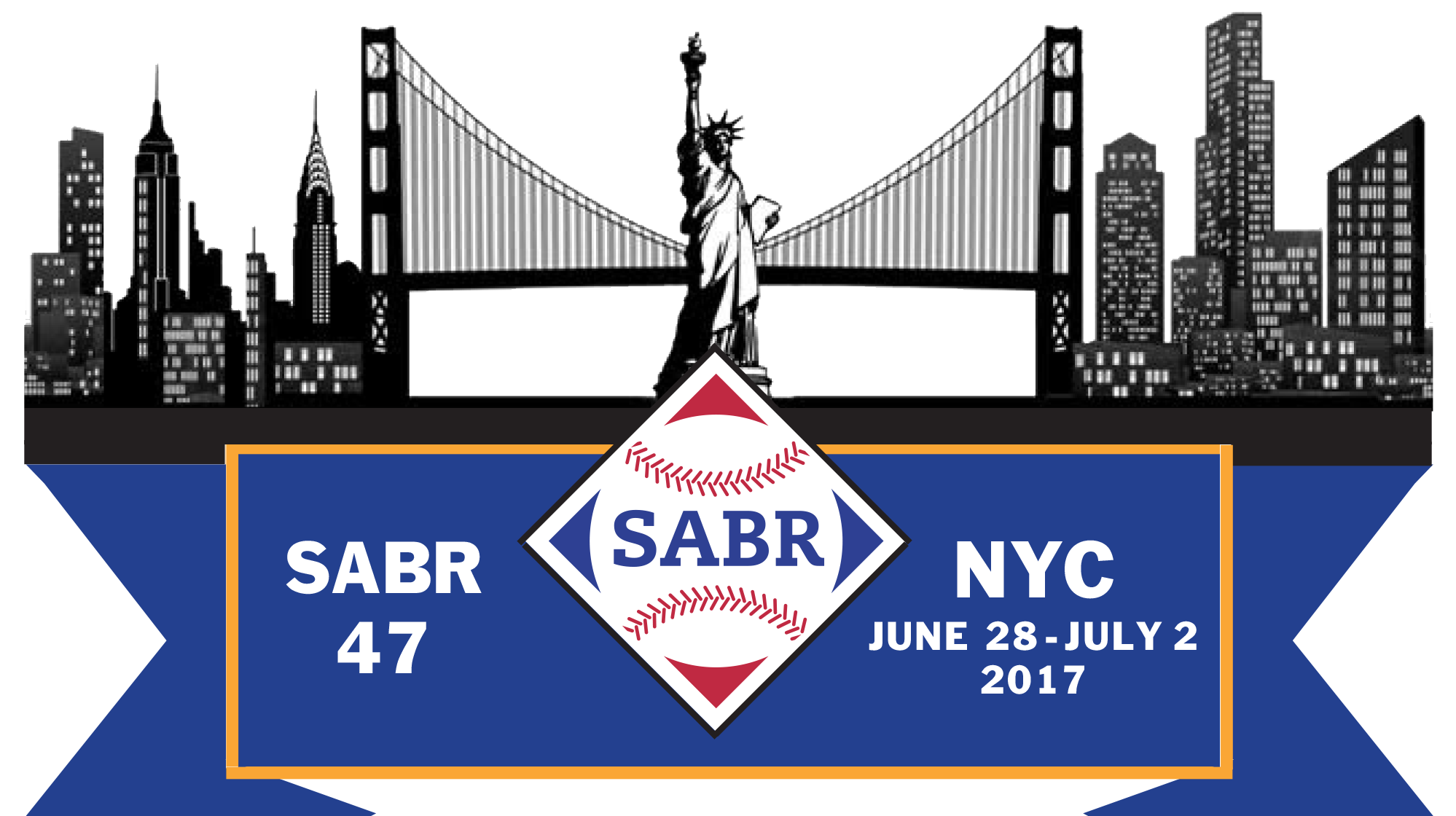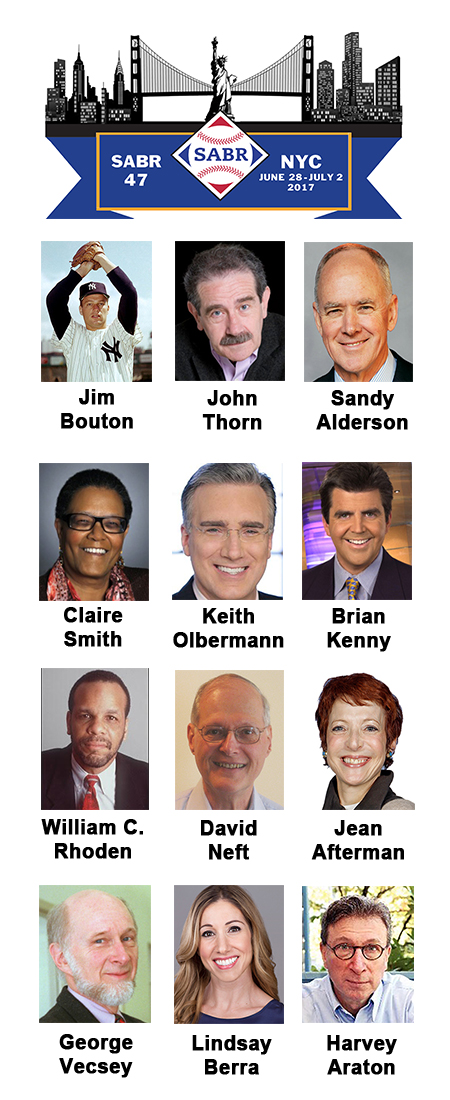 Couldn't make it to New York City for SABR 47? Check out more coverage of our 2017 national convention from the Big Apple below.
The Society for American Baseball Research held its 47th annual national convention on June 28-July 2, 2017, at the Grand Hyatt New York. A record attendance of 806 SABR members and friends joined us in New York City. 
Check out stories, photos, and multimedia clips from the SABR 47 convention in New York City below:
Around the Web
SABR 47 featured speakers
Our convention in New York City included top guest speakers from around the baseball world. Click here to learn more or to listen to highlights from SABR 47.

Sandy Alderson, New York Mets General Manager
Jean Afterman, New York Yankees Senior Vice President/Assistant GM
Claire Smith, acclaimed baseball writer and 2017 J.G. Taylor Spink Award recipient
Tom Goodwin, New York Mets first-base coach and former major-leaguer 
T.J. Barra, New York Mets' Manager of Baseball Research and Development
Joe Lefkowitz, Senior Manager, Baseball Systems & Development for the Mets
Pat Roessler, Assistant Hitting Coach for the Mets
Josh Lewin, New York Mets radio play-by-play announcer
Wayne Randazzo, New York Mets pregame and postgame show host
Steve Gelbs, New York Mets field reporter
Alderson and Goodwin were interviewed by Barry Bloom, MLB.com national columnist, as part of our "A Day at the Ballpark" pregame session on June 30 at Citi Field, which also included the Mets Analytics Panel with Barra, Lefkowitz, and Roessler and a Broadcasters Panel with Lewin, Randazzo, and Gelbs.
The Jim Bouton: A Life in Baseball panel included:
Jim Bouton, author of Ball Four and former major-league pitcher
Paula Kurman, wife of Jim Bouton and a retired psychologist and professor
Mark Armour, author of Jim Bouton's SABR biography and founding director of the BioProject
Mitchell Nathanson, author of A People's History of Baseball, God Almighty Hisself: The Life and Legacy of Dick Allen, and other books
Marty Appel, author of Casey Stengel: Baseball's Greatest Character and former New York Yankees PR director
Moderator: John Thorn, Official Historian for Major League Baseball
The A Celebration of 70 Years: Jackie Robinson's Journey panel included:
William C. Rhoden, columnist and editor-at-large for TheUndefeated.com and former award-winning columnist and author at the New York Times
Della Britton Baeza, President and CEO of the Jackie Robinson Foundation
Lee Lowenfish, author of Branch Rickey: Baseball's Ferocious Gentleman
Moderator: Larry Lester is the chair of SABR's Negro Leagues Research Committee and one of the founders of the Negro Leagues Baseball Museum in Kansas City
The It Ain't Over: The Legacy of Yogi Berra panel included:
Lindsay Berra, MLB.com correspondent and the granddaughter of Yogi and Carmen Berra 
Harvey Araton, best-selling author of Driving Mr. Yogi: Yogi Berra, Ron Guidry and Baseball's Greatest Gift and a New York Times reporter and columnist 
George Vecsey, best-selling author of Baseball: A History of America's Favorite Game and former New York Times reporter and columnist
Moderator: Dave Kaplan, former director of the Yogi Berra Museum and Learning Center
The MLB Now: The Changing Face of Sabermetrics panel included:
Mark DeRosa, MLB Network studio analyst and a versatile former major-league player for 16 seasons
Joel Sherman, national baseball columnist for the New York Post who appears regularly on MLB Network
Mike Petriello, Stats Analyst for MLB Advanced Media and host of the Statcast Podcast
Vince Gennaro, SABR President
Moderator: Brian Kenny, host at MLB Network and the author of Ahead of the Curve: Inside the Baseball Revolution
The Casey Stengel: A Man For All Seasons panel included:
Ira Berkow, Pulitzer Prize-winning journalist and retired columnist with the New York Times
Steve Jacobson, retired Newsday writer and author
Marty Appel, author of Casey Stengel: Baseball's Greatest Character
Moderator: Ed Randall, host of "Talking Baseball" on WFAN Radio and MLB Network Radio
In addition, the SABR 47 convention also included these special guests at our research committee meetings, which were open to all convention attendees:
Get your copy of The National Pastime convention journal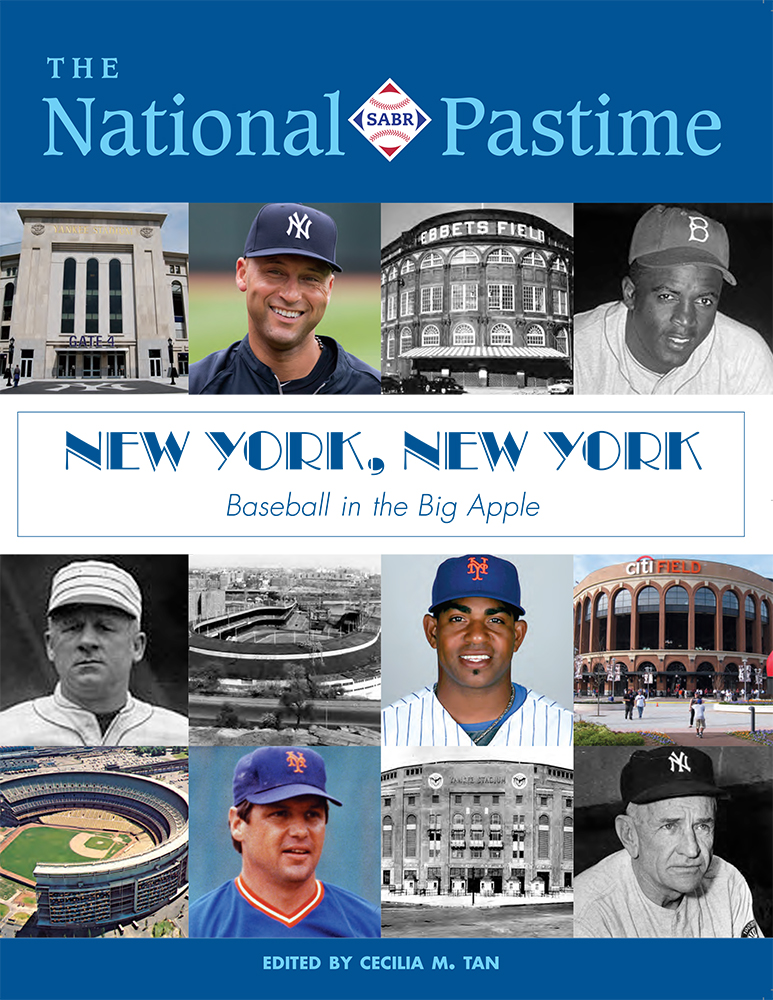 All SABR 47 attendees received a souvenir print edition of The National Pastime, our annual convention journal, focusing on baseball teams, players, and events in the New York City area.
All SABR members, whether you attended the convention or not, received the e-book edition of The National Pastime in their inboxes. Click here to download the e-book or click here to purchase the print edition at the SABR Bookstore.
The articles from this journal will be available to read online at SABR.org soon, so stay tuned!
---
Related links: