Couldn't make it to Arizona for the second annual SABR Analytics Conference? Visit SABR.org/analytics/2013 for full coverage of this exciting event that brought together the top minds in the baseball analytics community in 2013. You'll feel like you were wandering through the Sheraton Phoenix Downtown and ASU Cronkite School with stories and multimedia clips from the great panel discussions and research presentations on our schedule, photo galleries, and much more.
During the conference, you could follow along on Twitter by searching for the hashtag #SABRanalytics or by reading tweets from our account (@SABR) and from other conference attendees.
View our photo galleries from each day of the conference at SABR.org/analytics/photos/2013.
The SABR Analytics Conference, presented by Major League Baseball and Bloomberg Sports, was held March 7-9, 2013, in Phoenix, Arizona. Check out highlights in the video below or scroll down to view complete online coverage.
If you like what you see here, we hope you'll join SABR and be a part of the 2014 SABR Analytics Conference, which will be bigger and better than ever!
Around the Web

Thursday, March 7
Friday, March 8
Saturday, March 9
---
About the SABR Analytics Conference
SABR has a long and storied history with baseball statistical analysis, evidenced by the link between our name and sabermetrics. While SABR is a multi-faceted organization involved in virtually every aspect of baseball, we have taken a major step to re-connect with our beginnings by producing and hosting the second annual SABR Analytics Conference, presented by Major League Baseball and Bloomberg Sports. Once again, we're bringing together the top minds of the baseball analytic community under one roof to discuss, debate and share insightful ways to analyze and examine the great game of baseball.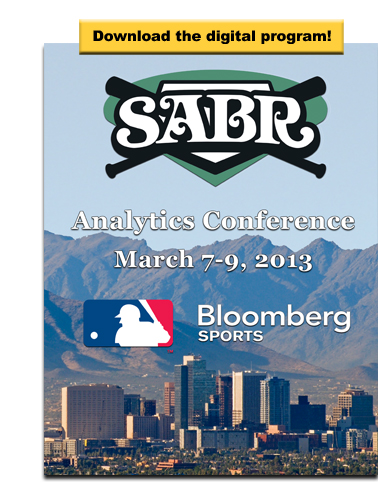 The schedule consists of a combination of Guest Speakers, Panels and Research Presentations — plus the unique Diamond Dollars Case Competition, presented by YarcData, in which undergraduate, graduate and law school students from across the country analyze and present a real baseball operations decision.
In 2013, we collaborated with Sportvision to integrate the PITCHf/x Summit into the SABR Analytics Conference. Sportvision managed a series of presentations specifically related to f/x data much like the PITCHf/x Summit. The presentations were integrated with other SABR Analytics talks throughout the course of the event. Click here to learn more about the PITCHf/x Summit presentations.
We also added the Business of Baseball Analytics session, where baseball executives from Sales, Marketing, Human Resources, Finance, Stadium Operations and other functions came together to discuss innovative ways to analyze the business of baseball and drive revenue. Click here to learn more about the Business of Baseball session at SABR Analytics.
The SABR Analytics Research Awards were created in 2013 to recognize baseball researchers who completed the best work of original analysis or commentary during the preceding calendar year in the categories of Historical Analysis/Commentary, Contemporary Baseball Commentary and Contemporary Baseball Analysis. Click here to view the winners of the 2013 awards.
The 2013 SABR Analytics Conference was held Thursday, March 7 through Saturday, March 9, 2013, in downtown Phoenix, Arizona.
Thursday's programming was held at the Walter Cronkite School of Journalism and Mass Communication at Arizona State University. Click here to learn more about SABR teaming up with the ASU Cronkite School. Friday and Saturday's programming was held at the Sheraton Phoenix Downtown.
SABR's long history in this area of baseball research, coupled with our mission of advancing the understanding and knowledge of baseball, makes us the perfect choice to coordinate and host this ground-breaking event.
Speakers: Featured speakers included Stan Kasten, President/CEO of the Los Angeles Dodgers; Bill James,

Senior Advisor on Baseball Operations for the Boston Red Sox;

Jed Hoyer, Executive VP/General Manager of the Chicago Cubs; Rick Hahn, Senior VP/General Manager of the Chicago White Sox; Jon Daniels, President of Baseball Operations/General Manager of the Texas Rangers; Joe Posnanski, National Columnist for NBC Sports; Brian Kenny, MLB Network host; and more. Click here for a complete list of speakers, panelists and moderators.
Schedule: Some of the topics we covered include: how has analytics changed major league players' approach to the game; a demonstration of the one-stop-shop Bloomberg Sports system now being used by almost all Major League clubs for their front office operations; how major league front offices are using analytics to develop a competitive edge; how information and data has altered the the development path for players and the methods teams are using to evaluate and advance players through their system; how the growth in data and information has impacted the role of the agent in baseball; and more. Click here for a complete schedule, including audio and photos of the Panel Discussions and Research Presentations.
Case Competition: In the Diamond Dollars Case Competition, undergraduate, graduate and professional school students from colleges and universities across the country compete against each other by preparing an analysis and presentation of a baseball operations decision — the type of decision a team's GM and his staff is faced with over the course of a season. The cases are developed by SABR President Vince Gennaro, author of Diamond Dollars: The Economics of Winning in Baseball, and consultant to MLB teams. The Diamond Dollars Case Competition is the first national competition to be based solely on baseball operations issues. Click here to learn more about the 2013 winners: Pepperdine University's Graziadio School of Business and Management, and NYU's Tisch School.
2012 coverage
The inaugural SABR Analytics Conference in 2012 was an enormous success. Here are some reactions from attendees and panelists:
"I can't imagine what you could do to make it better. It's going to be an annual event for the rest of my life." — John Dewan, Baseball Info Solutions
"SABR provided a great forum for all involved to learn from each other and continue to grow our game." — A.J. Hinch, Vice President/Assistant General Manager, San Diego Padres
"It was a good group of passionate baseball people. The analytics and SABR people stimulated great conversation, and that's what makes our game so much fun." — Doug Melvin, Executive Vice President/General Manager, Milwaukee Brewers
For complete coverage of the 2012 SABR Analytics Conference, visit SABR.org/analytics/2012.
PRESENTED BY
PARTNERS