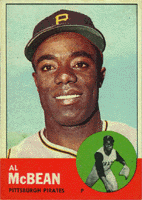 ---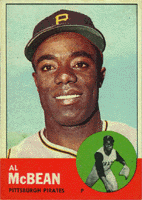 Alvin O'Neal McBean – for decades, the only big-league pitcher from the Virgin Islands – was a good one. His hard sinker and limber, resilient arm made him valuable as a starter and even more as a reliever. Throwing from various arm angles as the spirit moved him, McBean was somewhat reminiscent of Orlando "El Duque" Hernández, the more recent hurler from Cuba. But what really distinguished the St. Thomas native – whom Red Schoendienst called "the funniest man I've ever seen in a baseball uniform"1 – was his love of playing for the crowd.
"My thing was fun," McBean observed in 1999. "I liked to do little crazy things, something different for the fans, they see the same thing over and over and over. Like crawling over the foul line and not touching it. Throwing the first pitch underhand, pulling on a big red bandana and wiping my face with it. Something the fan can feel a part of."
"Pete Rose used to do a few little things like that, people like Pete Rose and myself, we were called hotdogs and showoffs – which I think was wrong." He pointed out, "I guess they would call it clowning around, but the day I couldn't do my job because clowning was getting in the way, it was a different story."2
McBean had a name as a flashy, "mod" dresser too. "Whatever style came out, I bought it. Nehru jackets, all that stuff. Willie Stargell and I would look at GQ, we'd dress up Rose, [Roberto] Clemente. He didn't want to wear it at first, but then he said what the heck, and we got him to jazz it up. I would change three suits a day. As soon as I saw a little spot, I'd go upstairs. No wrinkles – my clothes had to be immaculate. What people in Pittsburgh most know me for is my white double-breasted suit, my white tie, and white shoes. Again, not for me, but for the fans. Identification: Al McBean, Gay Blade. Although after a while that word didn't work anymore!"3
Alvin O'Neal McBean – sportswriters and Pirates broadcaster Bob Prince loved to refer to him by his full name – was born in Charlotte Amalie on May 15, 1938. His father, O'Neal Alfredo McBean, was a laborer in road building when Alvin was a small child; later he was a carpenter.4 His mother, Inger Emanuel, later married a man named Raymond, so young Alvin was part of a blended family.
McBean's father, a pitcher himself, was part of a flourishing adult recreational baseball scene in the Virgin Islands.5 The children of the islands also enjoyed the game. As McBean reminisced, "Growing up, we played every day, like the kids in Santo Domingo. In front of a house or in a little lot, pickup, there was no Little League back then. If you didn't have a ball, you'd get a couple of stockings, roll them up together, tear them at the top, and when that was messed up, you'd use mango seeds. We'd use anything we could throw or hit with a stick."6
McBean first played organized hardball in high school, but it was with the local Catholic school, because Charlotte Amalie High no longer had a team. He also played with assorted local clubs, including the Texaco Stars (with Elrod Hendricks at catcher), the Braves, and the Falcons. He did not do much pitching back then; rather, he played all positions. "We always had chores to do, and your mom would call you away. When you went back, you'd play wherever you could."7
Pittsburgh Pirates superscout Howie Haak was responsible for discovering McBean, as he did several other Virgin Islands prospects. In 1957, Haak held a tryout camp on St. Thomas. As McBean related it, "I was a press photographer with the Home Journal, and I was told to cover the tryout camp. I went up there with all my equipment, I had a bellows, I set up my tripod. I was not really interested in baseball, I was interested in taking pictures."
"And when I was there, I was told by one of my friends, Lealdo Victoria, one of my ex-managers, 'Man, look, why don't you try out? What have you got to lose?' And I said I have no spikes, I have nothing to wear. He lived around Lionel Roberts Stadium, he brought me some old baggy uniform, a pair of spikes, a glove. And that was it. I was told 'Let's see you run,' so we ran a couple races. I came in second in the first race and first in the second race. At the same time I was still taking pictures."
"Then we went to the outfield and had to throw in from center field. Of course my arm was so live, the ball was whoosh, going all over the place. And we went into the infield, to shortstop. And then they decided, 'Get on the mound, I hear you can pitch, let's see what you can do.' So I got on the mound and started throwing."
"After everything was finished, I took all my pictures, did my story. And we sat in the first-base dugout, Howie Haak was there. He took the names of all the people and he said, 'You'll hear from us.' A couple months after, I got a letter from Pittsburgh saying 'You are invited to spring training.' And the rest is history."8
The Pirates got a tremendous return on their minuscule $100 signing bonus. McBean moved up rapidly in the minors, jumping past both Class C and Class AA. He pitched mostly out of the bullpen, starting 38 times in 103 total appearances from 1958 through mid-1961. Coverage of him in The Sporting News focused mainly on his exploits in the Puerto Rican Winter League, where he first went to play ball in the winter of 1958-59. He won Rookie of the Year honors with the Ponce Leones. Among his teammates there were fellow Virgin Islanders Elmo Plaskett, for whom McBean would later be best man, and later Horace Clarke. The islanders benefited from being considered as native Puerto Ricans rather than imports.
The Pirates first called McBean up in July 1961, and he made two starts in 27 appearances. Returning to Puerto Rico for his fourth straight winter, he met his future wife, Olga María Santos Negrón.9 She was working in a Ponce drugstore, and as the only person there who understood a little English, she was asked to help him. She recalled that when she first met McBean, he said he was going to marry her. It was months before they actually dated, but Al was very persistent, going to the store every day to buy soap and see her.10
With Pittsburgh in 1962, McBean posted career highs in starts (29) and wins (15), second on the staff in both categories. He had a typically flavorful memory of the 1962 season.
"I'm a very strange person when it comes to getting in shape. I don't like the drudgery and the boredom of running laps. So I would take ground balls in the infield, and as Clemente moved from right field, I would shag flies in his position. As [Bill] Virdon moved from center field, I would do the same. I considered that as getting in shape. But some of the coaches were rigid, they'd say 'You can't be no different to the rest of the pitchers.'"
"But Danny Murtaugh said one day, 'Listen, I have 10 baseballs in this box. If you can promise to win me 10 ballgames, the coaches will leave you alone. I'll say let McBean get in shape the way he wants.' I could have won 20 games that year, but Bob Veale told me, 'McBean, if you win 20, then you'll have to do it again.' If you had a good year, they'd expect you to be better the following year or they'd cut your salary. So you had to get in a nice little groove. Which is crazy, but you live and learn."11 In fact, McBean finished 15-10 in 29 starts and four relief appearances.
The 1962 season also featured the wedding of McBean and Olga Santos. The ceremony took place on August 27, at St. Brigid Catholic Church in the Hill District, one of America's most notable African-American neighborhoods. The best man was Roberto Clemente. Giving away the bride was another Pirates teammate, Diómedes Olivo. Olivo, then aged 43, was in fact old enough to be Olga's father (she was 19).12 McBean was so excited that he forgot to bring the rings and wedding license.13
Another funny McBean anecdote concerns his encounter with segregation in the southern United States. It reportedly took place at some point during spring training (though it might also have been previously, when he was playing in either the Carolina League or the Sally League). He grabbed a drink from a whites-only fountain, exclaiming, "I just took a drink of that white water and it didn't taste no damned different than ours!"14
In 1963, McBean shifted to the bullpen, going 13-3, 2.57 while complementing Elroy Face and spot-starting. Of Face, McBean said, "I used to go to his house, barbecue a lot, pal around with his family. And he would tell me intricacies of the game. You could get a guy on, walk a few guys once in a while, based on how you felt that particular day. Learn how to pitch in those situations."15
Even without his gags, McBean drew special attention when he came out of the pen. "Whatever those walks mirrored: concentration, determination, or intoxication, nobody walked into a game the way Alvin O'Neal McBean walks into a game…'You'd have to say McBean saunters in,' Murtaugh said."16
This player was ahead of his time. Relieving then was still seen as a comedown if you couldn't cut it as a starter, but the "man of 10,000 words and 1,000 dispositions"17 realized he was physically and temperamentally better suited to the pen. "Starting made him nervous and discombobulated his system…and he was upset because he didn't make the All-Star team. He had a point. 'So be the case: the relief pitcher who is best should make it.'"18
Though McBean never made it to the Midsummer Classic, he did make it to a unique event – the first and only Latin American players' game. It was also the last baseball game ever held at Manhattan's old Polo Grounds. On October 12, 1963, the NL Latin stars, led by Juan Marichal, Orlando Cepeda, Felipe Alou, and Tony Taylor, defeated their AL counterparts 5-2 before an announced throng of 14,235. Marichal threw four scoreless innings, and McBean matched that accomplishment. He also provided the game's most exciting play in the sixth when he drove in Tony González with a triple but was thrown out at home by a Minnie Miñoso–Luis Aparicio–José Azcué relay. "There was a Listerine sign in left field [right of the 422-foot marker]," McBean recalled in 2014, "and that's where I hit the ball. It was a lot of fun."19
Elroy Face suffered one of the only poor years of his long and reliable career in '64. McBean's response – 8-3, 1.91 ERA, 22 saves. Though only 18 saves were recognized under the unofficial rule of the time, they earned him Fireman of the Year. There was much humorous wrangling over obtaining a trophy as well as a plaque, in order to make a bigger impression on the governor and the people of the Virgin Islands. Four were broken in shipment in 10 months. When the specially ordered prize arrived at last, Al erupted in mock outrage, "There's no fireman's hat on top…I want a fireman's hat!"20
McBean, who had missed a couple of winter seasons because the Pirates wished it, returned to Puerto Rico for the 1964-65 season. By one account, the Pirates wanted him to pitch winter ball because of some arm trouble in 1964.21 McBean said himself, however, "I went back because I felt I owed the people of Puerto Rico. And I didn't like that Pittsburgh told me not to play but didn't compensate me for it. The most I ever made in a season was $32,000 – that's meal money today."22
However, that season ended on uneasy terms. There was a contingent of heavy bettors among the Ponce fans, and when they suffered losses in games that McBean pitched, they were heard threatening to shoot him. He also pitched through some more arm trouble and didn't want to endanger his earning power in the majors.23 In the end, though, he laughed it off and it became just another colorful anecdote.24
With Pittsburgh, McBean continued his excellence in 1965 while Face was sidelined much of the year with a knee injury. When the little forkballer returned to form in 1966, McBean lost save opportunities. Yet at his peak, as the relief role took another quantum leap in importance, he was as effective as any of the new and varied breed of bullpen aces.
When asked in 1999 what his preferred role would be, McBean said, "I would try to be the closer or the setup guy. I'd rack up a lot of saves. I could pitch every day. We had to pitch two or three innings then. We didn't have no one to come in and soften up the team for the closer to pitch to one or two batters. None of these lefty specialists. We called it effective or ineffective."25
In 1968, McBean showed his ability to suit the team's needs by returning to the rotation. Although his overall record was so-so, he enjoyed perhaps his most memorable performance on July 28. In a 7-1 victory, McBean hit a grand slam, and in the ninth, he threw at least a half-dozen blooper pitches and earned his complete game when Orlando Cepeda bounced a blooper to shortstop José Pagán for the final out.26
The Pirates exposed McBean to the expansion draft after that season, and he was selected by the San Diego Padres. Turning up in Yuma for spring training, he immediately displayed his free spirit by asking where the nearest spa was and working out in a leotard. The Padres traded him to the Dodgers after just one start; oddly, that was the only deal between the clubs for nearly 30 years. The Pirates reacquired him in 1970, but at that point his major-league career wound down. His lifetime record over 10 seasons was a very respectable 67-50, with a 3.13 ERA and 63 saves. He was also a fairly good-hitting pitcher – .197 with three homers.
It was McBean's tough luck that Pittsburgh won the World Series both the year before he started and the year after he left. "I have never seen myself pitch," he said.27 A postseason appearance would have made video readily available.
During the winter of 1970-71, McBean returned to Puerto Rico after four years away. About that experience in Ponce, he noted, "You try to find out if you can still do something. You want to see where you are relative to the other hitters and pitchers."28 He was effective there, and again with Triple-A Eugene in the Phillies organization in 1971. "I was throwing little balls," he said, but there was more to the story. "I wore white spikes, and I did a lot of things they didn't see in that part of the country. To the point where when they came for a relief pitcher, and they said I was going back to the big leagues, they decided they weren't going to take me, because I was bringing fans to the park."
"I was hurt, because I was supposed to be a groundball pitcher, and my strikeout ratio was high. I knew I was going to go back."29 Instead, the Phillies called up Wayne Twitchell, a promising hurler who happened to be ten years younger. McBean refused to take a pay cut of $500 per month to return to Ponce. This left his lifetime mark in six Puerto Rican Winter League seasons at 33 won and 41 lost, with an ERA of 3.16. "That winter, I got a letter in the mail assigning my contract to Double-A. I wrote Dallas Green [then the Phillies' assistant farm director] a little note, put it in the post office, and that was it. I never played again."30
Ellie Hendricks, a catcher, pitched in one game for the Baltimore Orioles during a blowout in June 1978. It was not until June 2015, though, that a true pitcher from the Virgin Islands followed McBean to the majors.31 Akeel Morris, a young righty from St. Thomas, was called up all the way from Class A by the New York Mets and got a "cup of coffee." When asked for his view, McBean's response was, "It's all right – as long as he sticks with it."32 Morris made it back to the top level in 2017. He was preceded by another St. Thomian pitcher, Jharel Cotton, in 2016.
Upon retirement, McBean joined the Housing, Parks and Recreation Department on St. Thomas. He chartered the Little League program with old friend Lealdo Victoria, among others, and thought about returning to coach in the minors – but didn't have the same love of teaching as Elmo Plaskett. Instead, he rose to deputy commissioner, supervising crews in charge of maintenance, construction, and beautification projects. On the side was a landscaping business. The Al McBean Center, right by his brightly gardened home in the hills, includes a baseball diamond.
As a personality, this man showed a lot in common with Muhammad Ali. Leafing through his scrapbook confirmed the impression; sportswriters were drawing Cassius Clay comparisons back in the early 1960s.33 But in his sixties and beyond, McBean's loquacity was undimmed.
When setting up an interview in June 1999, McBean said, "You're going to have to call me on my cell phone, buddy. I'm always moving. Oh, you've got a whole week? OK, we can deal." Five days later: "Understand: I am the man. I just finished with Sinbad [the breezy comedian had recently headlined a festival at Lionel Roberts]. I've got baseball programs. I've got a lot of things to do. So take this number too. Whoever answers, tell them 'I want to talk to Al McBean – period.' Radio, radio, radio!"34
At least compared to pastoral St. Croix, St. Thomas has a go-go pace, but McBean seemed like he'd fit in on the most un-laid-back island of all – Manhattan. "You might be right," he said with a chuckle. "But I don't like the cold weather."35 On the field, his movements and reactions were often described as catlike. Horace Clarke recalled him as "such a fidgety pitcher on the mound."36 The man remained preternaturally restless, always on the prowl.
McBean also remained a purist. For example, though he acknowledged that his teammates Willie Stargell and Bill Mazeroski were very fine players, he did not regard them as Hall of Famers. He rated Clemente a notch above Willie Mays and then Hank Aaron ("suspect defensively") in his all-time ranking.37 And when the subject of more recent baseball came up, he revealed a combative streak. In 1999, he scoffed openly at general trends and some of the biggest names.
Players overall: "They don't have the hunger. The hunger! It's these guaranteed contracts. Pitchers, after five innings, they're saying 'Ooh, come get me!' They don't care if they give up a homer."
The Atlanta Braves starters: "I never liked that [Tom] Glavine, with the s**t he throws, or the other guy either [Greg Maddux]. Where would they be if they hadn't got those calls 12 to 14 inches off the plate? The only one on that staff I like is [John] Smoltz. At least he comes after you."
Frank Thomas: "The Big Hurt, my ass. I would eat him up – eat his ass up!"
Tony Gwynn: "F***in' banjo hitter."
Sammy Sosa and Mark McGwire: "These guys swing the same way at every ball. They don't adjust. Clemente knew how to adjust. I see Sosa looking back at the umpire and I think, 'Jesus'. And this big guy missing games with corns cut out of his feet."38
It's not surprising that McBean respected Pedro Martínez (then a hard-throwing complete-gamer) and Curt Schilling. Before the latter's trade to Arizona, McBean remarked, "He's got to get out of Philadelphia – but the Braves'll probably buy him." Among hitters, he liked Ken Griffey, Jr. and John Olerud.39
Yes, a pinch of Ty Cobb went into this complex man's makeup. Opponents remembered his flashing spikes in local games. He himself admitted, "A lot of people here don't like me. It's because I challenge them to get off their lazy asses."40 Overall, though, without doubt the guy's heart remained in the right place. Family – wife Olga, daughter Sarina, three grandsons – and friends were always important. Al McBean's refrain still sounds clearly:
"What I enjoyed most from baseball was the camaraderie that I had with the fans in Pittsburgh. The signing of autographs, then going to people's homes for dinner. Mt. Lebanon was one of my areas, real nice – I used to wear the little black thing on my head, I didn't know what it was for, but I wore it anyway! Up at St. Brigid's Parish, I knew most of the nuns there, they'd come to Forbes Field, they'd come down to the bullpen and we'd talk. I'd go to church up in the Hill District. I would drink dago red. I had fun basically with everybody."41
Acknowledgments
Grateful acknowledgment to Al McBean for providing his memories. Continued thanks to Eric Costello for additional research. Updated in July 2015.
Notes
Born
May 15, 1938 at Charlotte Amalie, St. Thomas (V.I.)
If you can help us improve this player's biography, contact us.
http://bioproj.sabr.org/bp_ftp/images2/McBeanAl.gif
600
800
admin
/wp-content/uploads/2020/02/sabr_logo.png
admin
2012-01-04 20:00:41
2022-05-17 12:49:54
Al McBean