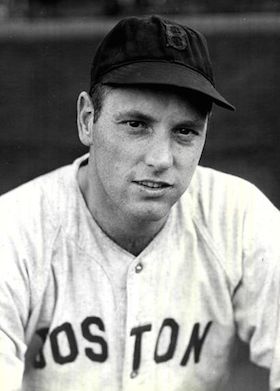 ---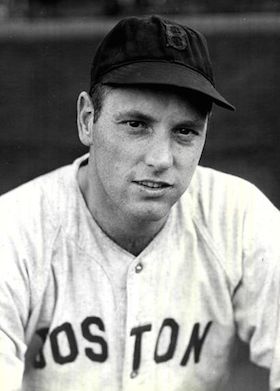 The 1945 Boston Red Sox had two Steiners on the roster – catcher Red Steiner and second baseman Ben Steiner. Though it might seem unusual for a team to have two unrelated players with the same surname, in the 1940s alone the Red Sox had Skeeter Newsome/Dick Newsome, Jimmie Foxx/Pete Fox, Bob Johnson/Vic Johnson, and Joe Wood and Pinky Woods.
Ben Steiner was also part of the team for three games in the pennant-winning year of 1946, though only at the start. His only other year in the big leagues was 1947 with Detroit. He threw right-handed and batted left, standing 5-feet-11 and listed at 165 pounds. For 11 years, Steiner played in over 1,100 minor-league games.
He was born Benjamin Saunders Steiner on July 28, 1921, in Alexandria, Virginia. His father, Benjamin Sr., a native Virginian, was an electrician. His mother, Lucile (Green), came from North Carolina. The couple had moved to Washington DC by the time of the 1930 census, living there with Benjamin Jr. and Lucile's two sisters, Delia and Lillian. Delia, 21, worked as a telephone operator.
Ben played shortstop for Central High School in Washington in 1939 and 1940. They won the public school baseball title in 1939, and the Washington Post, observing that the team was unbeaten as of May 26, 1940, commented on various players. Steiner batted cleanup and the Post was bemused by the reaction of fans: "Bleacherites have a field day when the next batter comes up. He's Benny Steiner, the shortstop who makes no bones about his talent. From all sides come shouts of 'You're a bum, Steiner' as the good-looking youngster swings a couple of bats. Hisses of the opposition seem to be music to Benny's ears. As some heckler starts off 'What makes you think you're good enough for the maj—' Benny sends a screaming triple to center and bows to his antagonist. He hits to either right or left, depending on the position of the fielders."1
Steiner also played American Legion ball. His dad was an amateur ballplayer and spent long hours throwing him tennis balls to get him to work on meeting the ball well with his bat. He'd worked out with his hometown Washington Senators, but signed with the Boston Red Sox. The Senators, he said, wanted him to "sign a contract and play ball right away, and I wanted to go to college."2 He planned to study aeronautical engineering.
"I broke into pro baseball after one year in college," he wrote. "I was picked up by Fred Hunter and Billy Evans while in my last year in high school, but decided to go to college for a full year before entering pro ball."3 He'd been scouted by Hunter, signed by Evans. Steiner first started playing professional baseball at age 19 for the 1941 Greensboro (North Carolina) Red Sox in the Class-B Piedmont League. He was perhaps a little overmatched. After 34 at-bats, hitting .206, he was sent to the Class-C Canton Terriers (Middle-Atlantic League.) With the Terriers, Steiner hit .296 in 49 games.
He resumed his studies for a second year at North Carolina State in Raleigh, still thinking of a career in aviation, but rejoined the Greensboro Red Sox in May 1942, and stuck. He played in 71 games under manager Heinie Manush, and hit for a .234 average. He was considered an excellent fielder, and, fast on his feet, was known for his bunting. Steiner split time playing both infield and outfield in 1942, working in about half the team's games without a steady position. He ended the season with a bang, driving in three runs in Greensboro's 4-3 win over Winston-Salem for the Piedmont League pennant.4
In 1943, Steiner was promoted to Class A and played for the Eastern League Scranton Miners. He played in a full 138 games and batted .292, with his best season yet in the field – a .969 fielding percentage at second base.
In January 1944, Steiner married Jeannette Lepine. The couple had one child, Benjamin III.
Advanced to Double-A ball, he played both in 1944 and 1945 for the Louisville Colonels. In 1944, he hit for a .316 average with 68 RBIs in 149 games for Boston's top farm club. Louisville battled, but was beaten by Baltimore in the 1944 Little World Series.
With so many Boston Red Sox players called into military service, it is no surprise that Steiner had an opportunity to make the 1945 big-league team. The Boston Herald wryly noted that on his first day at spring training, he showed "plenty of speed and grace" and was "the focus of much of the attention since much is expected of him. All this youngster from Highland Park, N.J. has to do is fill the shoes of Bobby Doerr. And anyone who has watched the Red Sox for the past eight years can appreciate what an assignment that's going to be."5 However, Skeeter Newsome was expecting to be drafted at any moment, and as of the first week of April, Eddie Lake had not yet reported. It looked like Steiner would be asked to play shortstop. He had not qualified for the draft, being "turned down by physical defects."6
It had looked as if Jack Tobin would get the nod, but he hurt his thumb during the City Series in Boston. Steiner got the nod. His debut was at second base, at Yankee Stadium on April 17. He led off the game with a single and came around to score the first of three runs when three other Sox singled behind him. With two outs in the top of the seventh, the Red Sox took a 4-1 lead when Steiner homered into the right-field seats at the Stadium. But the Yankees scored seven runs in the bottom of the seventh and won the game. It was nonetheless a very nice way for Steiner to kick off his career in the majors.
He was 2-for-4 with a double the next day, and in fact started the season with a seven-game hitting streak. He was batting .357 at the end of April. He didn't keep up that pace, but was still batting .291 at the end of May. The Indians came to Fenway Park for a Memorial Day doubleheader and Steiner was a goat and a hero. He had two hits in the first game, but the game was lost when a popup to second base came down and glanced off his wrist; he hadn't seen it. The Indians scored three times in the top of the ninth to take a 4-3 lead and win the game. Steiner came right back and was 4-for-5 in the second game, including a single and the game-winning double in the bottom of the eighth. In mid-June, manager Joe Cronin said, "Steiner is helping us plenty, filling in for Bobby Doerr."7
His battling tailed off, to .257 when he played in his last game in the majors that year, on July 27. He had a .967 fielding percentage. On August 2, he was optioned to Louisville. The United Press dispatch said he had "started sensationally but his hitting dropped off and he was unable to handle double plays."8 He was sent back for more seasoning, Cronin said, "because he had lost his confidence in the big show."9 He was expected back in 1946. It may be that the manager had lost confidence in Steiner. The next spring, Harold Kaese of the Boston Globe wrote with a clear allusion to one of Cronin's prejudices, "When Ben Steiner, rookie second baseman, was abruptly released to Louisville last July there was some astonishment. Why send Steiner, a regular, and keep Jack Tobin, a bench-warmer? One player said, "Steiner went because he is not a Californian, and Tobin is."10
His confidence may have been shattered more than one might expect, and he only hit .216 in the 44 games in which he appeared at Louisville for the balance of 1945. The Colonels were back in the "Little World Series" and beat the Newark Bears, Steiner helping out by working a walk to drive in a run in the 11th inning of one win and bunting safely to kick off the game-winning rally in the deciding game.
He only took part in three games for the pennant-winning 1946 Red Sox. He played third base in the April 23 game against the visiting Washington Senators (he was 1-for-4 at the plate and 3-for-4 handling defensive chances), and he was inserted as a pinch-runner in the games of May 15 and May 21, scoring a run in the latter game. On May 30 he was optioned to Toronto. He played in 106 games, but only batted .238 with 22 RBIs.
On February 8, 1947, the Atlanta Crackers reported purchasing Steiner's contract from Louisville. He refused to report, however, and a 60-day trial deal was later done with Detroit on February 28.11
The Detroit Tigers were unsure whether Eddie Mayo was going to be injury-free enough to handle second base, so they brought Steiner with them as the season began. Manager Steve O'Neill said, "Ben's a good boy both in the field and at the plate, but he's no Mayo."12 Steiner only played in one game – his final game in the major leagues – on April 21, 1947. He was a pinch-runner for Dizzy Trout, who had reached on an error. He again did his job and scored, but it was the only time he was used.
On April 24 it was announced that he was being returned to Atlanta, where he had quite a good season. He played in 125 games and matched his 1944 batting mark: .316.
There followed three seasons with the Columbus Red Birds (American Association). In February his contract was sold outright to Milwaukee but he wound up playing for Columbus. He played 89 games (.283) in 1948, 145 games (.266) in 1949, and then 70 games (.244) in 1950, before being dealt in October to the Houston Buffaloes (also a St. Cardinals farm team). Steiner played in 1959 for Houston (in the Double-A Texas League), where he appeared in 130 games, batting .262. He was on the league's All-Star team, and enjoyed seeing his team win the pennant and the playoffs. They were his last games as a ballplayer.
After baseball, Steiner made his home in Highland Park, New Jersey, and worked as a salesman of electrical supplies for Miller-Knapp Inc. He later took a position for the Middlesex County court system in New Jersey until retiring in 1983.
Ben Steiner died, after a long illness, at the Venice Hospital in Venice, Florida, on October 27, 1988.
Sources
In addition to the sources noted in this biography, the author also accessed Steiner's player file and player questionnaire from the National Baseball Hall of Fame, the Encyclopedia of Minor League Baseball, Retrosheet.org, Baseball-Reference.com, and the SABR Minor Leagues Database, accessed online at Baseball-Reference.com. Thanks to Rod Nelson of SABR's Scouts Committee.
Notes
Full Name
Benjamin Saunders Steiner
Born
July 28, 1921 at Alexandria, VA (USA)
Died
October 27, 1988 at Venice, FL (USA)
If you can help us improve this player's biography, contact us.
http://sabr.org/sites/default/files/SteinerBen.jpg
600
800
admin
/wp-content/uploads/2020/02/sabr_logo.png
admin
2016-03-29 16:58:59
2021-09-26 10:23:52
Ben Steiner