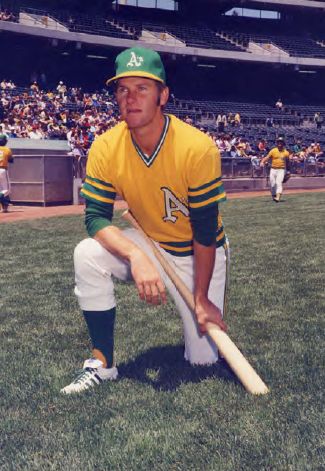 ---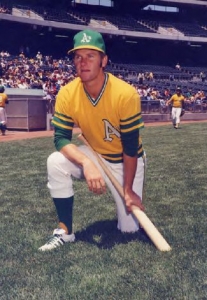 William Edward Voss had an eight-year major-league career playing outfield for the Chicago White Sox, California Angels, Milwaukee Brewers, Oakland A's, and the St. Louis Cardinals.
Voss was born in Glendale, California, on October 31, 1943. When he was a youngster, his baseball idol was Mickey Mantle. In 1968 he commented, "I think he's a great ballplayer. I've walked by him a few times, but I've never said anything. I imagine someday, if I'm lucky, I'll get on first base and say hello."1
When he played in the majors, the 6-foot-2 Voss weighed around 160 pounds. When Voss was a high-school freshman in Los Angeles, one of his coaches jokingly said, "We could always use you as a fungo bat."2 After Voss's family moved to Newport Beach, California, he played baseball and basketball at Newport Harbor High School. Voss also played American Legion baseball. After graduating from high school in 1961, he attended Orange Coast College for two years, led the Eastern Conference in batting with a .450 average in 1962, and helped lead the team to California state junior college finals. Later he attended Long Beach State College.
Drafted by the Detroit Tigers in 1963, Voss batted .295 in 76 games for Lakeland of the Class A Florida State League, and .280 in 42 games with Knoxville in the Double-A Southern League. But the Tigers failed to protect him in the first-year draft, and the Chicago White Sox grabbed him at a cost of $8,000. Playing in 1965 for the White Sox' Southern League farm team at Lynchburg, Voss batted .284 with 73 RBIs and was named to the Southern League All-Star team. He was called up to the White Sox in September and made his major-league debut on September 14 when he pinch-ran for Smoky Burgess. Voss got his first major-league hit on the 21st, a home run off the Tigers' Denny McLain in the seventh inning at Chicago. Facing McLain again in the ninth, he tripled. Voss finished with a .182 batting average 6-for-33).
Commenting on his swift rise to the majors, Voss said in 1966, "It seems that I always have a good day or a good series when someone important is watching. I did when some of the (White Sox) front-office people were watching me at Lynchburg last year, and then when I came up to Chicago in September I hit the ball pretty good."3
A confident Voss said as he reported to spring training in Sarasota, Florida, in 1966, "I wouldn't be surprised if I made it. I wouldn't have signed if I didn't think I could play in the majors."4 He impressed manager Eddie Stanky with his hard play ("He's a good outfielder, he can hit with occasional power, he has a strong arm, and he's fast.")5, but after getting only two plate appearances in three weeks, he was sent down to Indianapolis of the Pacific Coast League.
At 160 pounds, Voss's playing weight was a concern. Voss tried a number of approaches and commented, "My wife gave me malted milks when I got up for breakfast, and she gave me malted milks before I went to bed at night."6
Voss's season with Indianapolis ended on August 26 when he broke a finger on his right hand in a collision with Denver's Marty Martínez. He was batting .252 at the time. After spring training in 1967, he was sent back to Indianapolis again. In a game against Oklahoma City in May, he was hurt sliding into second base. The injury turned out to be a ruptured tendon and a torn calf muscle, and he was out for a month. When Voss returned to action, he battered PCL pitching, finishing the season with a .320 batting average in 92 games. He was called up to the White Sox in September but didn't see much action.
Voss began the 1968 season with the White Sox' new Pacific Coast League affiliate in Hawaii. On April 28 he was recalled to the White Sox to replace Walt "No Neck" Williams, who was being sent down. Before reporting to Chicago, Voss set a PCL record by making 11 outfield putouts in a game against Vancouver on April 21. Voss struggled with the White Sox and was hitting just .115 on June 1. Manager Stanky kept Voss in the lineup, prompting the grateful player to say, "He's been good about it. He keeps telling me, 'Stay with it. I'm happy I'm still playing.'" Voss remained confident and had some good moments for the White Sox, including a pinch-hit triple that drove in both runs in a 2-1 victory over the Indians on June 17, and a grand-slam on June 30 that helped the White Sox to a 12-0 victory over Detroit.
Voss suffered a major setback on July 4 when a pitch thrown by Baltimore's Pete Richert fractured his jawbone. Voss was out until September 14 and batted only 14 more times the remainder of the 1968 season, finishing with a .156 average.
On January 20, 1969, Voss was traded with rookie southpaw Andy Rubilotta to the California Angels in exchange for right-hander Sammy Ellis. Voss welcomed the trade because he lived just a few minutes from Anaheim Stadium. "It's really perfect," he said.7 Voss said he knew it would be tough winning a starting job, "but I have confidence that I can do the job no matter where they put me."8
The Angels assigned Voss to Hawaii but invited him to spring training. Voss worked hard at spring training, led the Angels with a .477 batting average, and in the Angels' home opener he was the starting right fielder. "He came to play and he knows how to play," commented manager Bill Rigney.9 Voss was elated  — "This was my big opportunity. How many guys get a chance to play for their home team?" he said. "I made up my mind that I'd break my neck to make this team."10 Voss had also regained weight. After fracturing his jaw he had been unable to eat solids and his weight dropped to 140 pounds, but he was now up to 165.
Voss had a slow start, and on May 27, when Rigney was fired, Voss was batting only .152. New manager Lefty Phillips still considered him "a solid hitter," and said, "He simply needs a chance to play."11 Twenty-eight games later, the left-handed hitting Voss had raised his average to .239, batting .300 over that span. "It's simply a matter of finding a groove," he said.12 In a three-game series against the Red Sox on August 8-10, Voss went 6-for-12, and drove in seven runs. He finished the season with a .261 batting average, and in the outfield made only one error in 187 chances. He also threw out 11 baserunners, and assisted in three double plays.
In 1970 the starting job for the Angels' right field spot was a battle between Voss and Rick Reichardt. After a great spring training, in which he batted .385, Voss got the job. He had a big series against the Milwaukee Brewers to open the season. On April 7 he drove in two runs with a triple, and he followed that up the next day with a 4-for-5 performance and four RBIs. On April 18 against the Kansas City Royals, Voss hit the first Angels grand-slam in the five-year history of Anaheim Stadium.
After Reichardt was traded to the Washington Senators on April 27, it seemed likely that Voss would get even more playing time. However, a concerned manager Lefty Phillips said, "Bill is a very valuable player to us, but he just doesn't have the stamina to play every day."13 Things got worse for Voss when he was hit by a line drive during batting practice on May 28 and suffered a fractured left wrist. The injury kept Voss on the disabled list until mid-July, and he was platooned for the remainder of the season, winding up with a .243 batting average and 30 RBIs.
After the season, the Angels acquired outfielders Tony Conigliaro and Ken Berry, and Voss became expendable. On January 28, 1971, the Angels traded him to the Milwaukee Brewers for pitcher Gene Brabender. A pleased Brewers manager Dave Bristol said, "He'll give our club speed, defense, and a good left-handed bat. I just hope he gets off to a fast start as he had in other years. Good defense will make your pitching just that much better."14
Voss had a bad case of the flu toward the end of spring training and missed the beginning of the season. He was platooned for most of the season and batted .251 with 30 RBIs, but his a career-high 10 home runs.
 In 1972 the Brewers outfield was loaded with potential starters. Besides Voss they were Billy Conigliaro, Joe Lahoud, Curt Motton, Brock Davis, and Dave May. Voss was ready for the challenge, saying, "I ran a mile each morning before I came down here. We've got good competition for jobs this year and I wanted to make sure I was in real good shape. In fact, I can see now it would have really hurt my chances if I wasn't in shape."15 Dave Bristol was in his corner, saying, "Bill's a good guy to have on the club. … Voss can play three outfield positions, and I love a guy who is versatile."16
Voss made the team, but his playing time was very limited. Before being traded to Oakland on June 20 for infielder Ron Clark, he started in only five games, batting .083. Oakland used Voss in the fifth spot in the batting order against right-handed pitching. He played in 40 games for Oakland, batting .227 before being traded on August 27 along with pitcher Steve Easton to the St. Louis Cardinals for outfielder Matty Alou. Voss played in just 11 games for Oakland, batting .267. After the season he was traded to the Cincinnati Reds for pitcher Pat Jacquez. He was in spring training with the Reds as a nonroster player but was released, and retired from baseball.
As of 2014 Voss was an assistant pastor for Vineyard Christian Fellowship in Cottonwood, Arizona. Voss and his wife, Donna, worked to help people through rocky family and marriage issues, and also did ministry work.
Notes
1 Jerome Holtzman, "Slumping Rookie Voss Gets a Lift From Patient Stanky," The Sporting News, June 15, 1968.
2 Ross Newhan, "V Means Victory … and Battler Voss," The Sporting News, April 19, 1969.
3 Jerome Holtzman, "Rookie Voss Gives Chisox Speed, Vigor," The Sporting News, March 26,1966.
5 Edgar Munzel, "V Stands for Victory — and Bill Voss," The Sporting News, March 4, 1967.
7 John Wiebusch, "Happy Voss Joins Angels' RF Battle," The Sporting News," February 8, 1969.
11 Ross Newhan, " V Stands for Voss … And Vigorous Bat," The Sporting News, July 19, 1969.
13 John Wiebusch, "Con Man? Phillips Builds Angel Egos," The Sporting News, June 6, 1970.
14 Larry Whiteside, "Lane Retains Old Touch — Three Quick Brewer Deals," The Sporting News, February 13, 1971.
15 Larry Whiteside, "Brewers' Voss Hard as Nails, Ready to Hammer A.L. Hurlers," The Sporting News," March 18, 1972.
Born
October 31, 1943 at Glendale, CA (USA)
If you can help us improve this player's biography, contact us.
http://sabr.org/sites/default/files/BillVoss.JPG
600
800
admin
/wp-content/uploads/2020/02/sabr_logo.png
admin
2015-09-18 00:00:26
2020-12-17 10:32:52
Bill Voss