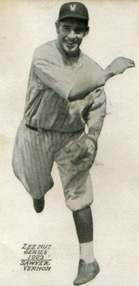 ---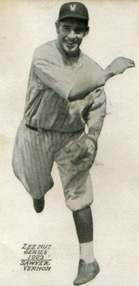 If there were a Hall of Fame for baseball comedians, it would surely include legendary funnymen like Arlie Latham, Germany Schaefer, and Nick Altrock – and perhaps also Carl Sawyer. This fun-loving comic with his own brand of tomfoolery entertained major-league audiences as a member of the Washington Senators in 1915 and 1916. He later delighted minor-league crowds in the American Association and Pacific Coast League. Sawyer was also an agile infielder and speedy baserunner.
Carl Everett Sawyer was born October 19, 1890, in Seattle. His parents were Frank Albert Sawyer, a baker, and Jennie (Lucas) Sawyer, both natives of Massachusetts.1 The family moved to Los Angeles by 1896, and Jennie died sometime before 1900. At the time of the 1900 US Census, Frank was residing in Long Beach, California, and Carl was living at the Victoria Home in Los Angeles, a place for "destitute and homeless children."2 Carl later attended Los Angeles High School.3 At the time of the 1910 Census, he was an apprentice plumber living with his father in Los Angeles. On February 29, 1912, he married Nellie McCarty in Los Angeles.
Sawyer played on amateur and semipro teams. He was a right-handed batter and thrower, about 5-foot-10 and 160 pounds. In 1912 he tried out for the Tacoma Tigers of the Class B Northwestern League but did not make the team.4 The next year he played third base, batted .252, and stole 30 bases in 122 games for Fresno in the Class D California League.5 In late September he was promoted to the Los Angeles Angels of the AA Pacific Coast League. He played third base for the Angels and hit .198 in 31 games. He returned to the Angels in the spring of 1914 but again struggled to hit, with a .195 average in 27 games.
The Angels sent Sawyer to Butte, Montana, in the Class D Union Association, where he thrived. In 49 games he batted .343 with 19 stolen bases and led the league's shortstops with a .936 fielding percentage.6 He was signed in December 1914 by the Des Moines Boosters of the ClassA Western League.
The Boosters won the 1915 Western League pennant with the help of Sawyer, who hit .256 and stole 28 bases in 131 games.7 His slick fielding at second base attracted attention, and his string of 18 consecutive errorless games8 had major-league scouts buzzing. Among the scouts who came to see him were Jimmy Callahan (Chicago White Sox), Chick Fraser (Pittsburgh Pirates), Larry Sutton (Brooklyn Robins), Joe Kelley (New York Yankees), and Charley Barrett (St. Louis Browns).9 But it was Jack Ryan who purchased Sawyer's contract for the Washington Senators for a reported $2,500.10 Ryan said, "Sawyer is easily the class of the league. He is something of the style of Eddie Collins, though a bit heavier. He is just as active and aggressive, and has a wonderful pair of hands. He looks certain of developing into a big leaguer."11
Sawyer made his major-league debut on September 11, 1915, in the Senators' 5-4 victory over the Cleveland Indians in Washington. In his first at-bat, he belted a clean single to left field off pitcher Allan Collamore. Sawyer impressed the Washington fans with his savvy defense at second base. In the fourth inning, as Cleveland's Elmer Smith rounded second base a bit too far, Sawyer "cut in behind Smith," took a throw from third baseman Eddie Foster, and "tagged Smith like a veteran."12 In the seventh inning, with Smith on third base, Sawyer "raced in like a streak" to field a bunt and threw Smith out at the plate.13
Encouraged by Nick Altrock, the Senators' 39-year-old third base coach and comedian, the 24-year-old "Huck" Sawyer cut loose with antics of his own on September 20 in Washington. While coaching along the first base line, Sawyer could be seen "swimming" in the grass, or imitating a chicken scratching in the dirt, or turning exuberant handsprings. His uproarious impression of a braying mule caused the home plate umpire, Ollie Chill, to throw a fit.14
Sawyer was acrobatic – in his comedic stunts and in his ball playing. On October 2, in the second game of a doubleheader against the Boston Red Sox, he scored from third base on a sacrifice fly by an extraordinary slide in which "he threw his body out of reach" of the catcher's tag while one foot deftly touched home plate.15 Sportswriter J. Ed Grillo described Sawyer's creative base running two days later against the Philadelphia Athletics:
Sawyer "took a big lead off" second base "and when the pitcher turned and threw to second he started for third. The ball was thrown to third baseman Harry Damrau, who stooped to touch Sawyer as he was approaching. But Sawyer, instead of sliding, leaped into the air, turned a complete somersault over Damrau and landed outside of the third base bag. Umpire Silk O'Loughlin, though, like all the players, laughing, heartily, declared Sawyer out for running out of line. The feat was one never before witnessed in a major league ball game."16
Senators manager Clark Griffith praised the rookie: "Sawyer is my type of a ballplayer, the kind of a man I want on my club. He is heart and soul in the game, and plays it for all its worth."17
As a utility infielder in 1916, Sawyer played rarely – he received only 31 at-bats in the entire season – but his humorous coaching was a regular hit. When the Senators met the Yankees on Opening Day (April 12) in New York, Sawyer's act elicited "roars of laughter" from the New York crowd, and at one point the game was halted while Yankees pitcher Ray Caldwell "convulsed with laughter."18 Sportswriter Frank G. Menke described Sawyer's "frisky donkey" routine: "Off came his cap to serve as a tail. Swishing it wildly, he galloped up and down the coacher's box, meanwhile kicking in approved donkey style. Suddenly he bolted, as an animal would do if beaten with a whip, and then he began to bray in a voice that echoed throughout Harlem."19 On Opening Day (April 20) in Washington, Sawyer led the band like a drum major twirling a bat instead of a baton. "This kid has made for himself a home in the hearts of the fan," wrote Louis A. Dougher of the Washington Times.20
A resident of Los Angeles in the offseason, Sawyer was invited to perform at an exhibition game there on November 5. He humored "the crowd for the better part of two hours, and at the finish the fans were yelling for more."21 His physical comedy was well suited to the silent movies of the era, and he was given a job with the Keystone Film Company, the same company that gave Charlie Chaplin his start in 1913.22 "I have had to dodge pies and they have run automobiles over me and made me fall down from roofs," said Sawyer. "I love baseball, but, oh, you movies!"23 Sawyer appeared in Her Fame and Shame, a slapstick comedy released in 1917.
In addition to working in the movie industry during the winter months, Sawyer captained a Los Angeles semipro team known as the San Pedro Merchants.24 He went to spring training with the Senators in 1917 and was farmed out to the Minneapolis Millers of the AA American Association so that he could play regularly. "It would just ruin him to be confined to the bench with us another year," said Griffith.25
On the 1917 Millers, Sawyer hit .244 and stole 23 bases in 155 games,26 and was the most popular player on the team.27 Minneapolis fans loved his comedy and his brilliant fielding at second base. In the Millers' 3-1 victory over the Kansas City Blues on August 11, Sawyer handled 13 chances without error.28 Four days later, in a doubleheader against the St. Paul Saints, he was "a fielding sensation in both games … accepting 17 chances with nary a miss."29
On November 4, while playing for the San Pedro Merchants, Sawyer tried out some pyrotechnics: "Carl hit the ball and there was an explosion similar to that of a cannon, when the ball connected with a dynamite cap on the bat. The dynamite cap set a roman candle on fire which spurted out of the end of the bat and the crowd roared for ten minutes."30
Sawyer hit a career-high .306 for the 1918 Millers in a season shortened by World War I. He worked at a shipyard in Superior, Wisconsin, from July to September before returning home to Los Angeles. Tragedy struck in October. One day after giving birth to a daughter, Sawyer's wife died of influenza, and the infant died the next day.31
Sawyer batted .295 and .282 for the Millers in 1919 and 1920, respectively, and he led the American Association with 50 doubles in 1920. With the bases loaded on May 28, 1920, Sawyer faced John Merritt, an ace of the St. Paul Saints, and drove the ball into right center field for a bases-clearing triple. Moments later, Sawyer "made a clean steal of home."32 Two days later, in the second game of a doubleheader, he homered twice off Merritt.33 Sawyer's improved offensive production, however, was not enough to earn him a trip back to the majors.
Sawyer's occupation is listed as plumber in the 1920 Census. He was also player-manager of a San Pedro team in the offseason, and he continued his work in movies, appearing in The Best of Luck, released in July 1920. He teamed with Nick Altrock in the fall of that year, and the "Nonsense Twins"34 entertained crowds at ballgames in California, including a series of exhibitions featuring Ty Cobb. In one of their routines, Altrock carried a barrel organ while Sawyer played the part of the monkey; "the way Sawyer climbed the wire screen in front of the grandstand was astonishing."35
On March 1, 1921, the Millers traded Sawyer to the Vernon Tigers of the Pacific Coast League.36 Sawyer was pleased – he had been seeking a trade to a PCL team – but he was sidelined on April 10 when he broke his leg sliding into a base.37 On May 25, in true Sawyer fashion, he went to take his place in the field while on crutches and wearing a disguise that included a long white beard.38 He returned for real on August 30 and hit a home run in his first game back.39
After the 1921 regular season, Sawyer played in the California Winter Baseball League, which lasted two months and featured stars from the majors. His batting average on December 7 was among the league leaders and put him in exalted company: Ty Cobb, .399; Rogers Hornsby, .389; Sawyer, .377; Harry Heilmann, .374; and George Sisler, .368.40
The 1922 Vernon Tigers finished in second place in the PCL. Sawyer played second base and hit .293 in 136 games. On the sidelines in Portland on August 13, he "brought down the 'house' … when he set fire to himself. He dashed wildly to the Vernon dugout and turned the water full blast on his smoking trousers."41
The next year Sawyer was a part-time player and appeared in only 59 games, and the Tigers fell to last place. But Sawyer led the league in humor. On April 21, 1923, during the Salt Lake City Bees' 21-7 rout of the Tigers in Los Angeles, Sawyer snuck over to the Salt Lake bench, swiped all of the Bees' bats, and moved them to the Vernon bench. "It was a few minutes before the fans and some of the players got wise to Sawyer's trick."42 In Salt Lake City on May 13, Sawyer entertained between games of a doubleheader; he showed affection for a female dummy, danced with her and then abducted her.43 And in Portland on July 8, Sawyer used humor to defuse a "near riot" in which angry patrons threw pop bottles at the umpire. "Sawyer jumped into the grandstand and wanted to 'fight' the whole audience."44 His playful kidding softened the crowd and smoothed over the situation.
Sportswriter Harry A. Williams said, "Sawyer's stuff is good, wholesome comedy, and a sure antidote for a dull or listless game. … Not only can Carl play the game, but he is a tonic for the pastime and helps lubricate the turnstile."45 Despite Sawyer's ability to draw fans, the Vernon Tigers sold his contract after the 1923 season to the Wichita, Kansas, club of the Western League. Sawyer refused to report to Wichita and chose instead to retire.46
Over the next 15 years, Sawyer appeared in semipro and exhibition games in California as both a player and comedian. On October 31, 1924, he played second base on Babe Ruth's team against Walter Johnson's squad, in front of more than 5,000 fans in Brea, California, and "Sawyer's antics kept the big crowd in good spirits."47 In Los Angeles on December 3, 1933, the 43-year-old Sawyer played first base and got one hit in four at-bats facing the great Satchel Paige.48 And on October 7, 1936, during an exhibition in San Francisco between Dizzy Dean's and Lefty O'Doul's teams of "all-stars," Sawyer "had customers in an uproar throughout with funny gags."49 In 1939 Sawyer returned to the PCL for one season as a coach for the San Diego Padres.50
Sawyer married Gladys Hawken in May 1942.51 They resided in southern California, where he was employed for many years as an executive of the Stationers Corporation, a printing firm. He died of stomach cancer on January 17, 1957, in Los Angeles at the age of 66 and was interred at the Forest Lawn Memorial Park in Glendale, California.52
Acknowledgments
This biography was reviewed by Rory Costello and Norman Macht and fact-checked by Chris Rainey.
Sources
Ancestry.com.
Richter, Francis C., ed., The Reach Official American League Base Ball Guide (Philadelphia: A.J. Reach Co., 1914-1918).
Notes
1 Carl Sawyer had a brother who was six years older, according to the 1892 Washington State Census.
2 "Practical Charity," Los Angeles Times, August 16, 1899: 11. Research to date has not revealed why Carl's father put him there.
3 Harry A. Williams, "Chance Day Turns Out to Be Howling Success," Los Angeles Times, November 6, 1916: 9.
4 "Lee Wolfe Is to Play North," San Bernardino (California) News, February 17, 1912: 2; "Six Near Tigers Are Released," Tacoma (Washington) Times, March 20, 1912: 2.
5 Reach Guide, 1914: 505, 506.
6 Reach Guide, 1915: 354, 356.
7 Reach Guide, 1916: 219.
8 "Carl Sawyer Breaks String of Eighteen Errorless Contests," Des Moines Register, July 4, 1915: 3.
9 "Four in First Inning Give Boosters Second Game at Lincoln," Des Moines Register, July 30, 1915: 4; "Scout Sutton Gets Players to Make a Near Pennant Winner," Des Moines Register, August 17, 1915: 5.
10 "Carl Sawyer Sold," Riverside (California) Daily Press, August 18, 1915: 2.
11 Louis A. Dougher, "Ryan Impressed with Carl Sawyer," Washington Times, August 24, 1915: 11.
12 Louis A. Dougher, "Griffmen Ought to Better Position in Combats This Week," Washington Times, September 12, 1915: 15.
13 Dougher.
14 "Sawyer a Funny Coach," Washington Times, September 21, 1915: 11.
15 J. Ed Grillo, "Local Recruits Make Good in Games with Red Sox," Washington Evening Star, October 3, 1915: V-1.
16 J. Ed Grillo, "Local Players to Scatter after Tomorrow's Games, Washington Evening Star, October 5, 1915: 15. Twenty-seven years later, Nick Altrock told the story of Sawyer's "football hurdle" to J.G. Taylor Spink of The Sporting News.
17 "Charlottesville Camp Chatter," Washington Herald, March 19, 1916: 12.
18 Frank G. Menke, "Latest Clown in Base Ball Makes a Hit," Sporting Life, April 29, 1916: 8.
19 Menke
20 Louis A. Dougher, "Griffmen to Hear Noted Evangelist over in Baltimore," Washington Times, April 21, 1916: 14.
21 Harry A. Williams, Los Angeles Times, November 6, 1916: 9.
22 Jeffrey Vance, "Chaplin at Keystone: The Tramp Is Born," www.charliechaplin.com/en/articles/212-Chaplin-at-Keystone-The-Tramp-is-Born?category=filming.
23 "Baseball or Movies? Up to Carl Sawyer to Choose," Los Angeles Times, January 21, 1917: VI-9.
24 "Sawyer Thinks Well of His Team and Will Make Few Changes," San Pedro (California) Daily News, October 20, 1916: 1.
25 Denman Thompson, "Carl Sawyer Funnier than Nick Altrock," Minneapolis Tribune, April 1, 1917: 6.
26 Reach Guide, 1918: 177.
27 "Former Senators Make Good with Minneapolis Millers," Washington Evening Star, June 10, 1917: 5-2.
28 Fred R. Coburn, "Rally in Eighth Gives Hard Tilt to Miller Team," Minneapolis Tribune, August 12, 1917: Sports, page 1.
29 Fred R. Coburn, "Millers Trim Saints, Then Lose," Minneapolis Tribune, August 16, 1917: 14.
30 "Gas Bomb and Fireworks at Ball Game," San Pedro (California) Daily Pilot, November 5, 1917: 1.
31 "Carl Sawyer's Wife and Baby Dies in Two Days," Minneapolis Tribune, November 27, 1918: 20.
32 Fred R. Coburn, "'Crippled' Saints Trounce Minneapolis 7 to 4 in 10-Frame Fracas," Minneapolis Tribune, May 29, 1920: 31.
33 Fred R. Coburn, "Millers Drown Saint Hoodoo with Double Victory, 12-3, 4-3," Minneapolis Tribune, June 1, 1920: 14.
34 "All-Stars Will Again Try Luck against the Sox," Los Angeles Times, December 17, 1920: 29.
35 Ed R. Hughes, "Scott Downs Demaree in a Pitching Duel," San Francisco Chronicle, October 13, 1920: 14.
36 "Millers Get Fisher for 'Huck' Sawyer," Minneapolis Tribune, March 2, 1921: 14.
37 "Pitchers' Battle Taken by Niehaus," San Bernardino (California) Sun, April 11, 1921: 8.
38 "Angelenographs," Los Angeles Herald, May 27, 1921: A-18.
39 "Bees Take First Game with Tigers," San Bernardino Sun, August 31, 1921: 3.
40 "Cobb Still Leads Hitters on Coast," Washington Post, December 8, 1921: 17.
41 "Vernon Ends Season Here with 2 Wins," Oregon Daily Journal (Portland), August 14, 1922: 12.
42 Eddie Murphy, "Beavers Put Grease in Path of the Seals Who Take Big Slide," Oakland Tribune, April 24, 1923: 31.
43 "Bees Take Final Games and Series from Essick's Tigers," Salt Lake Telegram, May 14, 1923: 3.
44 "Sawyer Averts Portland Riot as Fans Abuse Umps," San Francisco Examiner, July 9, 1923: 25.
45 Harry A. Williams, "Sport Shrapnel," Los Angeles Times, June 25, 1923: III-2.
46 "Vernon May Get Carl Sawyer Back," Los Angeles Times, February 6, 1925: III-1.
47 "Ruth Swats Two Homers to Help His Team Beat Walter Johnson, 12 to 1," Santa Ana (California) Register, November 1, 1924: 6.
48 "Paige Beats Newsom as Nines Split Pair," Los Angeles Times, December 4, 1933: 9, 11.
49 Bob Preston, "O'Doul's Nine Beats Dizzy Dean," San Francisco Examiner, October 8, 1936: 33.
50 "Padres Sign Widely Known Comedian," San Bernardino Sun, March 17, 1939: 17.
51 Sawyer file at the National Baseball Hall of Fame.
52 Sawyer file
Born
October 19, 1890 at Seattle, WA (USA)
Died
January 17, 1957 at Los Angeles, CA (USA)
If you can help us improve this player's biography, contact us.
https://sabr.org/sites/default/files/SawyerCarl.jpg
600
800
admin
/wp-content/uploads/2020/02/sabr_logo.png
admin
2019-10-22 13:05:07
2020-04-09 14:37:29
Carl Sawyer