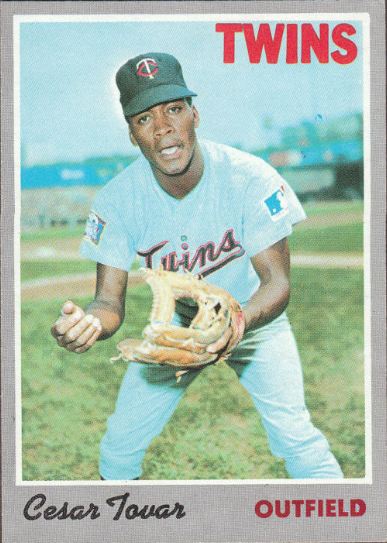 ---
In the late 1960s and early '70s, César Tovar was a fixture at the top of the Minnesota Twins lineup. The speedy, enthusiastic little Venezuelan (5-feet-9 and 150 pounds) came up as a second baseman, but he could handle just about any spot – he is perhaps best remembered today as one of the four players to play all nine positions during the course of a single big-league game.1 Yet that game in 1968 was just one of 1,488 in a respectable 12-year major-league career. Tovar, who mainly played the outfield, hit .278 with 46 homers and 226 stolen bases. He was a great favorite of manager Billy Martin, another peppery little player, who loved all-out competitors.
Tovar played on after his final year in the majors, 1976. He was in Mexico during the summers of 1977 and '78; he also wound up playing in 26 seasons in the Venezuelan winter league, second only to Vic Davalillo's 30. Neither before nor since has Venezuela had a one-two table-setting duo to compare with "Pepa e Burra" and "Vítico," who were winter teammates for 19 straight years. (Tovar's raunchy nickname – it refers to the genitals of a she-donkey! – was cleaned up as "Pepito" or "Pepi."2) César started in 1959, after his first professional summer, and finally hung it up at the age of 45 after two final games in the winter of 1985-86. He was part of eight champion teams at home and ranks high among the lifetime leaders in various categories.
César Leonardo Tovar was born on July 3, 1940, in Caracas, the capital of Venezuela. His family name – which is properly pronounced "toe-VAR"3  – is that of his mother, Justina Tovar. She and César's father, Francisco "Frank" Pérez, lived together but were never married. Frank, who worked in construction, and Justina had three children, all boys. César's older brother was named Pedro and his younger brother was Alfonzo. Neither of them was involved with sports – but their father was a ballplayer. As César said in 1967, he was "a good second baseman. In Caracas he played on the same amateur team with Chico Carrasquel. When my father quit playing, he gave me his glove. I used it for a long time."4
Young César came to baseball around the age of 8. As a lad he also helped the family's finances by shining shoes. "Sometimes I made around $10 or $12 a day. People would come and ask for me because I did a good job." César's earnings bought him a glove before he inherited his father's.5
Tovar attended Escuela Nacional Franklin Delano Roosevelt in Caracas. At 15, he became friends with another future Venezuelan big leaguer, Gustavo "Gus" Gil. They played sandlot ball together, and Gil noted, "César always played the game hard." On New Year's morning in 1959, Gabe Paul, general manager of the Cincinnati Redlegs, signed them both. Gil got a $2,000 bonus. Tovar got nothing.6
Gabe Paul told the story himself in 1968. "I went to see Gus Gil in a morning workout. He insisted on bringing Tovar along. Gil was the man we wanted. I thought he was a great one. He wanted his buddy Tovar signed, too. César showed nothing, but I signed him to get Gil."7 The Reds' top farm team in those days was the Havana Sugar Kings. Havana owner Bobby Maduro had been friends with Paul since the early '50s and the Sugar Kings had a sizable following in Venezuela.
Tovar's first pro season, with Geneva of the New York-Penn League (Class D), was not that auspicious. He batted .252 in 87 games, with 3 homers and 41 RBIs. In the winter of 1959, he joined the Caracas Leones of La Liga Venezolana del Béisbol Profesional (LVBP). He became Rookie of the Year and spent 16 seasons with that club, winning championships in five of them.8
The young infielder's second summer in the US was more promising. With Missoula of the Pioneer League (Class C), he hit .304/12/68, including 10 triples. The local writers, sportscasters, scorers, managers, and umpires voted him to the league's 1960 All-Star team.9 As a reward, he spent two games with Triple-A Seattle. On a personal level, César also married Beatriz Veitia on December 10, 1960.
Yet for reasons at present unknown, Tovar had to step back down to Geneva in 1961. He stole 88 bases in 100 attempts to lead the league, shattering the New York-Penn League record in the process. He batted .338 with 19 homers and 78 RBIs. He was named to both the league and Class D All-Star teams, a feat he repeated in 1962 with the Rocky Mount Leafs of the Carolina League (Class B). He led that league in batting at .329, to go with 10 homers and 78 RBIs.
Nonetheless, it appeared Tovar would have a hard time progressing through the Reds' system. In 1963 the big club in Cincinnati had a new second baseman: Pete Rose, who became National League Rookie of the Year. Future major leaguer Bobby Klaus was at Triple-A San Diego and Gus Gil was at Double-A Macon. The organization sent Tovar on loan to the Twins; he played for their Triple-A farm team, Dallas-Fort Worth. There too, manager Jack McKeon had veteran Jim Snyder at second base, so Tovar became a utilityman for the first time, playing shortstop and the outfield while hitting .297/11/49. "He has to be in the lineup and he has to be my leadoff man," McKeon worried, "but where do I play him?" After seeing him in the outfield, the skipper said, "It's amazing. He gets a great jump on the ball – as if he had always played out there."10
Tovar also made two good friends in the Twins organization in 1963. One was Billy Martin, who that year was a minor-league instructor in spring training and took César under his wing. Another was his roommate, Tony Oliva, from Cuba, who became his teammate for seven-plus seasons in Minnesota. That year César and Beatriz added twin boys Jhonny Gustavo (named for Gus Gil) and Edgar José to their family. César Augusto had been born in 1961.
Tovar returned to the Reds chain in 1964 and played for San Diego, which won the Pacific Coast League pennant. He hit .275/7/52 while playing third, short, second, and the outfield. During the pennant series against Eastern Division winner Arkansas, opposing manager Frank Lucchesi said, "Tovar killed us with his great plays in the field as well as his bat."11
On December 4, 1964, the Twins traded pitcher Gerry Arrigo (coming off his best big-league season) to Cincinnati to get Tovar. Minnesota owner Calvin Griffith had wanted Tommy Helms, but the Reds wouldn't part with him, and Griffith said the Twins "had to pay through the nose" for Tovar. Scouting reports at the time labeled César an "adequate" second baseman who was "not considered outstanding on the double-play pivot."12 Minnesota was thinking about him at third base as well as second.
Manager Sam Mele gave Tovar a long look at second base during spring training 1965 in a competition with light-hitting Jerry Kindall. Martin, a former second baseman and by then the Twins' infield coach, became César's tutor again.13 Tovar made the Twins roster to open the 1965 season, becoming just the ninth Venezuelan to reach the majors. It seems remarkable today, but at that time only two more of his countrymen were active at the top level, Luis Aparicio and Vic Davalillo. In his debut on Opening Day at Metropolitan Stadium, playing third base, Tovar went from goat to hero. He dropped a Joe Pepitone popup in the ninth inning, allowing the tying run to score – but in the 11th inning he came through with a two-out game-winning single.
César appeared in just nine games with just 13 at-bats through mid-May. Near the end of the month, the Twins sent him down to Triple-A Denver as they reached the 25-man roster limit. After he performed well (.328/11/50), the big club recalled him in September. He was not eligible for the postseason, but he never played in the minors again.
In April 1966 Tony Oliva said, "Tovar plays the game hard. He runs, he chases down groundballs, dives at the ball, steals bases. And he sure can hit."14 Tony was right. The following seven summers with Minnesota, 1966 through 1972, were the heart of Tovar's big-league career. He averaged 153 games played and 653 plate appearances per season over this period – indeed, from 1967 to 1971 he never appeared in fewer than 157 games. As the table-setter for the likes of Tony Oliva and Harmon Killebrew, he averaged 166 hits and 92 runs scored a year. In 1970 he led the American League in doubles (36) and triples (13). Tovar followed up with a career-best 204 hits in 1971 – the best one-year total by any Venezuelan until Magglio Ordóñez got 216 in 2007.
Tovar received MVP votes in each year from 1967 to 1971. In fact, when Carl Yastrzemski finished one vote short of unanimous American League MVP honors during his Triple Crown season in 1967, the 20th first-place ballot went to Tovar (.267/6/47). Minnesota beat writer Max Nichols defended his choice, saying, "He played six positions for the Twins and I saw him win games for them at all six positions. We didn't have the best of player relations on our club, but Tovar never got mixed up in any of the clubhouse politics. He kept plugging away, no matter where they put him, and to me he did a tremendous job. If I wanted to be a 'homer,' I would have voted for Harmon Killebrew. But Tovar was my choice and, if I had to do it all over again, I'd vote for him again."15
"I would've voted for him too," said Billy Martin, who became the Twins' manager in 1969.16 In his 1981 book, Number 1, Billy said, "Tovar was my little leader. He was the guy who got everyone going. When I wanted him to push Leo [Cárdenas] a little bit or if Rod [Carew] was getting down and I needed someone to give him a boost, I'd get César to do it."17
Tovar was never known as an outstanding fielder at any of his positions, but thanks to his speed he covered a lot of ground wherever he played. "He can play center field as well as anyone," said Cal Ermer, who managed him at Denver in 1965 and with the Twins in 1967 and '68. In the infield, "He's too rigid with his hands in fielding groundballs," said Billy Martin, who spent a lot of time in practice with César. Tovar himself said he that he was very tense when he first came to the majors.18 When Rod Carew arrived in 1967, however, the Twins had an outstanding young second baseman. Though Tovar played a lot of third base in 1967-68, his focus after that became the outfield.
Tovar did not walk as much as one would like in a leadoff hitter. His on-base percentage was .335 for his career, peaking at .356 in both 1970 and 1971. Yet despite his moderate walk totals (a high of 52 in 1970), he often got on base another way – he was hit by a pitch 88 times in his career. As new Twins manager Bill Rigney put it in 1970, "He does not mind sticking an elbow out."19 A related anecdote came from 1974 and the Venezuelan Winter League. Umpire Armando Rodríguez (the first Latino ump in the majors) called each ball that hit Tovar's arm a strike because he knew what César was doing. Once Tovar got hit in the back and Rodríguez sent him to first base because he was truly hit. After the game, Tovar said, "I have to recognize that the guy has class."20
Although Tovar was small, he was muscular and tough-bodied. He was also a very good contact hitter who struck out in only 7% of his plate appearances in the majors. In this vein, Tovar holds a record along with Eddie Milner: They each had the only hit in five one-hitters. Tovar was the spoiler in gems by Barry Moore (April 30, 1967); Dave McNally (ninth inning, May 15, 1969); Mike Cuéllar (ninth inning, August 10, 1969); Dick Bosman (August 13, 1970); and Catfish Hunter (May 31, 1975).21 There might have been a sixth, but he made the last out in Vida Blue's no-hitter (September 21, 1970).
Tovar's best season for stolen bases was 1969, with 45. Over his career he was successful 68% of the time when stealing, somewhat lower than ideal, especially in a leadoff hitter. Both he and Rod Carew had the skill and daring to steal home, though – in fact, they did it in the same inning against Mickey Lolich and Bill Freehan of the Detroit Tigers on May 18, 1969. On August 23 at Metropolitan Stadium, César also stole home on the front end of a triple steal. Billy Martin's club was remarkably aggressive on the basepaths that year, pulling off that feat four times.
The Twins won the AL West in both 1969 and 1970, but each time, the Baltimore Orioles swept them in three straight playoff games. Baltimore's superb pitchers kept Tovar off the basepaths in 1969, as he went 1-for-14 with one walk. He did better in 1970 (5-for-13) but scored just two runs.
Tovar played all nine positions on September 22, 1968. The Twins were trailing the league-leading Detroit Tigers by 26 games at the time, and Calvin Griffith thought it would be a good promotional stunt. (The game drew a modest crowd of 11,340 to Metropolitan Stadium). He started the game on the mound – his scoreless inning featured a strikeout of Reggie Jackson, plus a walk and a balk – then went behind the plate. He then moved counter-clockwise around the infield, followed by a trip across the outfield from left to right.22
On November 30, 1972, the Twins traded Tovar to the Philadelphia Phillies for outfielder Joe Lis and pitchers Ken Reynolds and Ken Sanders. The Twins were willing to let him go because "his figures slipped some in 1972, partly due to a shoulder injury when he was hit by a pitch."23 The Phillies wanted César to play third base – a position he had not manned since 1968 – because they had traded Don Money.24 They weren't sure if young Mike Schmidt was ready, and indeed he did struggle in 1973, hitting just .196 before emerging as a star. General manager Paul Owens also wanted Tovar on hand in case Mike Anderson couldn't hold down the starting center-field job. "Tovar gives us all kinds of things," said Owens. "He's a team leader. He's an outstanding basestealer, which will help [shortstop] Larry Bowa in his learning process. But most important, he gives us maneuverability."25
Tovar played 97 games for the Phillies in 1973 (.268/1/21), missing most of July after knee surgery. That December the Texas Rangers purchased Pepi's contract, as his longtime backer had been clamoring to get him. "When Billy Martin became the Rangers' manager last September, he made one immediate request: 'Get me César Tovar.' " Billy added, "I didn't want him back just because I had him before. That'd be foolish sentiment. I wanted him because of his leadership and his hustle and his ability. He's always played for me – given 100 percent – and I know he will.
"The little guy can beat you so many ways – his bat, his feet, his brains, his hustle."26
Tovar rebounded nicely in 1974 (.292/4/58 in 138 games, with 629 plate appearances), playing mainly center field and left field. There was also an amusing footnote to that season. According to Mike Shropshire's 1996 book about the 1973-1975 Rangers, Seasons in Hell, there were rumors that Pepito had three wives in three different countries. In 1975 he played less in the field and served more as a designated hitter.
Billy Martin was fired in July 1975. On August 31 the Oakland A's purchased Tovar. Although they already had a healthy lead in the AL West, owner Charlie Finley still wanted a player to help in the final month of the season. Mike Shropshire wrote, "According to speculation, it would be Tovar's job to goad [Bert] Campaneris to get off his ass."27 The A's placed Angel Mangual, who had been with Oakland since 1971, on irrevocable waivers.28 Tovar was on the postseason roster and appeared in two playoff games against the Red Sox, going 1-for-2 with two runs scored.
In the winter of 1975-76, Tovar's career at home took a turn as the Caracas Leones merged with Tiburones de La Guaira. For one season, a franchise called "Tibuleones" de Portuguesa existed. When Tovar returned to Oakland in 1976, he was a little-used reserve, going 8-for-45 in 29 games. He broke his wrist making a diving catch on May 31 and was not reactivated until mid-August – it took a complaint to Players Association director Marvin Miller to make it happen.29 On August 25 Finley – in a typical and quite possibly vengeful move – released the veteran.30
On September 1 Tovar signed as a free agent with the New York Yankees, becoming their first Venezuelan player. Again Billy Martin – who had landed with New York less than two weeks after Texas canned him – was behind the signing. The Yankees had been talking to the Rangers about acquiring Billy's old favorite the previous year.31 He got into 13 games for the Bronx Bombers, going 6-for-39. He joined the club too late to be eligible for the postseason.
In December 1976 the Yankees released Tovar, and his big-league career came to an end. Of greater significance, though, was the development of the players' rights movement in Venezuela. The re-established Caracas Leones had traded both Vic Davalillo and Tovar to Tigres de Aragua before the 1976-77 season. They filed suit for severance pay. A reputable lawyer named Efraín Muñoz took the case to demonstrate to the Caracas front office and in the courts that his clients were workers and consequently deserved their benefits under national law. Muñoz won, setting a precedent.32
Tovar was by no means finished playing in the summers, though, as he joined Puebla in the Mexican League in 1977. During his first month, he batted .270, "but he said he was just 'studying the situation.' " He then went on a tear that lifted his average to .337.33 He finished the year at .345/1/53 in 432 at-bats across 121 games – yet unlike his fellow Venezuelan vet, Davalillo, his performance south of the border didn't write his ticket back to the majors. Pepi returned to Mexico in 1978, playing with Tabasco, but though he hit well again (.336/1/17), it was in just 31 games. From mid-April to mid-June 1979, he also played with the Caracas Metropolitanos of Bobby Maduro's short-lived Inter-American League.
Tovar's winter career at home also continued. After two seasons with Aragua, he spent seven more with Águilas del Zulia. César, who was 39 when he joined Zulia as a player-coach, averaged just 22 games played per winter during his stretch there, the most being 49 in 1981-82. Zulia became league champion in 1983-84, and Tovar got into one game in the playoff finals. It was his eighth title at home, including the two he won as a playoff reinforcement with Tiburones de La Guaira (1965-66) and Navegantes del Magallanes (1969-70).
When Pepito finally decided to retire as a player, he had appeared in 1,116 games in La Liga Venezolana del Béisbol Profesional, tied for fourth in the league's history. He had 1,224 hits (also fourth lifetime) for a .286 average, along with 23 homers and 399 RBIs. As of 2014 he ranked second in runs scored (635) and steals (146), and third in doubles (191).
Tovar maintained his connection with baseball. He had long been known for his support of children in his homeland, for whom he collected uniforms and equipment. He worked as a softball coach for the INH (Instituto Nacional de Hipódromos, or Horse Racing Authority, which sponsored recreation for its workers and their families). He eventually recommended players to the professional teams. He also managed the Venezuelan national team in the 1990 Baseball World Cup, held in Edmonton. His squad won just one game and lost seven.
Mainly, though, Tovar continued to serve Águilas del Zulia as a coach. His special protégé was Carlos Quintana, who played with the Boston Red Sox from 1988 to 1993. Red Sox bullpen coach John McLaren said in 1991, "I remember Cesar Tovar spent hours and hours with Carlos in winter ball." Quintana said, "He's my second father."34
Quintana was also worried when Tovar had to spend a month in the hospital with heart problems in 1991. "He smoked too much," said the first baseman. "I told him [to] stop. Maybe he will now."35 It appears that Tovar traveled to Minnesota in May 1993 for a 1965 Twins reunion featuring more than 20 team members.36 Not long after, though, Tovar was diagnosed with pancreatic cancer. This swift and deadly form of the disease ended his life on July 14, 1994. When the news reached Minnesota, the Twins called for a moment of silence before that night's game. Such was Tovar's stature in Venezuela that the nation's president, Rafael Caldera, attended the funeral.
César Tovar entered the Venezuelan Sports Hall of Fame in 1996 and the Venezuelan Baseball Hall of Fame as part of its first class in 2003. He is still remembered as one of the greatest players in the history of his nation's winter league. And as Tony Oliva said of their days with the Twins, "If we'd had nine players like him, we wouldn't have needed any others."37
Last revised: October 1, 2015
This biography originally appeared in "A Pennant for the Twin Cities: The 1965 Minnesota Twins" (SABR, 2015), edited by Gregory H. Wolf.
Acknowledgments
Grateful acknowledgment to Jhonny Gustavo Tovar Veitia for providing information about his family (via a series of e-mails, August 2011). Continued thanks to SABR member Alfonso Tusa in Venezuela for his assistance.
Sources
planeta-beisbol.com (Venezuelan statistics)
museodebeisbol.org (Hall of Fame/Museum of Baseball in Venezuela)
Treto Cisneros, Pedro, editor, Enciclopedia del Béisbol Mexicano (Mexico City: Revistas Deportivas, S.A. de C.V.: 11th edition, 2011)
Sporting News Baseball Register, 1965
Notes
Born
July 3, 1940 at Caracas, Distrito Federal (Venezuela)
Died
July 14, 1994 at Caracas, Distrito Federal (Venezuela)
If you can help us improve this player's biography, contact us.
http://bioproj.sabr.org/bp_ftp/images5/TovarCesar.jpg
600
800
admin
/wp-content/uploads/2020/02/sabr_logo.png
admin
2012-01-04 20:50:00
2023-07-15 06:26:40
César Tovar