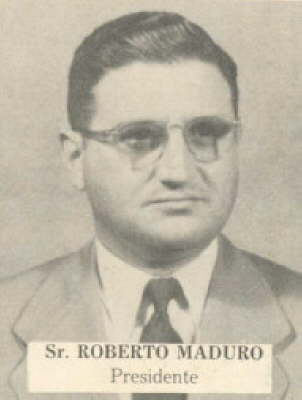 ---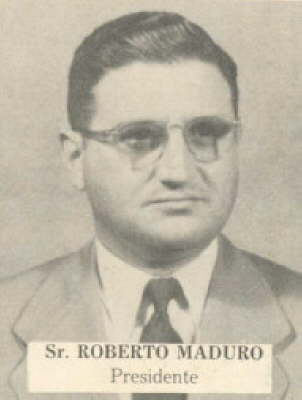 Cuban entrepreneur Roberto "Bobby" Maduro was a singular baseball man. When he passed away in 1986, the news made the front page of El Nuevo Herald, the Spanish newspaper of Miami, where he and so many of his countrymen made their home after Fidel Castro took power. In that story, On January 28, 1940, Maduro married Isolina Olmo Fernandez Garrido, better known as "Fufila." One of the island's most beautiful women at that time, she was always supportive of her husband and of all of his endeavors. Bobby and Fufila were married for 34 years, and together they raised eight children, providing them all with a faith-based Catholic education and a happy, secure family life. Seven of their eight children lived to adulthood: Roberto Jr., Adela, Jorge, Beatriz, Rosario, Alberto, and Isabel. Their second son, Felipe, died of leukemia in 1954 at age twelve.
In 1946, a new minor-league franchise called the Havana Cubans was born. Maduro has often received credit as one of the founders, but he did not appear in news coverage at the time. It is possible — but doubtful — that he was a minority member of the investor group, which featured former Washington Senator Merito Acosta and Joe Cambria. Cambria had owned and operated a string of ballclubs in the U.S., but as Brian McKenna wrote in his SABR biography, the Sicilian's "lasting fame in baseball circles stems from his mining of Cuban talent." The Cubans, who played in the Florida International League, became both a showcase and proving ground for the prospects that "Papa Joe" found for his longtime employer, the Senators.
Various accounts say that Maduro bought out Cambria's interest in the Cubans after the 1946 season.9 Looking back, events unfolded differently. Senators owner Clark Griffith bought a stake of 20,000 shares in July 1946. Club official George Foster sold his holding to Griffith after a dispute with team president Acosta, who held 10,000 shares, as did Cambria. The trio owned a controlling interest in the franchise and would hold it for some years to come.10 "The Old Fox" and Cambria were still wrangling with Acosta and his minority associates over internal issues in the summer of 1950.11
For the 1947 season, the Cubans moved from Stadium Cerveza Tropical in suburban Marianao to a brand-new facility that opened in October 1946: Gran Stadium de la Habana in El Cerro. Bobby and his friend Miguelito Suárez, "aided by wizard promoter Emilio de Armas, formed a corporation and built the new Stadium in a year."12 J.G. Taylor Spink in The Sporting News wrote, "Gran Stadium represents a great bit of dreaming. Suárez and Maduro … pushed the project through to completion in the face of all sorts of hazards. Construction difficulties, labor troubles and mounting costs hiked their expenditure to $1,800,000, when they figured to spend one million."13
El Cerro (which hosted the Baltimore Orioles in 1999 and still stands today) originally seated 30,000, double La Tropical's capacity. It continued to draw much admiring press coverage, and attendance was excellent too.14
During the 1947 season, a rumor circulated that another team in the Florida International League, the Lakeland Pilots, might move to Matanzas, Cuba. Miami Herald sports editor Jimmy Burns reported that Maduro was behind the plan. The point of interest is that Bobby was described only as co-owner of Gran Stadium — there was no mention that he held any stake in the Cubans franchise.15 It seems more likely that a stadium owner would encourage a nearby rival than a club owner.
When he was not pursuing his business activities and family life, Bobby also enjoyed tennis and golf. In December 1948 — described as a sugar mill manager — he joined the great American golfer Sam Snead to win a pro-am "best ball" competition at the Havana Country Club.16
Before the 1949-50 winter season, Maduro became part-owner of the Cienfuegos team in the Cuban winter league, along with Luis Parga and Emilio de Armas. Parga owned the sporting goods store Casa Tarin that had the concession for the (Wilson) baseballs used by the league.17 Dates have become fuzzy around this deal, too. Though some sources say the purchase took place in 1948, the news coverage shows it to be 1949.18 So does the actual sale contract, which at one time was visible on the Leland's auction website.
Maduro (often pictured wearing a bowtie in those years) was a benevolent owner. In January 1951, The Sporting News pictured the apartment building where he housed Cienfuegos players and their wives for free. Support for the winter leagues was a crucial topic to Bobby; he firmly believed that it was beneficial to the majors — though he emphasized, "Co-operation is a two-way proposition."19
It was not until May 4, 1953, that Maduro became majority owner of the Havana Cubans.20 He bought out Clark Griffith for a reported $40,000; Merito Acosta retained a 20 percent stake. It was noteworthy that the Cubans had to open that season playing in Key West because Joe Cambria couldn't come to terms with Bobby on a contract for the use of Gran Stadium.21 This implies that Bobby didn't have even a minority interest in the club.
Further support comes from the remarks of league president Phil O'Connell after the sale was unanimously approved. "We are glad to have Maduro in our league and I'm sure he will rebuild the Cuban team to its place of former prominence in the league."22 Havana had won five straight league titles from 1946 to 1950, but attendance had fallen off. Bobby thought that the fans might have become jaded and that they wanted to see some fresh talent. He also mentioned that the forced exit of Acosta as club president in 1950 did not sit well with the Cuban populace.23
When Maduro took over, he said, "I will take an active role." He ousted Cambria as general manager (while retaining him as a scout). He talked with his friends Frank Lane of the Chicago White Sox and Buzzie Bavasi of the Brooklyn Dodgers about forming a working agreement, though that did not occur. 24
There was also a troubling allegation at the time of the sale — one that Bobby's second wife, Marta Jackson-Maduro, simply rejected as she looked back in 2010. Both The Sporting News and the African-American magazine Jet alluded to a comment that Maduro supposedly made, "Frankly, there are too many Negroes [six] on the team." 25 Such a statement would have been entirely out of character for the man, as Fausto Miranda's salute indicated. It is also at odds with his record of helping Afro-Cuban players on their path to the majors and, as Marta pointed out, his desire to do good for all members of society.
The "quiet and unassuming" new owner made a positive impression on his peers in the Florida International League — but after the 1953 season, Bobby set his sights higher. It started with thoughts of a rival club in Havana for the Cubans, but that idea soon subsided. Instead, he obtained the rights to the Springfield franchise in the Class AAA International League and won approval to move it. "Maduro wanted to tap not only the Cuban market but to make Havana the spearhead of a well-coordinated Latin invasion of organized baseball."26 He had nothing less than major-league status in mind for Havana; the team adopted the slogan "Un paso más y llegamos" — "One more step and we arrive." Had Castro's revolution not taken place, it might have happened at some point. Bobby would admit in 1959 that Cuba had trouble "support[ing] Triple-A baseball decently."27 Nonetheless, he continued to harbor the dream.
Maduro was already seeking to promote baseball on a broader international scale, too. As part of this drive, he invited Japan's biggest ballclub, the Yomiuri Giants, to Havana for a three-game exhibition series in spring training 1954.28 Then in April, the Sugar Kings went to Mérida in Mexico's Yucatán peninsula to play a four-game set with the Rochester Red Wings.29 Also, in part because Venezuelan players such as Emilio Cueche and Luis García were on the roster, "Havana's entry had aroused widespread enthusiasm in Venezuela. . .all papers in Caracas were headlining Havana developments."30
It was no surprise, though, that the Sugar Kings had a homegrown core. Many of their Cuban marquee names had seen better days, yet there was also new blood. Afro-Cubans such as Rafael "Ray" Noble and Ángel Scull were visible, too. Indeed, Havana obtained Scull from the Senators organization in part because Washington's top farm team, Chattanooga, had still not integrated.31 (Nat Peeples broke the Southern Association's color line only that spring.) Havana would continue to add players of African descent from various other Latin American nations, such as Pat Scantlebury from Panama.
Bobby was also engaged in a side activity during camp that year — he was Frank Lane's representative as the White Sox negotiated with two of their stars, Minnie Miñoso from Cuba and Chico Carrasquel from Venezuela. Lane described him as a "personal friend and agent."32
Around this time, it appears that Maduro ended his involvement with the Cienfuegos franchise,33 probably to focus on the Sugar Kings. Bobby was an excellent promoter himself, but he had the help of an inventive publicist named Ramiro Martínez, whose "gregarious personality and flamboyant publicity stunts made the Sugar Kings one of baseball's most storied franchises."34 Indeed, the following six and a half seasons could fill their own book with their mix of fun-loving yet serious baseball, Cuban sabor, and political tumult.
Gran Stadium was full of songs and drumming, coffee and rum, cigar smoke and Hatuey beer — but the new team did discourage some local customs. As Tom Meany wrote in Baseball Digest in 1954, "Open gambling had always been a feature of ball games in Havana, but Owner Maduro promised [International League president Frank] Shaughnessy he would stamp the betting out. He did so, simply by seeing to it that 400 gamblers were arrested at the opening game. If there is still any gambling at Gran Stadium it is done very discreetly."35
One wonders how Maduro may have had to contend with the Mafia, a significant presence in Cuba in the '50s. If he did have any trouble with organized crime, though, his family doesn't know of it.
The Sugar Kings lost nearly $50,000 in their first year, mostly because of air fares. Bobby had agreed, as a condition of entry to the IL, that the Sugar Kings would cover the costs for teams traveling south of Richmond. He paid out $40,000 in 1954 and $24,000 in 1955. League officials ruled that was no longer necessary in 1956, though, given the entry of the Miami Marlins. Bobby said, "This puts us on an equal basis with the other league teams."36
In August 1954, the club formalized its working agreement with the Cincinnati Reds, who had supplied the Sugar Kings with several players that year. Maduro had a good relationship with Gabe Paul, then the Reds' general manager. The men had known each other since at least 1952, when Paul was pictured taking in a Cienfuegos game from Bobby's private box at Gran Stadium.37 "Gabe is the only major leaguer who was of real help to me when I finally got my franchise," declared Maduro. "I am very much indebted to him."38 Debts were something that this man always treated with utmost sincerity.
As Roberto González Echevarría noted, Cuban fans with longer memories could also still recall that Armando Marsáns and Rafael Almeida had joined the Reds in 1911, and that Adolfo "Dolf" Luque had enjoyed his best years in the majors in el querido Cinci (beloved Cincinnati).39 Even into the 1990s, this "deep allegiance" was still visible.40
Shortly after the working agreement was signed, on August 23, Felipe Maduro passed away. The lad was an ardent baseball fan and played second base for his school team. He "was especially proud of photos he had taken of himself with Joe DiMaggio and Roy Campanella." More than 1,000 people attended the funeral, and the presence of an obituary in The Sporting News was another measure of the respect that his father had earned. 41
The next spring, Bobby and his staff worked with Paul Florence, then the Reds' chief scout, to funnel prospects from the entire island to Havana. They held a 15-day tryout camp at Gran Stadium.42 The pipeline of Cuban talent that reached Cincinnati in subsequent years included some fine big-leaguers, such as Mike Cuéllar, Leo Cárdenas, Tony González, and Cookie Rojas. (Tony Pacheco, who played for and managed the Sugar Kings, signed Tony Pérez for the Reds in 1960.)
Affiliation was a double-edged sword, though — "a player who was doing well could be suddenly summoned. . .for the same reason, one who was not doing well could not just be sent home, as in the winter. The demanding Cuban fan did not suffer gladly mediocre minor-league players."43 That was another reason why attendance was up and down in Havana.
Starting in 1956, Bobby showed yet another sign of his international commitment. The Sugar Kings used the León franchise in the fledgling Nicaraguan League as a farm club, stocking the team with their prospects. León manager Tony Castaño, a Cuban who spent a good portion of his career in Nicaragua, was instrumental. The working agreement lasted through the winter of 1959-60, including players such as Conrado Marrero. One special highlight came when Manny Montejo of the Kings pitched a no-hitter early in the 1957-58 season. 44 He later appeared in 12 games for the Detroit Tigers in 1961.
Before the 1958 season, as the Cuban Revolution gathered steam, Maduro's fellow owner, John Stiglmeier of the Buffalo Bisons, expressed concern about safety. Key West offered to host the Sugar Kings temporarily, but Bobby turned the offer down, saying, "The trouble has come to an end and should be all right now."45 Miami businessman Jack Cooper, who had previously owned the Marlins, said publicly that he planned to talk to Maduro about buying the Kings and moving them to Santo Domingo (then known as Ciudad Trujillo).46
Frank Shaughnessy decided that the Sugar Kings would stay put, however; Bobby said that "baseball players would not be molested in his island. 'Baseball in Cuba is like a religion, it's out of politics.'" Yet, in a portent, Shaughnessy noted, "We could move to Jersey City tomorrow." 47
That May, columnist Norris Anderson of the Miami News wrote again about Maduro (also pictured, looking owlish in the large eyeglasses he had come to use). Anderson said that Bobby had "built one of the best farm systems outside the major leagues. . .Publicity director Ramiros [sic] Martinez points out, 'We have several dozen future Sugar Kings playing Double-A to D Ball.' How do the Sugar Kings do it? It's simple — every Cuban or other Latin American youth wants to play with Havana because that assures a double job in the Cuban Winter League … And, in the winter league, the Havana club has a choice opportunity of bringing players along at a much faster clip."48
Maduro's interest in player development extended as far as the children's ranks. He supported and sponsored the equivalent of Little League in Cuba, a program called "Los Cubanitos." A man named Mako Pérez, who was an instructor at Miramar Yacht Club (another elite institution in pre-Castro Havana), was the driving force behind the league. The program covered the entire island and kept roughly 5,000 children occupied.49
Bobby hoped to bring the Sugar Kings to Caracas for a "home" series in July 1957, but a soccer tournament there forced cancellation. As part of his effort to develop the team's fan base throughout Cuba, in 1958 he also offered to pay other IL teams' expenses to play in the city of Morón, 150 miles away from Havana. Morón had become the site of the Sugar Kings' spring training, thanks to a new 12,000-seat stadium (which Bobby had leased). Buffalo made it there in June, and attendance was good despite torrential rains. Miami decided not to play the July series it had booked previously, though, costing Maduro $10,000. His hope that Columbus would visit later that summer appears not to have materialized.50
In April 1959, Bobby held a conference with Fidel Castro, who had ousted dictator Fulgencio Batista that January. The talks brought support: the Cuban government bought radio broadcast rights,51 while the Cuban Sugar Stabilization Institute donated $20,000.52 Though that funding only brought temporary relief, the team remained in Havana despite growing strain between Cuba and the United States. An incident at Gran Stadium that July 25 stoked tensions. Castro's solders, the barbudos, had free run of Gran Stadium, and they loved watching the games, in uniform and armed. That night they got too exuberant, shot into the air, and Frank Verdi, coaching third base for the opposing Rochester Red Wings, was struck in the head by a bullet. Fortunately, he was wearing a protective cap liner. A bullet also grazed the shoulder of Leo Cárdenas.
Nonetheless, the Sugar Kings went on to win the IL championship in 1959. They then beat the Minneapolis Millers in the Little World Series, which went seven especially hard-fought and dramatic games. A cold snap in Minneapolis caused the last five games to take place in Havana, with the likes of Castro and Ché Guevara in attendance. "This is a national event," declared Maduro.53 Roberto González Echevarría went further; "the Series provoked a paroxysm of national sentiment."54
As late as July 8, 1960, Bobby said he would not voluntarily move his club. However, Frank Shaughnessy said the Sugar Kings would be moved within a few days "to protect our players." The official announcement that the IL was pulling out of Havana came the next day. Maduro, resisting to the bitter end, said, "The International League is making a big mistake. Baseball was a strong link between the Cuban and American peoples."55 He called the decision "completely outrageous … Cubans will interpret [the decision] as a demonstration to harm the nation." He added, "For me it means bankruptcy and loss of an entire holding of $400,000. I don't know what I'm going to do."56
Journalist Gaspar González delved into the franchise's history in a special feature in 2005. The uprooting of the Sugar Kings was a key theme. Outfielder Danny Morejón told González, "Bobby Maduro always thought, until the day he died, that the Sugar Kings could have been a big-league franchise." Roberto Maduro Jr. added, "My father wanted to keep the team in Cuba. He had not given up on the idea of joining the major leagues."57
The protests — some of the Cuban players did not want to go at first — were to no avail. The Sugar Kings became the Jersey City Jerseys; their home ballpark was Roosevelt Stadium, which had hosted the Dodgers for several games in both 1956 and 1957. Jersey City gave the new arrivals a "noisy welcome" — neighboring Union City had a strong Cuban presence — as an eight-car motorcade toured the city streets for 20 miles.58 The Jerseys renewed their lease on Roosevelt Stadium for 1961, but attendance was poor. Talk of another shift was already circulating in the newspapers by early that summer; one rumor concerned a switch to Miami, where the Marlins had pulled out after 1960. "We'll have to do something," said IL president Tommy Richardson, who had succeeded Frank Shaughnessy. "We can't exist on crowds of 600." 59
The weak gate was just one of several reasons for the struggles of the franchise, though. Others included lack of subsidy from the league, high operating costs in Jersey City, loss of radio and TV revenue, the peculiar nature of the working agreement with Cincinnati — and, not least, Maduro's "growing, personal financial crisis."60
Bobby himself had hung on in Cuba until that April. His last asset there that the Castro regime had not confiscated was a seaside home he had built in 1958. "They took it from me over a period of three or four months," Maduro recalled in 1977. "First the buses. Then they said I couldn't write any checks on the insurance business without approval. I wound up with nothing. I was allowed to leave the country with $5. That was all."61
Like many other Cubans, he was fortunate to get out. "Friends," he said in 1962, "friends worked a miracle. They produced my papers and passport, somehow, and I boarded the plane at the last minute."62 The Bay of Pigs invasion two days later quashed any thoughts of return.63
"My mother was a true source of stability, the glue that held our family together," daughter Rosario reminisced in 2010. "When we had to flee the Castro regime, beginning life anew was certainly difficult. And while we may have been without the comforts we had always known in Cuba, we were lacking nothing, thanks to my mom and dad; we were happy and adapted well to our new life." While Bobby traveled to provide for the family, Fufila was at home making sure the children endured and prospered.
Sportswriter Dick Young described Maduro as a "symbol of class and courage." With a rueful smile, Bobby said, "I am the only man who lost everything in Cuba and over here, both." Young continued, "At Jersey City, he blew $100,000, and borrowed. By June there wasn't enough money in the box office to support his family. One day the phone rang, jarring Maduro out of his worry. It was Walter O'Malley. 'You're on the Dodger payroll,' said O'Malley, who had learned of Maduro's plight. 'One thousand dollars a month. Just sit tight, I'll think of something for you to do.'"64
O'Malley and Bobby had known each other for some years; the noted cigar aficionado enjoyed the special Havanas that Maduro would send him. Maduro would remain a frequent visitor to Dodgertown during the 1960s.
The IL dropped Jersey City as a location that October, but Maduro remained owner in the franchise's new home: Jacksonville, Florida. Houston Astros broadcaster Gene Elston told how it came about.
"
Born
June 27, 1916 at Havana, (CU)
Died
October 16, 1986 at Miami, FL (US)

If you can help us improve this player's biography, contact us.
Tags
http://bioproj.sabr.org/bp_ftp/images4/MaduroBobby1.jpg
600
800
admin
/wp-content/uploads/2020/02/sabr_logo.png
admin
2012-01-08 21:23:16
2012-01-08 21:23:16
Bobby Maduro