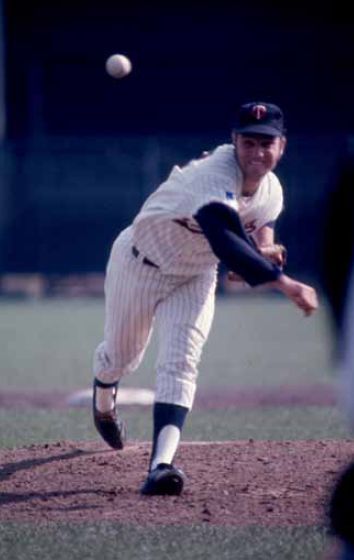 ---
Hard-throwing right-hander Dave Boswell debuted with the Minnesota Twins in 1964 at the age of 19, and was a valuable contributor to the Twins' pennant-winning team the following season. Despite chronic blisters on his pitching hand, and arm, shoulder, and back miseries, Boswell averaged 14 wins and 210 innings over a four-year stretch with the Twins (1966-1969) and established a reputation as one of the most competitive pitchers in baseball. "He would do anything to win a ballgame," said his longtime roommate, infielder Frank Quilici. "On the field, you loved playing behind him because you knew he was taking care of his guys. If anybody threw at somebody or something like that, well, there was going to be a response, believe me. He wasn't afraid to get it done."1 En route to winning a career-high 20 games in 1969, Boswell was involved in a legendary fight in which he was knocked out cold by his manager, Billy Martin. The two patched up their differences and Minnesota captured the first AL West crown. After blowing out his arm in a frustrating 1-0 loss to the Baltimore Orioles in Game Two of the 1969 American League Championship Series, Boswell won only four more games and was out of the major leagues by the age of 26 with a 68-56 record.
David Wilson Boswell was born on January 20, 1945, in Baltimore to Grover W. "Buck" and Marceline Boswell. Raised in a tight-knit, working-class community on the east side of the city, Dave began playing baseball by the age of 8 or 9, and was taught by his father, a pit crane operator at a local steel mill and a former amateur heavyweight boxer. Baltimore was a hotbed for amateur baseball, and Boswell learned from some of the city's renowned coaches. At the age of 14, he pitched and played outfield for coach Sterling "Sheriff" Fowble, whose team, Gordon's Stores, counted Al Kaline as an alumnus.2 Boswell amassed an impressive 28-2 record at Calvert Hall College High School, in nearby Towson; however, he gained he gained national exposure hurling for a sandlot team, Leone's, coached by Baltimore Orioles scout Walter Youse, who fed players to big-league clubs.3 
Boswell's exploits on the mound and the plate drew scouts from all 20 major-league teams. A child prodigy, Boswell tossed batting practice for the Orioles at 14, had a tryout with the Pittsburgh Pirates at 15, and learned to throw a forkball from Pirates reliever Elroy Face. Said then Orioles president Lee MacPhail, "We ranked [Boswell] and Wally Bunker as the best pitching prospects in the country."4 By Boswell's senior year, rumors swirled that he might be the next $100,000 bonus baby, but the prep phenom suffered an arm injury that scared away scouts. Though he had an opportunity to sign as an outfielder, Boswell returned to Leone's after graduating in 1963 to prove that his arm was healthy. In late summer, the 18-year-old signed with the Minnesota Twins on the recommendation of scout Ed Dunn for a reported $15,000 to 20,000 bonus.5 In 2014 Boswell was named to the 1960-2009 All-Baltimore Amateur Team.6
Boswell's meteoric rise to the big leagues began in the Florida Instructional League, where he struck out 37 batters in 21 innings in the fall of 1963, thereby earning an invitation to the Twins' spring-training camp in Orlando the following spring. Hailed as one of Minnesota's "hottest prospects," but not expected to make the team, the 19-year-old was a late cut and assigned to the Bismarck-Mandan (North Dakota) Pards in the Class A Northern League.7 He got off to a rough start (1-6), but turned his first year in professional ball around and was named to the league's midseason all-star team. After posting a 7-11 record and 3.88 ERA in 160 innings for the league's worst team, Boswell was promoted in August to the Charlotte Hornets of the Double-A Southern League. His four wins in six starts and a stellar 2.85 ERA earned him a mid-September call-up to the big-league club.
On September 18, 1964, just about 15 months after graduating from high school, Boswell made his big-league debut by starting against the Boston Red Sox at Fenway Park. "My first pitch  . . . was to Felix Mantilla," recalled Boswell with a chuckle in an interview with John Swol, "and it was a home run, the next batter was a rookie named Tony Conigliaro and on the first pitch he hit a double off the wall that would have been a home run in most parks."8 Despite surrendering four hits, five walks, and three runs in three innings, Boswell escaped with a no-decision. Five days later he limited the Kansas City Athletics to five hits over eight innings and whiffed nine to pick up his first victory, 2-1. His 2-0 record and 25 strikeouts in 23⅓ innings in four starts with the Twins suggested a promising future. Boswell was back in the Florida Instructional League in the fall, but a broken ring finger on his pitching hand (the first of what seemed to be annual injuries he suffered while in the Twins organization) cut his season short.9
With higher personal and organizational expectations in 1965, Boswell joined a deep Twins staff, led by Mudcat Grant and Jim Kaat and mentored by Johnny Sain, in his first year as manager Sam Mele's pitching coach. Slatted for middle relief to start the season, Boswell tossed 9⅓ scoreless innings over his first three appearances to earn a start. He was pummeled (four runs in two innings) and picked up first big-league loss, but was undeterred. "Sain really gives you confidence," Boswell once said.10 Equipped with an arsenal of fastballs, sliders, curves, and slow curves (the latter two he learned from Sain), Boswell flashed moments of brilliance in his final four appearances in May (including three starts) by yielding just one earned run and 11 hits in 26⅓ innings (0.34 ERA) while punching out 24 batters. Despite his success, Boswell was criticized for not going deep in games; however, he suffered from blisters on the middle finger of his right hand throughout his career. Boswell claimed that the painful blisters, which developed around the fourth inning, were caused from gripping the ball too tightly, and often required him to take extra days of rest between starts.11 Following two commanding victories (10 strikeouts against the Boston Red Sox and his first big-league complete game, a six-hitter against the New York Yankees on July 9), Boswell seemed to reach his stride. Sandy Padwe of the Newspaper Enterprise Association praised him as "one of the Twins' biggest surprises," but the promising righty was diagnosed with mononucleosis before his next start.12 
Expected to be out about four weeks, Boswell suffered a bruised shoulder in a car wreck and missed almost 40 days. Not the same pitcher when he returned on August 17, Boswell did not win another game, and finished with a 6-5 record with a 3.40 ERA in 106 innings for the pennant-winning Twins. In Minnesota's disappointing seven-game loss to the Los Angeles Dodgers in the World Series, Boswell saw action only once. In Game Five, he relieved Kaat in the third inning and tossed 2⅔ innings, yielding three hits and a run in the Twins' 7-0 loss to Sandy Koufax.
Splitting his time between starts and relief outings to start the 1966 season, Boswell was only 0-4 on June 1 despite a sturdy 3.07 ERA. He then commenced the best stretch in his big-league career, winning 12 of 13 decisions. Over those 15 starts, Bos, as his teammates called him, completed seven games, struck out 112 batters in 111⅔ innings, including 10 or more four times. On July 30 at Metropolitan Stadium he tossed the best game of his career, a one-hitter, and whiffed 11 Baltimore Orioles to record the first of his six career shutouts.
Among the hottest pitchers in the majors, Boswell was paid arguably the highest compliment to a power pitcher when the Associated Press tabbed him the "Koufax of the AL" after his nifty four-hit complete-game victory with 10 strikeouts over the Boston Red Sox on August 3.13 Notwithstanding his success, Boswell was suffering from an aching shoulder, the result of getting hit by a line drive on July 26, and had difficulty throwing his heater. "He can get by on his breaking stuff  when he hasn't got his good fastball," said Sain.14 He was diagnosed with bursitis after his winning his eighth consecutive decision on August 7 to tie a Twins team record. Bothered by pain the rest of the season, Boswell started just one more time among his four appearances. He finished with an impressive 12-5 record to lead the AL with a .706 winning percentage, and posted a 3.14 ERA in 169⅓ innings.
Boswell was a fun-loving teammate, often described in various press reports as "colorful," "a free spirit," or even a "flake." In response, Boswell once said, "I'm not goofy, I am loose."15 He had a good sense of humor, and loved to joke with his teammates and go out for beers. He was also known for his malapropisms and impressions, especially of animals. "It was the most fun I've ever had in baseball," said Quilici about the years together as roommates. "That character was a lot of fun on and off the field."16 Boswell was known to have pet baby alligators at one time, carried a revolver during spring training, and shot snakes from his room. "You gotta have a little bit of boy in you to play this game for a living," he said.17
But the 6-foot-3, 185-pound pitcher was also fiercely competitive, had a low boiling point, often argued strikes and balls with umpires, and chewed out teammates for fielding errors. His temper led to several highly publicized off-the-field fights with alcohol lurking in the background. Though teammates praised Boswell's winning, gung-ho spirit, syndicated sportswriter Joe Falls offered a different view in the aftermath of the pitcher's fight with Billy Martin. Falls tabbed him one of the "Awful All-Stars" and a player he would not want on his team.18
During spring training in 1967, Boswell abandoned his three-quarters motion in favor of an overhand delivery in order to overcome nagging pain. The result was disastrous. He yielded 16 runs (14 earned) and walked 16 in just 12⅔ innings in his first four starts and was relegated to the bullpen. He worked closely with new pitching coach, Early Wynn, to refine his mechanics. "Wynn has a theory that if you throw until you are tired enough, you will revert to your natural form," said Boswell.19
He returned to the starting rotation on May 21 and tossed a complete game and fanned 11 to defeat the California Angels for his first victory of the season. This commenced a dominant stretch during which he won eight of 12 decisions, struck out 104 batters in 98 innings, and posted a stellar 2.66 ERA. Boswell's surge coincided with the Twins' struggles which culminated in Mele's dismissal after 50 games with the team in sixth place at 25-25. While the team squabbled and endured a fight between outfielders Tony Oliva and Ted Uhlaender (which Twins beat reporter Arno Goethel and the AP claimed Boswell provoked by refusing to put away a gun he was playing with),20 the squad caught fire under mild-mannered manager Cal Ermer and battled the Boston Red Sox, Detroit Tigers, and Chicago White Sox in a tense four-team pennant race.
As if following a well-rehearsed script, Boswell developed tendinitis in his elbow in mid-July and was bothered by pain the rest of the season.21 He had his moments of brilliance (such as his three-hit shutout of the New York Yankees on August 19 and a six-hit shutout against the Tigers on September 2 to put the Twins into first place), but struggled with his fastball.
With a one-game lead over the Red Sox and the Tigers and just two games to play, the Twins lost both games in Fenway Park in Boston's "Impossible Dream" season to finish in second place. After the team's collapse (they lost five of their last seven games, five of which were started by Jim Kaat and Dean Chance), Boswell voiced his displeasure with Ermer for skipping his last scheduled start. "I feel like our club's talent is being surpassed because of personal differences between the players and manager," said Boswell ominously.22 He finished with a 14-12 record, struck out a career-high 204 (in 222⅔ innings), posted a 3.27 ERA, and was the second most difficult pitcher to hit (6.5 hits per nine innings) in the AL for the second consecutive season.
In 1968 the Twins were decimated by injuries (most notably to Harmon Killebrew, who tore his hamstring in the All-Star Game, as well as to Rod Carew and Oliva) and experienced their first losing season since relocating from Washington. Echoing Boswell's insights from the offseason, Arno Goethel reported that Ermer had lost the respect of the team by his failure to discipline players and halt the incessant in-fighting.23 Boswell got off to a good albeit inconsistent start to the season. On May 29 he tossed a three-hit shutout with 10 strikeouts to defeat the Cleveland Indians, 1-0. Always adept at the plate, Boswell knocked in the game's only run on a sacrifice fly.
Throughout his career, Boswell fashioned himself as a hitter, and raised the eyebrows (and sometimes the ire) of teammates by claiming he could hit .260 if he played in the field. For his career, he batted .202 (74-for 367) with four home runs and 22 runs batted in.
In 1968 Boswell hit at a .233 clip, three points above the AL cumulative average in the "Year of the Pitcher." But for the fourth consecutive season, he suffered an injury that hampered his effectiveness the rest of the season. On July 18 against the Red Sox, Boswell collided violently with catcher Russ Nixon while tagging him out at home plate. "It feels like I broke my back," said Boswell after the game.24 To his credit, Boswell, who suffered strained ligaments in his sacroiliac area, returned to the mound and retired Mike Andrews to record the complete game and even his record at 8-8. After a stint on the disabled list, he returned three weeks later but notched only two victories (both complete games) and finished with his first losing season in the majors, 10-13, while posting a 3.32 ERA in 190 innings.
Boswell looked forward to the chance to play for manager Billy Martin, who, after four years as a Twins coach, took the reins of the team in 1969 and promised to build an aggressive, fundamentally sound ballclub. The 24-year-old pitcher got a scare in spring training when he sliced two tendons on his left hand while cleaning a fish, but was ready for the beginning of the first season of realignment. In seemingly the best health of his career, Boswell logged a career-high 12 innings in a no-decision against the Chicago White Sox on July 14, and sported an 11-9 record at the All-Star break, helping the Twins to a four-game lead in the AL West.
On August 6 Boswell was involved an infamous brawl that overshadowed much of his success in 1969 and unfortunately has served as his most enduring legacy. The event was hushed up for four days until Billy Martin held a press conference to explain why his pitcher was not with the team on its road trip. Though many versions of the story exist, the final results were clear. According to Minneapolis Star reporter Mike Lamey, Boswell confronted coach Art Fowler at a Detroit watering hole, the Lindell Athletic Club, after Fowler threatened to inform Martin that the short-fused pitcher had refused to run wind sprints earlier in the day.25 After a heated argument ensued, teammate Bob Allison pulled Boswell outside to calm him down. The course of the subsequent events is still murky and disputed. Boswell flattened Allison (by one account even kicked him when he was on the ground), after which Martin supposedly came rushing out of the bar. The alcohol-infused brouhaha ended with Boswell lying unconscious on the ground. Boswell denied claims that he attacked his manager. "He really mauled me," said Boswell of Martin. "He isn't telling the truth if he said I went after him."26 Martin assessed the situation unapologetically, "I started to hit him in the stomach. I worked up and hit him in the mouth, nose, and eyes. He bounced off the wall and I hit him again and he was out cold before he hit the ground."27  Boswell was hospitalized and reportedly required 20 stitches in his face. Said Quilici about his roommate, "He was beaten to a pulp."28
The fracas cast doubts on Boswell's future with the team. The battered pitcher ultimately met with team owner Calvin Griffith, who fined him an undisclosed amount, but did not suspend him. "In no way will this hurt the team," said Martin about the fight.29
Boswell returned to the mound on August 18 and in the words of Dick Couch of the AP enjoyed a "remarkable late season surge."30 In his final 11 starts (from August 22 to October 1), Boswell went 8-3 with a 2.81 ERA. The stretch was highlighted by an overpowering, career-high 14-strikeout performance in a complete-game victory over the Seattle Pilots on September 19. After notching his 20th and final victory of the season, against the Pilots on September 28, the contrite Boswell commented, "Give the credit to Billy."31  Despite missing almost three weeks recovering from his brawl, Boswell set career high in wins, starts (38), and innings (256⅓). He finished with a robust 3.23 ERA despite not registering a shutout among his 10 complete games for the division winners.
Boswell's career came crashing down in Game Two of the ALCS versus the Baltimore Orioles on October 2 in Memorial Stadium. Through 10 innings, Boswell and Orioles southpaw Dave McNally were locked in a scoreless duel. Lacking his best stuff, Boswell escaped a bases-loaded jam in the second inning with no outs. When he struck out Frank Robinson to end the 10th, he felt an excruciating pain in his arm. "I threw him a slider and it was a rocket," he told John Swol. "He didn't even swing at it. By the time I got back to the first-base line going back to the dugout, my arm felt like it was going in to my jaw. Then I went out and still tried to pitch."32 Boswell issued walks to two of the first four hitters he faced in the 11th before yielding to reliever Ron Perranoski with two men on. The next batter, pinch-hitter Curt Motton, lined a walk-off single to right field for a dramatic, 1-0 victory and collared Boswell with loss. The Twins were swept in the best-of-five series.
Boswell endured trade rumors during the offseason, but was back with the club in spring training, unlike Martin, who was replaced by Bill Rigney. In an attempt to overcompensate for his ailing arm, Boswell developed back problems in camp. Lacking his fastball and unable to extend in his follow-through, Boswell was ineffective. He lost his first five starts and was finally put on the disabled list in early August with a 3-7 record and an unsightly 6.42 ERA in 68⅔ innings. During the Twins' celebration after clinching their second consecutive AL West crown, Boswell was involved in another fight with a teammate, catcher Paul Ratliff, at the team hotel, and required medical attention.33
A shell of his former self, Boswell spent 1971, his final full season in baseball, on an odyssey. After the Twins released him in spring training, he signed with the Detroit Tigers, and was reunited with manager Billy Martin. Their reunion lasted less than two months (and just 4⅓ ineffective innings). Released again, Boswell finished the season with his hometown Orioles, including a demotion to their Triple-A farm club, the Rochester Red Wings.
Following his release by the Orioles in 1972 and an abbreviated comeback attempt in 1973, Boswell retired from baseball. In eight big-league seasons, he won 68 games and lost 56, logged 1,065⅓ innings, and posted a 3.52 ERA. He completed 37 of his 151 starts. "I would have pitched until my arm fell off," Boswell once said about his approach to pitching. "I never want to quit when I'm out there. No matter what the situation – you're tired but you push yourself."34
According to his obituary, Boswell worked for the Carling-National brewery in Baltimore, as well as a beer distributor after his baseball career.35 A lifelong baseball fan, he also served as a pitching coach for Grand Slam USA baseball.
On June 11, 2012, Boswell died at the age of 67 from a heart attack at his home in Joppatown, Maryland. He was buried at Moreland Memorial Park, in Parkville. He was survived by his wife of 47 years, Eleanor "Lou" (nee Smith), sons Dan and Jason, and daughter Christina.
Sources
Dave Boswell player file at the National Baseball Hall of Fame, Cooperstown, New York
Ancestry.com
BaseballLibrary.com
Baseball-Reference.com
Retrosheet.com
SABR.org
The Sporting News
Notes
1 "Shooter News: Minnesota Twins 'Character' Dave Boswell Dies," TwinsCities.com, June 12, 2012.
2 Doug Brown, "Fowble, coach 46 years on sandlots, dies at 76," (Baltimore) Sun, December 10, 1991.
3 "Leone's and Ijamsville to Play Thursday," The News (Frederick, Maryland), July 5, 1961, 14.
4 Jacques Kelly, "Dave Boswell, major league pitcher," (Baltimore) Sun, June 13, 2012.
5 The Sporting News, March 21, 1964, 25.
6 Keith Mills, "1960-2009 All-Baltimore Amateur Team," Pressbox, July 15, 2014. pressboxonline.com/2014/07/12/1960-2009-all-baltimore-amateur-baseball-team
7 The Sporting News, March 21, 1964, 25.
8 John Swol, "Dave Boswell interview," Twins Trivia.  twinstrivia.com/interview-archives/dave-boswell-interview/.
9 The Sporting News, December 5, 1964, 27.
10 The Sporting News, November 20, 1965, 13.
11 The Sporting News, September 23, 1967, 11.
12 Sandy Padwe, "For Mele and the Twins," The Index-Journal (Greenwood, South Carolina), July 10, 1965, 6.
13 Associated Press, "Dave Boswell Is Koufax of AL," Janesville (Wisconsin) Daily Gazette, August 4, 1966, 12.
14 The Sporting News, October 1, 1966, 12.
15 The Sporting News, August 19, 1967, 26.
16 "Shooter News: Minnesota Twins 'Character' Dave Boswell Dies," TwinsCities.com, June 12, 2012.
17 The Sporting News, December 10, 1966, 29.
18 The Sporting News, August 30, 1969, 35.
19 The Sporting News, June 10, 1967, 1.
20 The Sporting News, January 6, 1968, 45; Associated Press, "Ermer Won't Discuss Oliva-Uhlaender Tiff," Kansas City Times, June 22, 1967, 2D.
21 The Sporting News, July 29, 1967, 9.
22 The Sporting News, January 6, 1968, 45. To be fair to Ermer, Boswell was clobbered in his last start, a loss to the New York Yankees on September 23 (yielding four hits, six walks and four runs in just 2⅓ innings) and again in his last appearance of the season (surrendering three runs in one-third inning of relief) in a loss to the California Angels two days later.
23 The Sporting News, August 24, 1968, 12.
24 United Press, "Twins Rake Bell, Bosox in 7-2 Rout," Winona (Minnesota) Daily News, July 18, 1968, 14.
25 The Sporting News, August 23, 1969, 31.
26 Associated Press, "Dave Boswell Sits Out Unofficial Suspension," Cumberland (Maryland) News, August 12, 1969, 12.
27 The Sporting News, August 23, 1969, 31.
28 Patrick Reusse, "Site of Boswell-Martin fracas closes up shop," knoxnews.com, December 12, 2002.
29 UPI, "Fighting Twins Minus 'One Weakness,' " San Bernardino County (California) Sun, August 12, 1969, 21.
30 Dick Couch (Associated Press), ""Stottlemyre, Boswell Become 20 Game Winners in American League," The Daily Republic (Mitchell, South Dakota), September 29, 1969, 12.
31 Ibid.
32 John Swol, "Dave Boswell interview," Twins Trivia.  twinstrivia.com/interview-archives/dave-boswell-interview/
33 The Sporting News, October 17, 1970, 29.
34 Jacques Kelly, "Dave Boswell, major league pitcher," (Baltimore) Sun, June 13, 2012.
35 Ibid.
Born
January 20, 1945 at Baltimore, MD (USA)
Died
June 11, 2012 at Joppa, MD (USA)
If you can help us improve this player's biography, contact us.
http://sabr.org/sites/default/files/DaveBoswell.JPG
600
800
admin
/wp-content/uploads/2020/02/sabr_logo.png
admin
2012-01-04 20:33:18
2021-07-01 17:00:04
Dave Boswell