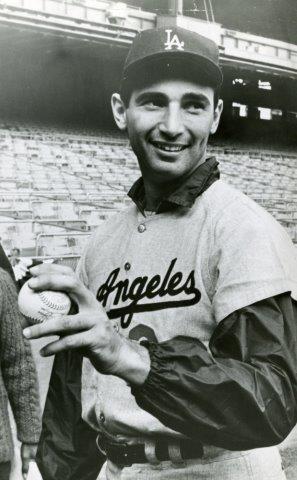 October 11, 1965: Koufax's clutch hitting gives Dodgers a 3-2 Series lead
---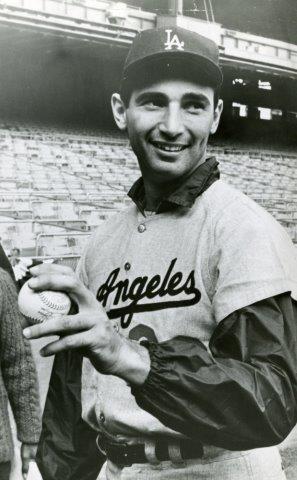 This edition of the fall classic had so many bizarre twists and turns that they might as well have had Rod Serling do the pregame show. First there were the Minnesota Twins beating both of the Los Angeles Dodgers' best pitchers, Don Drysdale and Sandy Koufax. Then the punchless Dodgers turned around and won the next two games by a combined score of 11-2, hitting as many home runs in the victories (two) as the powerful Twins. The strange twists continued in Game Five, which the Dodgers won by a touchdown, 7-0. Cue the music.
Koufax started Game Five. He had lost Game Two, but was so dominant a pitcher in 1965, winning the pitching triple crown with 26 wins, a 2.04 ERA, and a then-record 382 strikeouts, that even Serling's vivid imagination couldn't see him losing two games in a row. He didn't, pitching a four-hitter and striking out ten. The Dodgers offense helped with 14 hits off three Twins pitchers, and by driving Twins catcher Earl Battey … well, batty, with four stolen bases, three by center fielder Willie Davis and one by shortstop Maury Wills. The Dodgers raised their team batting average for the Series to .302, 60 points higher than their regular-season average.
Jim Kaat once again started for the Twins, but unlike his start in Game Two, when he went all the way in a 5-1 Twins victory, this was not to be his day, as he pitched only 2⅓ innings, giving up four runs (three earned) on six hits. The carnage started with the leadoff hitter, Wills, who led off the bottom of the first with a ground-rule double to right. Third baseman Jim Gilliam followed with a single that scored Wills. Davis followed that with a bunt attempt. Twins third baseman Harmon Killebrew handled it cleanly, but second baseman Frank Quilici, who was covering first, lost sight of Killebrew's throw. The ball ended up in the outfield, allowing Gilliam to score and Davis to reach third. It was Quilici's second error of the Series.
Davis stole his first base of the game in the third after singling to right with one out. Left fielder Lou Johnson singled to center, scoring Davis. Right fielder Ron Fairly then doubled to left-center. Fairly's hit ended Kaat's day much earlier than Jim had anticipated.
By the fourth inning, knowing that it was Koufax who had the 4-0 lead, the Dodgers began messin' with the Twins' heads. Wills beat out an infield hit and with Gilliam up, pitcher Dave Boswell threw to first six straight times in an effort to keep Wills close to the bag. He should have known that wasn't going to work, because Wills, on his way to a four-hit day, stole second anyway, and scored when Gilliam singled to right-center field, making it 5-0.
"I didn't know [Boswell] before the game, so I had no line on him," said Wills. "But it became a challenge. I just wanted to make sure I got a good jump because I was determined to steal the first time he threw home."1
Meanwhile, ho-hum, Koufax was perfect through four. Killebrew broke up the perfecto with a single to center in the fifth that, according to newspaper accounts, Davis should have caught but lost in the background of fans' white shirts. Koufax still ended up facing the minimum that inning as the next batter, Battey, grounded into a double play and left fielder Bob Allison struck out.
"In the fifth, Harmon Killebrew looped a hit into center field," wrote Ted Smits. "Willie Davis … misjudged it. When he finally ran in, it was too late. He managed to catch the ball momentarily in his glove but dropped it in a sliding fall."2
The perfect illustration of what kind of day it was for the Twins came in the seventh. Fairly hit a ball to deep short off pitcher Jim Perry that resulted in an infield hit. He advanced to second on first baseman Wes Parker's sacrifice. With first base open and facing the number-eight hitter, catcher John Roseboro, the Twins made the standard move of walking him to face the pitcher. Koufax, with an .097 lifetime batting average, singled to center to drive in Fairly. Wills singled to drive in Roseboro for the final run of the game.
The Twins got two meaningless singles in the ninth, but the game ended when center fielder Joe Nossek hit a liner to Wills, who capped a great day by catching the ball, then throwing to second for a game-ending double play.
Although Koufax put in a magnificent performance, he wasn't entirely happy with the way he pitched that day: "I'm not disappointed with the way I pitched, but I have pitched better," he said. "I was behind the hitters too much and I became awfully tired after the seventh inning."3
This modest self-assessment was of little comfort to the Twins, who came into Los Angeles with a 2-0 Series lead but headed back to Minneapolis down 3-2. Twins third-base coach Billy Martin griped before Game Five about the hardness of the Dodger Stadium infield, saying balls traveled faster as a result.
"This infield is hard as a rock and the sun bakes it down," he said. "And they use a 1,200-pound roller on it. That makes the infield exceptionally hard. Balls will go through this infield that wouldn't go through in other ballparks."4
The Twins were happy to leave Dodger Stadium, but it's not as if they were unfamiliar with the locale. They played the California Angels there nine times that season (the Angels moved to Anaheim in 1966).
Anyway, the Twins flew back to Minneapolis after the game and were greeted into the warm bosoms of more than 1,000 fans upon their return. At least the bosoms would have been warm if the temperature weren't 37 degrees.
Sources
Appleton (Wisconsin) Post-Crescent
San Bernardino (California) Daily Sun
Sports Illustrated
Baseball-reference.com
Notes
1 Mike Rathet (Associated Press), "Koufax Fans Too Many, Wills Says," Appleton (Wisconsin) Post-Crescent, October 12, 1965.
2 Ted Smits (Associated Press), "Only Second Guessing Was How Twins Got Four Hits." Appleton (Wisconsin) Post-Crescent, October 12, 1965.
3 Joe Reichler (Associated Press), "Modest Sandy Wasn't Angry," San Bernardino (California) Daily Sun, October 12, 1965.
4 "Dodger Infield 'Too Hard,' Twins Complain" (Associated Press), San Bernardino (California) Daily Sun, October 12, 1965.
Additional Stats
Los Angeles Dodgers 7
Minnesota Twins 0
Game 5, WS
---
Dodger Stadium
Los Angeles, CA
Box Score + PBP:
Corrections? Additions?
If you can help us improve this game story, contact us.
Tags
http://sabr.org/sites/default/files/images/Koufax-Sandy-NBHOF.jpg
600
800
admin
/wp-content/uploads/2020/02/sabr_logo.png
admin
2016-07-22 13:30:45
2020-04-17 13:34:08
October 11, 1965: Koufax's clutch hitting gives Dodgers a 3-2 Series lead