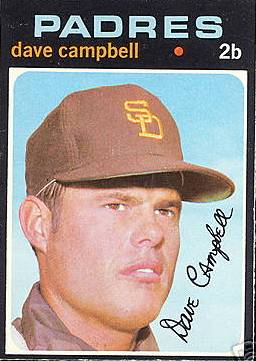 ---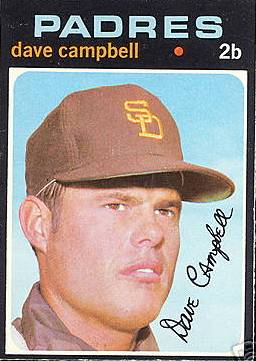 Seemingly the only assured thing in Dave Campbell's career as an infielder was the inconsistency. Over an eight-year career with the Detroit Tigers, San Diego Padres, St. Louis Cardinals, and Houston Astros, Campbell was only able to play one season as a full-time regular—with the Padres in 1970. Otherwise, his career was stalled by being buried on depth charts and later by recurring injuries. Yet for a player who moved 42 times as a player, Campbell's post-playing days have been characterized by a relatively stable broadcasting career which has enabled him to become one of the most knowledgeable and respected baseball announcers working today.
David Wilson Campbell was born January 14, 1942, in Manistee, Michigan, a small town with fewer than 9,000 residents located on the eastern shore of Lake Michigan. Along with his younger sister, Nancy, the family moved to Lansing when Dave was a small child. His mother, Frances, worked for the Michigan Highway Department and his father, Robert, was a teacher as well as a baseball and football coach at Sexton High School in Lansing. Robert Campbell had been a two-sport athlete at the University of Michigan, playing baseball and football there from 1935 to 1938. Coming from what he described as a "wonderful, supportive, sports-minded family," Dave, coached by his father, played baseball and football for the Sexton High School Big Reds, graduating in 1959. Despite living in Lansing, the home of Michigan State University, Campbell always knew that he wanted to attend the University of Michigan because of his father.
Switching from shortstop to first base upon joining the Michigan baseball team in 1962, Campbell helped the Wolverines win their second NCAA baseball championship title. Although they finished second in the Big Ten, because of a sweep of Western Michigan—in which Campbell hit the game-winning home run in the final game—the Wolverines garnered an at-large invitation to the District 4 Regional Championships. The team largely rode to the College World Series on the back of pitcher John Kerr, who threw an astounding 320 pitches in 17 innings in a doubleheader victory over Illinois and Western Michigan to make the College World Series.
The Michigan team reached the finals facing the heavily favored Santa Clara Broncos. Not only were the Broncos the nation's top-ranked team, but they also featured a then-record five players who would go on to play in the major leagues. In the longest title game in College World Series history, the Wolverines held tough, scoring two runs in the 15th inning to upset Santa Clara 5–4. Although he went hitless in six at bats in the championship game, Campbell was nonetheless named to the all-tournament team, joking, "It's a good thing they voted on it in the eighth inning, because I didn't do much in the title game." The team went on to win the International Collegiate World Series by defeating Hosei University of Tokyo, the Japanese college champions, in a tournament held in Hawaii. Campbell's talents also quickly attracted the attention of big league scouts and he was offered a contract by the Milwaukee Braves. He turned them down, however, wishing to remain in school. He was also approached by the Boston Red Sox, but declined to sign with them. As he recalled, "I could have signed with the Red Sox two years earlier [than signing with the Tigers] for more money but kids in Michigan dreamed of playing with the Tigers."
The following season, although the starting infielders who turned 60 double plays in 44 games—including Campbell at first—all returned, the program underwent a major change when longtime coach Don Lund left the program to become farm director for the Tigers. Under new coach Moby Benedict, the Wolverines limped to a 7–7 conference record and did not qualify for the postseason. Batting cleanup, Campbell continued to play a key role for the team, knocking in the two winning runs in the ninth inning with the Wolverines trailing 5–4 against second-ranked Western Michigan. He was also the first player in three years to hit a home run out of the University of Arizona's Hi Corbett Field—hitting it over the scoreboard at the 375-foot mark in left field.
The following year, with a number of graduation losses, Campbell was named captain of the squad. The team improved significantly, finishing second in the conference. Campbell switched back to shortstop and played well enough to earn All-Conference honors. Taking after his father yet again, Dave graduated with a bachelor's degree in education, working in the off-season as a substitute teacher. His sister Nancy also became an educator, teaching for many years in the Wacousta, Michigan, school district. His dream of playing with the Tigers came true when Detroit scout Ed Katalinas signed him as a shortstop to a contract for a $10,000 bonus.
Campbell's first assignment in the minor leagues was to the club's Lakeland team in the Florida State League. He jumped off to a fast start with the club, hitting .369, with 13 RBI and a home run in 17 games. Campbell's goal of playing for the Tigers was aided by a considerably larger number of younger players, since, as The Sporting News pointed out, "Vietnam and the draft situation, many prime prospects from the higher minors are back in school or involved in a reserve program." As a result, clubs and managers were looking for more rookies and prospects than usual and Campbell was able to move up to Class AA Knoxville.
Over 51 games Campbell's batting average at Class AA dropped to .209, although more than a third of his hits (13 of 33) went for extra bases, including three home runs. The next season, Campbell was still in Double A, now with the Montgomery Rebels, playing alongside former Wolverines teammate Fritz Fisher. Campbell's average had rebounded to .310 by the time he was promoted to Triple A Syracuse of the International League.
He spent slightly over half of the season with the Chiefs, his nine home runs and 27 RBI helping the team to a 74–73 record and a spot in the playoffs. Campbell even received a vote in a poll conducted by The Sporting News as "Best Hustler." He began the next season with Syracuse, although was sent back to Montgomery after struggling at the plate. He finished the season strongly there, driving in 28 and hitting six home runs in 53 games.
Campbell reported to the Tigers' spring training in 1967 in Lakeland, trying to make the club as a utility infielder and number-three catcher. Full of exuberance and energy, on March 20 he played in his first exhibition game as a Tiger, hitting a single off Atlanta Braves pitcher Cecil Upshaw in his first at-bat. Unfortunately for Campbell, within the Tigers infield, anchored by Norm Cash, Don Wert, and Dick McAuliffe, there was no space for him at the beginning of the season, and started the season with Class AAA Toledo (Syracuse had switched its affiliation to the New York Yankees that winter).
Establishing himself at second base, 1967 was a breakout season for Campbell. His defense was spectacular, leading International League second basemen with a .977 fielding average while his offense improved dramatically as he hit 20 home runs. Even though Toledo was picked to finished last in the International League, they finished third and earned a playoff berth. After beating Richmond in the semifinals, the Mud Hens faced Columbus for the Governor's Cup. After losing the first game, they won the next four games behind the clutch hitting of Campbell and took the title. Campbell hit a solid .350 in the series while scoring four runs. His three-run home run in the ninth inning of the fourth game proved decisive, giving the Mud Hens a 7–4 victory and a commanding 3–1 series lead. The next night, in a 0–0 tie in the bottom of the ninth, Campbell scored the game-winning run to clinch the title for Toledo.
Only two days after the club's dramatic victory, Campbell finally got his chance in the majors when on September 17 he made his debut in the major leagues for the Detroit Tigers in a game against the Washington Senators at Tiger Stadium when he pinch-hit for shortstop Ray Oyler in the sixth inning. Campbell's only other appearance for the 1967 Tigers came later that week, taking over for Eddie Mathews at first base in the seventh inning. He finished the season with the Tigers as the club nearly won the pennant in one of the closest races in major league history—finishing tied with the Twins one game behind the Red Sox.
That fall, Campbell went to play in the Florida Instructional League. His strong hitting, including a .315 average that placed him third in the league, helped the Tigers' entry in the league win the pennant. Trying to make himself even more versatile, he even worked as catcher for a few games in the Florida Instructional League. Detroit vice-president Rick Ferrell commented on the "Florida experiment": "Dave handles low throws real well and also did some good throwing." In 23 innings behind the plate Campbell did not allow a passed ball.
Once again, Campbell reported to spring training in 1968 trying to find a permanent position with the Tigers. But with McAuliffe still firmly entrenched at second Campbell had to start the season in Toledo. Campbell's offense continued to improve, as he raised his batting average 20 points to .265, and despite playing 40 fewer games than the year before, increased his home run total to 26, establishing a Toledo club record, and raised his RBI total from 36 to 64. His most dramatic home-run hitting that year came in the opener of a doubleheader July 6 against Louisville. He accounted for all of the team's runs beginning in the bottom of the sixth inning when he hit a solo shot with the Mud Hens trailing 2–0. In the bottom of the next frame, Campbell hit a game-ending grand slam. Exactly a week later, Campbell had another two-homer game in a 16–12 slugfest against league-leading Rochester.
Campbell was among four Mud Hens selected to the all-star tilt in Louisville pitting the International League stars against the Cincinnati Reds. Flying from Indianapolis, the four were delayed as a result of a bomb scare when airline officials received two calls warning that a bomb had been planted on the plane. After making the passengers leave the plane, a search was unable to find any explosives. The FBI did pick up a 13-year-old boy from Chicago who admitted making the calls as a joke. The players eventually arrived safely, although three hours late.
After the excitement in Indianapolis, Campbell hit eight home runs in July, including two grand slams in four days, to help lead the Mud Hens to a seven-game winning streak to extend their lead at the top of the standings. While leading Toledo in most offensive categories, Campbell garnered a call-up to the Tigers at the end of July for two weeks when Tom Matchick was on summer military duty. Playing in a substitute role for his first five games, Campbell got his only start with the team August 7 against Cleveland at Tiger Stadium. His first hit was a dramatic one—a home run off Mike Paul in the eighth inning, helping the Tigers beat the Indians 6–1. It would be his only hit during his time with the Tigers in 1967 and 1968. Sent down to Toledo upon Matchick's return in mid-August, everyone assumed that he would be back soon with the club, unfortunately however, his return to the Tigers would have to wait a year as he finished the season in the minors.
The 1968 season came to represent Campbell's frustrations with the Tigers. Although he had been playing great offensively and defensively for Toledo, the local boy who had always dreamed of playing for the team, even turning down better offers from the Braves and Red Sox because he would have to leave the state of Michigan, now was unable to get a chance to play, and could only watch the Tigers' championship 1968 season because he was buried too low on the depth chart. He was stuck behind Dick McAuliffe, the club's All-Star second baseman. Although Campbell had "great admiration for Dick and the way he played the game," and considered McAuliffe to be his favorite player, nonetheless he urged General Manager Jim Campbell (no relation) to trade him to another team.
Dave Campbell was so frustrated at being sent down to Class AAA once again that he considered quitting professional baseball. He was eventually convinced to play in the minors by the Tigers' GM since it would give him exposure for any interested ball club. Dave told The Sporting News, "There are 24 major league teams and I feel I'm good enough to play for some of them. And this is the best summer job I could find."
Stricken with mononucleosis, Campbell played only a limited role in Toledo's dramatic pennant race, which like the Tigers' in 1967 went down to the final day of the season. Trailing Columbus by a single percentage point, as the Mud Hens had more losses than the Jets (due to Columbus rainouts which were never made up), Toledo—needing a win combined with a Columbus loss to clinch the pennant—crushed Rochester 17–0 behind a marvelous game by pitcher Les Cain, who pitched a three-hit shutout in addition to belting a grand slam. Columbus lost their first game of a doubleheader, giving Toledo the title. Facing Jacksonville in the Governor's Cup playoffs, the Mud Hens were eliminated in the semifinal round.
Campbell and his wife moved to Lakeland, the Tigers' spring training home, in order to better improve his chances of making Detroit's roster at the start of the season, and spent the winter working as a substitute teacher. Campbell's power numbers with Toledo, particularly his 46 round-trippers 1967–1968, caught the attention of Detroit brass for 1969. The Sporting News wrote, "Dave's right-handed power gives him the best chance to make it as one of Mayo Smith's extra infielders. Campbell also qualifies as an emergency catcher." Playing both first and second, Campbell's early hitting in spring training impressed coach Wally Moses and he was rewarded with a spot on the roster to start the season.
Campbell began the year with the Tigers as a utility infielder. Playing in 32 games, he bounced between first, second, and third base and occasionally appearing as a pinch-hitter. While the Tigers as a team suffered through a post-championship malaise throughout the season, Campbell's numbers in particular plummeted. He hit just .103—by far the worst of any the position players, although he only committed two errors all year. During the year, he made two short trips down to Toledo to try and improve his hitting. In 25 games with the Mud Hens, in what would be his final minor-league trip, Campbell hit a remarkable .427, with 15 RBI and three home runs. He seemed to be unable to transition his minor-league hitting to the majors, however.
While playing in the Puerto Rico Winter League, Campbell finally found his chance to be an everyday player when Tigers management traded him. With McAuliffe prepared to return to regular duty at second base, and the other infield positions filled by Don Wert at third, Cesar Gutierrez at shortstop, and Norm Cash (spelled occasionally by Al Kaline) at first, and looking to shore up their starting pitching behind Denny McLain and Mickey Lolich, the Tigers dealt Campbell along with pitcher Pat Dobson and $25,000 to the San Diego Padres for pitcher Joe Niekro in December 1969. Although he would be playing baseball outside of Michigan for the first time in his life, with the Padres he could now expect to be an everyday player.
Joining a San Diego franchise in only its second year of operation, Campbell was penciled in as the starting second baseman. Playing a full season for the only time in his career, Campbell was excited about his new team, telling The Sporting News, "Until this season, I'd never played five games in a row in the majors. I wasn't getting any younger and couldn't see much future with the Tigers." San Diego manager Preston Gomez was also excited about his presence, saying, "Campbell's been a big plus for us. He's steadied the right side of the infield. I like the way he takes charge out there. He has very good baseball instinct." Playing in 154 games, Campbell led the National League second basemen in putouts (359) and assists (455) although tying for the league lead in errors with 22. Shifting to the leadoff and number-two spots in the lineup after getting off to a strong start, Campbell tailed off badly during the season. He led the team in stolen in bases with eighteen, but finished the season with a dismal .219 average; he nonetheless was one of eight Padres in double figures in home runs.
In a somewhat dubious distinction, Campbell got one of only two Padres hits against Mets pitcher Tom Seaver in his record-setting pitching performance on April 22 at Shea Stadium when he struck out 10 batters in a row, breaking the major-league record, and 19 total to tie Steve Carlton's record. Seaver only allowed two hits that day, one a single to Campbell and the other a solo home run to left fielder Al Ferrara. In an omen of things to come for the Padres, they finished their season last in the NL West, 39 games behind the Cincinnati Reds, with a 63–99 record—worst in the league.
In order to give the Padres a sorely needed quality leadoff man, Campbell worked on switch-hitting in the Arizona Instructional League to improve his batting and on-base percentages. Going into the 1971 season Campbell was one of the standouts in the Padres' spring training. The quandary was where to play Campbell. With competition from recently acquired Don Mason at second and starting third baseman Ed Spiezio holding out, Campbell was tried out at third base.
Early-season injuries to Spiezio, Mason, and shortstop Enzo Hernandez created an infield shortage for the Padres, giving Campbell once again the opportunity to play second, third, and shortstop on a daily basis. His utility value was again apparent to Gomez, who commented, "I don't know what we would have done without Dave to fill in at shortstop and third base. He did a good job for us." While continuing to play strong defense, Campbell started his second full season in the majors well, but once again his offense tailed off and his average dropped to .227 by season's end, though his on-base percentage was up 31 points to .299. On September 6, in a game against the Cincinnati Reds, Campbell was injured running out a sacrifice bunt. He underwent Achilles' tendon surgery a few days later, ending his season. Campbell's next two seasons with the club were overshadowed by recurring injuries to his Achilles' tendon. He played in only 88 games total in 1972–1973 as he struggled to stay healthy.
The Padres' 1973 season became dominated by talk of a move to Washington after only four years in San Diego, when the team was sold to interests hailing from the capital. The team's dire financial straits forced them to sell off a number of players for little in return. Campbell was in the midst of one of the worst slumps in baseball history, going 0-for-45 beginning May 16 for three different teams. Eight days before the June 15 trade deadline, still hitless in the last month, the Padres shipped Campbell to the St. Louis Cardinals for $30,000 and erratic infielder Dwain Anderson.
After only thirteen games with the Redbirds, continuing his slump after going hitless in 21 at-bats, Campbell was traded once again—this time to the Houston Astros for outfielder Tommie Agee. He responded to moving yet again by telling The Sporting News, "It's tough to leave a club that is in first place and has a shot at the big money. But due to my past association with Preston Gomez, it could be a break for me. Preston was the manager at San Diego when I was a regular there for four years. So he knows what I can do." Reunited with his former skipper, Campbell broke his slump seven games in his tenure with the Astros, hitting a double September 19 against his old San Diego team. After the 1974 season, in which he played only 35 games and hit .087, Campbell decided to retire after eight years in the majors, finishing his career with a .213 average, 89 RBI, and 20 home runs.
Campbell's broadcasting career had begun in 1972 following his season-ending surgery. Campbell recalled in the San Diego Union-Tribune, "After I got hurt I called Buzzie (Bavasi, Padres general manager) and volunteered to do the color commentary. I told him I'd do it for free if he'd pick up my hotel and meal money." Bavasi agreed, and Campbell, to his recollection, "did 10 or 11 games that year." Unfortunately, after retiring from the Astros he was unable to find an announcing job, and worked as a cameraman, reporter, and later sportscaster for a San Diego television station.
In 1977, frustrated that no broadcasting job had been offered, Campbell took a job managing the Padres' Class AA team in Amarillo in the Texas League. The year before, the Gold Sox were one of four Padres affiliates to win minor league championships. Campbell had been offered coaching opportunities before. "Houston offered me a job as manager of its Columbus, Georgia, club in the Class AA Southern League following the 1973 season. At the time, I was just kinda tired of the travel, and perhaps baseball in general." But when Gold Sox manager Bob Miller left to join the Toronto Blue Jays and the Padres called, Campbell decided the time was right. Unfortunately, under Campbell's tutelage the team did not repeat its past success, finishing in last place, and he was fired after only one year, ending his efforts at coaching.
Campbell quickly moved back to the broadcast booth, calling Padres games with former second baseman and legendary broadcaster Jerry Coleman. He added another job to his resume, co-writing from 1984 to 1986 the annual Scouting Report alongside Brooks Robinson, Duke Snider, Denny Mathews, and Harmon Killebrew (who replaced Mathews in 1986). He also hosted a postgame and baseball history show in San Diego. However, unexpectedly in October 1988, Campbell's contract was not renewed, ending his association with the club and creating an enormous amount of backlash for the club. A ballot in the sports section of the San Diego Union-Tribune asked fans if they agreed or disagreed with Campbell's firing; only 150 of 2,500 took the Padres' side. While it was never fully explained, many speculated his being let go was the result of personality conflicts with team officials due to his often critical comments of Padres' players and management.
Unable to find another baseball broadcasting position for a major league team, Campbell called San Diego State football and baseball games for a time. During his time off, he also had the idea to in his words, "develop a game for anybody who liked baseball at all—kids, women, anybody." Campbell created a board game, X-Tra Bases, that combined trivia and baseball strategy.
Campbell found two positions shortly thereafter, first hosting a Christian-oriented talk show, "Talk from the Heart," for KBRT-AM in Costa Mesa, California. A decidedly non-baseball show, it dealt with such issues as abortion, pornography, and a perceived antireligious bias in the media. He was also hired by ESPN in 1990 to work as a baseball analyst on Tuesday and Friday night games. In 17 years with the network he has worked in a number of positions ranging from TV analyst, correspondent on "Baseball Tonight," and calling games on ESPN Radio.
In 1993, while working for ESPN, Campbell was hired as the TV announcer for the Colorado Rockies. He stayed in Colorado until 1997 when Fox Sports Rocky Mountain purchased the TV rights to the games. And since "Fox didn't want an ESPN personality on its telecasts, and ESPN was not about to allow Campbell to work for a competitor," he was let go.
Campbell's career as a broadcaster is in many ways defined by two things: his broad and in-depth knowledge of all components of the game and his willingness to speak his mind. The Sporting News perhaps best summed this up when it nominated him as the best television analyst of 1991, calling him the "master of the 'first guess,' [who] wouldn't try to sugar-coat even his mother's efforts if she booted a ground ball." The Denver Post similarly noted his devotion to broadcasting, stating, "He estimates, he studies statistical references, scouting reports and historical books from four to eight hours almost daily in the off-season, then spends about four hours a day when the season starts compiling the statistics, anecdotes, and other material that seem to flow so easily and at such appropriate moments on a broadcast." The respect for Campbell's broadcasting is also demonstrated through the sadness expressed upon his departure from the Rockies; lamented his leaving, the Denver Post opined the "Colorado Rockies television viewers will be learning the game from a new teacher this year."
From a playing career that was largely defined by inconsistency, Campbell's broadcasting career has been remarkably stable. Working for the Padres, Rockies, and ESPN for 30 years had enabled Campbell, in the words of baseball broadcasting historian Curt Smith, to remain "tall and tan and young and lively," and to become "baseball's bronze warrior," and one of the most respected baseball broadcasters of the past generation.
Sources
Adler, Richard. Baseball at the University of Michigan. Charleston, S.C.: Arcadia. 2004.
Madden, W.C. and Patrick J. Stewart. The College World Series: A Baseball History: 1947–2003. Jefferson, N.C.: McFarland & Co. 2004.
San Diego Union Tribune.
Smith, Curt. Voices of Summer. New York: Carroll and Graf Publishers. 2005.
Sullivan, George, and David Cataneo Detroit Tigers: The Complete Record of Detroit Tigers Baseball. New York: Collier Books. 1985.
The Sporting News.
Denver Post.
Note
This article originally appeared in the book Sock It To 'Em Tigers–The Incredible Story of the 1968 Detroit Tigers, published by Maple Street Press in 2008.
Photo Credit
The Topps Company
Born
January 14, 1942 at Manistee, MI (USA)
If you can help us improve this player's biography, contact us.
http://bioproj.sabr.org/bp_ftp/images3/CampbellDave.jpg
600
800
admin
/wp-content/uploads/2020/02/sabr_logo.png
admin
2012-01-04 20:39:12
2012-01-04 20:39:12
Dave Campbell