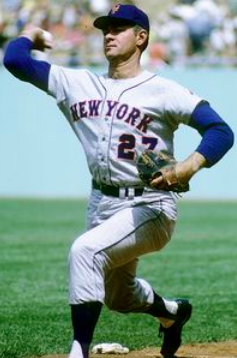 ---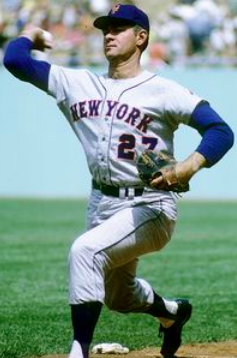 Don Cardwell seemed the definition of a journeyman pitcher, but his career intertwined with the stuff of legend. He threw a no-hitter two days after being traded, he grabbed love beads off Ron Swoboda's neck at the height of the 1960s culture clash, and Cardwell, who always liked to swing the bat, became the back end of a memorable doubleheader sweep by the '69 Miracle Mets in which the only run in each game was knocked in by the pitcher. It was a long and interesting career for Cardwell that culminated with him being the senior member of a staff that pulled off one of the most unlikely world championships ever.
Donald Eugene Cardwell was born in Winston-Salem, North Carolina, on December 7, 1935. He was the seventh of eight children of Charlie H. and Lillian Denny Cardwell. Obviously, he gravitated toward baseball, but Cardwell also lettered in basketball and football at James A. Gray High School. He later became a near scratch golfer.
After graduation in 1954, he was signed by Phillies scout Wes Livengood and his first stop was Class-D ball in Pulaski, Virginia. He earned Rookie of the Year honors in the Appalachian League. The following year he married his high school sweetheart, Sylvia Greer, who would be his wife for 52 years. They immediately left for Plant City, Florida, for spring training.
He moved up to Class A in Schenectady, New York, and after a year there headed to Miami, the Phillies' top minor league affiliate, in 1956. Cardwell debuted in the major leagues on April 21, 1957 at the Polo Grounds, throwing the last three innings of Philadelphia's 8-5 win over the New York Giants. As a rookie he had a 4.91 ERA and a mark of 4-8. He had a winning record just twice in 14 major-league seasons.
In 1959, his first full season in the majors, Cardwell began September with a winning mark (9-7) and a 3.66 ERA, but he was hammered in four of his last five starts and finished at 9-10 with a 4.06 ERA. Cardwell began the 1960 season with six innings of relief to earn the win in 10 innings against the Braves on April 14. He never won again for the Phillies. He started four times after that, losing twice with two no-decisions. On May 6, he allowed just one hit in six innings in Los Angeles, but he walked six Dodgers, hit another, and threw two wild pitches in a game the Phillies eventually won against Sandy Koufax.
A week later, the Phillies and Cubs pulled off a four-player deal, sending Cardwell and first baseman Ed Bouchee to Philadelphia for infielder Tony Taylor and catcher Cal Neeman. Neither team was going anywhere. The two clubs were fighting to see which would stay out of the cellar, a half-hearted battle the Cubs eventually won by one game. Still, the trade created some excitement as it occurred just as the rival Cubs and Cardinals were playing their first series of the year in Chicago.
The Cubs won the first two games against St. Louis before small crowds, but 33,543 filled Wrigley for the Sunday doubleheader. The Cards took the opener and Cardwell took the ball for the Cubs for the first time in the second game. Cardwell walked Alex Grammas with one out in the first inning. That was the closest he would get to trouble.
In the seventh, Cubs manager Lou Boudreau replaced Frank Thomas at third base with Don Zimmer. (Thomas had handled his lone chance cleanly, one of 10 ground balls induced by Cardwell.) Wally Shannon batted for Grammas that inning and flew out. By the time Stan Musial fanned in place of Curt Flood in the eighth, Cardwell had struck out seven and retired 23 in a row. Every play in the field had been routine.
The ninth would not be easy, however, with three left-handed hitters taking turns against Cardwell. Carl Sawatski, batting for catcher Hal Smith, ripped a line drive to deep right that George Altman caught with one hand at the wall. Veteran pinch hitter George Crowe, batting for starting pitcher Lindy McDaniel, hit a long fly to center that was hauled in by Richie Ashburn. Joe Cunningham, who'd made the first out of the game, worked the count to 3-and-1. Cardwell went into his windup — WGN announcer Jack Brickhouse cajoled, "C'mon, Don, get it in there" — and Cunningham watched the fastball before starting toward first base.1 Umpire Tony Venzon called a strike at the knees and got an earful from Cunningham. The next pitch was lashed to left, but Walt Moryn got a good jump and caught the drive inches off the ground.
"Fans streaming onto the field," shouted Brickhouse over the din. "Don Cardwell has just thrown a no-hitter in the most fabulous break-in for a pitcher in the history of baseball just joining a club."2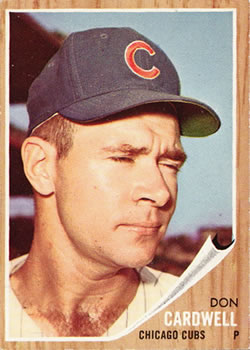 Cardwell was the first and — to date — last pitcher to throw a no-hitter in his debut with a new team following a trade. He received a bonus of $2,000 to boost his salary to $10,000.3 Cardwell went just 7-14 the rest of the season, but he had another memorable day against the Cardinals. He homered twice, had three hits, scored three times, and drove in three in a 10-4 win in St. Louis on September 2.
Cardwell was one of the game's top hitting pitchers — he clubbed 15 home runs during his career — but he was also usually among the league leaders in hitting batters. "It took me three years before I learned how to pitch inside without hitting somebody in the head. You just had to hold the ball a certain way. If you hold it one way, the ball tails in. If you grip it across the seams and throw it over the top more, it's straighter."4
He won a career-high 15 games for the 1961 Cubs and finished over .500 for the first time despite the Cubs winning just 64 times and finishing seventh for the second straight year. Cardwell led the Cubs in ERA (3.82), complete games (13), and strikeouts (156). His 38 starts were the most in the National League that year and were the most by a Cub since Grover Cleveland Alexander's 40 in 1920. Cardwell's 259.3 innings — third in the NL — were the most by a Cub since Hank Wyse's 278.3 in 1945.
The Cubs suffered the first 100-loss season in franchise history in 1962, kept out of 10th place only by the miserable original Mets. Cardwell fell to 7-16 and his 4.92 ERA was his highest until his final season in the majors. He was taken out of the rotation in mid-September and wound up relieving 12 times for the Cubs. While the Cubs were down on Cardwell, the Cardinals still thought him a valuable commodity. On October 17, 1962, St. Louis shipped Larry Jackson, Jimmie Schaffer, and Lindy McDaniel, the pitcher he'd beaten in his no-hitter, to Chicago for George Altman, Moe Thacker, and Cardwell. A little over a month later, Cardwell was off to Pittsburgh for former MVP Dick Groat in a four-player deal.
Three years removed from a world championship, the Pirates got rid of their championship infield in exchange for younger players. The result was 20 more losses than the year before and a drop to eighth in the National League. Cardwell did his part, however. He was second to Bob Friend in most team pitching categories and put together a 13-15 mark with a 3.07 ERA. He was a full-time starter again, but his lone relief outing of 1963 led to arm problems that dogged him for the next year and a half.
Cardwell tossed five innings and took the loss in the first game of a doubleheader at Wrigley Field on July 21. Manager Danny Murtaugh went through his staff and needed Cardwell to come into the nightcap when the Pirates rallied to force extra innings. He went three innings — allowing only one hit — and wound up getting the win. His two-decision day took a toll, though. "It was too much of a strain on my arm," he said. "Later, when I pitched again, my arm felt heavy. It was like pitching a shot put instead of a baseball."5
In his final start of 1963, he threw just one pitch before leaving the game. Cardwell was out until the final month of the 1964 season, starting four games for the Pirates.
He rebounded in 1965 for his second winning season while having his second-highest total for starts (34) and innings (240.3), along with a 3.18 ERA. Despite being a key member of a staff that included Bob Veale, Vern Law, and Friend — and being the youngest of the foursome — Cardwell moved into a bullpen role by midseason 1966 after opening up at 3-6 for new manager Harry Walker. Cardwell did not start after July and pitched just twice after Labor Day. Each of those two outings lasted just two-thirds of an inning.
So it wasn't terribly surprising that on December 6, 1966, the day before his 31st birthday, Cardwell was traded for the third time. The Bucs sent him to the Mets along with outfielder Don Bosch for pitcher Dennis Ribant and light-hitting outfielder Gary Kolb. Mets general manager Bing Devine, who shuttled people in and out of the locker room all year in a flurry of moves, had been eying Bosch to be his center fielder. Bosch turned out to be a bust, but Cardwell remained a Met long enough to see the team scale the unimaginable heights of success in 1969. First, however, there were plenty of rough times ahead for the club.
Cardwell was the second Mets pitcher to make his debut as the Opening Day starter. Though Roger Craig had done so in 1962, that was the first game in franchise history. Yet like Craig, Cardwell started his Mets career with a loss on day one. Cardwell opened the 1967 season with eight solid innings against his former team, but he allowed consecutive doubles to start the ninth and suffered the defeat against the Pirates at Shea Stadium. No other Met made his club debut as the Opening Day starter until Mike Hampton in 2000.6
Cardwell went 5-9 with a 3.57 ERA in 26 games (16 starts) for the 1967 Mets. Three of his wins were shutouts — a good idea since the Mets were the worst-hitting club in the league. Hitting was so strenuous for the club that Cardwell got hurt just drawing a walk. "I tried to hold up on a pitch," he said, "and it was like I hit my funny bone. I stepped out of the box and tried to keep working it and working it until finally the trainer came out and asked me what was wrong. The pitch was ball four, and I was left on first base when the inning ended."7 He allowed three hits and a walk in the bottom of the inning and left the game with an injured elbow and a loss. He did not pitch again for six weeks.
Cardwell started 25 times in 1968 and went 7-13 in his first season under manager Gil Hodges and pitching coach Rube Walker. His ERA in the "Year of the Pitcher" dipped to 2.96, his lowest ever over a full season, which was slightly below the league average of 2.99. It still being the Mets, though, Cardwell managed to lead the club in losses. During one loss, he drop-kicked his glove all the way to the dugout.8
He kicked more than just his glove. When Ron Swoboda was given love beads by some young fans in Los Angeles in '68 and wore them on the team flight to Houston, Cardwell, a southern conservative, took offense. "We were on the plane," said Cardwell, "and we had gotten beat the game before. I walked to the back of the plane and saw those love beads and snatched them off and almost got into a fight. I didn't believe in the love beads and all the parades they were having and two of our ballplayers were supporting this. That wasn't me. That just rubbed me the wrong way."9
Cardwell was the elder statesman of the pitching staff and second only to Ed Charles age-wise on the club. The 1968 Mets had been the youngest team in the major leagues. The '69 club wasn't much older; they just had much better luck.
Yet the luck was not all good for Cardwell early on. He started off at 0-4 as the Mets scored just twice in his first 28 innings of work. He finally got himself a win by taking matters into his own hands, allowing only a Lee May home run to Cincinnati while breaking the game open with a three-run blast of his own (it turned out be his last major league home run). Cardwell's most famous moment with the bat, however, came in the back end of an extraordinary doubleheader in September.
With the Mets remarkably having taken over first place from the Cubs, the Mets hit Pittsburgh for a Friday night doubleheader. Left fielder Cleon Jones was injured and platoon right fielder Art Shamsky missed the twin bill because it was Rosh Hashanah. The Mets had little offense to begin with and they snuck out a win in the opener with pitcher Jerry Koosman singling in the only run and protecting the lead with a shutout. Cardwell, who'd driven in just one run since his three-run homer against the Reds in May, singled in Bud Harrelson against Dock Ellis in the second inning in the nightcap. Cardwell danced through trouble and the lead held up, with ninth-inning help from Tug McGraw. The twin 1-0 wins with pitchers driving in the only runs of each game — part of 36 consecutive scoreless innings by the club — pushed the Mets to 2 ½ games in front of Chicago. It seemed like further proof that baseball was in the midst of a miracle.
Despite his slow start, Cardwell wound up winning five consecutive decisions as the Mets surged to the division title. Only a poor start in the meaningless season finale pushed his ERA to 3.01 and kept him from having a .500 mark at 8-10.
Cardwell did not get a postseason start. Cardwell recalled having a meeting with Gil Hodges on the subject just before the start of the World Series. "Gil said, 'Cardy, don't feel hurt because you did a great job all year for us and got us into the playoffs and this Series, but here's what we're gonna do. Rube [Walker] and I agreed that we're gonna start Seaver, Koosman, and Gentry in the three games, and then we're gonna come back with them. But you're our seventh game pitcher if it goes seven games."
It did not go seven games, but Cardwell, serving as the long reliever, pitched in the opener in Baltimore. Tom Seaver had trouble in the first Mets World Series game ever and Cardwell came in for the sixth inning after warming up several times. He was extremely nervous. "I'd never been there before and I was just keyed up. It's different in football, where you see those guys all worked up and butting helmets. You can't do that in baseball. You just say to yourself, 'Listen, dummy, you've been doing this for how many years? Now is not the time to screw up, pardon the expression.'"10
Cardwell retired the Orioles in order in what turned out to be his only career postseason appearance. The Mets won the next four games thanks to excellent starting pitching. They used only two other relievers — Ron Taylor and Nolan Ryan — and hurled complete games in Games 4 and 5 as the Mets stunned the Orioles.
Cardwell remained in the bullpen in 1970, starting just once in 16 appearances for the Mets. The Braves purchased him around the All-Star break and he finished his career that year in Atlanta's pen. The highlight of his final go-round actually came at Shea Stadium when Cardwell relieved on successive days against the Mets and did not allow a run. He stopped the bleeding on August 26 with the Braves down, 7-1, and Atlanta wound up coming back to win in the ninth. His final career outing didn't go as well. He surrendered a three-run home run in the ninth inning to Houston rookie Cesar Cedeno in Atlanta's home finale.
In 1971 Cardwell began a new career working for Ford. He served as an executive for two North Carolina car dealerships over the next 36 years. He had three children and five grandchildren.
He died at age 72 on January 14, 2008, in the same city in which he was born. The cause was Pick's disease, a rare neurodegenerative disease.
Among the men who fondly remembered Cardwell was Tom Seaver. He made his Mets debut the same week as Cardwell in 1967, only Cardwell had already been in the majors for a decade by the time Seaver threw his first pitch. "He was a tremendous mentor to the young guys on our staff," Seaver said upon Cardwell's passing. "When he said something, you listened. He was the ultimate professional."11
An earlier version of this biography appeared in SABR's "The Miracle Has Landed: The Amazin' Story of how the 1969 Mets Shocked The World" (Maple Street Press, 2009), edited by Matthew Silverman and Ken Samelson.
Notes
1 Jeff Merron, "Don Cardwell throws no-hitter in Cubs debut — video of final outs" http://108mag.typepad.com/the_southpaw/2007/05/don_cardwells_n.html, May 21, 2007.
2 Ibid.
3 Ibid.
4 Bill Ryczek, The Amazin' Mets, 1962-1969 (Jefferson, North Carolina: McFarland & Company, 2007), 207.
5 Les Biederman, "Bucs Salvage Two Hill Vets off Junk Heap," The Sporting News, March 20, 1965: 13.
6 Marc Normandin, "Opening Days with New Faces," http://www.metsgeek.com/articles/2008/04/02/opening-days-with-new-faces/, April 2, 2008.
7 Ryczek, 163.
8 Ibid., 228.
9 Ibid., 241.
10 Ibid., 254.
11 Richard Goldstein, "Don Cardwell, 72, Pitcher for 1969 Mets, Is Dead," New York Times, January 16, 2008.
Born
December 7, 1935 at Winston-Salem, NC (USA)
Died
January 14, 2008 at Winston-Salem, NC (USA)
If you can help us improve this player's biography, contact us.
https://sabr.org/sites/default/files/Screen%20Shot%202019-03-27%20at%2011.18.03%20AM.png
600
800
admin
/wp-content/uploads/2020/02/sabr_logo.png
admin
2012-01-04 20:03:39
2012-01-04 20:03:39
Don Cardwell