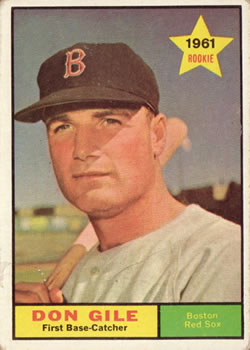 ---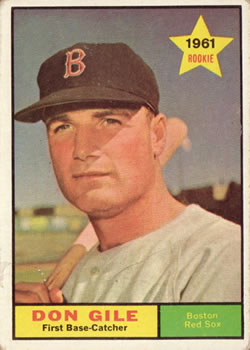 Don Gile was a catcher and first baseman for the Boston Red Sox who, almost exactly two years to the day after Ted Williams did it, hit a home run in his final at-bat in the major leagues. Unlike Williams' home run, Gile's won the game in a walkoff.
The date was September 30, 1962, the last day on the schedule for the Red Sox, and they were playing just the 159th and 160th games of the season The team had been idle for three days, cancelling two of the games they had postponed due to weather. The game on the 28th was rained out, and a makeup doubleheader planned for the 29th had suffered the same fate. They entered the day in eighth place in the American League, 19 ½ games behind the league-leading Yankees but only a half-game in back of the Baltimore Orioles.
The Washington Senators were visiting Fenway Park. Don Lock's two-run homer in the top of the second inning was all they needed to beat Gene Conley and the Red Sox, 3-1. The stage was set for the day's second game.
A reported 6,346 fans were in attendance. The first game was played in a crisp 2:37, but the second game came in under two hours. Both pitchers went the distance, Bill Monbouquette for Boston and Jack Jenkins for Washington. For the 19-year-old Jenkins, it was his first major-league start.
Chuck Hinton singled in John Kennedy in the top of the first, and the Senators had a quick 1-0 lead. Gary Geiger hit a solo homer in the bottom of the third to tie it. There were only four more hits in the game through the eighth, three by the Senators and just one (a Geiger single) by the Red Sox. The game remained tied, 1-1, heading into the top of the ninth. Monbouquette gave up a single to Harry Bright, who was forced out at second.
In the bottom of the inning, Jenkins still had his two-hitter going. Frank Malzone fouled out to the third baseman to lead off the inning. Jim Pagliaroni walked. Manager Pinky Higgins sent in Earl Wilson to pinch-run for him. Up strode 6-foot-6, 220-pound Don Gile, a right-handed hitter.
Gile didn't appear to pose much of a threat. At that point, his career batting average over the four seasons he'd played with the Red Sox was .143 (rounded up.) In 1962, he only had one hit in 40 at-bats, and that a single in the first game. Prior to that, he'd been 0-for-34. All the pitchers on the team had better batting averages. Chuck Schilling was on deck. Jenkins pitched, Gile swung and hit a "towering smash into the left field nets" atop Fenway's left-field wall.1 The game was over. Monbouqette had his 15th win of the season. Don Gile had his first home run of the year, the third of his career, and went out with glory in his last at-bat in the major leagues.
Donald Loren Gile was born on April 19, 1935, in Modesto, California. His father Victor was a bookkeeper in a bank, and Victor's father owned a 45-acre vineyard. He had come to the United States from Italy, and worked the land by hand using a horse-drawn plow. "It was down in the Fresno area and it was 105, 110 in the summer. He had a stroke and died before he could enjoy farming with a tractor."2
Victor married Dora Pistoresi, and the couple had two children, Ronald and Donald. Dora Gile worked for a friend who had a retail store at Christmas time just for a little extra money. Don was the younger by two years. By 1940, the family was living in San Mateo, and Victor Gile was a bank manager. He became a vice president of the Bank of America. He had started with them with a summer job at the end of his freshman year in high school, and never left.
Ron Gile played football at the University of Santa Clara but was taken into the Army and sent overseas to Germany. He had his own company selling pipe and hydrants and other materials in construction.
Don attended the Baywood School in San Mateo for eight years, and then San Mateo High School. The 1952 high school yearbook described Gile as "the team's power hitter." After graduation, he attended the University of Arizona for 3½ years.3 He'd had great success playing baseball in college, batting .516 in 1954.
Shortly after he turned 20, three things happened. His team – the Arizona Wildcats – made it to the College World Series. They lost to Oklahoma A&M (now Oklahoma State University), but it wasn't due to Gile coming up short. In six plate appearances in the final game, he hit two home runs, two singles, and worked a base on balls. He signed with the Boston Red Sox, thanks to the efforts of scout Tom Downey.4
Tom Downey came up to San Mateo to visit Victor Gile, because Don was still underage, at 20 years old. At the time the bonus rule stipulated that if a player was given a bonus of more than $4,000 he would have to go straight to the major leagues, thus depriving him of development time in the minors. The goal was to discourage teams from paying out large bonuses. Don said he wanted more than $4,000; Downey said he couldn't do that. Don said he'd take it under the table, but he wanted more. Downey said they didn't do that. He stuck to the $4,000. The Giles talked it over, and Don said, "I'm ready. I want to sign."5
"The next day," he recalls, "I went down to the local paper, the San Mateo Times, to read about myself. I picked up the paper and I was sitting in my car reading it. I thought, 'This I going to be great.' There was a headline in the sports section with a headline 'Red Sox Sign Bonus Catcher for $120,000.' I thought to myself, 'Everything's right. The Red Sox and Mr. Downey, but the money's wrong.'"6 The newspaper was reporting the Red Sox signing Jim Pagliaroni.
That same year, Don married Nancye Fantham in San Mateo, on July 1, 1955.
The Red Sox placed him with the San Jose Red Sox in the Class-C California League, and he hit .328 with nine homers in 39 games.
Gile played for San Jose again in 1956, getting into 113 games, homering 19 times, and batting .265. In 1957, he was elevated to the Class-B Carolina League, catching for the Greensboro Patriots. He hit .303 with 11 homers, and enjoyed one of the most satisfying moments a catcher can have: he caught Chuck Smith's no-hitter over Durham on June 10. Two days later, though, he suffered what was at first thought to be a hairline wrist fracture in a collision at home plate. It turned out it was not broken but badly jammed. He went on the disabled list three times that season, one time requiring a knee operation back in Boston for cartilage trouble.
Gile's 1958 season was split between Allentown (Single-A ball in the Eastern League), where he hit .274 with a league-leading 23 homers in 106 games, and 15 games with the Memphis Chicks in the Double-A Southern Association. Gile was selected to the Eastern League's All-Star team and tied in the voting for the MVP.7 His right knee gave him trouble again, this time for issues with tendons and fluid.
Heading into 1959, Red Sox farm director Johnny Murphy declared Gile the top prospect in the system.8 He was invited to spring training with the Red Sox, and was optioned to Minneapolis in early April. He split his time almost equally between catching and first base in 59 games for Allentown, collected one at-bat in Triple A with Minneapolis, and then was brought up to Boston. Not much was expected – he had only hit .241 for Allentown – but the Red Sox wanted to give him a closer look.
Manager Billy Jurges had him catch the last three games of the season. The Washington Senators were visiting Fenway Park to close out the year, and on September 25 Gile was brought into a game the Sox were leading, 6-4, leading off the bottom of the fifth inning. He struck out. He reached on an error his second time up, but singled for his first big-league base hit in the bottom of the eighth. On the 26th, he was 1-for-5, doubling his first time up. And on September 27, he was 0-for-3. The Red Sox won all three games.
In 1960, he fell short of making the club out of spring training, despite the Red Sox' being short on catchers, and he was optioned to the Minneapolis Millers just before the season got underway. But Haywood Sullivan suffered a split nail on a finger, and Gile was recalled on April 21. Sullivan came back quickly, but eight days later, the Sox learned that rookie catcher Ed Sadowski had a fractured finger and would be out five weeks. Though characterized as "still very raw," Gile had become a necessary addition.9 He was mostly used late in games for defensive purposes, only once getting more than two plate appearances in the 17 games in which he appeared through the end of May; he only had two hits and was batting .182. When Sadowski returned, Gile was optioned back to Minneapolis.
He did pretty well with the Millers, getting into 87 games – about three-quarters of them at first base. He hit .280 with 19 homers (three of them, and a triple in the July 30 game against Louisville) and 64 RBIs. When Boston's Ray Boone had to undergo back surgery and was out for the season, Gile was recalled on August 23 – but he never played a game behind the plate, either working at first base or pinch-hitting. His solo homer on September 27 off the Orioles' Gordon Jones was his first in the majors.
In 1961, Gile played in pinch roles at the start of the season and played six games at first base in the last three weeks. He was up against catchers Russ Nixon and Jim Pagliaroni and first basemen Pete Runnels and Vic Wertz. He was with Boston for the first month until May 17 when he was optioned to the Seattle Rainiers after the Sox signed free agent Joe Ginsberg. He played well in Pacific Coast League ball – for manager Johnny Pesky – appearing in 107 games (about 75 percent of them at first base) and batting a team-best .306. He homered 15 times and drove in 78 runs. There was one unfortunate moment in June when he bumped umpire Dick Phillips and, after being ejected, threw his catching gear one piece at a time onto the field. He was also fined $100.10 On recall to the Red Sox, he was 5-for-17 at the plate, with one home run.
In 1962, Gile was with the Boston Red Sox the whole year. The Red Sox were out of options and couldn't send him back to the minor leagues. He wasn't used much – not all in April and only once in May. On the books as a utility player, he joked that he was really more of a "futility player."11 He became "an expert on major-league benches."12 He did throw a lot of batting practice.
Pagliaroni and Gile roomed together when the two were in Boston. As they had come to know each other in the Red Sox system, "I would always give him a bad time – 'That was my money. They gave you my money.' As I understand it, he had been given $10,000 by the Red Sox at the end of his junior year in high school, as a retainer to sign the next year. We became really fast, fast friends."13
Gile appeared in 16 games through September 25 but didn't have even one base hit all year long – until the September 30 doubleheader, on the final day of the season, when he singled in the first game and then homered to win the game in the bottom of the ninth inning of the second game. The single was a "bloop fly to short centerfield that fell in safely."14
After the season, Gile was waived out of the American League and acquired by Seattle. He played for the Rainiers until traded to Tacoma for outfielder Felix Maldonado. Between the two teams, Gile had played in 79 games, hitting 11 homers and for a .254 batting average. It was his last year in professional baseball.
His major-league totals have him with a .150 batting average, with three home runs and nine RBIs. As a catcher, he handled 39 chances without an error. At first base, he had a .982 fielding percentage.
At the end of the season, he retired. "I went into the pharmaceutical industry. I had a friend I grew up with. He was four or five years older and he played pro ball, too, with the Detroit organization. He played two or three years and then had to go into the service. Ken Rose. He just passed away recently. He had been in the industry for a few years and was a district manager. He phoned me up and said, 'I read in the paper you're going to retire. What are you going to?' I told him I possibly was going to go with Hyatt Hotels, who I had worked with in the offseason for two years. He said, 'Well, I have an open territory and I thought I would give you a call and see if you're interested in being a detail man.' I said, 'Ken, what the hell's a detail man?' He explained what it was – calling on physicians. I was living in San Mateo, on the peninsula, and the territory was San Mateo, Burlingame, Belmont. Five or six miles long and 350 doctors. They knew my name because of my dad as the manager of the Bank of America there. I did that with Upjohn for four years and then I switched over to Squibb Pharmaceutical. I was with them for about six years."
Naturally, Gile's having been known as a former ballplayer helped in sales work. "It would come up three or four times a week. It never hurt me."15 He then worked for a German company just starting in the United States – Boehringer Ingelheim, and worked with them as vice president for about six years. That was followed by work as national sales manager for Oral B Laboratories, the dental company.
"And then I went into home health care with Olsten Health Care Services. That was becoming a really big thing. I was National Accounts Manager for the Western United States. I had about 21 people who worked for me in my area. We also did a lot of shows – medical shows – to get our name out. I did that until I retired in 1998."16
Gile mentioned that he hadn't qualified for a major-league pension, since the service time in his day was five years. When they retroactively lowered it to four years, he was still just a handful of days short – 11 days. But in just the last few years, the administrators have started to dole out some money to people like him who just missed qualifying. He had just received a check from the Commissioner's office in February.
Don Gile had four children – three boys and one girl, three with his first wife, Nancye, and one with his second, Cheryl. Nancye and Don Gile had divorced in 1967, and Gile married Cheryl Wilson of San Mateo in 1969. Don has five grandchildren and three great-grandchildren.
In 1978, he married Doris M. Hammond at Fresno. They divorced in 2013.
At the time of the March 2017 interview, he was married once more, on June 21, 2014, in Stillwater, Oklahoma, to Eileen Borland, the widow of Red Sox pitcher Tom Borland, who had died in February 2013. The couple now live in Stillwater. "I had played with Tom, and played against him even in college. In fact, two consecutive years when I was at the University of Arizona, we had gone to the College World Series and Tom pitched against us both years [for Oklahoma A&M]. He beat us both times and knocked us out of the College World Series. I always kidded him because I had hit him pretty well, but he always came back with: 'But who won, Don?' I had kept in touch with Tom and Eileen, and after Tom died, Eileen and I got married."17
Tom and Don's paths continued to cross from time to time. "The last year I played, I was playing for Tacoma and we played a game against Oklahoma City. After the game with them – it's about 60, 70 miles from Oklahoma City – I came home with Tom and Eileen and spent the night here [in Stillwater] and then Tom and I had to drive back for an afternoon game the next day."18
They live in the house where Eileen has lived since 1960, indeed the very house Don had visited that time in 1963. "Her kids are here, and two of them are living right here in Stillwater. We can go back and forth to the Coast but because her family was right here and a little bit bigger, I moved here. I found that I can live anywhere after 10 years in baseball."
In retirement, how has he kept busy? "Right now I play as much golf as possible, and visit old friends. It's been a good retirement."
Don Gile died of natural causes at Stillwater, Oklahoma, on March 5, 2021, survived by Eileen and his four children.
Last revised: March 12, 2021
Acknowledgments
This biography was reviewed by Jan Finkel and checked for accuracy by the BioProject fact-checking team.
Sources
In addition to the sources noted in this biography, the author also accessed Gile's player questionnaire from the National Baseball Hall of Fame, the Encyclopedia of Minor League Baseball, Retrosheet.org, and Baseball-Reference.com.
Notes
Born
April 19, 1935 at Modesto, CA (USA)
Died
March 5, 2021 at Stillwater, OK (USA)
If you can help us improve this player's biography, contact us.
https://sabr.org/sites/default/files/GileDon.jpg
600
800
admin
/wp-content/uploads/2020/02/sabr_logo.png
admin
2017-04-20 17:02:05
2022-04-04 13:52:16
Don Gile