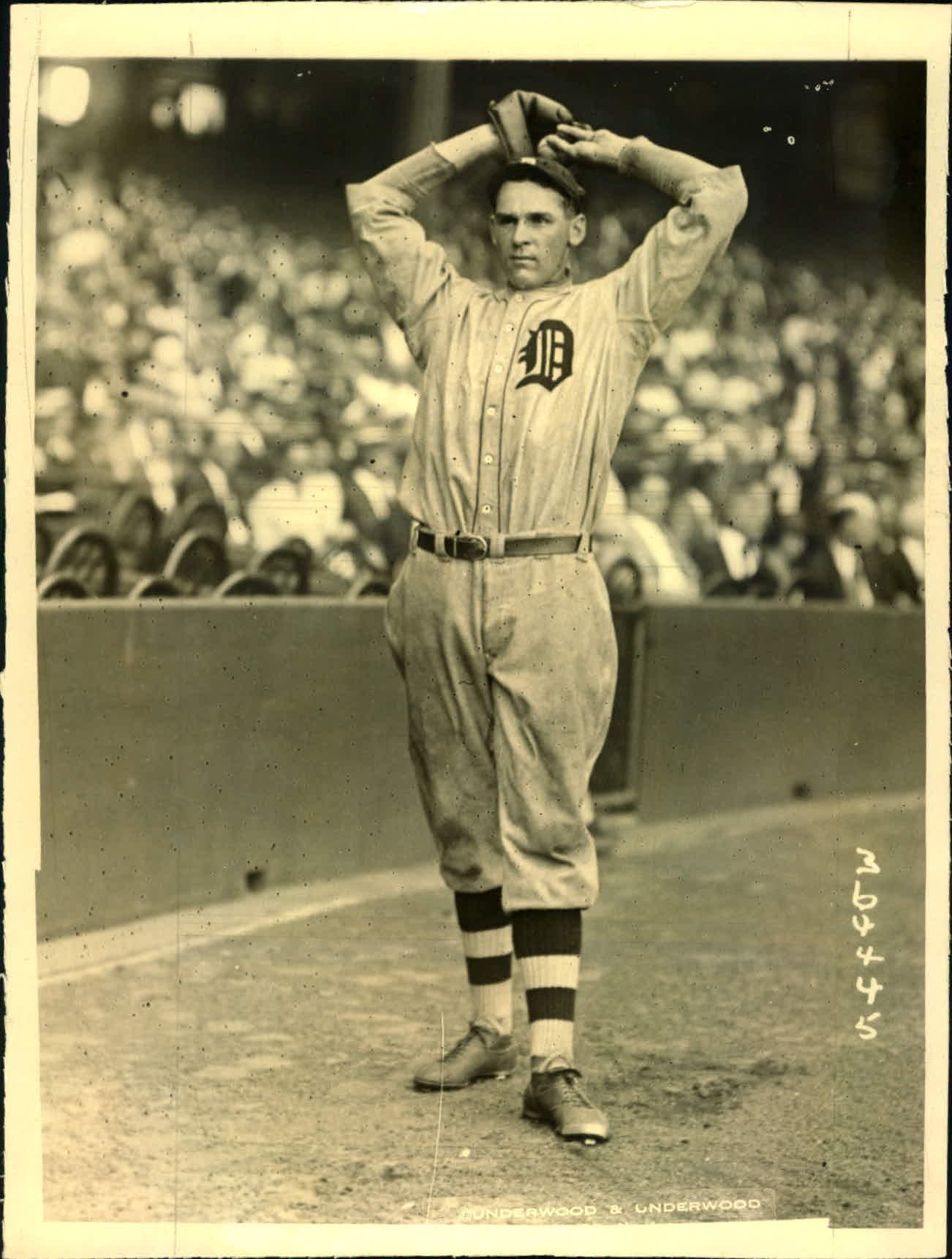 ---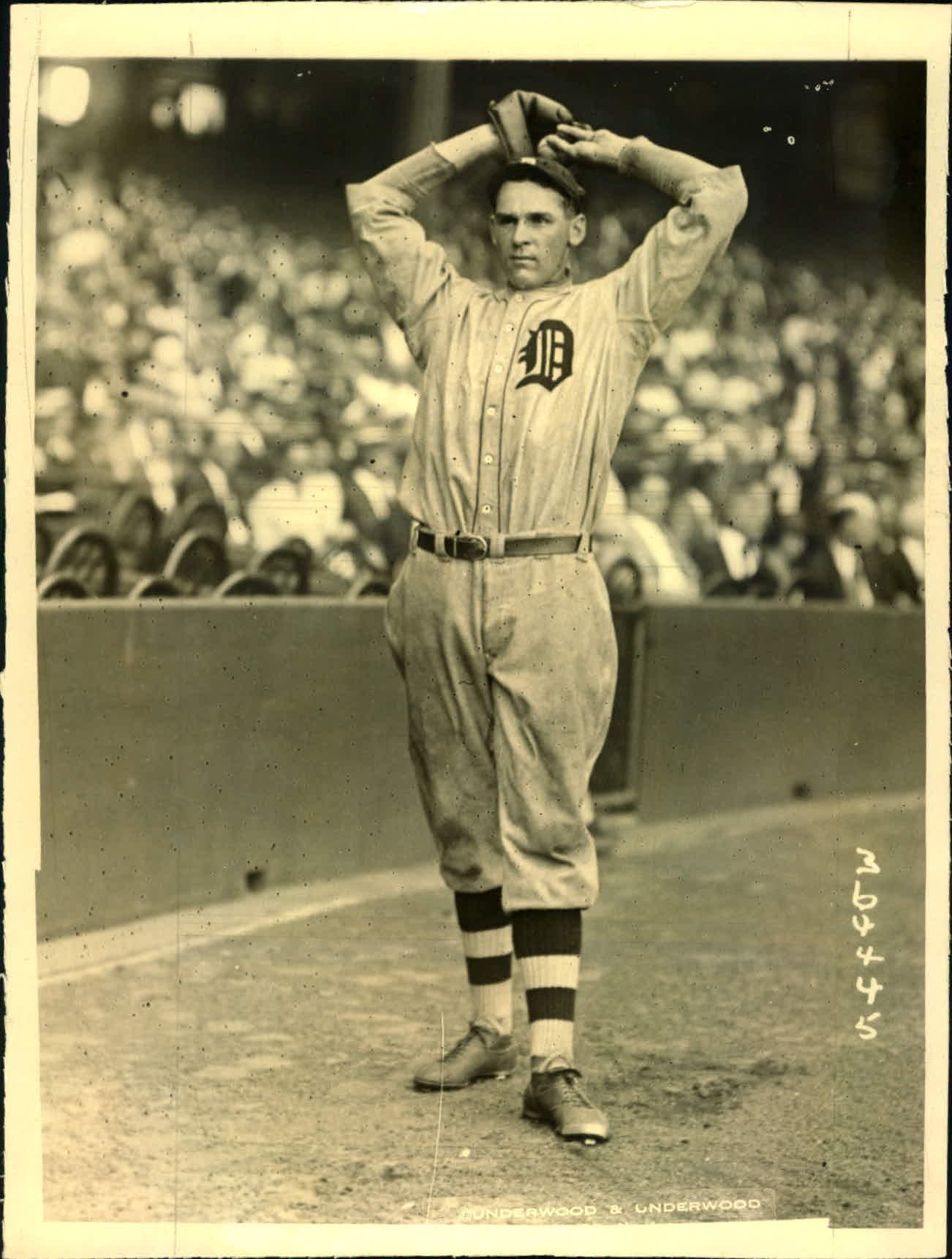 Edwin Lee Wells, an American League southpaw, pitched for the Detroit Tigers (1923-1927), New York Yankees (1929-1932), and St. Louis Browns (1933-1934). His major-league record consists of 68 victories versus 69 defeats, with a cumulative earned run average of 4.65.
A farm boy, Ed Wells was born Ashland, Ohio, on June 7, 1900, to Loyal and Elizabeth Wells. His family also included a brother and a sister.1
An alumnus of Bethany College, a Presbyterian school in Bethany, West Virginia, Wells was a chemistry major, and graduated in the class of 1924.2 While pitching for the Bethany College nine, he fashioned a stretch of 45 consecutive scoreless innings; additionally, Wells played football and basketball at Bethany. Because he had signed a professional contract with the Detroit Tigers while still a student, Ed Wells was ineligible to participate in collegiate sports during his senior year at Bethany.3
In 1922 the Tigers dispatched Wells to the Ludington, Michigan, team of the Central League, for whom he achieved a 13-10 mark and a 1.93 ERA. After a brief cup of coffee with the Tigers in 1923, he was sent to Birmingham of the Southern Association where he went 8-7 with a fine 2.40 ERA.4
With Detroit in 1924 and 1925, the lanky lefty posted records of 6-8 and 6-9, with ERAs of 4.06 and 6.18, respectively.
Although his 1926 record of 12-10 was a decided improvement over his previous two Detroit campaigns, the hallmark of Ed Wells's career was twirling four shutouts, all in the month of June, to lead the American League in whitewashes. Those shutouts contributed to his 4.15 ERA, not bad for the 1920s. Further, he used his fast balls and changeups to fashion a streak of 31 consecutive scoreless innings, a streak that was ended by the Philadelphia Athletics on June 17 as Lefty Grove defeated Wells in a 12-9 contest.
His shutout streak began on June 2, in the second game of a twin bill, as Wells stopped the Indians on five hits. He issued six walks, allowed five hits, and hit Luke Sewell with a pitched ball. Yet, even though the Tribe had a dozen baserunners, they failed to score. Wells aided his cause by batting 2-for-5, including a triple, in his 7-0 victory over mound opponent George Uhle. Next, Wells posted a 1-0 victory over Walter Johnson in Detroit on June 7, his twenty-sixth birthday. The Senators mustered five hits and a pair of walks, but did not score. The only tally Wells would need was scored in the first inning, as Charlie Gehringer doubled and was driven home by a Harry Heilmann single. On June 12, again at Detroit's Navin Field, Wells whitewashed the Red Sox by a 5-0 margin, surrendering four hits and three walks, with four strikeouts. Heinie Manush and Heilmann issued home runs in support of Wells. He threw his fourth shutout that month, again in Detroit, in the first game of a doubleheader versus Cleveland, on June 26. Wells gave up five hits in his 5-0 victory, and neither walked nor fanned a single batter, although he did hit Joe Sewell with a pitched ball, so he plunked both Sewell brothers during his month of shutouts. Clyde Manion caught the first three of Wells's shutouts, while Larry Woodall served as catcher for the fourth.
Over a half century later, Wells stated the reason he never again pitched as effectively as he did in June 1926, was that his favorite catcher, Johnny Bassler, was at home that month in California recovering from a broken leg. Wells recalled that Bassler, a legendary Pacific Coast League catcher before and after his major-league career, would critique him in the clubhouse on every key pitch of the game right after that afternoon's contest had concluded. Wells considered Bassler the most knowledgeable person in baseball relative to the art of pitching. Had Bassler been catching him that June, Wells believed, the stocky backstop would have identified what he was doing correctly with his delivery, velocity, and control – and ensured he returned to this norm when his pitching flagged.5
After appearing in eight games with the Tigers in 1927 with an 0-1 record, Wells began his second tenure of twirling for the Birmingham Barons, where he compiled a 13-1 record and a 2.13 ERA. In 1928 he went 25-7 for the Barons. On September 26, 1928, in the Dixie World Series, Wells tossed a 2-0 shutout in a pitching duel versus Bill Hallahan of the Texas League's Houston Buffaloes.
In 1929 Wells returned to the major leagues with the New York Yankees and took a bride, Miss Annie Mae Carnell, of Birmingham, Alabama, in October.6 Their marriage lasted 56 years, with Mrs. Wells surviving her husband by over a decade.
During his Tiger tenure, Wells had been effective against Babe Ruth by feeding him "slow balls." Wells recalled that Ruth, who never homered off him, jokingly told him he'd get him to New York as his teammate. In spring training of 1929, the Bambino chortled to the newly-arrived pitcher, "See, I told you I'd get you with the Yankees!"7
Wells pitched what likely were the two finest performances of his career in 1929. In New York on June 3, in a 1-0 victory over Ted Lyons, the White Sox generated only two hits against him in a snappy 80-minute game. In the first game of an August 31 twin bill, Wells surrendered only one hit, an infield single to Joe Cronin, in a 4-0 shutout of the Senators in Yankee Stadium. Wells fanned seven visiting Washingtonians and allowed only one other baserunner, walking Buddy Myer in the seventh inning. In between those two exceptional games Wells registered his other 1929 shutout, defeating the Browns on July 26, 9-0, in Yankee Stadium.
Wells went 13-9 with New York in 1929, with a 4.33 ERA. This was the sole major-league season in which he pitched more innings that hits surrendered (193⅓ over 179 hits).
In 1930 Wells posted a 12-3 record, with a winning percentage of .800. Then in 1931 he went 9-5. He pitched exclusively out of the Bronx bullpen in 1932, recording a 3-3 mark, and being credited with a pair of saves.
Despite pitching four consecutive seasons in New York during the Ruth-Gehrig era, his only pennant was with the 1932 Yankees. Although he did not participate in that World Series, Wells was in uniform in Wrigley Field, and decades later stated with earnest conviction that Ruth "called his shot" in one of the most renowned home runs in baseball history. After the game, Wells said that the Babe cried in the locker room and said he had never hit a home run that had meant so much to him.8
During all four of his seasons with the Yankees, Ed Wells and fellow southpaw Herb Pennock were roommates.9 Sportswriter Clifford Bloodgood said of Wells, "He goes about his chores with the studied deliberation of a Herb Pennock."10
The final chapter of Wells's major-league life was his stint with 1933 and 1934 Saint Louis Browns, who had acquired him on waivers. Wells later spoke very highly of Joe McCarthy, saying that the New York manager had informed other American League teams the southpaw was available to be claimed for the waiver price, even though the Yankees had been offered more money to sell him to a Pacific Coast League team.11 In 1933, for a last-place team, Wells pitched a career-high 203⅔ innings, and threw 10 complete games, on the way to a 6-14 record and a 4.20 ERA.
Later in his life, Wells related that his greatest moment with the Browns was in the spring of 1933, in his first outing against the Yankees following his relocation to Missouri. In the first game of a Sportsman's Park doubleheader on May 14, before 15,000 fans, Wells defeated Red Ruffing, 5-1. In his complete-game victory, he held Lou Gehrig hitless and allowed the Babe only a walk and a single. Wells fondly remembered that McCarthy strolled into the Browns' dugout immediately after the match, shook his hand in the presence of his new colleagues, and told him, "Ed, you pitched a fine game against your old teammates."12
A side benefit of playing with the Browns, in addition to extending his major-league career by two more seasons, was that Ed and Annie Mae Wells met another newly arrived couple in St. Louis, Sam West and his wife Grace, as the Browns had acquired the center fielder's contract from the Senators in a multiplayer trade after the 1932 season. The Wellses and the Wests lived at the Coronado Hotel on Lindell Boulevard in Saint Louis, and the two couples developed a warm and close friendship.
Following his major-league baseball career, Ed Wells went out west to the Pacific Coast League where he played for Hollywood in 1935, logging a 9-20 record and a 4.33 ERA. Then he split the 1936 season with the San Diego Padres and Seattle Indians, with a combined record of 9-13, and a 4.32 ERA. His professional pitching career ended in 1937, as he appeared in eight games with New Orleans of the Southern Association, with no victories and one defeat.13
In "civilian life" following his career in professional baseball, Ed and Annie Mae settled down in Montgomery, Alabama, in their marriage of over a half century, ended only by the death of Mr. Wells on May 1, 1986. For many years Wells was the Sinclair Oil distributor for Montgomery and surrounding region; the couple owned a very nice home almost adjacent to the Montgomery Country Club golf course. A member of the local Lions Club, Wells was also an elder in the First Presbyterian Church in downtown Montgomery and sang in its choir into his eighties. He maintained a high profile in the Montgomery sports community, and was widely known not only for his baseball career, but through his business, church, and Lions Club activities.
When meeting visitors later in his life, Wells was a gracious octogenarian gentleman. On occasion, he wore an old New York Yankees sweater the like of which may be seen in photographs from his 1929-1932 tenure with the team. The commodious den within the Wells home featured many framed photos of his baseball teammates and contemporaries; including a striking studio photograph of the 1926 Detroit Tigers, taken indoors with the players all attired in suits and ties. Another interesting item was a baseball bat which had been fashioned as the vertical arm of an end table reading lamp, mounted atop a Bill Dickey catcher's mitt as the base of the incandescent end table fixture. Wells, talking evocatively of his baseball past, would nonchalantly refer to Babe Ruth as "Jidge," Ruth's nickname among his Yankee teammates.14
A final word towards the esteem in which Edwin Lee Wells was held in his post-baseball life. On Sunday morning, September 27, 1987, the new hymnals of First Presbyterian Church of Montgomery, Alabama, were "dedicated to the glory of God and given in loving memory of Ruling Elder, Edwin L. "Slugger" Wells, 1900—1986, who faithfully served his Lord in the First Presbyterian Church of Montgomery, Alabama for 48 years."15
Acknowledgements
Having lived in Montgomery, Alabama, for most of the decade of the 1980s, the author enjoyed several visits with Mr. and Mrs. Wells in their home in the final years of Mr. Wells's life. The Wellses were gracious hosts; much of this biographical sketch includes recollections of Mr. Wells. These visits, and the conversations the author had with Mr. Wells, ranged from December 1979 to March 1986.
This biography was reviewed by Phil Williams and fact-checked by Kevin Larkin.
Notes
1 Baseball Hall of Fame file on Edwin Lee Wells, Cooperstown, New York.
2 Rick Young, "Bethany College Honors ex-Yankee 'Slugger' Wells," Montgomery Advertiser, October 12, 1978: 32.
3 F. C. Lane, "A Studious Young Man Who Mixes Brains with His Pitches," Baseball Magazine, May 1927: 542.
4 These statistics per Baseball-Reference.com. Wells possessed a personal business card that listed an 8-9 record with a 2.39 ERA for this season.
5 Author's conversation with Ed Wells.
6 Baseball Hall of Fame file on Edwin Lee Wells, Cooperstown, New York.
7 Author's conversation with Ed Wells.
8 Author's conversation with Ed Wells.
9 Author's conversation with Ed Wells.
10 Clifford Bloodgood, "The Picturesque Ed Wells," Baseball Magazine, June 1931: 305.
11 Author's conversation with Ed Wells.
12 Author's conversation with Ed Wells.
13 Wells's personal business card. Note regional newspapers also support that he pitched with New Orleans that season.
14 Author's remembrances of visits to the Wellses home.
15 First Presbyterian Church, Montgomery, Alabama: Church bulletin, September 27, 1987.
Born
June 7, 1900 at Ashland, OH (USA)
Died
May 1, 1986 at Montgomery, AL (USA)
If you can help us improve this player's biography, contact us.
https://sabr.org/sites/default/files/WellsEd.jpeg
600
800
admin
/wp-content/uploads/2020/02/sabr_logo.png
admin
2019-03-20 09:46:34
2020-04-09 14:37:35
Ed Wells