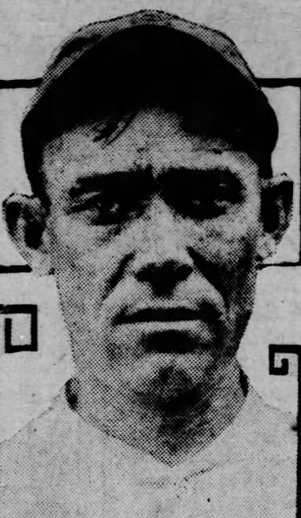 ---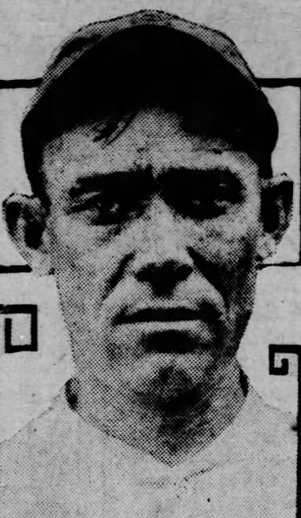 Eddie Onslow could be described as a major-league baseball player, appearing in four different American League seasons; but he was really an International League star of the first magnitude.
A brief sketch of Onslow's major-league career shows a 15-year span (1912-1927), but a closer look reveals a log of a mere 224 plate appearances over that time. Onslow never began a season on a major-league roster. Three of his four call-ups came late in the year when the big-leaguers were wearing down with injuries, and needed a fill-in. The exception came in 1918 when Onslow was called up to play in two April games for the Cleveland Indians — and then it was because the Indians' roster had been decimated by the flu.
But a review of International League history shows a much different story. Playing and managing, Onslow spent a record 17 seasons in the league with six franchises, setting playing records for games (2,109), hits (2,445), and triples (128).1 Onslow last batted in an International League game in 1928; his records have stood for 90 years, and are unlikely to be broken. He was inducted into the league's Hall of Fame in 1951.2 A 134-year-old organization such as the International League must have its legends, and Eddie Onslow surely is one of them.
Edward Joseph Onslow was born in Meadville, Pennsylvania, on February 17, 1893, one of four children of James and Ellen Onslow. Unfortunately, Ellen, an Irish immigrant, died from cancer at the age of 36, when Eddie was only 10. James, who supported the family as a manager of the Home Oil Company, was athletic, participating in long-distance races, and an avid baseball fan. The Onslows moved to Scio, Ohio, when the Brown Company hired James to cover the eastern side of the Buckeye state.
Eddie's brother, Jack Onslow, four years older, was a catcher who also briefly played in the major leagues, but who gained more distinction as a manager and handler of pitchers. Eddie was a first baseman, lankier than his sibling, a good baserunner and a much better hitter. When Jack was a student at local Scio College and a member of the baseball team, Eddie, though not a student, was the team's right fielder.
The six-foot, 170-pound lefty started his professional baseball career at Lansing, Michigan, in 1911. He was named as a second-team first baseman on the Southern Michigan All-Star team, hitting .311 for the year. His contract was sold to St. Louis (NL) in September, but the club opted to keep him at Lansing.
Onslow was batting a robust .385 the following season when opportunity came calling. He was promoted to the major leagues as a backup first baseman when the Detroit Tigers purchased his contract from St. Louis on August 7. Brother Jack had also joined the Tigers that year as a catcher. Del Gainer, the Tigers' regular first-sacker, had suffered a badly sprained ankle in May, causing the Tigers to rely on George Moriarty in his place; now Onslow would back up Moriarty, who also was hurt. He got steady playing time over his first two weeks with the Tigers, and then, on August 22, had what was to become the best game of his limited major-league career. Onslow had four hits in five plate appearances with a home run, a first-inning grand slam off of the Washington Senators' Tom Hughes, leading to a 9-6 win. Onslow was 19 years, six months old, one of eight teenagers ever to hit a grand slam.3 It was his only major-league home run.
On March 10 of 1913, the 20-year-old Onslow married Hester Pauline McCue in Steubenville, Ohio. Their daughter, Nancy, was born in 1920. In 1932, they took in a boy, William, whose mother had died, and whom they later adopted.
With the Tigers confident of Gainer's recovery for 1913, both the Onslows' contracts were sold to the Providence Grays of the International League in early December, the Tigers retaining an option to recall Eddie. They called Eddie up again in September of 1913 and gave him a fair look. He played 18 games at first base, and hit .246, not enough, apparently, to impress the Tiger management.
But at Providence, Onslow had become the regular first baseman, hitting .266 for a team on the rise. Over the next four years, the Providence Grays either won the league's title or barely missed, with Onslow becoming a fixture at first base, hitting well, especially in 1914 (.322) and 1916 (.312).
In August 1915 Onslow signed on with the Federal League for the 1916 season4 — but when the Feds folded, he stayed with the Grays. By early 1918, the effects of World War I put the Providence franchise on shaky ground with lost revenue and players conscripted to the military. The Grays decided to fold — but not before selling Onslow's contract to Little Rock of the Southern League on February 11, 1918. Onslow refused to report, citing a distaste for a hot climate, and declaring himself a free agent. Little Rock acceded to his wishes, and re-sold the contract to the Maple Leafs in chillier Toronto5 on May 6. The Leafs were an International League team that had survived the war-shortened season.6 In the meantime, Onslow made his brief stop in Cleveland, offering flu relief, and picking up six more major-league at-bats.
Onslow recalled his duties with the Indians. "In a game at Detroit the wind was blowing a gale. There was sickness on the club and Manager Lee Fohl said he was going to put me in left field. I said I couldn't play left field, but he said I was the only player he had left."7
At Toronto, Onslow immediately became the Maple Leafs' starting first baseman, helping to secure a championship in an International League season truncated by the war. In the autumn of the year, Onslow procured off-season work with Allegheny Steel in Pittsburgh, where he joined brother Jack on the company's baseball team. The brothers had made a custom of these work-and-play Steel League opportunities since the fall of 1916.8 Extremely popular with both teammates and fans in Toronto, Onslow was named team captain when he returned for the 1919 season.
Onslow played for seven seasons with the Maple Leafs, hitting above .300 every year and placing among league batting leaders.9 And Onslow could burn up the bases. Besides hitting a fair share of triples every year, he was good for 25-35 stolen bases, topping the 30-mark five times during his first 10 seasons in the IL. A young player in his 20s with such consistent offensive skills should have caught the attention of major-league teams — but there were impediments.
After Toronto won the pennant in 1918, the International League was dominated by the Baltimore Orioles for the next seven years. The Orioles were owned and managed by Jack Dunn, a very competitive former player and businessman. Dunn had sold his prize asset, Babe Ruth, to the Boston Red Sox in 1914, because of financial considerations — and had resolved never to lose such a talented player again. He convinced the other IL owners to dissolve the draft agreement with the major leagues, and to hold onto the league's star players.
So Onslow's value in a free market may have been too dear for the major-league buyers, and, since AA-level10 minor-league players often were better-paid, Onslow was probably happy to stay where he was. Toronto finished 92-57 in 1919, eight games off Baltimore's blistering pace. The Maple Leafs had a great 1920 season, winning 108 games, but the remarkable Orioles won 110. The Orioles had an emerging star pitcher, Lefty Grove, who went 12-2. Onslow had one of his best years, hitting .339, stealing 31 bases — just not enough to overcome the Orioles. The Onslow's child, Nancy, was born that year. Hester brought her to Toronto at the age of five weeks, and — when Toronto fans presented Onslow with a new baby carriage — he wheeled Nancy around the bases before the game.11
When the Maple Leafs' winning ways faltered in 1921, the 29-year-old Onslow was named player-manager for the following season by the Toronto owner, James J. McCaffery. McCaffery had been naming a new manager every year since 1914, when Joe Kelley had ended a five-year run. But all of his choices — Bill Clymer, Lena Blackburne, Nap Lajoie, Dan Howley, George Gibson, and Hugh Duffy — had impressive baseball backgrounds and major-league management history. So, for Onslow, this promotion was a strong vote of confidence in his leadership skills.
It didn't work out. Onslow batted .325, driving in 105 runs, and leading IL first basemen with a .994 fielding percentage, but his team had a 76-88 record, 37½ games behind Baltimore. It was noted that Onslow's players had many injuries early in the year, making it difficult to compete.12 Onslow maintained that his players did not keep themselves in shape, and he stepped down rather than put up with the situation.13 Onslow continued to be the first baseman,14 but McCaffery re-hired Dan Howley for 1923 and beyond.
Under Howley, the Maple Leafs got back to a winning ledger, 81-79, and Onslow had a good season on paper, hitting .347. But Onslow could not have enjoyed the situation, and his frequent arguments and ejections in 1923 showed his underlying dissatisfaction. By the end of the 1924 season, Onslow and the Leafs were ready to part company, with other teams in the IL hoping to make a deal. The Orioles won the pennant, as usual, and went on to play St. Paul of the American Association in the 1923 Junior World Series. When first baseman Clayton Sheedy sprained his ankle in the 13-inning fourth game of the series, the Orioles were able to finagle the signing of Onslow for the remaining games.15 The Saints protested Onslow's presence — and lost the argument — but went on to capture the series, five games to four.
Over the winter, Onslow's contract was sold to the Newark Bears of the IL. The Bears had gone 80-82 under Fred Brainard in 1924, but had discipline issues. Onslow, as player-manager, was optimistic, however: "What I seek here is co-operation. We are rid of the disrupting influences of last year's team. We have the men, and we can make a fight for the flag if you fellows will do the right thing," he told the team.16 But once the season started, Onslow soon walked out on the job due to the poor quality of his players, and overall lack of support.17 A 19-3 loss to Baltimore was the nail in the coffin.18 At the same time, the franchise announced that it had lost its lease with the city of Newark, and was moving to Providence. Frank "Shag" Shaughnessy would be the new manager, inheriting a last-place team. The 1925 Bears (now Grays) would go on to a 63-100 season, maintaining their position at the bottom of the standings.
Onslow did not remain unattached for long. He was signed by the New York Yankees and assigned to the Rochester Tribe, another International League team. Onslow became team captain of the 1925 Tribe, replacing Fred Merkle who moved on to the Yankees as player-coach. In three seasons with Rochester, he continued to hit for averages above .300, but in 1926, he had his first IL season with less than 100 games played; injuries and age were taking a toll.
Onslow had a good 1927 season with the Tribe, who then sold his contract to the Washington Senators in August as a backup for regular first baseman, Joe Judge.19 Jack Onslow was a coach for the Senators that year, and may have put in a good word for his sibling. Eddie got to the plate 19 times for a .222 average. He finished the season with the Senators, but remained the property of Rochester.
On December 22, 1927, Rochester sold Onslow's contract to Birmingham of the Southern Association. But Birmingham apparently had about as much luck as Little Rock in persuading Onslow to move to the South, for his first action in 1928 was with the Indianapolis Indians, for whom he performed a few pinch-hitting appearances. The Baltimore Orioles then acquired him from Indianapolis in April. Dunn, still running the show in Baltimore, had signed the 35-year-old Onslow as a utility player, but was happily surprised. Onslow took over first base, fielding deftly, played in 155 Oriole games, and reached his career-high season total of hits with 197.
But Onslow showed his age again in 1929, as his bat went cold and his marvelous fielding began to wane. When the Orioles acquired Johnny Neun in June, Onslow was sold to IL rival Newark once again. In his twelfth game there, he was injured in a fierce base path collision with Reading's Billy Jurges.20 He missed much of the remaining season, effectively ending his career21 as a player. In 221 at-bats for the year, he hit .308, his 13th IL season above .300.
Maybe you can't go home again, but Onslow went back to Providence as manager for the 1930 season — and should have heeded the maxim. The Grays, now a member of the Eastern League and the property of the Boston Braves, folded again in late July. Judge Emil Fuchs, the Braves' owner, was losing money in the Providence and wanted out; he offered the team to Providence business leaders — but they declined.
Onslow moved on to Harrisburg of the New York-Pennsylvania League, where he managed the Senators for three years. He won his first pennant as a manager in 1931, the Senators finishing with an 83-56 record, three games ahead of Wilkes-Barre. The Senators slipped a bit in 1932, coming in second to Wilkes-Barre, 4½ games behind. Onslow's efforts were applauded by the local press. He had soldiered on despite being in a serious auto accident in midseason, and numerous injuries that had impacted players.22 But when the injuries persisted into 1933, the Senators fell to seventh place, and Onslow was fired — replaced by former Boston Braves outfielder Leslie Mann.
Onslow had trouble finding work in 1934. He signed on to manage Monessen of the Pennsylvania State League (Class D), but resigned with a 3-4 record; he was replaced by player-manager Bill Ward. Onslow went home to Scio, became a deputy sheriff for Harrison County, and scouted for the Boston Bees. He would not have another managing opportunity for three years, until February 1937, when the Bees offered Onslow the managerial position with their team in Columbia (South Carolina), the Senators of the South Atlantic (Sally) League.
The 1937 Columbia Senators were a young and inexperienced group, destined to finish in last place in the six-team Sally League with a 52-84 record. Onslow did his best to spark his young players. Late in the season, the Senators were playing a well-fought game against league-leading Columbus (Georgia), tied at 3-3. Onslow and several players were ejected over a heated argument, so Onslow directed the rest of the game from beyond the left-field fence, standing atop the team bus and yelling his instructions; the Senators lost 34-3.23 After the season, the franchise was sold to the Cincinnati Reds, and Onslow's South Carolina adventure was brought to an end.
But Boston still had a place for Onslow. In March of the following year, he was named to manage the Hartford Bees of the Eastern League; the team was moving in from Scranton, where it had been based the year before. The 1938 season was a rollercoaster. Mired in last place in June, the Bees won 45 of 52 games, winning a doubleheader against Trenton at the end of the season to make the league's playoffs. But Onslow collapsed in the dugout August 20, missing two weeks from a "general breakdown."24
Reports from Scio after the season described Onslow as "gravely ill."25 Bees owner Bob Quinn reacted by replacing Onslow with Fresco Thompson, citing a concern that a manager's responsibility was too much for the 45-year-old Onslow; instead, he would now be a scout.26 Onslow appeared fit and happy in his new job. When Thompson was moved on to manage Williamsport for 1940, the Bees again offered the Hartford position to Onslow; he declined. But Boston wouldn't take "no" for an answer. Convinced that Onslow was well again, the Bees appointed him as manager of the Bradford (Pennsylvania) Baby Bees, their team in the Class D PONY League.
Boston may have given Onslow a position, but not much of a team, especially on the field.27 The Baby Bees did have 19-year old Warren Spahn, who went 5-4 that year. Onslow had led the team to a 30-31 record, when, on Sunday, July 21, 1940, in the first game of a doubleheader at Jamestown, he collapsed in the dugout. He remained for the second game, and was well enough to almost be chased by the umpire, but then was hospitalized. The doctors sent him home to Scio for ten days of rest, but both Onslow and the Bees had had enough. Onslow declared his retirement from baseball after 30 years. A businessman named Lou Reese had bought an old Scio pottery factory in 1933, and by 1940, the business had become the lifeblood of the town — so that's where Onslow went to work, making molds for the pottery's china.28
Onslow, and everyone else in Scio — it seems — loved Scio Pottery. Talking about his employment, Onslow said: "He (Reese) started me at forty cents an hour and I didn't earn two cents. It was all Greek to me for a long while. When I finally got the hang of it, I decided that if I ever got fired here, I'd jump in the river."29
When the factory burned to the ground in 1947, the residents donated their time and money to help restore the business. Reese had a gigantic Christmas party every year for the employees. In 1933 — the depth of the Great Depression — every employee got a 39-cent chocolate bar as a Christmas bonus. By 1951, Reese reserved six train cars to take Onslow and the other employees to Pittsburgh for a Christmas gala at the William Penn Hotel; the party cost $35,000. Onslow acted as master of ceremonies.30
When Onslow's brother Jack surged through the Chicago White Sox organization — rising from scout to Sox manager in two years — Eddie was once again in baseball, scouting for the Sox in Pennsylvania and West Virginia. But Jack Onslow rarely lasted in one place for very long; so when the White Sox fired him early in the 1950 season, Eddie had no point in remaining. He hooked up with the Philadelphia Athletics instead, scouting the state of Ohio for another three seasons.
In retirement, Onslow remained an ardent fan of baseball, watching games on television. He became president of the local Little League program, and attended many games.31 He corresponded with many of his friends from his playing days, arranging hunting and fishing trips with them. Although his time in the major leagues was sparse, his close friends included baseball greats Ty Cobb, Mel Ott, Cy Young, and Bill McKechnie — to name a few. He collected baseball memorabilia given to him by his friends, and kept them on display in his home. Cobb gave Onslow his bat at the end of the 1929 season, the bat which closed out Cobb's record for most hits in a lifetime.32 Onslow's daughter, Nancy Purviance, said of the two men: "Cobb didn't particularly like ballplayers, but he had respect for Ed."33
Onslow was a gifted storyteller with a million baseball tales; he always was ready with a humorous anecdote to charm any audience. Upon his enshrinement into the Ohio Baseball Hall of Fame in 1978, he told a tale of playing the outfield in a 13-inning game:
"I was the goat for my team. The other team had a runner on first, the batter hit a single, but the ball went through my legs in center field,34 and the runner came around to score the winning run. After the game, a little boy came to my manager, and said 'I want a ball.' My manager replied, 'If you want a ball, just go stand behind my center fielder, and you'll get plenty of 'em.'"35
Onslow was dead serious about the game he loved, but he could laugh about it.
Onslow and Hester continued to live in Scio throughout his retirement. She died in 1970, but Onslow lived another 11 years. He died on May 8, 1981, at age 88. He is buried along with Hester, his brother and other family members at the Grandview Cemetery in Scio.
Sources and Acknowledgements
In addition to the sources cited in the Notes, I also used the Baseball-Reference.com and Retrosheet.org for player, teams, box-score, and season pages, pitching and batting game logs, and other material pertinent to this biography. I obtained information from The Sporting News through PapereofRecord.com and from the NewspaperArchive.com websites. The International League Year-by-Year Statistics 1884-1953 by Marshall D. Wright, published by McFarland and Co. in 1997, provided hard-to-find statistics for Onslow and his peers. I am indebted to Penny Purviance of Columbus, Ohio, Onslow's granddaughter, who gave me her time and assistance on phone calls, e-mails, and copies of photos. Nancy Purviance, Onslow's 98-year-old daughter (who still watches a game every day during the season), Penny's mother, was invaluable with her memories. Also, I am indebted to the Harrison County (Ohio) Genealogical Society for providing information and news clippings from their archives.
This biography was reviewed by Phil Williams and fact-checked by Chris Rainey.
Notes

1 Bill O'Neal, The International League, A Baseball History 1884-1991 (Austin Texas: Eaken Press, 1992): 100. Baseball-reference.com has different figures.
2 Onslow became the 19th entrant into the IL hall, joined by Ripper Collins and Al Mamaux.
3 No teenager has hit a grand slam since 1964 when Tony Conigliaro of the Boston Red Sox did it. Bert Sugar, The Baseball Maniac's Almanac 2nd Edition (New York: Skyhorse Publishing, 2010: 41
4 Washington Times, August 27, 1915: 11.
5 The press in Little Rock did not appreciate Onslow's climate preferences, referring to him as the player "who likes to play ball in an overcoat." The Arkansas Gazette, May 6, 1918: 6.
6 Onslow was replacing first baseman/manager Nap Lajoie, who had batted .380 in 1917, and had moved on to be player/manager for Indianapolis of the American Association.
7 Eugene Murdock, Baseball Between the Wars: Memories of the Game by the Men Who Played It (Westport, Connecticut: Meckler Publishing, 1992): 96.
8 Both brothers played on the Vandergrift team which won the Steel League's Murdoch Cup in 1916. Pittsburgh Gazette Times, October 1, 1916.
9 In seven seasons with Toronto, Onslow had a .329 average.
10 AA was the top level of the minor leagues at the time.
11 Phone conversation with Nancy Purviance, Onslow's granddaughter November 2018.
12 Fred Turbyville, "Jinx Keeps Toronto Club From Upper Berth," Evening Sun, (Baltimore, Maryland), June 24, 1922: 8.
13 Baseball Between the Wars: 98.
14 Onslow maintained faith in himself as a leader and was promised his release should another managing opportunity emerge.
15 Toronto maintained control of Onslow's contract (Which was sold to Newark), so his presence on the Baltimore team was beyond the scope of normal player transactions.
16 The Sporting News, April 2, 1925: 2.
17 Onslow had expected to be paid more than his player's contract due to his managing responsibilities — but was not. Toronto offered to take back his contract if he was not paid for both positions. Baltimore Sun, March 17, 1925: 26.
18 Baltimore Sun, April 5, 1925: 19.
19 The Sporting News, September 1, 1927: 3.
20 Reading Times, July 1, 1929: 17.
21 Onslow made one appearance as a first baseman when managing the Harrisburg Senators in 1931.
22 Harrisburg Telegraph, September 9, 1932: 12.
23 (Hazelton, Pennsylvania) Plain Speaker, August 14, 1937: 16
24 Bert Keane, Hartford Courant, October 9, 1938: 42.
25 Since Onslow was in the pink of health throughout his life, and lived 44 more years, to age 88, this description was a bit exaggerated.
26 Ronald Melcher, Hartford Courant, February 7, 1939: 11.
27 Columnist Johnny Nelson Jr: "After all, what manager could eat and sleep when his club was averaging six or eight errors a game?" The Bradford Era, April 12, 1949: 13
28 The Harrison County (Ohio) prosecutor did not think Onslow's personality was suitable to law enforcement, so he and the pottery manager talked Onslow into a career change.
29 Lou Reese and His Scio Pottery: The Story of a Business with a Heart (New York: Greenberg Publishers, 1948): 97.
30Daily Times (New Philadelphia, Ohio), December 12, 1951: 18.
31 The Scio baseball field was name for Onslow and his brother in June 1994.
32 Nancy Purviance auctioned the bat through Hunt Auctions of Exton, Pennsylvania on July 10, 2012; the cost, including the action fee, was $253,000. Tyler Tysdale of Denver was the winning bidder. The Herald-Palladium (Saint Joseph, Michigan), July 11, 2012: C2.
33 Jeff Tesnow (newspaper not provided),"Pete Rose Balks at Scio Invitation to See Ty Cobb's Bat," August 29, 1985.
34 The incident most likely occurred at Providence in 1917, the one year in Onslow's career when he played the majority of his games in the outfield.
35 Jon Spencer, "Lopez, Walters, Onslow Attend HOF Ceremonies," Dover Times Reporter, July 17, 1978: 19.
Born
February 17, 1893 at Meadville, PA (USA)
Died
May 8, 1981 at Dennison, OH (USA)
If you can help us improve this player's biography, contact us.
https://sabr.org/sites/default/files/OnslowEddie.png
600
800
admin
/wp-content/uploads/2020/02/sabr_logo.png
admin
2019-01-17 17:46:53
2020-04-09 14:38:37
Eddie Onslow