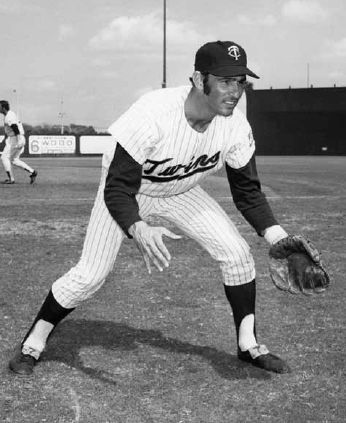 ---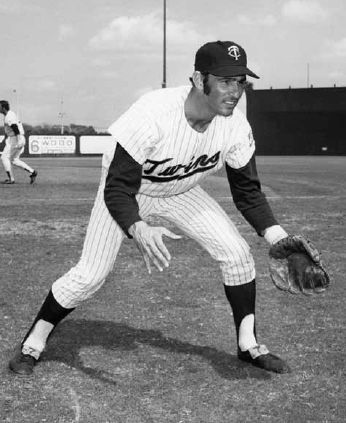 Frank Quilici must have been a milliner in a previous life because he wore so many hats with the Minnesota Twins. From player to coach to manager to broadcaster, Quilici came up from working-class roots in Chicago to become a baseball lifer with the Twins' logo tattooed on his heart. He was also the only person in Twins history to hold all those positions with the franchise.
Francis Ralph Quilici (QUILL-iss-ee) was born in Chicago on May 11, 1939, the son of Guido Quilici and the former Laura Domanowska, who met while working at a bakery. Quilici and his sister, Rose-Marie grew up in an area of southwest Chicago that by his own admission wasn't the ritziest neighborhood, but he loved it nonetheless.
"At the time it was tough, but we didn't realize it and I wouldn't change it if I could," he recalled.1
Growing up, Quilici was active in sports and developed his baseball skills by playing softball with his father in a league where gloves were not an option, even though the ball was "soft" in name only. He began playing baseball in Chicago area parks at the age of 12 with the encouragement of Pete Klein, a longtime instructor and supervisor in the Chicago parks system, and progressed through the ranks until he was old enough to go to college.
Quilici entered to Loras College in Dubuque, Iowa, but quit after one semester because of financial difficulties. He returned to Chicago and got a job in a brewery bottle shop, while continuing to play in the Chicago area. One day former Detroit Tiger, National League umpire, and scout George Moriarty approached him between games of a doubleheader and told Quilici he could get him onto the team at Western Michigan University as a walk-on. Good to his word, Moriarty got Quilici his chance.
Quilici was a good player on some good college teams at Western Michigan, where Jim Bouton was his roommate during his freshman year. Quilici was a second-team all-American in 1960, when he hit .400, and a first-team all-American as a senior in 1961, with a .369 average. His teams made it to the College World Series in 1959 and 1961, finishing fifth both times.
Even people playing in Charlie Brown's league attract attention from major-league teams when they hit .400. In Quilici's case that attention came from the New York Yankees in the form of a $28,000 signing bonus, but in an action rare and gutsy for the time, Quilici turned the offer down.
"I had always promised my dad and myself that I would finish college," Quilici said. "I told (Yankee scout) Pat Patterson, I know if I don't finish and get a taste of baseball, I'll never go back."2
The Yankees weren't interested after Quilici hit "only" .369 in his senior year, but the Minnesota Twins were. Kalamazoo, Michigan, home of Western Michigan University, was the territory of Twins scout Dick Wiencek, who signed Bert Blyleven and Graig Nettles among others. Wiencek signed Quilici in to a contract containing a $15,000 signing bonus in June 1961 after he graduated. Quilici immediately joined the Wytheville Twins of the Class D- Appalachian League. After 40 games there he moved up to the Erie Sailors of the Class D New York-Pennsylvania League for another 27 games.3 Between the two teams, Quilici hit a respectable .276 with eight home runs.
If someone asked Quilici, "Where were you in '62?" he would say "North Carolina," with the Wilson Tobs of the Class B Carolina League for 117 games, then for another 25 with the Charlotte Hornets of the Class A South Atlantic League.4 Quilici had a tougher time with the pitching in these circuits, batting a combined .210 with seven home runs (all with Wilson) and 51 RBIs.
He also changed positions that season. Quilici played shortstop prior to 1962, but with the emergence of Zoilo Versalles at short with the parent club, Quilici's only hope of reaching the majors was at second base, so he switched.
Quilici found himself playing in Wilson and Charlotte again in 1963, but in the alchemy that one finds in the minor leagues, the Carolina League was bumped up to Class A, while the South Atlantic League became a Double-A circuit. Quilici handled A-level pitching better that season, batting .279 with eight home runs in 110 games; but advancing to the next level again proved difficult, as he hit only .148 in 17 games in Double-A.
After another year with Charlotte in 1964, during which he batted .261 and drove in a career-high 60 runs, Quilici was promoted to the Denver Bears of the Triple-A Pacific Coast League. He had played 83 games and was hitting .277 when the call he had waited for his entire career finally came in July 1965.
The Twins held a slim lead over Baltimore, Cleveland, and the Chicago White Sox when the club chose to improve its depth by sending infielder Bernie Allen to Denver and calling up Quilici. Manager Sam Mele decided to go the baptism-by-fire route, immediately inserting Quilici into the ninth spot in the lineup during the late innings of the first game of a doubleheader against the California Angels (he fouled out to the first baseman in his first major-league at-bat) on July 18. Quilici started the second game, going 1-for-3 with a double and a run scored.
As everyone knows, there's nothing like a good first impression with the boss, and that's exactly what Quilici achieved with Mele. "I was impressed with the second-base play of Quilici," Mele said after the Twins swept a doubleheader from the Red Sox on July 21. "He looked very good. … He took away a couple of hits and did a fine job with the double play."5
Overall, Quilici appeared in 56 of the Twins' final 76 games at second base and shortstop, including 42 starts. He hit only .208 in 149 at-bats, but acquitted himself well in the field, committing only two errors in 218 chances.
The Twins won the 1965 American League pennant going away, compiling a 102-60 record. Their closest pursuer was the White Sox, who finished seven games back. Minnesota reached the World Series for the first time since the franchise moved from Washington in 1961; the Senators' last visit to the fall classic had come in 1933.
Quilici and the Twins caught a break in Game One, on October 6, when Dodgers pitcher Sandy Koufax famously refused to pitch that day because it was Yom Kippur, the most solemn date in the Jewish religion. Instead, the Twins faced Don Drysdale, and Quilici made history by getting two hits in one inning in the World Series. Drysdale was off that day, and the Twins unloaded on him for six runs in the bottom of the third inning. Quilici led the inning off with a double and scored on a three-run homer by Zoilo Versalles. Then he singled and drove in Don Mincher for the frame's sixth run. Dodgers manager Walter Alston lifted Drysdale after Quilici's second hit.6 Those two safeties represented half of Quilici's hit total for the Series; he had four hits in 20 at-bats, and played in every game as the Twins lost to the Dodgers in seven.
Twins president Calvin Griffith said in a March 24, 1966, article that if the season were to start that day, manager Mele would alternate Quilici and Bernie Allen at second base.7 Unfortunately for Quilici, the season did not start that day. He was demoted just before the season began and spent the entire year in the minors with Denver, where he hit .256 with eight home runs. He was called up when teams were allowed to expand their rosters, but he did not see any action.
Quilici managed to land a spot on the Twins' roster for 1967; playing time, on the other hand, was at a premium because Minnesota also brought up future Hall of Famer Rod Carew, who took over the second-base job and went on to win Rookie of the Year honors. Quilici played in only 23 games with the Twins (.105 batting average in 19 at-bats) and another 11 at Triple-A (.265 batting average in 34 at-bats).
Spending so much time on the bench gave Quilici time to think, and he realized that he needed to be a lot more like the famous stripper Gypsy Rose Lee to get more playing time — very versatile.8 He played all over the infield in 1968, including 48 games at second base, 40 at third, and six at shortstop; he even played one inning at first base. That versatility helped his career take off — he played in 97 games, a career high to that point. His hitting also improved, thanks to a tip from Twins coach Billy Martin during spring training that resulted in a career-best .245 batting average. Quilici also hit his first major-league home run, a solo shot off the Oakland A's Jim Nash in a 4-3 Twins victory on the last day of the season.
"(Martin) suggested I bring the bat closer to my body on the swing," said Quilici. I used to extend my arms, but I'm making better contact with Martin's method.9
Martin became the manager in 1969. The team had had finished 79-83 the previous season, but Martin took it to first place in the newly minted American League West with a 97-65 record. Quilici was again a utility infielder, coming in primarily as a defensive replacement at second and third. He had only 144 at-bats in 118 games, with only 30 starts, and hit an anemic .174 with two home runs. He did not appear in the American League Championship Series, which the Twins lost in three straight games to the Baltimore Orioles.
The Twins retained their American League West title in 1970. Quilici was again used primarily for his defensive prowess, with only 141 at-bats in 111 games. He hit .227 with two home runs. The Orioles duplicated their three-game sweep from the previous season, but Quilici played in all three games, going 0-for-2.
Quilici didn't know it at the time, but his days as a major-league player ended with the last out of the 1970 ALCS. What followed when spring training for 1971 rolled around was another example of how cruelly owners treated players before the Players Association gathered strength. The Twins had a problem because they saw Quilici as an extra infielder and didn't want to give him a roster spot at the expense of a promising younger player. At the same time, they didn't want to lose a positive clubhouse influence. Their solution was to make the 32-year-old a coach without portfolio, which meant that he had no responsibilities and was described by one team official as little more than a cheerleader. In fact, the only time he did any coaching was when first-base coach Vern Morgan became ill toward the end of the season.
"He's in charge of team spirit," the official said. "He's our morale coach."10
It's hard to be the "sis boom bah" guy when your boss keeps kicking you in the pom-poms. For example, the team didn't activate Quilici to replace injured infielders Danny Thompson and Rick Renick, and instead went through the season with a 24-man roster. As well, only four team coaches could take part in the pension plan at that time, and Quilici, was coach number five.11
Griffith's treatment of Quilici stemmed from Quilici's relationship with Billy Martin. Martin had been fired after the 1969 season for ignoring club policies. Apparently it was against club policy to deck a pitcher, which Martin did to Dave Boswell, or to punch a team vice president, which Martin did to Howard Fox. Martin became the Detroit Tigers' manager for the 1971 season and wanted Quilici to join him on his coaching staff.
"Back when Calvin was jacking around with my career, he didn't want me to go to Detroit with Billy," Quilici said. "He felt Billy was tampering, and I said no, he just wants me to go over there and do the same thing for him I did in '69. … I said, 'Calvin, he isn't tampering.'"12
All these shenanigans were going on at a time when Twins attendance was declining and the team was no longer competitive (the firing of Martin had a lot to do with the state of affairs because the fans were furious at the move). The decline continued into 1972, with Quilici signing a contract that called for a $5,000 pay cut and still no clear definition of his duties.
That all changed on July 5, 1972. That's the date on which Griffith fired manager Bill Rigney after the Twins lost eight games out of 11 and named Quilici as his replacement. The Twins were in third place at the time with a 36-34 record, 9½ games behind the division-leading Oakland A's. Rigney told reporters that he was fired because of poor ticket sales, while Griffith said that Rigney wasn't tough enough with the players. "Too many of them (the players) were nonchalant," said Griffith.13
The Twins actually fared a bit worse under Quilici (41-43). However, it would be unfair to blame him for the Twins' performance because they suffered injuries that would have devastated any club. Among the casualties were reigning batting champion Tony Oliva, who played only ten games all season, and pitching ace Jim Kaat, who was lost for the year with a broken wrist after a blazing 10-2 start.
Quilici's first full year at the helm, 1973, proved there was no fortune in being .500. The Twins finished 81-81, 13 games behind Oakland. Leading slugger Harmon Killebrew had an injury-riddled season and only hit five home runs in 69 games. The team was also dumping the salaries of players who were no longer effective. Jim Perry, 36, was traded to Detroit along with his $61,000 salary. Kaat and his $60,000 salary were placed on waivers on August 15 when his record was 11-12.
Griffith's holy parsimony wasn't restricted to players. In his interview with John Swol, Quilici recalled arguing with Griffith to get more money for pitching coach Al Worthington. Quilici lost both the argument and Worthington, who left after the 1973 season to become the baseball coach (and later athletic director) at Liberty Baptist College in Lynchburg, Virginia.
"Al had five kids, and he was only making $16,500 or $17,000," recalled Quilici. "I said, 'Cripes, Calvin, he's got to support his family.' He said, 'Just stay out of that end of it.' Al had to quit after the season."14
Worthington's worth wasn't worth as much as Quilici thought it was if one uses team ERA as a measurement. Under pitching coach Bob Rodgers, Twins pitchers had a collective 3.64 ERA in 1974, slightly lower than the 1973 team total of 3.77; both numbers ranked sixth in the 12-team American League. This middle-of-the-road pitching contributed to a mediocre 82-80 record in 1974, one game better than the previous year. That mark was actually pretty good when one considers Griffith's continual cost-cutting. Besides Rodgers, Quilici had only two other coaches, Vern Morgan and Ralph Rowe. Quilici and Rodgers had to throw batting practice. The Twins' record looks even better when other factors are thrown into the mix.
"Those who want Quilici rehired point out that he can't perform for the players, that he has had a virtual 22-man roster with the part-time status of Killebrew, Oliva, and Randy Hundley, and that he hasn't had the benefit of an established pitching rotation (only Joe Decker hasn't missed at least one turn) for various reasons," wrote Bob Fowler in The Sporting News.15
Despite the speculation to the contrary, Griffith brought Quilici back for 1975. The gum and spit Quilici used to hold the team together and drag it toward .500 the previous two seasons no longer worked as the Twins limped to a 76-83 record, 20½ games behind Oakland. The pitching staff was a perfect ten — tenth in team ERA (4.05), runs allowed (736), earned runs (640), home runs allowed (137), and bases on balls (617).
Not surprisingly, Quilici was fired at the end of the 1975 season and was replaced by former Montreal Expos manager Gene Mauch, but he stayed with the organization as a broadcaster in 1976. Quilici had three stints behind the mike, 1976-77, 1980-82, and again in 1987.
Upon leaving baseball, Quilici found success in business and was active in the community. He partnered with a fraternity brother in a company that took over finance offices for car companies, and sales ballooned from $1.5 million to $120 million. His community service has covered many areas — he was chairman of the Minneapolis Park Foundation; worked in helping people with substance-abuse problems; worked as a fundraiser for the Twins community fund; and, with former teammate Harmon Killebrew, raised money for physically disabled youngsters. He also had a kidney transplant in 2012 and was involved in raising awareness about organ donation.
On the personal front, Quilici married his second wife, Lila, in 2000. He had four children with his first wife, Penny.
Quilici's life came full circle in 2011. The man who grew up playing baseball in the Chicago parks system had a field named after him in north Minneapolis in August of that year. Frank Quilici Field is used by Major League Baseball's RBI (Reviving Baseball in Inner Cities) Program and, as of 2014, was the home park of the Grays of the Twin Cities Men's Baseball League.
Quilici died just three days after his 79th birthday on May 14, 2018.
Sources
Minneapolis Star-Tribune
Pittsburgh Press
Traverse City (Michigan) Record-Eagle
Winona (Minnesota) Daily News
baseballbytheletters.blogspot.ca
coastalplain.com
Espn.go.com
milb.com
Twinstrivia.com
Wilsontobs.com
Notes
1 "Frank Makes 3 Points In His Talks to Kids," The Sporting News April 6, 1968.
2 Ibid.
3 At Class D, the Appalachian League was below the Class D New York-Pennsylvania League
4 Tobs is short for Tobacconists. According to the team's website, the Tobacconists first played in the Eastern Carolina League from 1908 to 1910. The 2014 incarnation played in the Coastal Plain League, a summer league for collegiate players.
5 "Fenway Park? It Makes Those Minnesotans Mean," Winona Daily News, July 22, 1965.
6 Jeff Merron wrote in ESPN.com that Drysdale said to Alston, "I bet right now you wish I was Jewish, too." That quote appears in other articles as well.
7 This Associated Press article, entitled, "Grant Has First Outing Today," appeared in the Daily Journal (Fergus Falls, Minnesota), March 24, 1966.
8 The signature number of the Broadway musical Gypsy, based on the life of the famous stripper, was "Let Me Entertain You." In one of the lines from the song, Gypsy sings, "I'm very versatile."
9 Arno Goethel, "Quilici Is Swinging Quite a Bat; Twins Are Glad They Kept Him," The Sporting News, April 6, 1968.
10 Bob Fowler, "Quilici in Distressing Spot: Twins' Man Without a Job," The Sporting News, February 26, 1972.
11 The other coaches on the 1971 Twins were Morgan, Frank Crosetti, Marv Grissom, and Buck Rodgers..
12 Telephone interview conducted with Quilici by John Swol in May 2009 for twinstrivia.com
13 James Wilson, "Quilici, Twins' New Boss, Made Believer Out of Griffith," Winona Daily News, July 7, 1972.
14 John Swol telephone interview with Quilici, op. cit.
15 Bob Fowler, "Twin Fans Divided Into Two Camps Over Quilici," The Sporting News, September 14, 1974.
Born
May 11, 1939 at Chicago, IL (USA)
Died
May 14, 2018 at Burnsville, MN (US)
If you can help us improve this player's biography, contact us.
http://sabr.org/sites/default/files/FrankQuilici.JPG
600
800
admin
/wp-content/uploads/2020/02/sabr_logo.png
admin
2012-01-04 20:38:52
2021-08-28 15:16:18
Frank Quilici