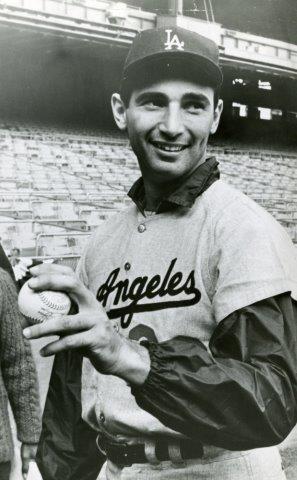 October 6, 1965: Twins take Game One of World Series in Koufax's absence
---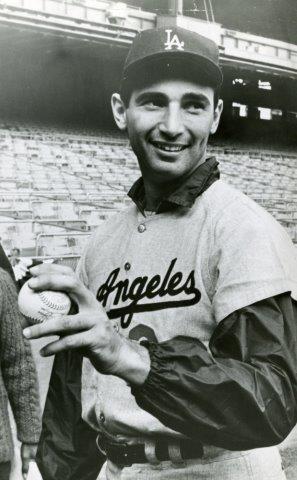 Game One of the 1965 World Series between the Los Angeles Dodgers and the Minnesota Twins was as noteworthy for who didn't play as it was for who did.
New York Yankee pinstripes were nowhere to be found in the fall classic for the first time in six years. The Bombers finished sixth in 1965 with a 77-85 record, the first time since 1925 that they had finished below .500. This season marked the end of a dynasty that had accounted for 29 American League pennants and 20 World Series titles since 1921.
Also missing from Game One was Dodgers ace Sandy Koufax, who led the National League with a 26-8 record and a 2.04 earned-run average. Game One fell on October 6, the same date as Yom Kippur, the Day of Atonement in the Jewish calendar. Jewish law forbids anyone working on that day, and Koufax, as a Jewish player, refused to pitch.
"It was a reflexive decision to do what was right in deference to his own family, in deference to his own tradition and in deference to recognition that, as a public figure, setting an example mattered," said Jane Leavy, author of a biography on Koufax.1
Fortunately for the Dodgers, pitching was the team's strength; they led the National League in team ERA (2.81), complete games (58), and shutouts (17). Therefore Dodgers manager Walter Alston had no qualms about starting the team's second best pitcher, Don Drysdale, in the first game. Drysdale's 23-12 record and 2.77 ERA would have made him a staff ace on any team that did not have a Koufax in the rotation. He was also in a groove, having pitched complete-game shutouts in his last two starts of the season.
The Twins countered with their best pitcher, Jim "Mudcat" Grant, who led the American League in wins with 21 (the only 20-win season of his career) and shutouts, with six.
Naturally, with this being the first game of the Series and a battle looming between two 20-game winners, everyone expected a pitching duel; but in the grand tradition of great expectations gone awry everywhere, this game had 20 hits, a bat-around inning, a rare hitting feat from an unlikely source, a heroic stroke from Zorro, and, possibly, one manager wishing his pitcher would change religions.
Anyone who has watched NFL films of Minnesota Vikings playoff games in the 1970s may be excused in thinking that the Dodgers and Twins played in a blizzard. Such was not the case in Game One, as the temperature reached 68 degrees that afternoon (yes, afternoon). The pitchers copycatted each other in the first two innings; both retired the side in order in the first, while striking out the leadoff hitter (Grant struck out Dodgers shortstop Maury Wills while Drysdale returned the favor with Twins shortstop Zoilo Versalles). In the second, both pitchers gave up solo home runs. Dodgers right fielder Ron Fairly smacked one to deep right field off Grant, while Twins first baseman Don Mincher tied the game in the bottom of the inning.
Grant retired the side in order in the top of the third and then the Twins reached down inside themselves for their inner disc jockey because the hits just kept on coming during their turn at bat. The team's number-eight hitter, second baseman Frank Quilici, started the fun with a double. Grant reached on an error while trying to sacrifice Quilici to third (second baseman Jim Lefebvre dropped Drysdale's throw to first), and with two on, Versalles, nicknamed Zorro, swung his rapier-like bat and belted a three-run homer to left field. Another double followed, this time by left fielder Sandy Valdespino, before Tony Oliva grounded out. Drysdale then loaded the bases by giving up a single to third baseman Harmon Killebrew and walking Mincher (with a strikeout of center fielder Jimmie Hall sandwiched in between). Catcher Earl Battey singled to score Valdespino and Killebrew. Coming up for the second time in the inning, Quilici, who hit only .208 during the regular season, performed the rare feat of getting two hits in one frame during the World Series. His single scored Mincher, making the score 7-1.
After Quilici's hit, manager Alston came to the mound to take Drysdale out of the game. As he was leaving, Drysdale is reported to have said, "I bet right now you wish I was Jewish, too."2
The six-run, six-hit inning buried the Dodgers. Versalles drove Grant in with the Twins' eighth run in the sixth, and Wills' bunt single scored second baseman Lefebvre with a too-little, too-late run in the ninth. The 8-2 final allowed the Twins to take a 1-0 lead in the Series.
Even though he pitched a complete game and scattered ten hits – nine of them singles – Grant wasn't happy with his performance. He even went over to the box where US Senator Hubert Humphrey of Minnesota was sitting, and told the senator that he (Grant) was not pitching well because he didn't have his curveball. Humphrey told him to stick with the fastball.
"I didn't have as good a fastball [today] as I had during the season," Grant said after the game. "Most of the game I had control trouble. I was 2-and-2 and 3-and-2 on most of the hitters."3
Alston, of course, put on as positive a spin on the loss as he could. "We got 10 hits, they got 10 hits, but theirs came in a bunch and scored runs. Ours didn't," he said.4 He also pointed out that the Dodgers lost the first game of the 1959 World Series to the White Sox, 11-0, and came back to win the championship.
Sources
http://www.retrosheet.org/boxesetc/1965/B10060MIN1965.htm
http://www.baseball-reference.com/boxes/MIN/MIN196510060.shtml
Notes
Additional Stats
Minnesota Twins 8
Los Angeles Dodgers 2
Game 1, WS
---
Metropolitan Stadium
Bloomington, MN
Box Score + PBP:
Corrections? Additions?
If you can help us improve this game story, contact us.
Tags
http://sabr.org/sites/default/files/images/Koufax-Sandy-NBHOF.jpg
600
800
admin
/wp-content/uploads/2020/02/sabr_logo.png
admin
2016-07-22 12:40:46
2020-04-17 13:34:08
October 6, 1965: Twins take Game One of World Series in Koufax's absence