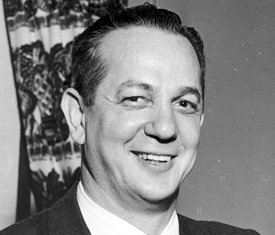 ---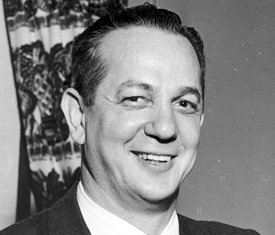 David LeFevre, who once tried to buy the Cleveland Indians, said it: "I want to stand next to Gabe Paul when they drop the atomic bomb."1 Because Paul was a survivor.
In his first 20 years as a major league general manager, he never won a pennant and only once came close. Then he sold his brain, if not his soul, to George Steinbrenner and brought the Yankees back from their darkest decade since Babe Ruth was a pitcher. He even survived Steinbrenner, but it was a close call.
While building Yankee champions in the 1970s, Paul was the keeper of the Bronx Zoo. Without a whip or a chair, he stood between Steinbrenner, Billy Martin, and Reggie Jackson, and managed to escape being swallowed by their needy egos. As the Boss raged, Billy drank, and Reggie ranted, Paul was the only grownup in the room.
His baseball career spanned 56 years, from Ruth to Rose. He spent most of those years with losing low-budget teams in Cincinnati and Cleveland. Without Paul, the Indians probably would not be in Cleveland; he outmaneuvered several efforts to move the club.
"Baseball men like Gabe," Cincinnati Enquirer sports editor Lou Smith wrote. "That's his chief characteristic."2 He didn't burn bridges, cultivated team owners and would-be owners, and projected an affable calm that passed for competence. "Gabe was a very good schmoozer," said Pete Franklin, a Cleveland talk-show host.3
Gabriel Howard Paul was born in Rochester, New York, on January 4, 1910, one of 12 children of Morris Paul, a tailor, and the former Celia Snyder. His parents were immigrants from Ukraine (then part of Russia), Jewish refugees from czarist pogroms.
When 10-year-old Gabie became a batboy for the Double-A Rochester Red Wings, manager George Stallings taught him how to deaden baseballs by freezing them. He was writing for a local newspaper and contributing stories to The Sporting News while in high school. The Red Wings president, Warren Giles, hired the 18-year-old as a ticket salesman and gave him his first razor to erase the fuzz from his chin. Among the lessons Giles taught him was "Don't ever break your word. Your word is the most important thing you have."4 Rochester was a Cardinals farm club, and St. Louis vice president Branch Rickey was a major influence on Giles and Paul.
In October 1936 Giles moved up to the majors to be general manager of the Cincinnati Reds. Paul went with him as traveling secretary and public relations man. While Giles and manager Bill McKechnie built the team that won consecutive pennants and the 1940 World Series, Paul was the all-purpose gofer. When the Reds' second-string catcher, Willard Hershberger, failed to show for a game, it was Paul who went to his hotel room and found him with his throat slashed, a suicide.
Paul was 29 when he married 18-year-old Mary Frances Copps of Tampa on April 17, 1939. She had been the Florida Orange Queen when they met during spring training. "I didn't sweep her off her feet," he said decades later. "She swept me."5 They had four sons and a daughter. The Paul and Giles families became close; Gabe and Mary named their second son Warren. After Giles's wife died in 1943, he and his young son, Bill, often joined the Pauls for holiday celebrations. Bill Giles, later chairman of the Philadelphia Phillies, said Mary Paul helped raise him.
After serving in the infantry during World War II, Paul was promoted to vice president of the Reds. In 1951 Giles was elected president of the National League, and Paul became the youngest general manager in the majors at 41.
The Cincinnati club had posted losing records for seven straight years. Pitching ace Ewell Blackwell and slugger Ted Kluszewski were the only keepers on the roster. Paul promised changes: "The Reds may not be better in 1952, but they will certainly be different."6
Paul was a promiscuous trader, but his results were mixed. In fairness, he seldom had much to offer in trade. His best deals brought Gus Bell, a four-time All-Star outfielder, and pitcher Bob Purkey, who won 107 games for Cincinnati. The worst sent outfielder-first baseman Joe Adcock to Milwaukee for shortstop Rocky Bridges and cash. Adcock hit 339 home runs; Bridges was a better comedian than ballplayer.
The Bell trade was Paul's favorite. He was surprised when Pirates GM Rickey agreed to part with the powerful 23-year-old center fielder. Rickey thought Bell was unreliable because he and his wife were spendthrifts; the old gentleman had seen Mrs. Bell throw away her baby's dirty diaper rather than wash it. It turned out that she was using disposable diapers, a new product Rickey had never heard of. (The baby was Buddy Bell, Paul's future third baseman with Cleveland.)
Cincinnati scouts were more productive than the GM. Paul ordered them to begin signing black players — the Redlegs had none. On his watch the club signed Frank Robinson, Curt Flood (who was traded), Vada Pinson, and Tony Perez, as well as a white hometown kid, Pete Rose.
The 20-year-old Robinson joined the team in 1956 and tied the major league record for home runs by a rookie with 38. Adding the new slugger to Kluszewski, Bell, Wally Post, and Ed Bailey, the Redlegs equaled the major league record of 221 homers. They hung in the pennant race until the final days of the season, winning 91 games to finish third, just two behind the first-place Dodgers. Attendance topped 1 million for the first time in franchise history, and The Sporting News named Paul the Major League Executive of the Year.
The next year Paul enlisted local newspapers in a plot to stuff the ballot boxes for the All-Star Game. The papers printed ballots with names of Cincinnati players already filled in. The campaign was an embarrassing success. Commissioner Ford Frick intervened to ensure that Willie Mays, Hank Aaron, and Stan Musial made the starting lineup, along with five Redlegs, and fans lost the right to vote for All-Stars for more than a decade.
The club soon dropped back below .500, but by 1960 Paul had assembled a roster that was just three players away from winning the pennant. His successor, Bill DeWitt, acquired those three, and the Reds won in 1961.7 Paul wasn't there to enjoy it.
When owner Powel Crosley Jr. began entertaining offers to move the team to New York after the Dodgers and Giants abandoned the city, the uncertainty led Paul to what he called the worst mistake of his life.8 The National League awarded an expansion franchise to Houston in September 1960, and Paul agreed to be the first general manager of a team that had no name and no players.
A once-in-a-lifetime opportunity to build a team from scratch turned into a humiliating disaster. The men who hired Paul were Craig Cullinan Jr., an heir to the Texaco fortune, and George Kirksey, a former sportswriter Paul had known since the 1930s. The pair had been the prime movers in bringing big league baseball to Houston, but they owned only small shares of the team and were shoved aside by the majority owners, oilman R.E. Smith and a local political power broker, Judge Roy Hofheinz.
Paul quickly learned that Hofheinz was the man in charge, and the bombastic judge intended to be in charge of everything. Paul bailed out after only six months, fed up with Hofheinz's interference. His survival instincts served him well; he parachuted to a landing as general manager of the Cleveland Indians.
Cleveland was hardly a soft landing. In 1961 the team was spiraling into a three-decade slump of losing games and losing money. Paul recalled, "[T]he first thing I did in the morning was look at the bank balance and see what bills we could afford to pay."9 The Indians were a failing franchise in a decaying city, its decline symbolized on a Sunday morning in June 1969 when the polluted Cuyahoga River caught fire.
Every fall seemed to bring rumors that the Indians would move — to Oakland or Atlanta or Dallas or Seattle or Louisville or the moon. Every time, Paul found a buyer who would keep the club in Cleveland. He engineered three sales of the team during his 12 years as president. At one point he was the largest stockholder, owning 20 percent, but had to sell when he ran out of cash to cover the losses. The Indians survived, and so did Gabe Paul.
"I absolutely always thought Cleveland was a good baseball town," he said, "that all the fans ever needed was a winning team."10 He couldn't give them one. The Indians had just two winning seasons in his 12 years.
Paul was offered an escape from the ongoing train wreck in 1964 when friends urged him to become a candidate for commissioner of baseball. He declined, insisting he had more work to do in Cleveland, but his daughter, Jennie, said he feared an anti-Semitic backlash if he sought the job.11
After last-place finishes in 1969 and 1971, and heavy losses in the stock market, the owner of the moment, frozen food tycoon Vernon Stouffer, was forced to sell. A young Cleveland shipbuilder, George M. Steinbrenner III, thought he had the inside track to buy the club, but Stouffer rejected his bid. Paul was a partner in Steinbrenner's investment group, and Steinbrenner asked him to keep his ears open in case another team might be for sale. Paul's acute hearing handed him his greatest opportunity and his biggest headaches.
In late 1972 he told Steinbrenner that CBS was looking to sell the New York Yankees. Within weeks Steinbrenner put together a syndicate of investors, met with CBS chairman William S. Paley, and closed the deal for the premier franchise in sports. Without Paul's connections to baseball's grapevine, it never would have happened.
Steinbrenner's purchase of the Yankees was the biggest steal in New York since the Dutch bought Manhattan Island from Native Americans for 60 guilders.12 CBS had bought the team for $13.2 million in 1964 and sold it nine years later for $10 million, less than Bud Selig had paid for the bankrupt Seattle Pilots. CBS insisted it broke even, after taking into account the tax breaks that came with its ownership.
Michael Burke, the shaggy-haired charmer who had run the Yankees for CBS, was rewarded with a 5 percent stake in the new ownership group. He and Steinbrenner introduced themselves as co-general partners, while Steinbrenner assured the New York press that he would be an absentee owner. "I'll stick to building ships," he said.13
A few days later Burke discovered that one of his fellow owners was Gabe Paul, and Paul was to be president of the Yankees. Burke exploded, but Steinbrenner calmed him with a lie. Burke told reporters that Paul was a figurehead: "This is a nice way for Gabe to close out his career. He's 63 and intends to retire to Florida within a couple of years. We'll simply use his baseball knowledge as constructively as we can."14 Some of the writers knew better; Jim Ogle wrote, "Gabe wasn't going to sit around doing nothing."15
None of Burke's previous jobs — with the OSS, CIA, and Ringling Brothers circus — had prepared him for the Bronx Zoo. The myth of the absentee owner dissolved on Opening Day 1973. As the Yankees lined up for pregame introductions, Steinbrenner wrote down the uniform numbers of players who would be required to get a haircut. Soon he was calling manager Ralph Houk in the dugout during games, haranguing him about strategy.
Burke's title was chief operating officer, but he soon realized that he wasn't chief of anything. He resigned four months after the sale. The distinguished baseball leaders, Houk and general manager Lee MacPhail, followed him out the door by the end of 1973.
That left Paul to run the show as president and, in effect, general manager. That is, he would run the show when Steinbrenner would let him. The shrewd Paul had miscalculated. If he had asked around Cleveland, he could have learned of Steinbrenner's brutal treatment of employees and anyone else who pricked his thin skin. He may even have known about it, but could not resist the lure of the pinstriped mystique. After years of scrounging for pennies, he was dazzled by the chance to run a ball club with a potentially limitless budget.
But first he faced a rebuilding job. The long-dominant Yankees had not won a pennant since 1964, and attendance had trailed the Mets every year. The club got worse in 1973, posting an 80-82 record.
One of Paul's favorite maxims was, "There is no substitute for talent."16 His first round of trades brought first baseman Chris Chambliss, outfielders Lou Piniella and Elliott Maddox, and pitchers Rudy May and Dick Tidrow. The 1974 Yankees charged into first place in September before finishing two games behind Baltimore in the AL East, the closest they had come to the top in 10 years. The Sporting News named Paul Executive of the Year.
Then the law caught up with the Steinbrenner. He had made illegal contributions to President Nixon's re-election campaign and bullied his employees at American Shipbuilding into lying about it to the FBI. His attorney, Edward Bennett Williams, negotiated a guilty plea that kept his client out of prison, but in November 1974 Commissioner Bowie Kuhn suspended Steinbrenner from baseball for two years. He was not allowed to communicate with Yankee executives about the team's operations.17
The suspension was a sham. Steinbrenner ran the ball club by telephone, hounding Paul with directives and complaints. To vent his frustration, Paul recorded his thoughts in a taped diary, where he referred to the owner as "this Steinbrenner" and mused that the man must be crazy.18
Steinbrenner orchestrated the signing of free-agent pitcher Catfish Hunter to the biggest contract in history after the 1974 season and the hiring of manager Billy Martin in 1975. When the commissioner asked him about the Hunter signing, Steinbrenner said he had nothing to do with it. Wonder who sent the Boss's private plane to North Carolina to bring Hunter to New York?
The ill-starred marriage of George Steinbrenner and Billy Martin was consummated over Paul's objections. Although Martin had been a consistently successful manager, he had been fired three times because of clashes with the front office and after-hours embarrassments. Paul wanted no part of him, but Steinbrenner hired him on August 1, 1975.
Commissioner Kuhn lifted Steinbrenner's suspension seven months early, on March 1, 1976, so the owner could take part in the re-opening of the renovated Yankee Stadium. (The club had shared Shea Stadium with the Mets for two years.) Emerging from exile, Steinbrenner berated Paul, Martin, and the players during spring training. Finally Paul had had enough. He quit and went home to Tampa.
Steinbrenner scurried after him, begging him to come back. The Boss needed Paul's baseball savvy, and he needed a handy scapegoat when things went wrong. He dictated a four-page memo filled with extravagant promises of Paul's independence, promises Steinbrenner would not keep.19
Paul, Martin, and scouting director Pat Gillick had agreed that the team needed youth and speed. Paul traded Bobby Bonds, whom Martin despised, to the Angels for center fielder Mickey Rivers, one of the league's top base stealers, and pitcher Ed Figueroa. From Pittsburgh he acquired 21-year-old second baseman Willie Randolph, who anchored the Yankee infield for the next 13 years, and pitcher Dock Ellis, a head case the Pirates were desperate to get rid of.
Martin told the players, "You just do what I tell you and we're gonna win."20 That's how the 1976 season went down. Rivers ignited the offense at the top of the lineup, catcher Thurman Munson won the American League MVP award, Figueroa won 19 games, Ellis 17. New York took over first place after just three games and stayed there, winning the AL East by 10.
The biggest part of Paul's job was keeping peace between Steinbrenner and Martin. "George used to want me to talk to [Martin] after each game, talk about the conduct of the game," Paul said. "And I never believed in that. I'd say to George, 'I'll talk to him tomorrow.'"21 Martin was drinking even more than usual — that meant he was drinking a lot — and sleeping it off on his office couch before games. Still married, he pursued women with the same lust for winning that he showed on the ball field, even having an affair with Paul's daughter, who was about half his age. (Jennie thought her father didn't know, but he did.)22
The Yankees capped their season with a dramatic playoff victory over Kansas City. Chris Chambliss's walk-off home run in the final game clinched the franchise's first pennant in 12 years. The New Yorker's Roger Angell described Paul as "the man who invented this team."23 Paul's trades accounted for 13 of the 25 players on the roster.
After the draining playoff win and the raucous party that followed, the World Series was an anticlimax. Cincinnati's Big Red Machine chewed up the Yanks in a four-game sweep. Martin, ejected from Game Four, retreated to the trainer's room in tears.
The new era of free agency dawned in the fall of 1976. The Yankees' fat bankroll and Steinbrenner's obsession with stars who would put "fannies in the seats" made the club the dominant player in baseball's flesh market for decades. Looking over the first class of free agents, Paul and Martin targeted right-handed power: Bobby Grich, Don Baylor, and Joe Rudi. Steinbrenner wanted the biggest name: Reggie Jackson. But Jackson's star power came with a superstar ego. Martin tried to talk the Boss out of it while Paul sat silent.
Steinbrenner pursued Jackson "like trying to hustle a girl in a bar," as the slugger put it.24 Jackson signed for just under $3 million over five years, with a new Rolls-Royce as a bonus. The signing completed the combustible trio who would dominate the Yankees and the New York media for the next four years. Psychiatrists could have made careers off of them: Jackson, abandoned by his mother; Martin, abandoned by his father; and Steinbrenner, emotionally abused by his father until he was past 40. Gabe Paul, forced to play surrogate parent, managed to keep them from throttling each other, but that was the best he could do.
The owner's fawning over his new toy enraged Martin. The relationship between Jackson and the manager, who had only a slippery grip on sanity, never stood a chance. Many of the players who had won the pennant felt equally disrespected. Munson said Steinbrenner had promised him he would be the highest-paid Yankee except for Catfish Hunter, with his huge free-agent deal. When Munson and others demanded to renegotiate their contracts, it was up to Paul to say no. Players called him "the smiling cobra" and considered him Steinbrenner's yes-man.25
Paul maintained he could influence the Boss, but first he had to endure the rants of a man young enough to be his son. "As long as we were talking one-to-one you could take issue with him, and he would be reasonable," Paul said.26 His secretary, Pearl Davis, was an earwitness to many of Steinbrenner's tirades. "Sometimes I would hear this and I would go in to make sure Gabe was all right," she remembered.27
Nineteen seventy-seven in New York was the summer of the mad serial killer Son of Sam, of drug-fueled orgies at the Studio 54 night club, and the orgy of looting and burning that followed the July 13 power blackout. Oh, and the city government, after spending itself into the poorhouse, had laid off hundreds of police and firefighters. The sick melodrama at Yankee Stadium may have consumed more tabloid ink than any of the above.
April 19: When the Yankees fell into a five-game losing streak, an unidentified player was quoted as saying, "The more we lose, the more often Steinbrenner will fly in. And the more he flies, the better chance there will be of a plane crashing." Steinbrenner erupted, denying anonymous players' complaints that he was trying to manage the team. "Anybody who says I'm on Martin's back is a damn liar," he roared.28
It may not be a coincidence that Paul checked himself into a hospital the same day. Doctors said the 67-year-old had suffered a cerebral spasm (not quite a stroke) and needed a few days' rest. And the season was not even two weeks old.
May 23: Jackson's interview with Sport magazine hit the newsstands and the clubhouse like a thermonuclear bomb. "I'm the straw that stirs the drink," he proclaimed. Even worse, he insulted Munson, the captain and MVP: "Munson thinks he can be the straw that stirs the drink, but he can only stir it bad."29 Most of the Yankees, who already resented Jackson's paycheck, now ostracized him.
June 18: Martin thought Jackson was loafing in right field after a fly ball fell for a double, and pulled him from the game in the middle of an inning, embarrassing him on national television. As he came into the dugout, Jackson took off his glasses, ready to fight. Martin, giving away nearly 20 years and around 50 pounds, was more than ready, but coaches Yogi Berra and Elston Howard blocked his way while outfielder Jimmy Wynn bear-hugged Jackson. NBC cameras caught it all as announcer Joe Garagiola exclaimed, "They're gonna confront each other right there in the dugout!"30
Steinbrenner, watching on TV, was determined to fire Martin, but Paul warned him that a firing would signal that Jackson was running the team. Jackson agreed, knowing he would be the villain.
Steinbrenner leaked a story saying Paul was too weak to handle Martin, so the owner had to take charge. Paul was used to being a punching bag in private, but a public humiliation was too much. He went home to Tampa, again forcing Steinbrenner to run after him and persuade him to come back.31 This time the Boss declared publicly that the manager's future was in Paul's hands. Another empty promise.
For most of the season Martin shuttled Jackson up and down the lineup — third, fifth, sixth, anywhere but the cleanup slot, which Reggie thought was his rightful place. Steinbrenner thought so, too, and he didn't mind saying so. Martin resisted, out of spite or self-destructive impulse.
July 13: The night the lights went out in New York, the Yankees were in Milwaukee, sitting in third place but just 1½ games behind Boston. Munson and Lou Piniella paid a midnight visit to Steinbrenner's hotel room. They begged him to fire Martin or leave him alone. Martin, drunk as usual at that hour, walked past Steinbrenner's door and recognized the voices inside. He barged in, joining a come-to-Jesus meeting that lasted almost until sunrise.32
Paul couldn't believe it. He told his tape recorder, "George actually invited the players up there. And then he lays down the law to Martin about the batting order."33 Paul and Steinbrenner now agreed that Martin had to go, but they couldn't find a replacement. Coaches Berra and Dick Howser and retired Dodger manager Walter Alston reportedly turned down the job.
The players saved Martin with a 24-3 run starting August 7. Promoted to his favorite spot in the lineup, Jackson drove in 50 runs in his last 52 games. The Yankees won 39 of them and captured the AL East title by 2½ games over Baltimore. They beat Kansas City again in the playoffs for their second straight pennant.
The Los Angeles Dodgers were waiting to stage a reprise of the old Bronx-Brooklyn rivalry in the World Series. Reggie Jackson had the last word: three home runs on three pitches in Game Six, the day Mr. October was born and all hatchets were buried, at least long enough to pop the champagne. It was Paul's first championship after 27 years of building teams.
He didn't join the celebration — he didn't believe in going into the clubhouse — but he savored the ticker-tape parade: "I think one of the biggest thrills I ever had was the ride up Broadway after we won the championship in '77. It was pouring rain and we were in open cars riding up Broadway. It was the liveliest crowd I ever saw."34
"Critics like to call the Yankees the best team money can buy," Murray Chass wrote in the New York Times, "but Paul did more to build the championship through trades than Steinbrenner did through spending money on free agents."35 Twelve of the 24 men who played in the Series were Paul's acquisitions.
Triumphant, his point proved, Paul walked away. He had survived.
Once more, Cleveland was his refuge. One of his best friends, trucking magnate Francis "Steve" O'Neill, planned to buy the Indians to stave off another threat to move the franchise. O'Neill wanted Paul to run the team.
Paul's abrupt resignation infuriated Steinbrenner. The Boss turned vindictive, belittling Paul's contributions: "[H]e was in business for forty years, twenty-five as a general manager, and did he ever win a pennant before? You think he made all those moves with this team by himself? You think all of a sudden he got brilliant?"36 In one of the last entries in his taped diary, Paul said, "The guy is a mental case, a liar, an egomaniac, and a crook, and that's a pretty good parlay."37
Paul's second time around in Cleveland went no better than the first. He said, "The club was practically bankrupt" when he and O'Neill took over. The Indians continued losing, and after O'Neill died in 1983, his estate put them up for sale. Paul retired at the end of 1984.38
He spent his last years in Tampa. After several strokes, he died at 88 on April 26, 1998.
Following Paul's departure, the Yankees won another World Series in 1978 and division titles in 1980 and 1981 before they fell back under Steinbrenner's erratic rule. He went through eight general managers in the next 10 years. Reggie Jackson left the Yankees for the Angels after his contract expired in 1981. Billy Martin was fired and rehired four times, but he never won another pennant.
Acknowledgments
This biography was reviewed by Jan Finkel and fact-checked by Alan Cohen.
Notes
Born
January 4, 1910 at Rochester, NY (US)
Died
April 26, 1998 at Tampa, FL (US)
If you can help us improve this player's biography, contact us.
https://sabr.org/sites/default/files/PaulGabe2.jpg
600
800
admin
/wp-content/uploads/2020/02/sabr_logo.png
admin
2017-06-01 12:28:18
2021-10-05 15:52:47
Gabe Paul