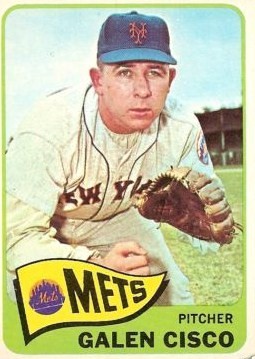 ---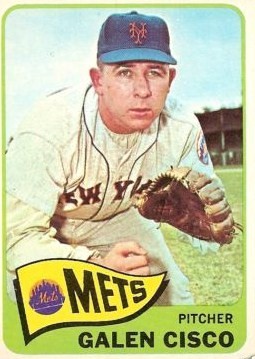 Though Galen Cisco pitched in nearly 200 games over his seven-year major league career, his athletic accomplishments were much more substantial than that, appearing in the Rose Bowl as a young man, and still helping major league pitchers four decades later.
Galen Bernard Cisco was born on March 7, 1936, to Beryl and Esther Cisco in St. Marys, Ohio, a small town near the Indiana border, halfway between Dayton, Ohio, and Fort Wayne, Ind. The Ciscos owned their own farm, and Galen and his three brothers and one sister spent hours working in the family business. "We kind of had a really great family life," Cisco recalled. "We were brought up on the farm. … Everyone had their chore and we all did the things that we needed to do growing up on the farm."
When young Galen wasn't taking care of livestock, he squeezed in time playing sports, namely football and baseball. Cisco attended Memorial High School in St. Marys, where he played both sports for the Roughriders. His football coach was Jack Bickel, who had been a running back at Miami (Ohio) University for Woody Hayes. Cisco recalled that many of the plays in the Memorial playbook were the same ones Hayes later ran at Ohio State.
Like most young Buckeyes, Cisco dreamed of playing for Ohio State University. After graduating from high school in 1954, he enrolled at Ohio State with a major in education. Freshmen were not allowed to play on varsity teams in that era, so the pride of St. Marys spent a year practicing with the varsity. Once Cisco got the chance to play, he excelled in both sports. He sported a 12-2 collegiate pitching record and was named a third team All-American in 1956. But he gained greater acclaim in college, as a running back and linebacker.
In his senior year the Buckeyes went to the Rose Bowl on New Year's Day 1958. Before a big game, many athletes focus strictly on the showdown, but that wasn't true for young Galen Cisco. Preparing for the biggest (and final) gridiron game of his college career, he made a life-changing decision. Hayes told his players that anyone who was married could bring their wives free to Pasadena, Calif., to attend the Rose Bowl game. Cisco was engaged to his longtime girlfriend, Martha. With this Rose Bowl-colored carrot dangling over their heads, Galen and Martha decided there was no reason to wait until after the football season to tie the knot.
"She married me and got a free trip to the Rose Bowl," recalled Cisco.
The 8-1 Buckeyes were a 21-point favorite over 7-3 Oregon in the Pasadena classic, Cisco recounted, but the Ohio State offense just couldn't get started that day. In fact, Oregon gained more yards and collected more first downs than the favorites. Ohio State still prevailed, 10-7, thanks to a 34-yard field goal by Don Sutherin in the fourth quarter.
While some players suffered under Hayes' rough nature, Cisco enjoyed playing for him. "He was a very, very fundamentally-minded coach. He didn't get too fancy. He didn't pass a lot. He seemed to think that if you take a few plays and play them better than anyone else, you're going to be successful," said Cisco. "He was a no-nonsense guy. He probably was one of the most prepared people I have ever been around."
Cisco's collegiate career was coming to an end in 1958, but he didn't need any help choosing which sport to pursue. He recalls that a few professional football teams called Hayes about the two-way star, but were told the running back/linebacker was interested in throwing baseballs — not throwing tackles. "The closer I got to the latter years in college, I thought baseball would have more longevity than football. I had an opportunity to sign so I did," said Cisco.
Signed in 1958 by Red Sox scout Denny Galehouse, Cisco wasted no time hurling the horsehide in the minors. He pitched in 32 games for Raleigh of the Class B Carolina League and Corning of the Class D New York-Pennsylvania League that summer, with a composite record of 6-12.
Since he still was short two quarters of receiving his bachelor's degree, he spent the 1958-59 off-season back in Columbus to finish his schooling, and Hayes hired him as the backfield coach for the freshman football team. He stayed in that position for four off-seasons, coaching future NFL stars Paul Warfield and Matt Snell, among other players.
While teaching young running backs how to find holes each autumn, Cisco spent his springs and summers becoming a more accomplished pitcher. Along with brief 1959 stops in Raleigh and Allentown (Eastern), he won 15 games with a Midwest League-leading 2.23 ERA for Waterloo. The next year he finished 3-7, but with a fine 2.93 ERA, for Minneapolis in the American Association in 1960, and joined the Seattle Rainiers of the Pacific Coast League in 1961.
Along with teammates Dick Radatz and Don Schwall, Cisco pitched for manager Johnny Pesky in Seattle. In his nine games with the Rainiers that year, Cisco finished 6-1, compiled a 1.54 ERA and completed five of his starts. Cisco was clearly ready for the call, and he quickly followed his teammate Schwall to Boston.
The Red Sox team Cisco joined had suffered through a decade of mediocrity, and in 1961 Ted Williams no longer patrolled left field for the Olde Towne Team. If fans hadn't attended games at the nearly 50-year-old park with the great Williams in the lineup, they surely stayed away from a team made up of unproven players like Carl Yastrzemski. "The product we put on the field was not that great," said Cisco. "It was a tough place to play. The writers there were tough."
Cisco's first game was a Fenway Park start on June 11, and he allowed five hits and five runs in just 2 1/3 innings against the Twins. Six days later he won a start against the Senators, but by mid-July he was out of the rotation. Cisco struggled with the second-division team (2-4, 6.71), but Red Sox management was excited about the future of their rotation with Schwall, Tracy Stallard, Bill Monbouquette, and Cisco. His former manager, Pesky, predicted Cisco was "another Schwall," who won the Rookie of the Year in 1961.
Schwall himself said that the Galen Cisco who pitched in Boston was not the same guy who was his teammate in the minors. "When he came up here, he got off to a bad start. Then he began to press. He wasn't pitching normally and as a result he didn't look like the pitcher he was when I was with him in Minneapolis and Seattle," Schwall told The Sporting News after the 1961 season.
But Cisco showed great improvement in spring training before the 1962 season. In 28 innings, he allowed only three earned runs for an 0.86 ERA, while scattering 23 hits. Shortly before Opening Day, Red Sox manager Pinky Higgins told the press, "Nobody can believe Cisco is the same guy who was with us for the last half of 1961."
Alas, his 1962 season with the Red Sox mirrored his struggles of the previous year. On July 27, Higgins even left Cisco on the mound to allow 16 hits and 13 runs against the Senators, finally taking him out of the game in the sixth inning. Two relief appearances later, the Red Sox placed Cisco on waivers, and he was claimed by the New York Mets.
The right-handed pitcher went from a mediocre team to one of the worst in the history of baseball. "We had guys who couldn't hit the ball and didn't catch it," Cisco recalled. Cisco now played for Casey Stengel, a learning experience for the young pitcher. After splitting two decisions in September 1962, Cisco was 7-15, 4.34, in 51 games in 1963.
While in New York, "Ohio State" (Stengel's name for Cisco) started and relieved. Despite the team's futility, he was able to discuss the art of pitching with teammates Roger Craig, Al Jackson, Don Rowe, Bob Miller, and Larry Bearnarth, all of whom later became pitching coaches in the major leagues. "I think everybody used to talk more [then] about the game than they did later. I'm talking about in the 1990s on. I think they talked about the game much more then," said Cisco.
While the team did not perform well, Cisco was likely the best pitcher on the 1964 Mets' staff. Pitching in the new Shea Stadium, the right-handed hurler finished with a 3.62 ERA, while going 6-19 for the still-hapless team. In that season, Cisco's pitching forced a future Hall of Famer to try a new pitch.
Cisco came in to the 14th inning of the second game of a doubleheader against the San Francisco and proceeded to shut down the Giants. His mound opponent late in the game was Gaylord Perry, who was struggling to stay in the major leagues, but who would ultimately win 314 games and a plaque in Cooperstown. Perry was called into the game in the 13th inning, and Perry later acknowledged throwing his first spitball in this game. Cisco and Perry traded scoreless innings until Jimmy Davenport tripled in the winning run for the Giants in the 23rd inning.
Undeterred, Cisco came back in his next start and four-hit the world champion Los Angeles Dodgers, 8-0, in front of 55,000 fans at Shea. Cisco's performances made an impression on his manager. During the 1964 season, Stengel acknowledged that the Mets had debated whether to even keep Cisco on its roster in the spring. "Then he got a little bit better and a little bit better and a little bit better. Now he's about as good as anyone we have," Stengel told The Sporting News.
Unfortunately, he followed this fine season by limping to a 4-8 record and a 4.49 ERA in 1965. After the season, Cisco was sent to the minors, finishing his four-year Mets career with an 18-43 record and 4.04 ERA.
After starting the 1966 season with the Mets Triple-A Jacksonville affiliate, in June he was sold back to the Red Sox, and he finished the season with their Toronto club. Dick Williams, manager of the Red Sox's Toronto Maple Leafs team in the International League, knew Cisco was only about 60 days of service time away from his pension, and wanted to help the soft-spoken Ohioan. For the season, Cisco finished 11-6 in 157 innings in his two International League stops.
Williams, who was named skipper of the 1967 Red Sox, told Cisco he would try to get him his pension. "He told me if he had a chance he would give me a look or maybe bring me up even for two years the last 30 days when teams could expand the club," Cisco recalled. If he'd been hurting the team, Williams would have sent him down, but Williams stuck to his word in 1967 and gave him a shot. Cisco started the year with the Red Sox as a reliever. Looking back 40 years later, Cisco said the team didn't seem special at the start.
"I think we thought we had a pretty good club. What it boiled down to was what kind of pitching staff you had," said Cisco. "I don't think anybody expected us to do anything like (the 1967 Red Sox eventually) did." Cisco was used mostly in mop-up work. He pitched in 11 games and threw 22 1/3 innings for the Impossible Dream team. But shortly after the All-Star break, the Red Sox saw an opportunity to improve their bench and picked up Norm Siebern, and sent Cisco to the minors to free up the roster spot.
A number of players chafed under the pressure of playing for Dick Williams, but not Cisco. "I learned a lot of baseball as a player from Dick," he says. "He was a no-nonsense guy. You didn't have to wonder what he was thinking about." In this regard, Cisco added, Williams was much like Woody Hayes. "He was honest with me always. I got along with him just fine."
For the remainder of the 1967 season, Cisco pitched for Pittsfield (0.82 ERA in 11 innings) and Toronto (2.08 ERA in 65 innings). Cisco enjoyed a renaissance in 1968 for the Louisville club (the Red Sox new International League affiliate). He led the league with a 2.21 ERA while winning 11 games for the Colonels, at one point throwing 22 consecutive scoreless innings.
After the season, Cisco was sold to the expansion Kansas City Royals, who would begin play the following spring. Unlike the Mets in 1962, though, the Royals were more mediocre than atrocious. "The Royals I think had a little bit better draft. The way the draft was set up I think the Royals had a little bit better advantage than the Mets," Cisco said, comparing the two expansion clubs.
Despite struggling with Omaha in the early season (5.00 ERA in 10 games), Kansas City recalled Cisco in June and the Buckeye finished the season in the Royals' bullpen. Cisco finished with a 3.63 ERA, in what would be the last 22 1/3 innings of his major league career. He was 33 years old.
The following year Omaha hired Cisco as a player-coach. The plan was to work as the pitching coach, but to take to the mound if there were injuries or the team was in dire need of an arm. He threw 76 innings and finished his final year as a player with a 2.49 ERA. Cisco also won his final six decisions, which was the longest streak in his pro career.
Just 35 years old, Cisco became the pitching coach for Bob Lemon in Kansas City in 1971. During his tenure with the Royals, he worked with such top-notch starters as Dennis Leonard, Steve Busby, and Paul Splittorff. All three credited Cisco for their successes. "I had been dropping too much on my slider and Galen got on me about throwing more over the top," Busby told The Sporting News in 1973, after the publication named him the American League Rookie Pitcher of the Year and a year before he won 20 games with the Royals. "I guess I was doing the same thing with my fastball. I know I felt better and threw better when I went back to the old way."
Mound ace Leonard told The Sporting News in 1976, "When I struggled last season, Galen worked with me. He told me I was dropping down too much and everything I was throwing was flattening out. He worked with me for hours and hours."
When Splittorff contemplated quitting in the minors, Cisco talked him out of it.
"I told him you're left-handed and your time will come when you're going to get a shot at the big leagues. You have spent three full years playing this game and you should give it one or two more years before retiring," Cisco told the young pitcher, who won 166 games over 15 seasons in the majors.
Cisco was the pitching coach for the Royals' division championship teams in 1976-1978 before being let go when Whitey Herzog was fired after the 1979 season. The experienced pitching coach quickly found work as his old friend Dick Williams hired him to lead the pitchers in Montreal.
A few years later Cisco worked with Williams in San Diego. In 1987, the Toronto Blue Jays hired Cisco as their pitching coach, and within four years, his staff included Jimmy Key, Dave Stieb, Todd Stottlemyre, and David Wells. Wells, not known for his love of management, appreciated Cisco's assistance. "Galen Cisco helped me a lot. He would help me correct little things if he saw me doing something wrong, and we would talk pitching," Wells said in 1988.
Cisco led the Jays' pitchers during their world championship years of 1992-1993, the first team to win back-to-back World Series in 15 years. In addition to Key, Stieb, Stottlemyre, and Wells, pitchers who threw for him during those two years included Jack Morris, David Cone, Dave Stewart, Tom Henke, Duane Ward, and Mike Timlin. "I have to give (Pat) Gillick a lot of credit, and the scouting department. After the first (championship), most teams would have stayed pretty much pat, but they brought in two or three key players … Without those players, I wonder if we would have won it back to back," said Cisco.
Toronto did not re-sign Cisco after the 1995 season, but the year wasn't all bad for the Ohio State graduate. He was inducted into OSU's Varsity Hall of Fame.
Two years later, Cisco accepted his final major league job — pitching coach of the Philadelphia Phillies — under new manager Terry Francona, who would lead the Red Sox to its first World Series win in 86 years in 2004. The two friends still stay in contact via e-mail, he said. After being let go by the Phillies, Cisco worked in the Blue Jays' minor league system before retiring after 45 years in pro baseball.
Looking back on his successful career as a pitching coach, Cisco said he doesn't have one favorite hurler. "I think that two starters had as good stuff as anybody: one was Dave Stieb and one was Steve Rogers," he said. The smartest pitcher? Busby. "He studied (hitters') weaknesses and was a student of pitching. If this guy stayed healthy, he would have been something," Cisco said of his former pupil, whose career was cut short by injuries.
Cisco pointed to Willie Blair as a pitcher of borderline talent stuck in Toronto's Triple-A farm club, who really worked hard on his game with Cisco. Blair won 60 games in the major leagues, including 16 for Detroit in 1997. "I don't know if I had a lot to do with it or not, but he went on and had some pretty good years," said Cisco modestly.
In 2006 he was enjoying retirement in Celina, Ohio, only a few miles from his hometown of St. Marys . Though he doesn't live in town any longer, St. Marys still gives the Galen Cisco Award to the Little League MVP. The award has been given since 1965 and was won by Galen's nephew, Ty, in 1980. Though Galen is out of the game now, the Cisco baseball legacy continues. Cisco's grandson, Mike Cisco, was a pitcher at South Carolina in 2006, and Grandpa Cisco would travel to watch Mike pitch for the Gamecocks. Galen and Martha Cisco have been together 49 years and enjoy spending time with their two boys, Galen Jr. and Jeff (both of whom played minor league ball), and their families.
After two decades, and two championships as a coach, Cisco's memories of his own playing career have faded. Speaking of his time with the 1967 Red Sox, he says, "I wish I could remember more, but there's been a lot of water over the dam since then," he says.
Note
This biography originally appeared in the book The 1967 Impossible Dream Red Sox: Pandemonium On The Field, edited by Bill Nowlin, and published by Rounder Books in 2007.
Sources
Interview with Galen Cisco, April 25, 2006
Cataneo, David, Casey Stengel: Baseball's "Old Professor" (Cumberland House, 2003)
Koppett, Leonard, The New York Mets: The Whole Story (New York: Macmillan, 1974)
Perry, Gaylord and Bob Sudyk, Me and the Spitter (New York: Signet Books, 1974)
Total Mets. by the editors of Total Baseball (Total Sports, 2000)
The Sporting News
Chicago Tribune
www.ohiostatebuckeyes.cstv.com/ – the Ohio State University Athletic Department website
www.ridertown.com, the virtual St. Mary's Ohio website
Photo Credit
The Topps Company
Born
March 7, 1936 at St. Marys, OH (USA)
If you can help us improve this player's biography, contact us.
http://bioproj.sabr.org/bp_ftp/images2/CiscoGalen.jpg
600
800
admin
/wp-content/uploads/2020/02/sabr_logo.png
admin
2012-01-04 19:54:12
2022-10-03 10:45:49
Galen Cisco