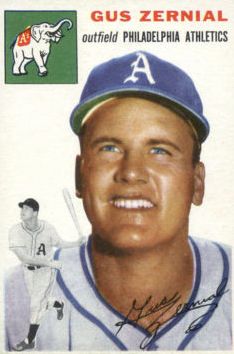 ---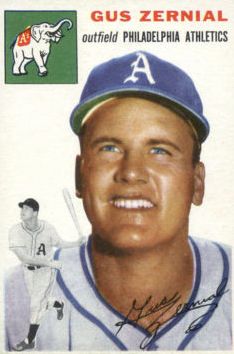 Gus Zernial, an 11-year major leaguer with the White Sox, Athletics and Tigers, had what many could describe as a storybook career. Nicknamed "Ozark Ike" after a popular comic-strip character, Zernial compiled several All-star caliber years that included memorable achievements, years with either blazing starts or memorable finales, and a much-publicized photo shoot with a Hollywood starlet.
With only 75 players in major-league history (through 2004) having a last name beginning with Z, Zernial could be considered one of the greatest of those "Z's."
A good place to begin is to look at Ozark Ike's dramatic six-year run, from 1950-1955, when he often ranked as one of the American League's top sluggers starting in only his second season in 1950. He also set or tied many records, some of which hold up today. The same year, Zernial tied a major league record for most home runs hit in four straight games with seven (a record previously set by the Yankees' Tony Lazzeri).
In 1951 Gus also led the league in outfield assists. The feat was accomplished not only because of Zernial's great arm. What set him apart was the ability to charge the ball and, using a quick arm and ball release, quickly throw out runners trying to advance on base hits. Zernial played left field for his entire career, except for 35 games at first base and one in right field.
In 1950, batting either fourth or fifth in the lineup with the Chicago White Sox, Zernial finished fifth in the American League with 29 home runs. In a doubleheader on October 1, 1950, the last day of the regular season, Gus hit four home runs. He became only the fourth player to accomplish this doubleheader feat. That record would not be broken until May 2, 1954, when Stan Musial slugged five home runs in a doubleheader. These four home runs hit by Ozark Ike gave him the distinction of being the first player to hit four in the month of October. That feat was not matched until 1985 by Ron Kittle while also playing for the White Sox.
Zernial was traded in 1951, after only four games, from the White Sox to the Philadelphia Athletics. Despite this, he went on to lead the league with 33 home runs (all with the Athletics) and 125 RBI. His league-leading year in 1951 also included 68 extra-base hits and 17 outfield assists. This gave Gus the distinction of being the only player since the Deadball Era to win a league home run crown while playing for two teams in the same year and the only player to lead the league in home runs and RBIs after being traded.
Zernial's 1951 year was notable for other reasons. He was the first Athletics player to lead the AL in home runs and RBIs since Jimmie Foxx in 1933. That same year, Gus finished first in home-run percentage, with 5.98 percent of his at-bats resulting in a home run. He ranked third in slugging percentage at .511, eighth in runs with 92 and second in total bases with 292. Those extra-base hits included 30 doubles, 9th in the AL.
In 1952, Gus was again among home run and RBI leaders, placing fourth in each category with 29 homers and 100 RBIs. His three grand slams that year tied him for the major league lead. Those accomplishments continued in 1953, when Gus started for the AL All-Star team in left field and finished the season with 42 home runs, just one behind league leader Al Rosen of the Indians. That season marked Gus' third straight season with 100 or more RBIs (he finished with 108 RBIs).
Zernial also finished 1953 second in slugging percentage with .559, third in total bases with 311 and third in extra-base hits with 66. And in 1955, Zernial hit 30 home runs, good for second place in the AL, and his .508 slugging percentage was third in the league.
During that six-year period from 1950 through 1955, no player in the AL hit more home runs than Zernial's 177. (Al Rosen likewise hit 177). During the entire decade of the 1950s, only the Yankees' Mickey Mantle and Yogi Berra hit more AL home runs than Zernial. Zernial finished his career with 237 home runs, including nine grand slams and 10 pinch-hit home runs, putting him among the leaders in the latter category. He hit multiple home runs in a game 32 times and ended his career with a .486 slugging percentage. The nine career grand slams places Zernial in good company, tied with Berra, Mantle, Orlando Cepeda, Stan Musial, Todd Zeile and 18 others (through 2004) on the all-time list.
Zernial's 200th home run came on April 26, 1957, off Hall of Fame pitcher Early Wynn of Cleveland. As of the end of the 2004 season, Zernial was tied with Doug DeCinces and Javier Lopez for 192nd place on the all-time career home run list.
Over his career, Gus averaged 17.4 at-bats/home run and 5.3 at-bats/RBI. His home run percentage of 5.75 ranks 43rd all time (through 2004). Even after his glory years, he still could play. In 1958, Zernial led the AL with 15 pinch hits and carried a .395 pinch-hit batting average. In his final season of 1959 at the age of 36, Gus became one of the 32 players (just the eighth at the time) to hit multiple home runs on his birthday.
Zernial's achievements were recognized on June 15, 2001, when he was inducted into the Philadelphia Wall of Fame now housed at the Philadelphia Historical Society. In 2002 Gus was named to the Philadelphia A's All-Century Team. Also in 2001, Bill James rated Gus the 96th top left fielder of all time.
Born June 27, 1923, in Beaumont, Texas, Zernial was the youngest (by nine years) of 10 children born to Gustavius Emile Zernial and Emma Caroline Alexander. His parents were of German and English descent. His childhood contained family tragedies. The oil town of Beaumont was victimized by the bubonic plague in the 1920s, and three of Gus' siblings succumbed to childhood diseases. Gustavius, for whom Gus E. (for Edward) was named, was a carpenter and building contractor. Gus worked with his father, shingling roofs in Beaumont, until the elder Zernial died at age 50 when Gus was only 15.
After Gustavius Zernial's sudden death, Gus and his mother went to live with his oldest sister and her husband. Gus still credits his mother, who was a homemaker, with having been a major inspiration on his life.
At the age of nine, Zernial fell in love with baseball. As a child growing up in Beaumont, Gus would play sandlot ball from morning until nightfall. When no bat was available, a broomstick and a non-perforated plastic ball would substitute. Outfield lines were marked with fences and barns.
Zernial's first exposure to professional baseball came from watching the Beaumont Exporters, Texas League club affiliated with the Tigers for many years. that was based in Beaumont from 1930-1942. Gus, besides watching the games through knotholes in the stadium's fence, would listen to the games on radio. Those early Exporters teams boasted many great players during Zernial's youth, including (years apart) future Hall of Famers Hal Newhouser and Hank Greenberg. Zernial's father was not a huge baseball fan but made small wagers on the games. Today, Zernial remains an American League fan because of those early years and because of his fondness for the designated-hitter rule.
During high school, Zernial was a three-letter man for Beaumont High. A right-hander, Zernial played first base, forward on the basketball team, and end on the football team. As a senior, Zernial was captain of the basketball team and was offered scholarships to Texas, Baylor and Oklahoma. However, he was not prepared to go to college after the death of his father.
In 1941, at the age of 17, Zernial was signed by the St. Louis Cardinals and sent in 1942 to play center field for Waycross of the Class D Georgia/Florida League. Zernial, batting leadoff, hit .286 in 95 games, but was released by the Cardinals due to the reduction of leagues during World War II and because Sportsman's Park, where the Cardinals played, was built for left-handed power hitters.
Zernial's release opened the door for Gus to enlist in the Navy. For 25 months, he worked as a radio operator aboard five Pacific battleships. The only baseball Zernial played during his three years was at a naval base in San Francisco. But during this time, Zernial lifted weights and built up his body to more than 210 pounds of muscle on his six foot, 2 ½ inch frame, helping him to evolve as a power hitter. Zernial's tour of duty ended in October 1945.
After the war, Zernial met his first wife, Gladys Hale, an employee at Western Electric in Texas. The marriage lasted 12 years and produced two children.
Playing in 1946 for Burlington of the Class C Carolina League, Zernial led the league in home runs with 41 and hit .333 with 111 runs batted in. He even had 10 stolen bases that season, a career high, and recorded a .649 slugging percentage, another career high. He was considered fleet afoot and one of the top fielding outfielders in the league.
In 1947, Zernial went to spring training with the Cleveland Indians and the club sent him to Baltimore of the International League. As it happened, the White Sox had previously claimed Gus on waivers, and after only four at-bats with Baltimore, Gus was optioned by Chicago to Hollywood in the Pacific Coast League. Ready to make another fast start, Gus hit four home runs, had a .487 average and scored 17 runs in his first 10 games for the Twinks (Hollywood Stars). Gus finished the season by getting 13 hits in 26 at-bats during the final week.
Overall, Zernial hit a career-high .344 in 1947 for the Stars. In 1948, he led the PCL with 237 hits and 156 RBIs. During a weeklong series against San Diego, Gus homered in four successive at-bats, setting a PCL record over two games, and had 12 hits over a stretch of 29 at-bats. The 12 hits included three pairs of home runs in each of three games and three doubles and 13 RBIs over the seven-game series. Gus ended the 1948 season with 40 home runs, 47 doubles and a .322 batting average.
At the time, the PCL served a population of about 8 million people. The league functioned like a third big league, with pay often competitive with, if not better than, that of the major leagues. Zernial started with a salary of $1,000 a month and was earning $8,000 a year in the PCL, more than many major leaguers.
In Hollywood during 1948, Zernial was nicknamed "Ozark Ike" by Fred Haney, a long-time baseball manager who was serving a stint as the Hollywood broadcaster. Haney christened Zernial after a blond comic-strip character, a likeable mountain boy who was a sports star. The comparison thrilled Zernial.
In 1949, White Sox General Manager Frank Lane offered Gus just $5,000 to play with Chicago. Many veteran major league players preferred to continue their careers in the warm air of the PCL, but Gus chose to take the money and join the White Sox.
Gus was a terrific minor leaguer. He batted .322 in the minors, a nice accomplishment that would presage some fine big league seasons.
Zernial was one of 14 players who made their major league debuts with the White Sox in 1949. In his first major league game on April 19, 1949, Zernial was delighted to start against the Detroit Tigers and one of his adolescent idols, Hal Newhouser. Zernial, hitting fourth, struck out on three pitches in his first at-bat. Not to be discouraged, Gus finished the day two-for-three. The White Sox managed to get only one other hit off Newhouser that day, losing 5-1.
The 1949 White Sox hit only 43 home runs for the entire season. Gus as a rookie hit just five but led the team with a .318 average while being limited to just 73 games after a shoulder injury in May. This would be Gus' best average until 1958, when he was with the Detroit Tigers.
When Zernial came to the majors, he widened his stance and took a controlled, no-stride swing. He did not try to pull the ball. He attributes his initial .300 season to this batting approach. However, as his confidence grew, Gus used his hips more to power the ball and go for the fences.
On May 28, 1949, in Cleveland, Gus severely injured his right shoulder while diving to catch a sinking line drive hit by Thurman Tucker. He landed on his shoulder and cracked the bone in five places. Doctors believed it to be a career-ending injury, but Zernial worked hard to overcome it. At the time of the injury, Zernial was hitting .355 and leading the league. When he returned to the lineup, however, he could not throw. Over the following winter, Gus worked with a California health club trainer to develop his shoulder strength so he could throw again, and he reported to camp ready to play
In 1950, Gus set the Chicago White Sox club record for home runs in a season with 29. Gus accomplished this feat by hitting four home runs on the last day of the season during a doubleheader. He hit three of those home runs in the nightcap, for another big finish to the season.
During spring training in 1951, agents for Marilyn Monroe brought her to the White Sox training camp in Pasadena, California, to take some photos to promote a new movie. Monroe posed for several publicity shots, in high heels and shorts, with Zernial. Joe DiMaggio first noticed Monroe when he saw the newspaper photos and wondered how Zernial got so lucky. DiMaggio met with Gus at an exhibition game and teased Zernial about being the chosen ballplayer in the publicity photos.
Zernial suggested that DiMaggio contact the press agent who set up the photo shoot and arrange to meet Marilyn. DiMaggio eventually married Monroe. According to Zernial, DiMaggio stopped talking to Gus because of lingering jealousy and because he believed that Zernial had informed the media that Gus was responsible for his first date with the movie star.
Zernial holds another distinction. On April 30, 1951, he was send to the A's as part of a three-team trade. The Athletics also received pitcher Sam Zoldak in the deal, while the White Sox received Minnie Minoso, among the many players in the deal. Zernial was part of the only trade in major-league history that included two players with last names beginning with the letter Z.
The trade to the Athletics initially disappointed Zernial, who had come off a good season. But White Sox manager Paul Richards and owner Frank Lane wanted to add speed and had desired the fleeter Minoso.
Zernial promptly established his presence in Philadelphia with another of his big starts. From May 13-17, 1951, Gus tied two records by hitting six home runs during three straight games and then added a seventh home run for the four straight game. All the blasts were hit at his new home field, Shibe Park, against the Yankees and Browns, and included one of his two career inside-the-park home runs. Not until September 17, 1998, did an American Leaguer, Manny Ramirez of Cleveland, match Zernial's feat over three games.
Gus also paced the league in 1951 with 33 home runs and with 129 RBIs, and followed that up with two more fine 100 RBI seasons in 1952 and 1953.
Zernial might have added to his hefty major-league totals if not for his second major injury, suffered July 11, 1954. Gus admits that this was the result of both his foolishness and his competitiveness. The A's were losing 17-0 to the Red Sox, and Gus was tired of the team taking a drubbing.
Gus had made up his mind that he was going to end the team's misery. Billy Consolo hit a drive to the gap and Gus tripped on a water spigot. He landed on his shoulder and broke his collarbone again, this time on his left side.
But before that latest injury, Gus had hit the last grand slam in the history of the Philadelphia Athletics, as the A's beat the Red Sox 6-5 on May 26, 1954.
Zernial established another first in 1955 when the Athletics moved to Kansas City. Gus became the first player to hit 30 or more HR for Kansas City. He also continued his fast start, this time on opening day in 1956 and 1957 against the Tigers and starting pitcher Frank Lary. The Athletics won both years by identical 2-1 scores. Zernial knocked in the winning runs each time with a pinch-hit double and a home run.
At the end of the 1957 season, Zernial was traded to the Tigers in a 13-player deal that included Billy Martin and Mickey McDermott also going to Tigers. At Detroit, Gus was used in a reserve role in left field behind Charlie Maxwell and as a pinch hitter. Gus was not overly happy with his role. It was with Detroit that Gus tied an existing record, held by Smoky Burgess and George Crowe, with his 10th pinch-hit career home run, Zernial hit three pinch-hit home runs in 1958; that year, he also led the league with 15 pinch-hits.
In 1959, his final season, Zernial matched another record by becoming the eighth player to hit multiple home runs on his birthday. On that day, Manager Jimmy Dykes gave Zernial an opportunity to play more by putting Gus at first base. Gus, keeping to his style, proceeded to handle his first 30 chances without an error and got six hits with 14 total bases in his first 13 at-bats while playing at first. On October 26, 1959, the Tigers gave Zernial his release. His career was over
Until May 15, 2003, Gus had hit more home runs than any other player with a last name beginning with Z. On that date, Todd Zeile of the Yankees hit his 237th career home run, tying him with Gus, and would later surpass Zernial's total.
With Hollywood looks, links to Marilyn Monroe, and on-field achievements, it was no wonder that Gus was asked to do magazine and newspaper ads for Gillette and billboard ads for Chesterfield cigarettes. Part of his compensation for the latter was boxes of cigarettes. Zernial, a non-smoker, gladly shared his cigarettes with teammates until he learned that he was destroying the clubhouse manager's sideline business.
Zernial said he was fortunate to play in the 1940s and '50s against such greats as Mantle, DiMaggio and Ted Williams. Zernial refers to Mantle as the most exciting baseball player of the three, DiMaggio as the best all-around player and Williams as the best hitter.
During off-seasons, Gus stayed in shape by playing handball at a Southern California athletic club. His regular opponent was Hank Sauer, another ballplayer, who would end up with 288 career home runs. During his early years, Gus worked at construction jobs and for Railway Express. He also played some winter baseball in Southern California for business-sponsored teams.
Retirement from baseball was not easy for Zernial because of his age along with his love of baseball and sports. He considered going to spring training in 1960 with either the Dodgers or Red Sox or possibly again playing in the PCL. Instead, Gus went into the auto leasing business and became a TV sportscaster.
Zernial later said that his career might have been extended if the DH rule was in effect. Zernial is such a fan of the DH that he believes it should be extended even to fielders and runners. Baseball, he believes, should allow DH substitutions at bat for fielders who cannot hit and designated runners for hitters who cannot run, Zernial believes. He said that this would allow for better bench utilization, similar to what is done in other major sports, and make the game more exciting.
On a recreational level, Gus continues to play golf and bowl on a regular basis. While retired, Zernial met his second wife, the former Marla Jean Sims. Gus and Marla Jean have raised two children of their own. The couple has been married for 45 years and lives in Clovis, California.
Zernial maintains an active memorabilia collection. His collection includes the bat he used in his 1953 All-Star appearance, when he hit a single off Robin Roberts. (He struck out against Warren Spahn in his only other plate appearance.) Gus also has the ball that he hit for his record 10th pinch home run off Billy O'Dell of the Orioles. Of course, prominently displayed in his home is one of the pictures of him with Marilyn Monroe.
In 1964, Zernial began a career as a play-by-play broadcaster for a local radio/TV station, for which he was its sports director. The station broadcast basketball, football and baseball games for Fresno State University. Gus also did commercials for auto dealerships in the Fresno, California, area until he retired from the station in 1976. Gus then started an advertising and marketing agency, was a leasing manager for a Pontiac dealership and provided investment and financial services through a company he started in 1990.
Zernial faced his biggest challenge in 1990 when he was diagnosed with cancer, a battle that he won for many years. In 1993, he began a fund-raising program for a new stadium in Fresno. And in 1997, Zernial started work in marketing and community development for a new minor league franchise, the Fresno Grizzlies. Gus did color broadcasting for the Grizzlies through 2003, when he again retired.
After a long illness, Gus Zernial died on January 20, 2011 in a Fresno hospice center, surrounded by his family. Zernial was survived by Marla, his wife of nearly 50 years, and by their four children.
Sources
Etkin, Jack. Innings Ago. Normandy Square Publications, 1987.
Fehler, Gene. Tales from Baseball's Golden Age. Sports Publishing, LLC. 2000.
Hilton, George W. "Zernial, Gus Edward." Biographical Dictionary of American Sports: Baseball." David L. Porter, ed. Revised and expanded edition. Greenwood Press, 2000.
James, Bill. The New Bill James Historical Baseball Abstract Free Press. 2001.
Kiersh, Edward. Where Have You Gone, Vince DiMaggio? A Bantam Book. 1983.
Marshall, William. Baseball's Pivotal Era, 1945-1951. The University Press of Kentucky. 1999.
Old-Time Data, Overland Park, KS 66207.
Skipper, John C. Inside Pitch. McFarland & Company. 1996.
When It Was a Game 2. HBO Video.
Zernial, Gus. Telephone interviews. November 9, 15, and 19, 2004. Three hours total.
Web sites:
http://en.wikipedia.org
http://oakland.athletics.mlb.com
http://sportsillustrated.cnn.com/baseball
www.autographedtoyou.com
www.ballparkguys.com
www.baseball-almanac.com
www.baseballhalloffame.org
www.baseballhistorian.com
www.baseballimmortals.net
www.baseballlibrary.com
www.baseball-reference.com
www.bmtcoc.org
www.cityofbeaumont.com
www.fact-index.com
www.flyingsock.com
www.fresnobee.com
www.LosBanosSports.com
www.paperofrecord.com., The Sporting News 1946-1959
www.pbs.org
www.pclbaseball.com
www.philadelphiaathletics.org
www.retrosheet.org
www.sabr.org
www.theage.com.au
www.toonopedia.com
www.usatoday.com
Born
June 27, 1923 at Beaumont, TX (USA)
Died
January 20, 2011 at Fresno, CA (USA)
If you can help us improve this player's biography, contact us.
http://bioproj.sabr.org/bp_ftp/images5/ZernialGus.jpg
600
800
admin
/wp-content/uploads/2020/02/sabr_logo.png
admin
2012-01-04 20:35:39
2012-01-04 20:35:39
Gus Zernial