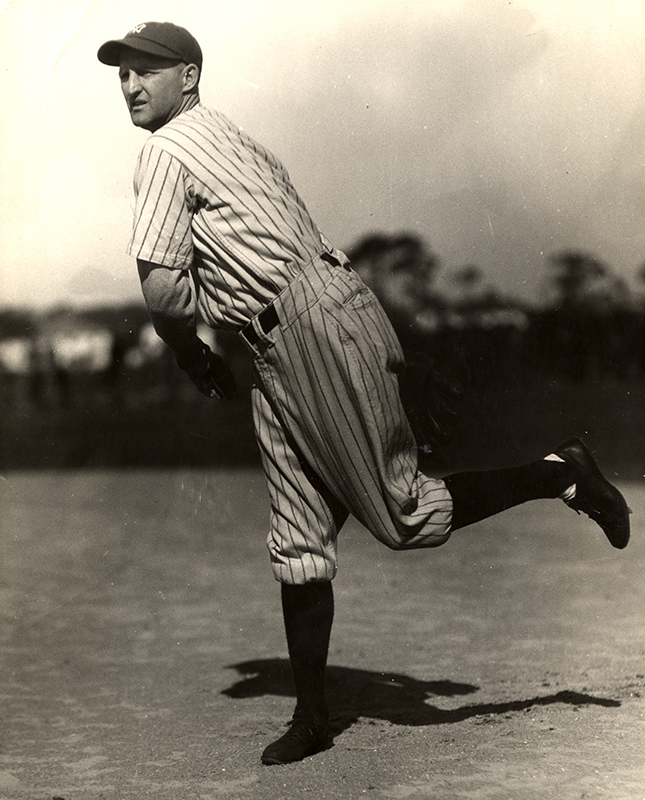 ---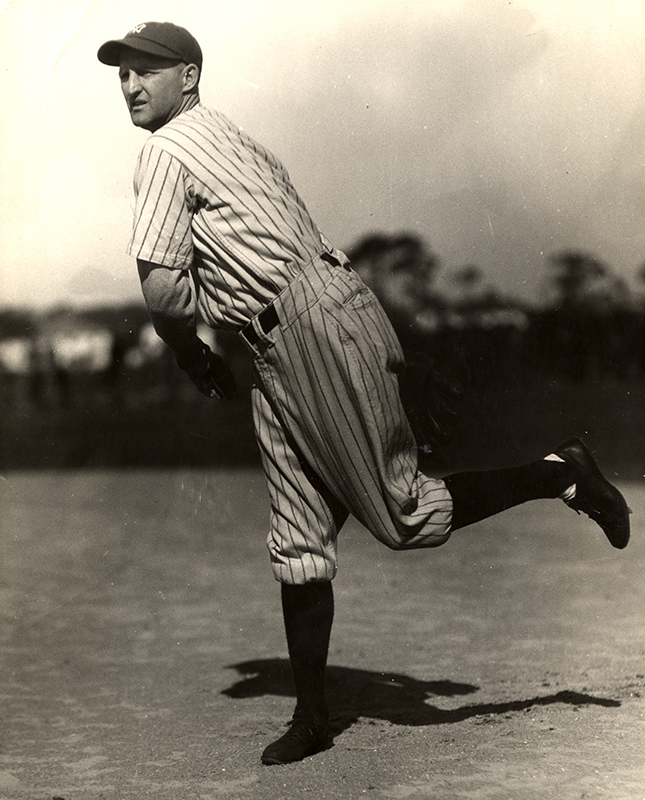 Deep beneath the turquoise caverns of a Yankee Stadium that was set to open within one week, a miniature ball of energy named Miller Huggins, the Yankees manager, winked to sportswriters about the secret of the Yankees' success: "Harry Frazee."
Frazee, debonair owner of the Boston Red Sox, also invested frenetically in Broadway musicals and burlesque. To meet theatrical payroll he never hesitated to sell a player to the highest bidder, nearly always the Yankees. By 1922 the Yankees had ten former Boston players in their ranks and two championship flags. But they had yet to win a World Series and were winless in eight consecutive series games. Humiliating losses to Giants left-hander Art Nehf capped the 1921 and 1922 classics. The Yankees, it was said, needed a left-hander for themselves.
The eleventh and final Boston regular to make the exodus to New York was that left-hander: a tall, laid back, Pennsylvania Quaker named Herb Pennock obtained prior to the 1923 season. He brought depth to the pitching staff and fit in like the final piece of a puzzle. Only then did the Yankees win the pennant in record-breaking fashion and the first of twenty-five World Series championships for the century.
Relaxed, humble, and with a quirky sense of humor that kept Babe Ruth and Lou Gehrig loose, Herb Pennock came into his own at Yankee Stadium. He pitched at a slow pace, walking around the mound, fixing his pants and tugging on the bill of his cap between pitches. He had a graceful, almost languid, pitching motion. He was six feet tall and thin, with an oval face atop a long neck, a thin serious line for a mouth, and a squinting expression. He threw the curveball, not the fastball, and he never seemed to exert himself. Grantland Rice said he pitched each game "with the ease and coolness of a practice session." On October 15 of his first year as a Yankee, Pennock got the win that gave New York its first World's Championship ever.
Herbert Jefferis Pennock was born February 10, 1894, in Kennett Square, Pennsylvania. He was the fourth and last child of Theodore Pennock and the former Mary Louise Sharp, were of Scots-Irish ancestry with Quaker roots going back to William Penn. In 1909 for the local Friends' School and then the Cedarcroft Boarding School, Pennock was a weak-hitting first baseman cursed with a frail arm that curved everything he threw. His Cedarcroft coach, acting on the advice of team first baseman Albert Aloe, who insisted that Pennock was a natural pitcher, placed Pennock on the mound one day when the team's regular pitcher failed to show. Reportedly, Pennock struck out nineteen.
Pennock began dominating as a pitcher and at the age of seventeen got a call from Connie Mack. Mack, manager of the World Champion Philadelphia A's, placed him with his Atlantic City Collegian team in the Seashore League for $100 a month. Pennock's father demanded Pennock protect his college eligibility and only let his son sign under an alias. When Pennock no-hit the St. Louis Stars, a respected traveling black team, Mack promised a 1912 call-up.
While Herb was pitching for the Wenonah, New Jersey, Military Academy that spring, Mack offered Pennock a spot on his bench. Pennock accepted and on his second day at the park made his debut against the White Sox, Tuesday, May 14. He gave up one hit in four innings. That first Saturday with the club he was used again in the final three innings of the famous 24-2 win over Detroit: the game replacement players played in Tiger uniforms.
The A's of this period, three-time World Champions, deserved their reputation as the smartest team of their generation. Eddie Collins and Chief Bender discussed fine points of play around the clock, and coaches Harry Davis and Topsy Hartsel created the pre-game scouting report. As a coveted apprentice of Mack's, Pennock learned from Bender, who taught him the screwball, and ex-major league catcher Mike Grady, a Kennett Square neighbor who made Pennock his personal project. Pennock was ill at home in Kennett Square for most of 1913 but ended 1914 with five straight wins and three scoreless innings in the World Series. When Mack let his superstars go in 1915, Pennock became the ace of one of the most misguided youth movements in baseball history. Beaming pennant confidence, Mack used Pennock opening day against the Red Sox. Pennock responded with no-hitter until two outs in the ninth inning when Harry Hooper beat out a chopper to Nap Lajoie at second base. Pennock could easily have grabbed the ball, but he let it pass him in deference to the veteran second baseman. Playing deep, Lajoie missed an attempt at a barehanded pick-up. Pennock settled for a one-hit shutout.
Pennock pitched winning ball, but the team was failing and Mack began to heap relief work upon the skinny twenty-one-year-old. In St. Louis, May 14, in the bottom of the ninth, he was brought in to get just one batter out – lefty Burt Shotton – but Pennock gave up a game-losing two-run double. In Chicago on May 19, on one day of rest and after three shaky appearances, Pennock made a terrible throw on an eighth-inning Bunny Brief bunt. The error opened up a five-run Chicago rally which cost the A's the game, dropped their record to 9-19, and gave the franchise sole possession of last place for the first time in the twentieth century.
Then on May 23, in Detroit, Pennock allowed two hits and two walks in the first inning throwing with his usual nonchalance. A panic-stricken Mack, still convinced that the A's were a great team, concluded Pennock "lacked ambition," yanked him from the mound, and summarily released him as a scapegoat. Boston, against whom Pennock had nearly thrown a no-hitter, eagerly scooped him up at the waiver price. Until he died, Mack referred to the release of Herb Pennock as his greatest mistake.
In Boston Pennock was the seventh pitcher on a staff seven-deep and did not see much action. Loaned to Providence at the end of 1915, and then to Buffalo at the end of 1916, Pennock went 11-9 in twenty-two International League starts. More importantly, he seemed to regain confidence and control with a four-game winning streak for Buffalo during the team's pennant-clinching Labor Day home stand. In 1917, Pennock won three straight starts for Boston, including a Fourth of July win over the A's that helped the Red Sox tie Chicago for first place July 6. But with the pennant race nip-and-tuck manager Jack Barry kept Pennock on the bench the rest of the year.
Frustrated by six partial seasons, Pennock joined the Navy in 1918, and actually steered clear of the Navy baseball team until dispatched to Gibraltar in late June. Navy officials, gearing up for a game against the Army in the 40,000-seat Chelsea Stadium, found out Pennock was mid-Atlantic and had the ship diverted to Portsmouth so he could pitch. He beat the Army in ten innings, 2-1, in front of the King of England on the Fourth of July. When Ed Barrow sent him a Boston contract after the war, Pennock held out until Barrow promised to use him regularly.
Pennock started once in April and once in May 1919, while the team was giving George Dumont, Bill James, and sore-armed Joe Bush a chance. In late May, Pennock reminded Barrow of his promise to use him regularly and threatened to quit the team. On Memorial Day in Philadelphia, Pennock started and did well in a no-decision. Then on June 6, Pennock was given another chance and pitched a six-hit, 3-1 victory over Detroit, also getting the game winning hit in the seventh inning to bump Boston into the first division. With continued regular work he posted a 14-4 record after the Fourth of July.
Over the next three seasons Pennock was a .470 pitcher on a .450 team as Boston's championship franchise faded away. On May 1, 1920, he gave up a home run to Babe Ruth, an old Boston buddy of his whom he often helped read fan mail. It was Ruth's first home run as a Yankee. Pennock gained a reputation for needing four days of rest between starts. He could win if called on to pitch sooner, but in subsequent starts his curveball lost its fine edge. Boston's ace only in 1920, Pennock was more commonly the team's third starter. Yet even in 1920 the Boston Herald said, "Pennock does give the impression that he is a little on the don-care order." Furthermore, the "August breakdown" was becoming a Pennock specialty. His career record for the first ten days of August was 8-17.
Pennock was traded to the Yankees on January 30, 1923, for Camp Skinner, Norm McMillan, George Murray and fifty thousand Broadway-bound dollars. Pennock got the news the following day when his ship docked from a thirty-day tour of the Orient with Herb Hunter's traveling All-Stars. In celebration, he and his wife danced a jig on a San Francisco pier.
Pennock's two principles of pitching were to observe the enemy and conserve the energy. What developed was "effortless throwing" and "poetry in motion." Catcher Bill Dickey later said, "You can catch Pennock sitting in a rocking chair." But once again he did not rise to the level of "ace." Huggins used Pennock's slow stuff in the third or second game of a series, rarely in the openers when most aces were asked to pitch. As a result, Pennock did not often match up with the big opposition winners of his time and never started two games in one series. Fifteen years of pitching in the same league as Walter Johnson produced only three starts against him. Against Stan Coveleski – the pitcher who replaced Pennock for Atlantic City in 1912 – he started eight times in twelve years, and against Lefty Grove he started five times in ten years. His career record against these three stars was 7-9.
Nevertheless, Pennock may have been the greatest "non-ace" in baseball history and soon developed a reputation of winning "the big game." He also showed off an encyclopedic knowledge of the weaknesses of opposing hitters, a habit gained from the bench of the old A's. In his first year with New York he went 19-6, leading the league in winning percentage and helping the Yankees to their first world's championship. In his first six seasons with New York his average record was 19-9, helping New York to three straight pennants in 1926, 1927 and 1928. Pennock developed three curve balls and a tailing fastball, which he rarely threw for a strike. His curves were "big" and "bigger" with a sweeping sidearm version that he often used against lefties.
Pennock was a beautiful pitcher to watch. With his efficient "rag-arm" style that he said compensated for his low body weight, he began posting up what would eventually become his Hall-of-Fame credentials. In his best season, 1924, the Yanks were in the hunt for their fourth straight pennant, but Washington led by four games on the Fourth of July. The next day Pennock beat Walter Johnson, 2-0, and the Yanks won back first place within a week. Another big win was over Chicago's Hollis Thurston which kept New York in first place when Thurston was going for his eleventh straight win, July 29. Pennock won fifteen of his last eighteen decisions and finished the year 21-9. But New York would lose the pennant. In four starts after Labor Day Pennock managed only a 5.88 earned run average. A win in either his September 14 or September 20 road starts would have put New York back into first place. They were losses.
Pennock opened 1926 with a 9-1 record; 1927 with an 8-2 record; and 1928 with a 9-1 record. In both 1926 and 1928, Pennock's arm blew out in August. Only in 1927, when Huggins started him on eight and ten days rest in July, did Pennock finish strong. In 1926 Pennock finished 5-5 after New York gained their eleven-game lead on August 7. By mid-September that lead had dwindled down to five and one-half games when New York opened a huge six-game series against second-place Cleveland. Pennock lost game three of that series to Garland Buckeye, and Cleveland beat New York four in a row to close the gap to two and one-half games with nine remaining. Pennock lost his next start against long-time nemesis Red Faber in Chicago, and the New York lead was two games with four remaining. However, Cleveland dropped three in a row hosting the A's, and New York took the flag.
More significantly, in 1928, after Pennock shut out Boston on three hits, August 12, to raise his record to 19-6, he couldn't raise his arm to comb his hair. Listed day-to-day, Pennock missed the entire rest of the season including the World Series. Meanwhile the Yankees, who had a better record than their 1927 "Murderer's Row" edition until July 25 and who had led by as many as thirteen and one-half games on July 2 sank like a rock to second place by September 8. This is still the record for the largest first-place lead ever lost by a major league club. Second place only lasted a day, and New York did sweep St. Louis in the World Series; but without Pennock the Yankee pitching staff was called "a three-stringed ukulele."
At the age of thirty-five Pennock did not return to peak form. He hung on as a fifth or sixth starter until 1932 and then moved to the bullpen. He struggled through his 1929 comeback with eleven, appropriately, as his newly issued uniform number and became the third left-hander in major league history to win 200 games. From then on until retirement Pennock was 33-14 in the first half of his seasons and 15-20 in the second half. But he remained a positive force in the clubhouse. Yankee sluggers looked to Pennock as an advice wielding "slump breaker" despite the fact that Pennock, a switch-hitter, carried a .191 lifetime batting average and often wasted at-bats swinging for the fences. A standard Ruth spring training bet was whether or not Pennock would hit a home run during a coming season.
In New York Pennock's down-to-earth personality received positive press. His charming, dedicated and doting wife, the former Esther M. Freck, the younger sister of a childhood friend and his high school sweetheart, often traveled with the team and attended spring training; they had married October 28, 1915, after the World Series. After children Jane and Joe arrived, in 1920 and 1925, respectively, he rented an apartment on the Grand Concourse Boulevard in the Bronx where his wife and kids stayed during summer Yankee home stands. Pennock's gracious manner and taste were old-fashioned to the extreme, yet to describe him as a man was to speak of contrasts.
Cool and impossible to fluster on the mound, Pennock was intense and introverted in the clubhouse before a start. He was a Quaker who wore thousand-dollar rings; a ballplayer who led fox hunts in the off-season. His family was independently wealthy from the sale of their road and farm equipment business late in the nineteenth century, yet he never hesitated to stretch out contract negotiations and became one of the highest paid players in the mid-twenties with a salary just over twenty thousand dollars a season. In 1923 he was the last Yankee holdout despite just joining the club. (He actually pitched some exhibition games before he signed, but out of principle wore red flannel shirts on the mound and not the Yankee pinstripes.) He invested his first New York World Series bonus in a fox pelt farm in New Brunswick (which he moved to Longwood, Pennsylvania in 1925), built chrysanthemum greenhouses on his Kennett Square property, and collected antique furniture. These hobbies, so unique for a ballplayer, along with the fact that he never swore and never drank, gave him the appearance of royalty. His nickname, The Squire of Kennett Square, summed up his persona. Posthumously he was more often referred to as The Knight of Kennett Square.
Other contrasts marked his mound presence. He was easy throwing yet the fiercest of competitors; fragile yet able to forge a twenty-two year career. Despite the fact that he wound down each season in apparent exhaustion, Pennock was at his best in the World Series where his career record was 5-0. There he displayed the headwork and craft that made his a household name by 1926. In his first World Series appearance for New York, October 11, 1923, he snapped the Giants' eight-game Series winning streak at the Polo Grounds and "gave the Yankees hope" with a nine-hit, 4-2 win. Pennock finished the game despite being so injured in the lower spine by a fourth inning Jack Bentley pitch that it took him ten minutes to reach first base. He came back two days later to save game four of the series, working out of a bases-loaded jam in the eighth inning when Frankie Frisch popped out, and won the final game of the series on one day of rest to clinch the New York Yankees' first World Championship. Home plate umpire Billy Evans called this "the greatest pitching performance I have ever seen" and repeated the story of how Pennock beat the Giants despite the fact that he "had nothing."
Exhausted by the 1926 pennant race, Pennock was nonetheless pronounced the "best left-hander in the majors" in his only career cover appearance for The Sporting News before that Series opened. Called "a cool and collected… spindle shanked… veteran," "not the possessor of a great arm," Pennock was a brainy "head pitcher, his forte is cutting the corners." Pennock did not disappoint, beating St. Louis in the first game of the 1926 Series, 2-1, with a three-hitter. He won again in Game Five in St. Louis to give New York a 3-2 series edge allowing seven hits in a ten-inning complete-game win. But in Yankee Stadium the Cardinals forced a Game Seven, a game in which St. Louis turned an early 3-2 lead into a 3-2 win when Grover Alexander turned in his three innings of legendary relief. Pennock, on two days of rest, matched Alex inning for scoreless inning, but New York never got the tying run over the plate.
In the four-game sweep over Pittsburgh in 1927 Pennock was given a start in Game Three against a team that had forged an .833 winning percentage against left-handed starters since mid-season. Thought to be a sacrificial lamb, Pennock instead carved out a no-hit game until Pie Traynorsingled cleanly with one out in the eighth inning.
The performance solidified his reputation for winning the big game. During the 1930s the common answer to the question of "Which pitcher would you want to win one game you had to win?" was: "Christy Mathewson, but Herb Pennock the lefty." In big holiday games, Pennock always started on Memorial Day and was undefeated on the Fourth of July. His personal career highlight was a 1-0 win over Lefty Grove on the Fourth of July in 1925, a fifteen-inning complete game. After the 1928 World Series, the fourth series for which he was eligible but did not appear, Pennock's final post-season appearances were classy saves in Games Three and Four of the sweep over the Cubs in 1932. Limited to two singles in four innings, the Cubs were dismissed as "young fellows taking lessons from an artist."
Yankee manager Joe McCarthy allowed Pennock to "pick his own spots" in his final years as his career waned. A memorable spot was August 21, 1933, when he pitched the final ten innings of an eighteen-inning tie game against Red Faber in Comiskey Park. A month later he beat Boston 16-12 in Fenway, in his last Yankee start just after Washington clinched the pennant. New York released Pennock on January 6 after a testimonial dinner.
Pennock had developed a lifelong friendship with Eddie Collins while on the A's, and when Collins became general manager of the Red Sox he brought Pennock over for one more season in 1934. This was the year Fenway got a new generation of star players and its modern green-paint look. It was a joyous farewell season for Pennock. Fenway Park was crammed with 44,631 Boston fans on April 22, but the Yanks beat the Sox, 8-1. Pennock's appearance in the ninth inning was the highlight as Ruth and Gehrig were due up. In a circus-like atmosphere, he allowed back-to-back doubles. On June 1, with Lefty Grove scheduled to start, the Red Sox scored nine runs in the top of the first inning at Washington and Pennock (who had batted in the top of the first) was put on the mound. He finished with a complete game, nine-hitter, his final career win, by a score of 13-1. He logged innings as a reliever in out-of-reach losses throughout the summer and was given one last start, August 27, against Cleveland before the team went on its last road trip. Pennock always had bad luck against Cleveland, so much so that Miller Huggins often avoided pitching him against them. In his final major league appearance the best Pennock could do was a no-decision against Lloyd Brown.
Pennock retired to his horses and silver fox furriery at Kennett Square in 1935 when new Red Sox manager Joe Cronin brought along his Washington coaching staff. From 1936 to 1938 he was Boston's first base coach and pitching coach and moved to Assistant Supervisor of Boston farm teams under ex-umpire Billy Evans for 1939. Late in 1940 he replaced Evans as Director of Minor League Operations for the Red Sox. In December of 1943 Bob Carpenter bought the Phillies and sought the advice of Connie Mack in picking a general manager. Here Mack made amends to the left-hander he once released and recommended Pennock. Carpenter and Pennock hit it off; Pennock was hired "for life" and given a big, sun-filled, corner office on the 19th floor of the Packard Building in Philadelphia. When Carpenter was drafted into World War II in 1944, Pennock temporarily filled the offices of President and GM.
Pennock proved to be a radical GM, changing the Phillies name to the Blue Jays from 1944 to 1946 and organizing a "Grand Stand Managers Club" in May of 1945, eight years before Bill Veeck did so for the Browns. On April 30, 1944, Pennock finally allowed fans to honor him with a "day," something he had always disdained, and 600 Kennett Square citizens presented him with a two-hundred-year-old table. On August 22, 1945, Pennock saw his last "active service" on the mound, pitching the ninth inning of a split-squad exhibition game at the Valley Forge General Hospital in Phoenixville, Pennsylvania. "Anyone who makes a hit off me will get sent to Utica!" he announced, rolling up his shirtsleeves. On August 26, 1947, Pennock had each Phillie batter filmed during batting practice as a batting aid.
But in other ways Pennock was not so radical. Earlier that season, Pennock reportedly had a telephone conversation with Dodger GM Branch Rickey during which he suggested the Phillies would not take the field if Jackie Robinson were in uniform for a series starting May 9. Then, after having been denied access to their usual Philadelphia hotels, the Dodgers, and many fans seated near the Phillie dugout, were treated to the worst spewing of racial epithets ever directed at Jackie Robinson for four games. At one point, infielder Eddie Stanky, an Alabama-born member of the Brooklyn team, challenged the entire Phillie dugout within earshot of Pennock and Carpenter. Robinson called it his darkest day. Moreover, it would be ten more years before the Phillies integrated.
Pennock spent over a million dollars on players that would make up most of the pennant-winning 1950 Whiz Kids. But he never saw them play. Attending a league meeting in New York on January 30, 1948, Pennock collapsed into Carpenter's arms after passing through the revolving doors to the lobby of the Waldorf-Astoria hotel. He died two hours later of a stroke at the age of 53. Six days earlier he had signed nineteen-year-old pitcher Curt Simmons; two days earlier he had signed infielder Willie "Puddin Head" Jones.
The outflow of emotion was tremendous. Babe Ruth called him a "honey of a pitcher who never made an enemy" and said his all-time, all-star pitching staff included Herb Pennock. Carpenter said Pennock "fought his own battles and never asked help from anyone." The National League offered to take care of the funeral, but the family preferred privacy. Still, hundreds of adoring fans, players, and baseball executives viewed Pennock's bier at Kennett Square's American Legion Hall, February 2, before he was finally laid to rest at Union Hill Cemetery. Surviving him were his wife Esther and children Jane and Joseph. Jane married Eddie Collins Jr., the baseball player and the son of his good friend and ex-teammate.
Emotion carried over into Hall of Fame elections that year. Pennock was elected to the International League Hall of Fame in February and to Cooperstown with 82 percent of the vote despite weak Cooperstown election showings dating back to 1937. Two years earlier he had scored just 16 percent of the vote. The next best tribute to Pennock came in 1939, when former player Ethan Allen was made the head of the newly created motion picture division of the rival National League. After accepting the position, Allen added, "The first thing to do is get Pennock back on the mound, so he can be filmed."
Sources
Of most value are many issues of The Sporting News along with various issues of the Boston Herald, New York Herald, New York Times, and Philadelphia Inquirer. Two websites are especially useful: Ancestry.com www.ancestry.com and MyFamily.com www.myfamily.com.
The Baseball Encyclopedia. 10th ed. New York: Macmillan, 1996.
Broun, Heywood. "New York Yankees 4, New York Giants 2." New York World. October 12, 1923.
Evans, Billy. "Chapter V: The Greatest Plays I Ever Saw." Liberty. 2 (July 11, 1925), 34-40.
Neft, David, Richard Cohen, and Michael L. Neft. The Sports Encyclopedia: Baseball 2001. 21st ed. New York: St. Martin's Press, 2001.
Parrott, Harold. The Lords of Baseball. New York: Praeger, 1976.
Pennock, Esther F. "If You Marry a Big-League Pitcher, You'll Be Both Wife andWidow." Good Housekeeping. 97 (August 1933), 32-35.
Rice, Grantland. "Nerves To Spare." Collier's. 81 (January 7, 1928), 10.
Thorn, John, Pete Palmer, and Michael Gershman, eds. Total Baseball. 7th ed. Kingston, New York: Total Sports Publishing, 2001.
Born
February 10, 1894 at Kennett Square, PA (USA)
Died
January 30, 1948 at New York, NY (USA)
If you can help us improve this player's biography, contact us.
https://sabr.org/sites/default/files/Pennock%20Herb%20123.59_Act_NBL.jpg
600
800
admin
/wp-content/uploads/2020/02/sabr_logo.png
admin
2012-01-04 20:27:02
2012-01-04 20:27:02
Herb Pennock