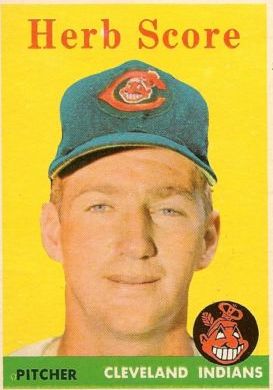 ---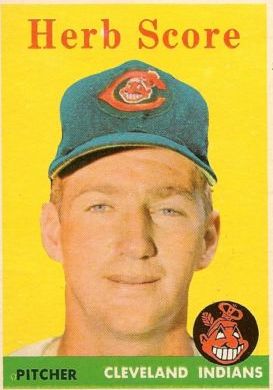 "It's going to be a tough act for the kid to follow," said Cleveland pitcher Bob Feller.1 Indeed, it would be. Feller had just thrown the 12th one-hitter of his fabulous career, blanking Boston, 2-0, in the first game of a doubleheader at Cleveland on May 1, 1955. Boston catcher Sammy White singled to center field in the seventh inning for the only Red Sox safety. He had been kept alive at the plate when Tribe catcher Jim Hegan could not corral a foul tip on a 2-2 count. The 36-year-old Feller, who had not been given a starting assignment by the Indians in the previous season's World Series, reminded those who had written him off that he could still contribute in a big way to arguably the best pitching staff in baseball, even in his 17th season in the major leagues. 
"The kid" Feller referred to was a tall, left-handed rookie from Lake Worth, Florida, Herb Score. Score was making his third start of the season. After witnessing Feller's mastery of the Red Sox, Score sat in front of his locker thinking, "This is gonna be great . . . me coming in after that performance."2 But if he was concerned about measuring up to Feller, his anxiety was quickly eased. Score struck out nine batters in the first three innings and 16 for the game in a 2-1 Cleveland victory. He came within two strikeouts of equaling the record at the time for strikeouts in a game held by Feller. Score credited Indians' pitching coach Mel Harder for his recent success. "Mel Harder has been working with me and one day he found I was gripping my curveball improperly," said Score. "I was gripping it too much with one finger -instead of getting a good, full grip with two. That's why it was breaking better today."3  
But the promise of future greatness that shined so brightly in that game was not to be fulfilled. After Score pitched two outstanding seasons for the Tribe, in 1955 and 1956, his career was curtailed by a line drive that struck him in the face on May 7, 1957. Score returned to pitch the following year, and always denied that the ball hit by New York's Gil McDougald cut short a productive career. But Cleveland fans will always ponder what kind of a career Score could have had after posting a won-loss record of 38-20 before the injury, as opposed to his record of 17-26 after it.    
Herbert Jude Score was born June 7, 1933, in Rosedale, a neighborhood in the Queens section of New York City. He was the oldest of three children — the others were sisters Helen and Anna Mae — born to Herbert A. Score, a New York City police officer, and Anne Score. Herbert worked traffic duty in Manhattan. As a child, young Herb was stricken with many injuries and ailments. When he was 3, he was run over by a truck that crushed both legs just below his pelvis. Doctors were worried that he might never walk normal again, but the bones settled back into place on their own. Herb was stricken with rheumatic fever a few years later and was bedridden for ten months. As a freshman in high school, he fractured his ankle while playing basketball, and while the cast was still in place, he suffered through an emergency appendectomy. Anne Score was a devout Catholic and gave her son the middle name of Jude, in honor of St. Jude, the patron saint of hopeless causes. Both Score and his mother believed that his many recoveries were due to devoted prayer. 
At Holy Name of Mary School, he was playing the outfield when the team needed a pitcher. Score volunteered to step in. After the game the team's coach, Father Tom Kelly, informed Herb that his outfield days were over. His days at Holy Name were over as well when Anne Score, who was separated from her husband for several years, relocated the family to Lake Worth, Florida, so she could take a job at a bank. Lake Worth, a suburb of West Palm Beach, was a small town, and word about young Score's pitching ability spread fast. Cleveland scout Cy Slapnicka, who had signed Feller in 1936, lived in Lake Worth. On a tip from a local policeman, Slapnicka scouted Score, and liked him instantly. Score averaged two strikeouts per inning in his high-school career. He also pitched a half-dozen no-hitters. Although he threw very fast, he was also very wild. In one instance, Score threw a no-hitter against rival Fort Pierce in 1952, striking out 14 batters while walking nine in the 5-1 victory.
Because of Score's ailments back in New York and the loss of his transcripts, he was behind his classmates and did not graduate with his class in 1952. Major-league baseball forbids its teams to negotiate with high-school players until they graduate or reach their 19th birthday. So, on June 7, 1952, when Score turned 19, he signed a contract (which had a $60,000 bonus attached to it) with Slapnicka and the Indians. Score was sent to Indianapolis of the American Association, where he made 10 starts, posting a 2-5 won-loss record. He allowed only 37 hits in 62 innings, but walked 62.
In 1953, Score was moved down to Cleveland's Class-A affiliate, Reading (Pennsylvania) of the Eastern League. There he met Rocky Colavito, who was from the Bronx, New York. Score and Colavito formed what became a lifetime friendship, serving as roommates for their time together in both the minors and the major leagues, and forever referring to each other as "roomie."
Score won 7 games and lost 3 at Reading, giving up only 64 hits in 98 innings but walking 126, when an injury curtailed his season. He was in the outfield chasing fungoes when one sailed over his head. As he leaped to catch it, he fell on his left shoulder. X-rays revealed that the collarbone had separated from the shoulder. Score was shelved for the rest of the season and did not throw again until the first of the year. The time off was not a total loss for Score; he was able to complete the needed credits to receive his diploma from Lake Worth High School.
For the 1954 season, Score and Colavito, along with Reading manager Kerby Farrell, were promoted to Triple-A Indianapolis. While the Indians were setting an American League record for wins in 1954, with 111 victories, Score was also having a record-setting year. He had a lethal fastball to go with a solid curve and changeup. In his delivery, Score took a big windup, turning his body away from the batter, uncoiled, and threw the ball to the plate. He barely glanced at the batter or the plate, and when he concluded his delivery, he was in a defenseless position on the mound.  
 Score was named the American Association's Most Valuable Player after finishing with a stunning record of 22-5. He gave up only 140 hits in 251 innings, set an American Association record with 330 strikeouts, and had the league's lowest earned-run average, 2.62. While his walks in his first two seasons averaged at least one an inning, this season he cut that ratio almost in half, giving up 140 walks in his 251 innings. Score was named the Sporting News Minor League Player of the Year. Humble and self-deprecating by nature, he passed the credit to his pitching coach, Ted Wilks. "You should have seen him work last year with Ted Wilks, our pitching coach at Indianapolis," said Indians catcher Hank Foiles. "They worked together-a lot every day. And at the start of spring training this year, he was three months advanced as a pitcher-over what he was at the end of last season. Wilks taught him his curve, his change-up and his control-which is 90 percent of pitching."4  
Even though the Indians set a league record for victories in 1954, they went into 1955 spring training feeling a little unsatisfied; they had been swept in the World Series by the New York Giants, four games to none. Still, their pitching staff was considered to be the best in the league. It was led by 23-game winners Early Wynn and Bob Lemon. Mike Garcia captured 19 victories, Art Houtteman had 15, and Bob Feller had 13. Feller was coming to the end of his brilliant career, and most felt that Score could be slotted right into the rotation. He was already being referred to as a "left-handed Bob Feller." The Sporting News picked the Indians to repeat as kings of the American League, based on their strong pitching. 
Two weeks after his 16-strikeout effort against Boston on May 1, Cleveland visited Fenway Park for a two-game series. Many teams avoided starting a left-handed pitcher, much less a rookie, at Fenway Park because Boston could stack its lineup with right-handed hitters. The Red Sox would try to take advantage of the left-field wall and the short distance for a home run. A reporter asked Cleveland manager Al Lopez if he was afraid to start Score in this situation. Lopez grinned and replied that he was not afraid to start his rookie hurler any place or against any other team. The Señor knew his pitcher: Score threw a three-hit shutout, striking out nine. His early success put Score on the cover of the May 30 issue of Sports Illustrated. The article was about Score and "Bullet" Bob Turley, a young, promising right-handed pitcher of the New York Yankees.  
 The Indians were nip and tuck with New York all season, pulling ahead by two games after sweeping a doubleheader from Washington on September 13.  But the Indians went 3-6 to close out the season, while New York thundered home with a 9-2 record to capture the pennant. The Indians finished three games behind the Yankees with a record of 93-61. 
As for Score, his inaugural season was one for the record books. He led both leagues with 245 strikeouts, shattering the rookie record of 227 set by the Phillies' Grover Cleveland Alexander in 1911. Score's record stood for 29 years when Dwight Gooden of the New York Mets struck out 276 batters in 1984.
Score finished with a record of 16-10 and a 2.85 ERA. Manager Lopez named Score to the American League roster for the All-Star Game, but the pitcher did not make an appearance. He was named The Sporting News Rookie of the Year in the American League. "I was surprised being chosen for The Sporting News rookie award," said Score in his usual humble way.  "I thought of several others who were more deserving. I guess I got it because of my strikeout record."5
There was no sophomore jinx for Score in 1956. He won seven of his final eight starts to post a 20-9 record, sharing the team lead in victories with Lemon (20-14) and Wynn (20-9). Score led the league in strikeouts (263) and the team in ERA (2.53). His strikeout total was the most since Feller struck out 348 in 1946. Score became the first pitcher in modern baseball history to strike out more than 200 in his first two seasons. He was again named to the American League roster for the All-Star Game and pitched one scoreless inning. 
Cleveland had again been a pennant favorite in 1956, but again the Tribe lost out to the Yankees. The Indians finished in second place with an 88-66 record, nine games back. Lopez resigned at the end of the season. He denied rumors that he had had differences with general manager Hank Greenberg. Lopez had built a solid record as the Tribe's head man, but he felt it was just not enough to keep going. 
Kerby Farrell assumed the reins of the Indians for the 1957 campaign. Farrell was reunited with Score and Colavito a third time, having managed both players at Reading in 1953 and Indianapolis in 1954. Both teams had won the pennant. Farrell may not have had Score on his pitching staff if Joe Cronin had his way. The Boston general manager and former Red Sox great let it be known that he had offered Greenberg a million dollars for Score. (That sum was the equivalent of more than $7 million in 2009 dollars.) Cronin insisted that the offer was no joke. "If Greenberg had shaken hands on the deal", he said. "I would have called Yawkey (Boston Red Sox owner Tom Yawkey) for approval"6. What was Score's reaction to all of this? "I wonder what Nancy will think when she reads that I am supposed to be worth a million dollars."7 Nancy MacNamara was Herb's fiancée, whom he had met at Lake Worth High School. She was attending St. Mary's College in South Bend, Indiana.    
For Score, his career took a tragic turn when on May 7, 1957, he was struck in the eye by a batted ball. He was pitching the first inning of a home game against New York when Yankee shortstop Gil McDougald, the second batter he faced, smashed a line drive back towards Score. The ball hit Score in the right eye and ricocheted to third baseman Al Smith, who threw to first base for the out. But McDougald was not running down the first-base line. Instead he ran to the pitching mound, where Score was lying with his glove covering his eye. Because of Score's delivery, he was defenseless against a batted ball after he threw. 
Score remembered the play. "A fast ball, probably just below the belt, "said Score. "I threw it straight, and he hit it just as straight. I didn't see the ball until it was on me. I threw up my glove and I think I just nicked it. All I know is the ball got big fast."8
Score was taken to Lakeside Hospital. He had suffered a broken nose, a lacerated right eyelid, damage to the right cheekbone and damage to the right eye. Score kept his thoughts to St. Jude, praying and appealing to the saint to be by his side once more. McDougald was an emotional mess after the incident. He was put at ease somewhat after a long conversation with Anne Score, Herb's mother. Nancy, his fiancée, rushed to Cleveland when she heard the news. Score was hospitalized for three weeks, until May 28. Although he looked fit and fully recovered, Score was months away from the playing field. He sympathized with McDougald: "I talked to Gil and told him it was something that could happen to anyone. It's just like a pitcher beaning a batter. He didn't mean it."9 McDougald lost his desire to play baseball and retired after the 1960 season. Whether or not the incident with Score was responsible, the Yankee's average dropped from .289 in the seven years before 1957 to .253 from 1957 through 1960.  
Herb and Nancy had become engaged earlier in the year and planned for an October wedding. Since Herb was on the shelf as far as baseball was concerned, they moved their wedding day up to July 10 in Boynton Beach, Florida. Score's old baseball coach, Father Kelly, officiated at St. Mark's Catholic Church.
Score did return to the team before the season ended to take some batting practice and shag fly balls in the outfield. He was still quite a way from pitching. His eyesight had improved greatly, but he was having difficulty with depth perception and things were blurry up close. He still could not read with his right eye but was encouraged that his eyesight would make a complete recovery, based on his doctors' prognosis. But Score would not pitch again in 1957.  
As a team, Cleveland finished with a 76-77 record, in sixth place and 21½ games behind the Yankees. It was the first time the Tribe had finished under .500 since 1946. Not only did they lose Score for the season, but Lemon developed bone chips in his right elbow. He was shelved for the final two months of the season. Farrell was fired at the end of the season. He and Yankees manager Casey Stengel met up at the World Series in 1957. Farrell relayed what Stengel told him, that he lost his job on May 7, the front office just retained you after that. General manager Hank Greenberg was also relieved of his duties after the season. 
Bobby Bragan was the new manager for 1958, chosen by Frank Lane, who succeeded Greenberg. Bragan had managed previously in Pittsburgh. Lane had also served as GM for the St. Louis Cardinals and Chicago White Sox. "Trader" Lane loved to make deals. And he had his critics. "I'm afraid to trade with him," said Stengel. "He trades ballplayers and then tells you they're no good."10 With the Indians, he wasted no time in making trades. In the offseason, Wynn and Smith were dealt to the White Sox and Hegan went to the Tigers. During the season, Garcia was released in May, Roger Maris was traded to Kansas City in June, and Lemon was released in July. 
As for Score, he was pitching like his old self when 1958 spring training rolled around. He reported early to the Indians' camp in Tucson, Arizona, and appeared not to have lost any speed on his pitches. Some were concerned that he might change his delivery, but Score nixed that notion. "If you get to the point where you feel cowardly towards criticism, you'll never make a deal,"11 said Lane.  
Indeed, Score looked like himself when he beat Billy Pierce and the White Sox, 2-0, on April 23. Score surrendered three hits and struck out 13 to raise his record to 2-1.  A week later on a damp night in Washington, Score was pitching in a close game. His left arm began to get sore in the fourth inning. In the seventh inning he threw a pitch that bounced in front of home plate by about ten feet. He threw another pitch but got the same result. He had torn a tendon in his left elbow and was sidelined for a month before he could start throwing again. 
When Score returned on June 14, in Washington, he relieved Cal McLish in the seventh inning with the Indians leading 10-2. In the ninth inning he felt the pain in his elbow again; the elbow felt as if it had been stabbed with a knife. "I thought Herbie slipped as he threw the ball," said teammate Mudcat Grant. "I was in the dugout and I swore that I heard something pop in his arm."12 Score made only seven more appearances (one start), the rest of the year, and finished the season with a 2-3 record.
It became apparent during the season that Lane did not like to keep his managers intact, either. Bragan was fired after 67 games and was replaced by former Yankees and Indians great Joe Gordon. Gordon piloted the Tribe to a 46-40 record the rest of the way and a fourth-place finish.  
Score seemed recovered in spring training for the 1959 campaign. He was throwing the ball well. In a game against Boston, he threw a strike past Ted Williams, who turned to catcher Russ Nixon and said, "Herbie's got it again. And I'm glad."13
It did seem as though Score was back. He pitched his way to a 9-5 mark in the first half of the season.   In three of those wins he had double-digit strikeout totals. But in nine starts in the second half of the season, he was 0-6. The Indians battled Chicago all season long, holding a two-game lead at the All-Star break. Cleveland was riding an eight-game winning streak and trailed Chicago by 1½ games on August 27. Chicago visited for a four-game series that weekend and swept the Indians, virtually putting the pennant out of the Indians' grasp.
Cleveland broke camp in 1960 and headed north to begin another season. Optimism was high for the Tribe even though 1959 had ended with a loud thud. The real thud was about to hit Indians fans square in the head. On Sunday, April 17, Cleveland and the White Sox met for their final preseason tuneup, in Memphis, Tennessee. During the game, Gordon informed Colavito he had been traded to Detroit for Harvey Kuenn. The home-run king was traded for the batting average champion. Colavito was the face of the Tribe, the idol for all Indians fans. "Don't Knock the Rock" was the mantra of many of Colavito's followers. GM Lane had coveted Kuenn for a long time and thought that the home-run ball was overrated. It was rumored that Lane was jealous of Colavito's popularity with the fans. Whatever Lane's motive was, it is still considered the worst trade in Indians history. Lane just did not understand that not only was Colavito the heart of the team, but he put people in the stadium seats. Many people called in to the papers complaining of the trade, vilifying Lane, and threatening never to go to another home game. It was a black day for Cleveland.
Score, Colavito's roommate, was given his ticket out of town to Chicago the next day. Lane was living up to his slogan on dealing players which was not to brood about a bad trade, move on to the next one. Lopez had taken the reins in Chicago after he left Cleveland. White Sox owner Bill Veeck, no stranger to rolling the dice via the trade himself, sent pitcher Barry Latman to Cleveland for Score. "I've never seen Al want a player as badly as he wanted Score," said Veeck. With Colavito and Score traded, that left infielder George Strickland and Nixon as the only Indians remaining from when Lane took over the club at the end of the 1957 season.
Score was a very popular player in his own right, both with his teammates and the Tribe faithful. Had he been dealt a week earlier, it may have made more of an impact, "a stop the presses" kind of story. But coming on the heels of the Colavito trade, it was almost like a footnote. "We simply reached the point were we felt that Herb could not win for the Indians," Lane said. "We would not have traded him if we felt otherwise. The condition of his arm is questionable, but it certainly would not surprise me if goes over there and wins for the White Sox. That's the risk we had to take."14 Lane also commented that Score's troubles were "more psychological than physical, though I've got to admit he complained of aches and pains when he was a 20-game winner."15
Going to Chicago was like a homecoming for Herb, with Garcia, Wynn, and Al Smith being on the White Sox roster. Dick Brown, a backup catcher with the White Sox, was Score's batterymate at Lake Worth High School, and had also played briefly in Cleveland. "Frank gave Al permission to talk to me and I told Al I'd like to be traded to the White Sox," said Score. "And after the deal was completed, I thanked Frank."16 But he was most satisfied at being reunited with Lopez. "I have wanted Score on our side for some time," Lopez said. "We tried to get him during the winter meetings in Florida. I think he's still a fine pitcher. I am hoping that we can get him straightened out."17 
Score started 22 games for the White Sox in 1960, going 5-10 with a 3.72 ERA. There were some bright days, but for the most part he couldn't regain the speed on his fastball. Also, he lost the movement on the ball. It went straight as an arrow. In June 1961, he was optioned to San Diego of the Pacific Coast League. "We had a long talk with Herb and he was agreeable to the move," Lopez said. "There's nothing wrong with his arm. He can throw hard on the sidelines for 45 minutes solid. If there was anything wrong with his arm, he couldn't do that. What he needs most is control." Score went 7-6 for the Padres, but his ERA ballooned to 5.10. 
Lopez brought him back to the White Sox for the 1962 season, but after four relief appearances, Score was optioned to Indianapolis of the American Association. Score was 10-7 for the Indians, but still posted a high ERA of 4.82. He returned to Indianapolis in 1963 and posted a 0-6 record with a 7.66 ERA. He asked White Sox general manager Ed Short to place him on the voluntary retirement list. "People asked me why I went to the minors to pitch," said Score. "I still believed my arm might come back. I was only 30. I didn't want to be sitting somewhere when I was 60 and wondering, 'What if I pitched one more year, would I have found it?' Now I know. I have no doubts."18
For his career, Score was 55-46 with a 3.36 ERA. Before being struck by the line drive in 1957, he was 39-20 with an ERA of 2.46, and struck out 547 batters in 512 2/3 innings. After 1957, Score was 17-26 with an ERA of 4.70 in 345 2/3 innings. To his credit, he never used the accident as an excuse. He did not blame anyone, and always claimed that his pitching problems had more to do with his arm troubles in 1958 than his damaged eye in 1957.  
Lane left Cleveland after the 1960 season to assume the same responsibilities in Kansas City. Gabe Paul came over from Houston to become the Indians' new general manager.
n 1964, Paul hired Score to provide color commentary on the Indians' TV broadcasts. After four years in the TV booth, he moved over to the radio side and spent the next 30 years describing the action to generations of Tribe fans. Initially, Score was partnered with veteran broadcaster Bob Neal. "Bob Neal was the difference in my career," Score said. "If the professional broadcaster doesn't like the ex-athlete, he can make you look bad, and you have no chance. It happens a lot in this business. But Bob Neal never showed any resentment toward me."19 
Score was passionate about baseball. He didn't pretend to be interested or speak in an exaggerated voice the way some broadcasters have done. Score was genuine. He was beloved by fans all over, but especially those in Cleveland. Many did not know that he had a playing career, and that included some of the younger players. But that was OK with Score. Broadcasting baseball was his career; playing it was in the rear-view mirror. He was not highly polished; at times he may have given the wrong venue where the team was playing, or he did not give the score or the inning of the game often enough. But that was OK, because Score was real, and the fans adored him, even if he didn't always understand why. To Herb, the players were the stars, not the broadcaster. He didn't feel the need to give expertise on every play, or dwell on a bad play. He was seldom critical of a player or a manager, trying to be objective at all times. He always felt that fans should remember what happens on the field, not what is said in the booth.           
The Indians' flagship station, WWWE, was a powerful, 50,000-watt station. It covered over two-thirds of the country, giving Score the audience, he deserved. The radio station had a slogan that it could be heard in "38 states and half of Canada." While some local listeners may have doubted the accuracy of this claim, Score's broadcast partner, Joe Tait, remembered a story that exemplified it: "In Kansas City, the Indians and Royals were playing a twi-night doubleheader. The first game went extra innings and was delayed by rain several times. It was Cleveland's final visit to KC and the Royals were in a pennant chase. The second game was played and more rain. During a delay at about 1:45 A.M. (EDT), we decided to have a contest to see if anyone was still listening. We offered an Indians press guide and a baseball to the person living the farthest from Cleveland. All they had to do was put their name and address on a postcard and the time 1:45 A.M. We only mentioned it once and resumed the broadcast, which eventually concluded in a full nine innings. The team went on to Texas and Oakland, and so did we.  In Oakland, WWWE's program director called because of the load of postcards. Herb and I decided to declare co-winners because we couldn't figure out which was further from Cleveland, St. John's or St. Croix, both in the Virgin Islands. We had cards from Mexico, Canada, and about 20 states." 20  
But while Score learned a lot about broadcasting from Neal, others learned a lot about baseball from Herb. "If I ran the Indians, Herb Score would be my general manager, and I'd give him carte blanche to do whatever he wanted," said Tait. "He is the smartest baseball man I've ever met."21 
For the first 30 years of Score's broadcasting career, the Indians were for the most part a horrible team. They never seriously contended for the playoffs, finishing at .500 or higher only six times in those 30 years. "Herb Score has probably watched more bad baseball than anyone in the history of the game," Tait said.22 
But times changed and the Indians improved. In 1995 and 1997, they made it to the World Series, losing both times. Score announced his retirement from the broadcast booth in 1997, and called his last game at Game Seven of the World Series, a 3-2, 11-inning victory by the Florida Marlins. Wrapping up the game — his last addressing Indians fans as a broadcaster — Score signed off by saying, "And so that is the season for 1997. And there's very little else we can say except to tell you it's been a pleasure. I would like to thank all the fans for their kindness over the years. You've been very good to me. And we hope that whoever sits in this chair next, you'll be as kind to them as you have been to me. The final score in 11 innings, it's the Marlins 3, the Indians 2. The Florida Marlins are the world champions."23  
In 1998, Score was involved in a traffic accident near New Philadelphia, Ohio. His car pulled out in front of a tractor-trailer. He suffered hip, head, and pelvic injuries. He recovered from the injuries to make a handful of public appearances, but he suffered a stroke in 2002. He then had bouts with a staph infection and pneumonia. After a lengthy hospital stay, Score died on November 11, 2008. He was 75 years old. He was survived by his wife, Nancy, and three children, David, Mary, and Judy. He was preceded in death by his daughter Susan in 1994.  
Score was the connection to baseball generations of Indians fans, first as a player then as a broadcaster. In the early 1990s, he said, "People will tell me I was unlucky. Me? Unlucky? I started with a great team in the Indians and played under a great manager in Al Lopez. Then I went from the field to the broadcasting booth, at the age of 30, and 30 years later I'm still doing the games. If you ask me, that's not unlucky. That's a guy who has been in the right place at the right time."24  
That was Herb Score. Positive at all times. A gentleman at all times. He was a man who always saw the glass as half-full.
A version of this biography appeared in "1995 Cleveland Indians: The Sleeping Giant Awakes" (SABR, 2019), edited by Joseph Wancho.
Notes
1 Hal Lebovitz, "Tribe's Terrific Twosome: Mr. Robert, Master Herbie," Cleveland News, May 2, 1955: 33.
2 Ibid.
3 Roger Birtwell. "Better Grip on Curve Helped Score Blow Down Bosox Hitters," The Sporting News, May 11, 1955: 9 
4 Ibid
5 Jimmy Burns, "'55 Just Long Surprise for Herb Score," The Sporting News, November 23, 1955: 11.
6 Bob Holbrook, "Cronin and Greenberg 'Cook' Deal That Develops O.B. Stomach Ache," The Sporting News, March 27, 1957: 6.
7 Hal Lebovitz, "'Flattered' Score Ribbed on Million-Dollar Baby," The Sporting News, March 27, 1957: 6.
8 Hal Lebovitz, "'St. Jude, Stay With Me', Plea of Score When Hurt," The Sporting News, May 15, 1957: 8.  
9 Terry Pluto, The Curse of Rocky Colavito (New York: Simon & Schuster, 1994), 28-29.
10 Shirley Povich, "Quotes," The Sporting News, April 29, 1959: 16. 
11 Harry Jones, "Tribe Gets Kuenn in Colavito Trade," Cleveland Plain Dealer, April 18, 1960: 33.
12 Terry Pluto: 52.
13 Hal Lebovitz, "Training Tidbits," The Sporting News, March 25, 1959: 25
14 Harry Jones, "Score is Traded; Bell Hurls Today," Cleveland Plain Dealer, April 19, 1960: 1A.
15 Ibid
16 Cooper Rollow, "Happy Score Thanks Lane," Chicago Tribune, April 19, 1960: F-1.
17 Edward Prell, "Sox Get Herb Score: Trade Latman," Chicago Tribune, April 19, 1960: F-1;
18 Pluto, 52.
19 Pluto, 182.
20 Correspondence with Joe Tait, April, 2009.
21 Pluto, 187.
22 Pluto, 177.
23 USA Today, October 26, 1997, Herb Score player file, National Baseball  Baseball Hall of Fame.
24 Unidentified newspaper clipping, Herb Score player file, National Baseball Baseball Hall of Fame.
Born
June 7, 1933 at Rosedale, NY (USA)
Died
November 11, 2008 at Rocky River, OH (USA)
If you can help us improve this player's biography, contact us.
http://bioproj.sabr.org/bp_ftp/images3/ScoreHerb.jpg
600
800
admin
/wp-content/uploads/2020/02/sabr_logo.png
admin
2012-01-04 19:54:50
2022-05-17 13:02:21
Herb Score