---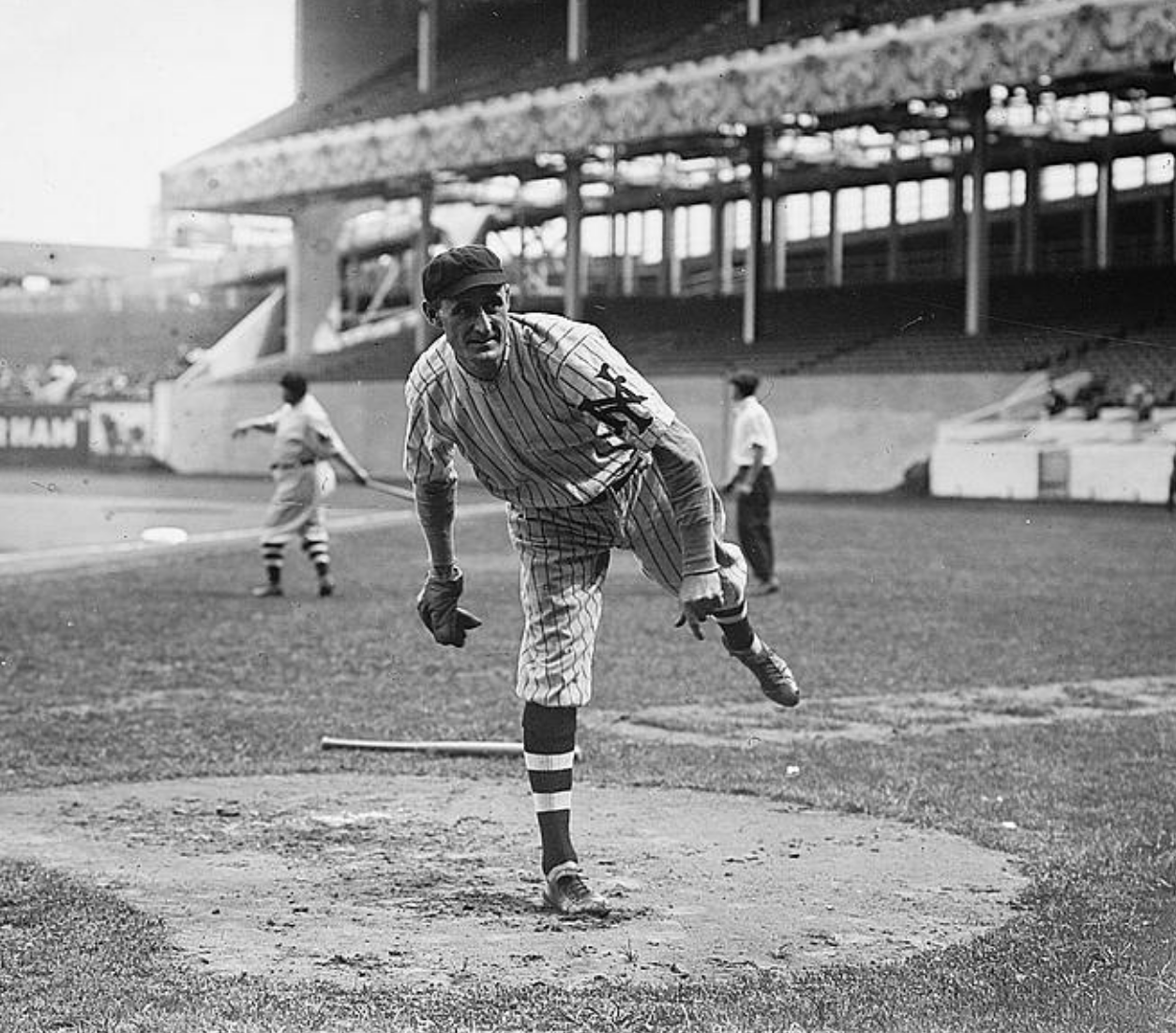 The only left-hander who pitched regularly for John McGraw's New York Giants until Rube Marquard joined the rotation in 1909, George Wiltse was known as "Hooks," not for his ability to curve a baseball, nor for his hooknose, but for his fielding prowess. One story credits Giants catcher Frank Bowerman with saying "that's hooking them" after watching Wiltse use his long right arm to snare shots hit back through the middle, while another says that it was a manager in Syracuse who said Wiltse had hooks for hands after watching him work out at first base. A lean six-footer with deep-set eyes and a wad of tobacco usually in his mouth (he reportedly cost himself a victory in a game against the Cincinnati Reds on June 19, 1905, when he swallowed a quid and suffered an upset stomach), Wiltse won in double figures in each of his first eight seasons with the Giants, compiling a 139-90 record and 2.47 ERA over 12 seasons in the major leagues.
George LeRoy Wiltse was born on September 7, 1879, on the family farm in Pecksport, New York, but record books list his birthplace as Hamilton, the nearest town and the site of Colgate University. The youngest of nine children, seven of them boys, George got his start in baseball by joining his brother Lewis, who also was left-handed, in throwing baseballs against the barn door. Their father put a stop to barn damage by moving his family to Syracuse, where the family entered the carpet business. In 1901 Lewis Wiltse became a major-league pitcher, winning one game for the eventual National League-champion Pittsburgh Pirates before his sale to Connie Mack's Philadelphia team in the new American League. Dubbed "Snake," Lewis went 14-5 for the Athletics and won eight more games for them in 1902 before being sent to the last-place Baltimore Orioles. His major-league career ended after four appearances for the New York Highlanders in 1903; he finished with a 30-29 lifetime record.
By that time brother George was a professional too, having launched his career with Scranton of the independent Pennsylvania State League in 1902. He was with the team for a month and went 3-3, going home to Syracuse when the league disbanded in June. From there George signed with the visiting Troy team of the New York State League, receiving $25 to pitch against the Syracuse Stars on June 19, 1902. Wearing his Scranton uniform, he impressed his hometown crowd with flashy fielding and three hits (teammate Johnny Evers knocked out four), but Syracuse won the game with a ninth-inning rally. Torn between baseball and selling carpets, Wiltse finally opted to sign with Troy for $275 a month, playing the outfield part-time while compiling a 7-15 pitching record. In 1903 he improved to 20-8 with Troy, and that winter his contract was sold to the Giants.
Wiltse made the strongest first impression in major-league history, going 12-0 in his first dozen decisions with the 1904 Giants, a record that has never been broken and wasn't even equaled until San Diego Padres reliever Butch Metzger won his first dozen decisions in 1974-76. Wiltse debuted on Opening Day, April 21, but didn't receive his first starting assignment until May 29, when he contributed two hits to a 5-3 victory over Brooklyn. He shutout the Superbas on three hits in his second start on June 19, and from then on he took his regular turn as a starter, keeping his winning streak alive until a 7-3 loss to Cincinnati on September 22. Wiltse finished his rookie year with a 13-3 record and 2.84 ERA, continuing his good fortune by marrying Della Schaffer in November.
The following season, as the No. 5 pitcher on McGraw's staff, Hooks went 15-6 with a 2.47 ERA, then sat on the bench and watched his roommate, Christy Mathewson, pitch the Giants to the 1905 World's Championship. Over the next two years Wiltse won a combined 29 games, etching his name into the record book again on May 15, 1906, by striking out seven batters in two innings (after striking out three Reds in the fourth inning, he got four more in the fifth because catcher Roger Bresnahan dropped strike three on the leadoff hitter, Jim Delahanty).
Hooks Wiltse's best season was 1908 when he replaced Joe McGinnity as the Giants' No. 2 starter behind Mathewson. Setting career highs in games (44), starts (38), complete games (30), and shutouts (7), Wiltse compiled a 23-14 record with a 2.24 ERA. On July 4, 1908, in the first game of a doubleheader at Philadelphia, he pitched one of the greatest games in baseball history. Hooks retired the first 26 Phillies in a row before facing the opposing pitcher, George McQuillan, who also had pitched scoreless baseball. On a 1-2 pitch, Wiltse threw what appeared to be strike three but was called a ball by umpire Cy Rigler, who later admitted that he blew the call and spent years giving Wiltse cigars to atone for it. The next pitch hit McQuillan, however, and Hooks settled for a 10-inning no-hitter when the Giants scored a run for him in the top of the 10th inning.
If that was the high point of 1908 for Wiltse, the low point had to be September 23 when Fred Merkle's failure to touch second base on a game-winning hit cost the Giants a key victory over the Cubs. Wiltse was the first-base coach at the time, and years later he told an interviewer, "There is no doubt that Merkle missed touching second base. Still, nobody knows whether the Cubs ever got the official baseball into second base to force Merkle because of the mass confusion." Hooks made no mention of whether he reminded Merkle to consider running to second.
In 1909 Wiltse went 20-11 with a 2.00 ERA but proved unable to maintain the workload of 1908, developing a reputation as a cold-weather pitcher who wore down as the summer wore on. The year he turned 30, 1910, was the last time he pitched over 200 innings in a season, finishing with a 14-12 record and 2.72 ERA. Used judiciously by McGraw, Hooks made solid contributions to the pennant-winning Giants of 1911-12. In 1911, after going 12-9 in the regular season, he pitched twice in relief in the World Series, giving up seven runs to the winning Athletics in the Game Six finale.
Hooks didn't play at all in the 1912 World Series but enjoyed one of his greatest moments in the 1913 Fall Classic. After pitching sparingly during the regular season (58 innings with a 1.56 ERA but no decisions), Wiltse filled in at first base in Game Two at Philadelphia when injuries to Merkle and Fred Snodgrass forced McGraw to put Wiltse's reputation as a sharp fielder to the test. In the bottom of the ninth inning of a scoreless game, Athletic base runners reached second and third with nobody out. The next two batters slashed grounders at Wiltse, who both times snared the ball and cut down the potential winning run at the plate. The Giants won the game in the 10th inning, 3-0, but went on to lose the World Series for the third consecutive year. After that season Wiltse enjoyed another of his greatest thrills, joining McGraw on an around-the-world exhibition tour.
In 1914 Wiltse was 1-1 in 20 games, all in relief, before the Giants released him on August 29. After starting the 1915 season with Jersey City of the International League, he finished out his major-league career by making 18 appearances for a lackluster Brooklyn Federal League club, going 3-5 but with five saves. Hooks pitched, managed, and played first base in the minors through 1924, mainly with Buffalo of the International League. In 1925 Miller Huggins brought him back to New York as pitching coach of the Yankees, just in time for Babe Ruth's bellyache to mire the team in the second division. Wiltse retired from baseball after spending 1926 back in the International League with Reading. Returning to Syracuse, he sold real estate for many years and got involved in politics, serving as a Syracuse alderman in 1932-33 and as deputy assessor from 1934-44. Hooks Wiltse died from emphysema at age 79 on January 21, 1959, in Long Beach, New York.
Note: A slightly different version of this biography appeared in Tom Simon, ed., Deadball Stars of the National League (Washington, D.C.: Brassey's, Inc., 2004).
Sources
For this biography, the author used contemporary newspapers and material from the subject's file at the National Baseball Hall of Fame Library.
Born
September 7, 1879 at Hamilton, NY (USA)
Died
January 21, 1959 at Long Beach, NY (USA)
If you can help us improve this player's biography, contact us.
https://sabr.org/wp-content/uploads/2021/04/Wiltse-Hooks-LOC2.png
1102
1254
admin
/wp-content/uploads/2020/02/sabr_logo.png
admin
2012-01-04 20:42:23
2022-10-22 17:21:36
Hooks Wiltse