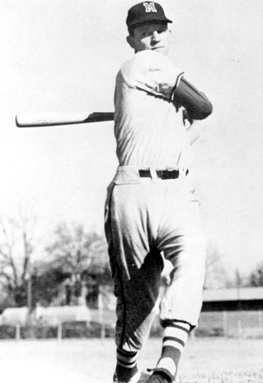 ---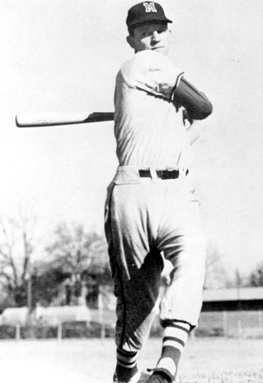 John (Jack) Burwell Reed played the outfield in the regular and post-season for the fabled 1961 New York Yankees, and contributed to their pennant-winning efforts in 1962 and 1963. He was Mickey Mantle's defensive replacement for most of these three seasons. Jack was a terrific high school/college athlete in Mississippi, winning the state quarter-mile run title as a high school senior in 1950, and starting at safety for the 1952-53 University of Mississippi (Ole Miss) Rebels football team. Jack Reed is one of only four intercollegiate student-athletes to play in a major college football bowl game and World Series contest, having done so in the January 1, 1953, Sugar Bowl, when Ole Miss played Georgia Tech; then, playing in three 1961 World Series games, for the New York Yankees versus the Cincinnati Reds. His only major-league home run, a 22nd-inning game-winner, was hit in Detroit on June 24, 1962, in the longest game in New York Yankees history, both in time (7 hours) and length (22 innings).
Jack Reed was born in a Vicksburg, Mississippi, hospital on February 2, 1933, to Burwell Swayze Reed, a farmer, and Hallie Slaughter Reed. Jack's dad owned a 2,000-acre plantation in Silver City, a small Mississippi Delta town in Humphreys County.[1]
Jack and his siblings—James and Nancey—grew up on the family's plantation, six miles from Belzoni, the county seat. Jack's favorite big-league team, the St. Louis Cardinals, played back-to-back World Series versus the 1942 and 1943 Yankees, when Jack was 9 and 10 years old. Cardinals' games could be heard on local radio stations throughout the Deep South in the 1940s. Ted Williams of the Boston Red Sox was Jack's favorite major league player. Jack enjoyed watching Ole Miss football and baseball games. One of his all-time favorite athletes was Charlie Conerly—the future New York Giants star quarterback—who starred on the 1942 and 1946-47 Ole Miss football teams, and was a fine Ole Miss baseball player.
Jack's baseball career formally began as a ninth grader at Silver City High School in 1947. His 1948 high school team made it to the post-season, but was eliminated by Lee High School, based in Columbus, Mississippi. Billy Switzer was Columbus's star pitcher, and later played with Jack at Ole Miss. "Back in high school and college Jack had a good arm, good batting ability…quick wrists, literally hit the ball out of the mitt," said Switzer, via phone, May 6, 2010.
The Reed household opted to send Jack to the Gulf Coast Military Academy (GCMA) in Biloxi, a six-hour Greyhound bus trip from Silver City, for his last two high school years. Jack roomed with Edd Tate Parker. Martin Trauth was Jack's Company Commander at GCMA. Parker and Trauth went on to play football at Ole Miss in the early 1950s. Jack's athletic skills blossomed at GCMA, a more competitive environment than Silver City. Mike Campbell, Jack's football coach at GCMA, was a "great motivator," according to Jack, per one of our phone interviews, and later a top assistant to Darrell Royal at the University of Texas. One opponent, the St. Stanislaus Rock-A-Chaws in Bay St. Louis, Mississippi, in 1941 featured Felix "Doc" Blanchard, who won the 1945 Heisman Trophy for Army. Jack played in Biloxi's Shrimp Bowl, against Baton Rouge High School.
Non McCallahan coached Jack in baseball at GCMA, with Jack his star pitcher and shortstop. Jack excelled in track & field, practicing and competing in his specialty—the quarter-mile run—and relay races. The 1950 State High School track & field events took place at Mississippi College in Clinton, where Harry Craft—his first manager in pro baseball— attended. Jack won the quarter-mile in 52.2 seconds and helped GCMA win the 880-yard relay race state title.
Tom Swayze, Johnny Vaught's top football recruiter at Ole Miss, recruited Jack to play college football and baseball.[2] Ole Miss had winning football seasons the two years Jack started at safety: 1951 (5-3-1) and 1952 (8-0-2). The Rebels finished #7 nationally in 1952 before playing Georgia Tech in the 1953 Sugar Bowl. National rankings were determined before bowl games.
Jack's 1951 collegiate football highlights included a 21-17 upset win over Paul "Bear" Bryant's favored Kentucky Wildcats—"a great day for Ole Miss", per Jack's comments; and a season-ending 49-7 trouncing of arch-rival Mississippi State, propelled by Showboat Boykin's seven touchdowns. Jack's best game was November 14, 1952, when the #3 Maryland Terrapins came into town, but fell short to the Rebels, 21-14. This put Ole Miss on the national college football map. Karl Ott—an Ole Miss baseball teammate of Jack's in 1952 and 1953, and a cousin of Mel Ott—told me via phone, on May 11, 2010, "that win put us in the [1953] Sugar Bowl; Jack was all over the field that day—had a lot of speed at safety and a good knowledge of the game." The 1953 Sugar Bowl, in New Orleans against Georgia Tech, propelled Jack into collegiate football and major league baseball sports immortality as one of four collegiate student-athletes to play in a major college football bowl game and a World Series contest(s).[3]
Jack earned a track and field letter at Ole Miss, for scoring five points in a dual meet. He ran the 100-yard dash in 10.2 seconds, and the 220-yard run in 22.6, but baseball was his favorite sport. Jack played the 1952 and 1953 college seasons, earning All-Southeastern (SEC) Conference honors, the latter season. Ole Miss was a combined 19-20, including a heartbreaking 6-5 loss to Notre Dame, on April 4, 1953. Karl Ott remembered, in our May 11, 2010, phone conversation, that he flied out for "the last dad gum out!" Ott: "Jack Reed was my baseball teammate in 1952 and 1953; a great baseball player who couldn't play his freshman year [due to rules]…a good fielder and a heck of a hitter." [4]
Jack and Be Be Hopkins of Tennessee were involved in a close batting 1953 race, but Hopkins won it the last day. Jack's .400 batting average got noticed by scouts with Cleveland, Detroit, the St. Louis Cardinals, and the New York Yankees. Atley Donald—the Yankee scout—had scouted Jack at semi-pro games in the early 1950s. Jack also played in the National Semi-Pro Baseball Tournament hosted by Wichita, Kansas. After Atley scouted Reed at one semi-pro game near Silver City, Hallie Reed treated Atley and Betty [Atley's wife] to a sumptuous meal. "Atley used to come over and watch me [and my brother] play semi-pro ball," said Reed. "Dad owned a lot of land, a cotton plantation, and I spent many hours helping him. Many years later, we visited the Donalds at that big cattle ranch in Choudrant, Louisiana. Atley and I enjoyed fishing together."
Twenty-year-old Jack Reed signed a Yankees contract in the summer of 1953 and then drove to Kansas City to join the AAA Blues managed by Harry Craft. Jack was befriended by Alex Grammas, the team's shortstop, who played with Jack's older brother—Jim—at Mississippi State. Craft managed and helped develop Mickey Mantle at Independence in 1949, and Joplin in 1950. He, more or less, told Jack "what to expect" in professional baseball. The 1953 Blues finished 88-66 in the American Association; won the league post-season title in a seven-game series versus Toledo; and had a powerful line-up with Bill Skowron, Bob Cerv, Elston Howard, Victor Pellot Power, Grammas, et al.
In 1954, Jack started with the Quincy Gems, in the Class B, Three-I League. He was hitting .288 in 15 games, when sent to Winston Salem, a Class B Carolina League team. Jack hit .287, in 84 games for a 44-94 last-place team. This was overshadowed after the Carolina League season ended on September 6, 1954, when Jack married Mabel Louise (Lou) Trantham in Belzoni.
Jack played the entire 1955 season with the Class A Binghamton Triplets, managed by ex-Yankee player George "Snuffy" Stirnweiss, and led the league in hits (172) and triples (13).
Stirnweiss was A-ok in Jack's book, teaching him how to "bunt for base hits" and stressing fundamentals to the whole team. The top power hitter was catcher Johnny Blanchard, the loop's leading home run hitter [34], who according to Jack was my "best friend through our [big league and minor league] playing days." The team's best pitcher was Jim Coates, a future New York Yankee. Roger Maris was an outfielder with the 1955 Reading Indians. The Triplets' season came to end when they lost a best-of-five series to the Allentown Cardinals.
There was no pro baseball for Jack in 1956-57, due to a 22-month commitment with the U.S. Army. This included six months of basic training at Fort Benning, Georgia, followed by 16 months in South Korea. Jack returned to Silver City determined to have a banner year in 1958.
Jack suited up for the 1958 AA New Orleans Pelicans, never missing a game, leading the Southern Association in runs [120] and hits [198]. Jack felt his manager, Charlie Silvera, "was a good manager who got a raw deal" when the last-place Pelicans fired him during the season. Silvera played nine of his 10 big league seasons with the Yankees, and was Yogi Berra's back-up catcher from 1949 – 1956. Jack's 1958 roommate was a 29-year-old pitcher from Bath, Pennsylvania, Angelo "Wimpy" Nardella. Tom Tresh, a 19-year-old shortstop, joined the team and showed promise. Jack's siblings, parents, and Lou saw him play in New Orleans and Memphis. The New Orleans Times Picayune sports section gave Jack nice coverage and press. Jack befriended Cal Ermer, skipper of the first place and league champion Birmingham Barons.
The 1959 New York Yankees—defending World Series Champions—invited Jack to spring training in St. Petersburg, Florida. One highlight was a photo taken of Jack and Casey Stengel, published in the Sunday magazine of the Times Picayune. Jack presented Stengel with an Ole Miss "M" jacket, one with sentimental value to the "Old Professor." In late January 1914 Stengel drove to Oxford, Mississippi, from his Kansas City home, at the invitation of William Driver, Stengel's high school baseball coach, and now baseball coach at Ole Miss.[5] Stengel assisted Driver coach the Ole Miss baseball team (Creamer, page 77), an enjoyable experience. Jack played in the same outfield with Mickey Mantle, in 1959 spring training games. He found Mantle to be pleasant and friendly to him and other Yankee hopefuls. But spring training at the big-league level was very competitive, and the Yankees had a set outfield with Hank Bauer
in right field, Mantle in center, and Norm Siebern in left, with Hector Lopez to be acquired early in the 1959 season. Jack was sent to the AAA Richmond Virginians (V's).
Steve Souchock, an ex-Yankee (1946-48), managed Jack at Richmond in 1959 – 1960, penciled Jack in for 144 outfield starts and five other 1959 games. The only other V who played more games was Deron Johnson, with 154, in the outfield/third base. Jack's road roommate was shortstop Fritz Brickell, who shared playing time with Clete Boyer. Joe Gibbon, an ex-Ole Miss pitcher, pitched for the 1959 Columbus Jets, managed by Cal Ermer. Gibbon told me, "Jack is a good friend and a good person." Gibbon's second place Jets were eliminated by the third place Havana Sugar Kings; the fourth-place Richmond V's upset first-place Buffalo. Jack went to Havana in the regular/post-season, and said, "it wasn't any different than playing in the U.S." The Sugar Kings bested the V's, four games to two, to win the 1959 International League title.
The 1960 Richmond V's finished second to the Toronto Maple Leafs, before losing their semi-final series with the Rochester Red Wings. Jack still roomed with Fritz Brickell and started two-thirds of the team's games. Ken Hunt and Deron Johnson, plus Jack, got the most outfield playing time. Catcher Jesse Gonder had a fine season, while Eli Grba and Bill Stafford were the V's top pitchers. Jack Reed plugged away, hoping to fulfill his dream of playing with the Yanks.
Roger Maris joined the 1960 Yankees, and won back-to-back MVP awards in 1960 and 1961. Mickey Mantle was relatively healthy in 1960 and most of 1961. Several 1961 changes in the Yankees farm system and parent team helped Jack. Cal Ermer became Richmond manager.
Ermer, per Jack's written responses, "helped a lot of major league players." Ralph Houk was named the Yankee skipper prior to the 1961 season. Houk knew the Yankee farm system inside-out, and liked disciplined and team-oriented players such as Jack Reed, with strong work ethics. Jack made the Yankee ballclub out of spring training, at age 28. His big league debut was April 23, 1961; he played 28 games for the Yankees, mainly as a pinch-runner or defensive replacement for Mickey Mantle; and was Rollie Sheldon's road roommate. Jack was sent back to Richmond, but recalled in time to make the post-season roster.
Bobby Richardson, a fellow Southerner from Sumter, South Carolina, and a person of faith like Jack, recalled Jack stayed with him and his family, circa 1961-62, in Ridgewood, New Jersey, before Jack and Lou found a home to rent. Jack also lived at the Bronx's Concourse Plaza Hotel. Richardson commented: "Unfortunately, for Jack, his situation was playing behind two of the very best [outfielders] Mantle and Maris. Mantle had to wrap both legs with bandages before each game. Maris was a fine athlete; very good at breaking up a potential double play…could throw a rolling block into me, in my first full season [1957] when Maris was with Cleveland. I had to adjust or would land in left field." (May 4, 2010 phone conversation with Richardson).
Ralph Terry reminded me, in a May 3, 2010 phone conversation, that Jack was a fine golfer, plus a good outfielder who "could go get 'em; Jack had a good jump on the ball." Jack told me the foursome of "Mantle, Terry, Stafford and myself would play golf on off-days." Jack developed close friendships with his three golfing buddies; with Johnny Blanchard; Bobby Richardson; and Tom Tresh, his 1962-1963 road roommate. Roger Maris kept to himself; Jack emphasized Maris was a complete player—run, hit with power, with a good arm. Mantle, per Jack, "could do it all—run, hit with power from both sides of the plate; could have been a world class sprinter." [6]
The 1961 Yankees hit 240 homers and won 109 games, before besting Cincinnati, four games to one, in the Series. Rollie Sheldon was a 1961 big league rookie who told me he and Jack were treated great by the veteran players; "Whitey Ford would say, 'Hey rook, go get me a Coke.'" Sheldon: "Jack was always on time and ready to better himself even though he knew his game time was minimal. He always did the pre-game activities with enthusiasm to stay sharp and [was] always ready to enter the game. Jack would never complain. He knew his role, was happy to be a part of a great team that was in the public eye," per Sheldon's May 2010 written answers.
Jack Reed played his first World Series game Wednesday, October 4, 1961, at Yankee Stadium. He replaced Johnny Blanchard, who pinch-hit for Hector Lopez in the home eighth inning. Jack went to center field to start the ninth, and Roger Maris moved to right, before a paid attendance of 62,397. Whitey Ford retired Jerry Lynch on a pop out to Boyer; Eddie Kasko on a grounder, Tony Kubek to Bill Skowron; and Vada Pinson, who popped out to Kubek, as the Yankees won, 2-0. Jack replaced Mickey Mantle in center field, in Game Three at Crosley Field, when the Reds came up for their last at-bat, trailing 3-2. Maris's homer in the ninth gave New York and Luis Arroyo their margin of victory. Jack was on the visitors' diamond in Game Five, when the Yankees clinched it, 13-5. He replaced Blanchard in the ninth, with Maris moving to right and Jack taking over in center. Jack told me he was "scared" in the first game, but realized the 1961 Yankees were special—a team that "didn't think they could lose." After Game Five, Jack rode the train home to Silver City, Mississippi, with his family.
Jack received the first of his two World Series Championship rings early in the 1962 season, the season he hit his only big league homer. This blast was the game-winner in an epic 22-inning, 7-hour contest, at Detroit's Tiger Stadium, June 24, 1962. The Yankees used 21 players, including seven pitchers; Detroit used 22 players, and also had seven pitchers on the mound. Yogi Berra caught the entire game, and wrote these responses in May 2010 to my four questions:
Memories? "It was long. We were supposed to eat at my cousin's house in Detroit after the game. We were late." How did it feel catching 22 innings? "Tired." Did you call most of the pitches? "Yes." Please comment on Jack Reed's 2-run homer, which followed a Roger Maris walk? "Good timing. Glad he hit it."
Rollie Sheldon told me via mail: "Jack had to do it; HE was the only one who still had some strength!" Bobby Richardson started the top of the 22nd inning with a line drive to Steve Boros, playing second. Richardson recalled his 11 at-bats—still a Yankees single-game record—and his wife watching it on TV, from Ridgewood, New Jersey, when we conversed via phone on May 4, 2010. Richardson: "Jack came in as a defensive replacement in the 13th inning…and we were thrilled with the home run!" Roger Maris walked, before Jack—batting clean-up—homered. Ralph Terry did not pitch, but stated Jack's homer was well hit, and came off "The Vulture", Phil Regan. Frank Lary started for Detroit; lasted two innings; allowed seven hits and seven earned runs. Bob Turley, the Yankee starter, was knocked out in the first. Jim Coates, Bill Stafford, Marshall Bridges, Truman Clevenger, Bud Daley and Jim Bouton followed, with Bouton's seven scoreless innings enough to earn the 9 – 7 win.[7]
Jack played his third and final season with the New York Yankees in 1963,[8] one where the Bronx Bombers finished 104-57, to win their fourth straight American League pennant. Jack was in more games (106) than Maris (95) or Mantle (65), and finished second on the team with five stolen bases, behind Bobby Richardson's 15 steals. The Yankees were swept by the Los Angeles Dodgers in the World Series, behind Sandy Koufax, Don Drysdale, and Johnny Podres.
When 1964 started, Jack was a player-coach for the Richmond V's, and roomed with catcher Jake Gibbs, the former All-American football and baseball player at Ole Miss. Preston Gomez managed the V's, on loan from the Dodgers. Mel Stottlemyre was the team's top pitching prospect, and after his call-up, helped the parent club win the 1964 American League pennant. Rollie Sheldon pitched well in nine AAA starts, and complimented Jack on his coaching ability when he wrote this in May 2010: "Jack was easy going, calm and direct when he directed our participation in pre-game warm-ups. On the bench, he would pass along game situation strategy; i.e., this is a good pitch count to steal, hit and run, etc. He was right on as a coach, and took that to his managing position."
Ralph Houk wanted Jack to remain in the Yankee system as a manager, and offered him the managing slot with the 1965 Ft. Lauderdale Yankees. Jack led Ft. Lauderdale to the league title with an 87-51 record. [9] Rod Carew, the All-Star second baseman for the Orlando Twins, was the "league's best player," according Jack.
The 1966 Columbus Confederate Yankees, in the AA Southern League, were managed by Jack. Steve Whitaker, with 20 homers, was the home run threat, for a club which finished 63-76. Jack noted the Yankees farm system in the mid-1960s "did not have many power hitters…as the organization was accustomed to in prior decades."
Jack's final season in organized baseball was with the 1967 Binghamton Triplets, a team he managed to an 82-58 first place finish in the AA Eastern League, followed by a best-of-five, post-season series win over Elmira. Gerald Moses, from Yazoo City, Mississippi, caught for Pittsfield, in Boston's farm system, and Jack knew him since Yazoo City is only 20 miles from Silver City. Jack: "We played small ball and it paid off…Dave McDonald [first baseman] led the team in homers [10]."
Except for seven Yankees Old-Timers Games, Jack Reed never managed or played baseball again, due to the passing of his father and the need to run the family farm. Jack stayed in Silver City, from 1968 on, after his dad passed away. Cotton, soybean, wheat, and catfish were the top crops. Jack later spent 11 years as a purchasing director for Country Select, in Isola, Mississippi.
Several treasured moments came when Jack played golf with Joe DiMaggio, and "got to know him very well." And Jack was one of 11 ex-Yankees, including Bobby Richardson, Jim Coates and Ralph Terry, to attend the 45th anniversary of the 1962 World Series, held in San Francisco.
In retirement Jack and Lou live in Silver City. Their four children, grandchildren and great-grandchildren live in Biloxi, Mississippi; Houston, Texas; and Mt. Vernon, Illinois. Jack summarized his Ole Miss athletic career and New York Yankee years as a "Dream Come True."
Sources
Research for this article included phone conversations with Jack Reed, between February – August 2010, plus Jack's written responses to biographical questions, and his review and edits of my draft article. I conversed by phone with three of Jack's New York Yankee teammates: Jim Coates and Ralph Terry both on May 3, 2010; Bobby Richardson on May 4, 2010; plus a trio of his college baseball teammates at Ole Miss: Carroll Jarvis and Billy Switzer (both on May 6, 2010); and Karl Ott, May 11, 2010. Yogi Berra furnished responses via mail correspondence focusing on the June 24, 1962 New York Yankee – Detroit Tigers 22-inning contest. Rollie Sheldon provided written answers to questions about Jack as a Yankee teammate during the early 1960s, and the 1964 season with the Richmond V's. Ralph Houk, Jack's manager with the New York Yankees, shared some insights with me, via mail, in the early 1990s, on Yankee prospects of the 1950s and his 1956-57 Puerto Rico Winter League managing experience with the San Juan Senators. Houk passed away on July 21, 2010, at age 90. Joe Gibbon, an ex-big leaguer and Ole Miss baseball player, provided feedback on the 1959 International League (AAA) season, when Gibbon pitched for Columbus; and Jack played for the Richmond Virginians. Betty Donald, widow of Atley Donald—the Yankee scout who signed Jack Reed in 1953—did some historical commentary on Jack Reed as a true Southern gentleman. Ashley Mangrum and Daniel Snowden, University of Mississippi Athletic Department, facilitated photo(s) of Jack Reed.
Baseball-Reference.com.
Belzoni, Mississippi (http://www.belzoni.com)
Coates, Jim with Douglas Williams. Always a Yankee. Infinity Publishing.com, December 2009.
Creamer, Robert W. Stengel: His Life and Times. Simon and Schuster, 1984.
ESPN Baseball Encyclopedia, edited by Gary Gillette and Pete Palmer, Sterling Publishing Co., Inc., 2008.
Humphreys County, Mississippi Genealogical Records Information; http://www.mymississippigenealogy.com.
Johnson, Lloyd and Miles Wolff, Editors. Encyclopedia of Minor League Baseball, Third Edition. Baseball America, 2007.
McKee, Thomas. "Lear Helped Put Ole Miss on National Football Map". www.olemisssports.com; September 18, 2009.
New York Yankees 2009 Media Guide.
Neyer, Rob and Eddie Epstein. Baseball Dynasties: the Greatest Teams of All Time. W.W. Norton, 2000.
Ole Miss Baseball 2007, University of Mississippi Athletic Department e-publication.
Paolino, Charles. Blog: http://charlespaolino.wordpress.com/tag/Yankees, April 19, 2010.
Reed, John Burwell "Jack". Letter of Recommendation on why Atley Donald deserves to be in the Mississippi Sports Hall of Fame, February 22, 2010.
Sporthaven.com (Deion Sanders athletic career highlights).
University of Mississippi web site: www.olemisssports.com.
---
Born
February 2, 1933 at Silver City, MS (USA)
If you can help us improve this player's biography, contact us.
http://bioproj.sabr.org/bp_ftp/images4/ReedJack.jpg
600
800
admin
/wp-content/uploads/2020/02/sabr_logo.png
admin
2012-01-04 19:54:02
2012-01-04 19:54:02
Jack Reed