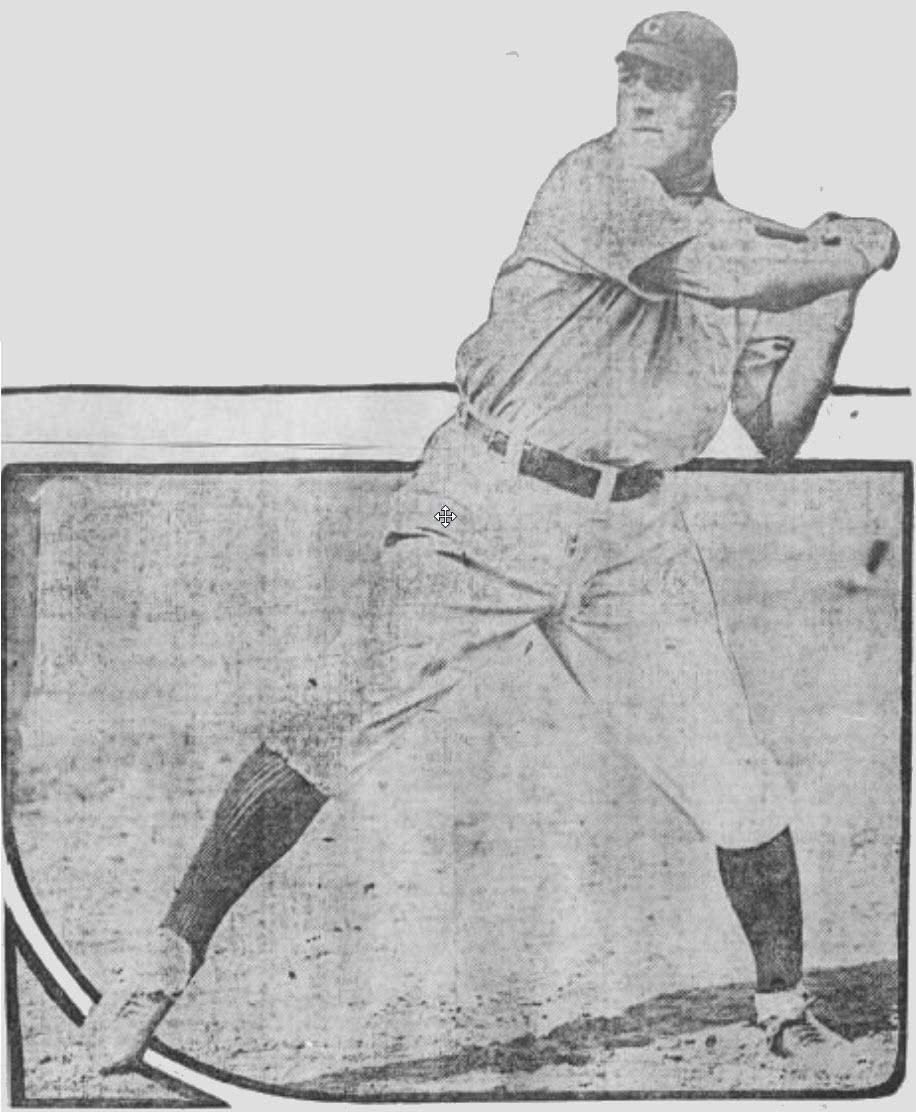 ---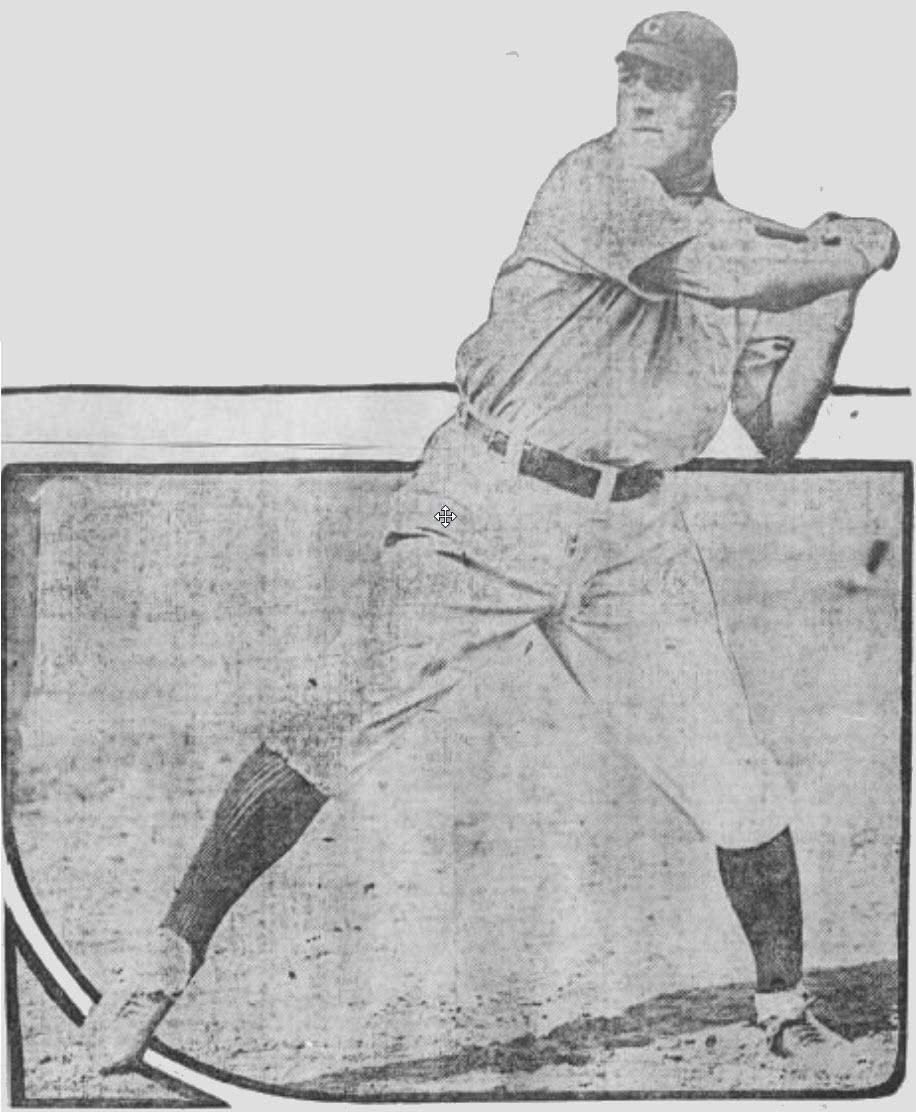 Jay Kirke was a formidable hitter of the 1910s and 1920s. According to sportswriter Norman E. Brown, Kirke hit the ball "as hard as anyone who ever swung a bat."1 His line drives "burned with smoke."2 Kirke "hits everything — bad balls, good balls, curves, fasts and slows," said outfielder Sherry Magee.3 A left-handed slugger, Kirke achieved a .315 career batting average and collected 3,511 hits in 23 seasons, mostly in the minors.4 His erratic fielding limited his major-league opportunities.
Kirke was a colorful character. To what did he attribute his success as a hitter? "Well, you see I just naturally walk up to the plate thisaway," he explained, "take a couple to find out what that guy is sticking in there, and then I crash 'em thataway."5
Judson Fabian "Jay" Kirke was born on June 16, 1888, in the Catskill Mountains of New York. While the record books say he was born in the town of Fleischmanns, he wrote on military draft registrations that he was born in "Alben."6 He likely meant Allaben, near Fleischmanns. He was the only child of Angelo and Anna (Fowler) Kirke.7 According to census records, Angelo was a gardener and day laborer, and the family resided in Middletown, near Fleischmanns.8
Young Kirke played shortstop — he threw right-handed — on a Fleischmanns nine. He was discovered by John Cuneo, manager of the Kingston (New York) Colonials of the Class C Hudson River League.9 As an 18-year-old, Kirke played shortstop for the 1906 Colonials and hit .319 in 22 games. The following spring, he played for the Poughkeepsie Colts in the same league and batted .410 in 16 games. After the league disbanded in June, he was signed by Connie Mack's Philadelphia Athletics.10 The A's farmed him out to the Wilmington (Delaware) Peaches of the Class B Tri-State League. Kirke played one month for Wilmington, hitting .220 in 23 games.
For the next three seasons, Kirke played in the Class B New York State League. In 1908 he played second base and shortstop for the Binghamton Bingos and Elmira Colonels. At 6-feet and 180 pounds, he was big for a middle infielder in those days.11 He possessed a rifle arm.12 However, his .914 fielding percentage was unimpressive.13 The Scranton Republican said he was "a very erratic player at short" and "a much better man at second."14 The next season Kirke was used primarily at second base.15 He began the year with Binghamton and was transferred in midseason to the Wilkes-Barre Barons. The Detroit Tigers drafted Kirke in September 1909 and assigned him to the Scranton Miners for the 1910 season.
On the Miners, Kirke emerged as a strong hitter; he led the New York State League with 182 hits, and his .336 batting average ranked third in the league.16 On June 7, facing future Hall of Famer Grover Alexander, he slugged two doubles and a home run in a 7-1 victory over Syracuse in Scranton. The home run was "the longest hit ever recorded on the home grounds."17 "Shades of [Ed] Delahanty and [Nap] Lajoie!" declared the Scranton Truth about Kirke's powerful "jolts."18 But the Truth was highly critical of him when he failed to run out a hit on July 13: "Kirke ought to know why it is he will never see the big leagues. He was created with a brain, but he is letting it wither up through inactivity."19
The Tigers called up Kirke, and the 22-year-old second baseman made his major-league debut on September 28, 1910, against the New York Highlanders in Detroit. He got his first major-league hit that day, a single in the sixth inning off southpaw James "Hippo" Vaughn. In the field in the fourth inning, Kirke fumbled Charlie Hemphill's grounder, but when Bert Daniels tried to score from second on the miscue, Kirke threw him out at the plate.20
Kirke appeared in eight games for the Tigers that fall. Tigers manager Hughie Jennings gave his opinion of the rookie: "As soon as the boy gets some brains, he will make good, for he certainly knows how to hit the ball," but he "may never be a finished fielder as he hasn't a very good pair of hands."21 Jennings felt Kirke was miscast as a second baseman and should be tried at first base or in the outfield. But in the spring of 1911, Jennings gave up on him, and his contract was sold to the New Orleans Pelicans.
The Pelicans won the 1911 Southern Association pennant with Kirke as their second baseman. He recorded a .923 fielding percentage, the lowest at that position in the league.22 His .308 batting average, though, was among the league leaders.23 In September he was drafted by the Boston Rustlers of the National League. In 20 games with Boston that fall, he played mostly in left field and hit .360 in 89 at-bats. On September 22 he doubled and scored the only run in Boston's 1-0 defeat of the Pittsburgh Pirates. Cy Young hurled a shutout for Boston that day; it was the 511th and final victory of Young's illustrious career.
In a ceremony at Philadelphia on October 16, 1911, Kirke married 18-year-old Anita Margaret Sadlier of New Orleans.24 On August 27, 1912, the newlyweds welcomed their first child, Judson Fabian Kirke Jr., a future ballplayer.
On the Boston Braves in 1912, Kirke continued to hit; his .320 batting average ranked seventh in the National League. Swinging at bad balls, he drew only nine walks in 378 plate appearances. On June 14 he hit his first major-league home run, a solo shot off Cincinnati's Art Fromme. Kirke finished the year strongly, going 16-for-37 (.432) with 17 RBIs in the final nine games of the season.
There were no doubts about Kirke's offense; the puzzle was where to play him on defense. In the outfield in 1912, Kirke's strong throwing arm earned him an impressive number of assists — 22 in 72 games — but his .903 fielding percentage was woeful. He was tried at third base in 14 games and found lacking there, too.
George Stallings, who became the Braves manager in 1913, said Kirke "is altogether too good a hitter to let go."25 But one month into the 1913 season, the Braves did let him go, selling him to the Cleveland Naps of the American League for the $2,500 waiver price. The Naps assigned him to the Toledo Mud Hens of the American Association. On the Mud Hens, Kirke was again among the league leaders with a .320 batting average.26 He was a feared slugger. On September 26, 1913, Minneapolis pitcher Fred Olmstead managed to quiet Kirke's bat by giving him "nothing but slow balls," including some comical underhand tosses.27
The Mud Hens moved to Cleveland for the 1914 season and became known as the Scouts and then the Bearcats. Kirke hit .349 in 74 games for the Bearcats, earning a promotion to the Naps in July. He started well for the Naps, going 39-for-117 (.333) from July 3 to July 30, but he hit only .216 after that. In Boston on July 11, Red Sox pitcher Babe Ruth made his major-league debut; he surrendered eight hits to the Naps that day, including two by Kirke. Ruth earned the win, 4-3.
In 1915 Kirke again began the season with the Cleveland team in the American Association and was promoted in July to the major-league club, now called the Cleveland Indians. He batted .310 in 87 games for the Indians and committed 13 errors as a first baseman. On July 27, in the first game of a three-game series against the Senators in Washington, he looked foolish when he "fanned on a ball over his head in the second inning and was given the laugh by the crowd."28 But Kirke got the last laugh. He feasted on Senators pitching for the rest of the series, going 4-for-6 in the second game and 3-for-4 off the great Walter Johnson in the third contest.
Indians manager Lee Fohl sought a better fielder at first base.29 Kirke was released in the offseason after the Indians acquired Chick Gandil from the Senators. Kirke returned to the American Association by signing with the Milwaukee Brewers in March 1916, but the Brewers became dissatisfied with his fielding and traded him in June to the Louisville Colonels.30 His second child, Medard Paul Kirke, a future clergyman, was born on June 28, 1916.
As a member of the 1917 Louisville Colonels, Kirke was first in the American Association in doubles (37), second in hits (175), and fourth in batting average (.318). His 37 walks in 148 games showed improved discipline at the plate. 31 Yet he would still swing at bad balls — he was known to hit a pitch in the dirt on the first bounce.32 He was also fond of high outside pitches that he would clout to the opposite field.33 It was hard for a pitcher to "waste" a pitch; one time on a pitchout, Kirke belted a line drive over third base.34
The Indianapolis Indians won the 1917 American Association pennant, and Kirke was permitted to play first base for the Indians in the Little World Series, replacing an injured player. He went 9-for-20 (.450) in the Series as the Indians prevailed, 4 games to 1, over the Toronto Maple Leafs, champions of the International League.35
A brief stint with the 1918 New York Giants proved to be Kirke's last major-league action. Aside from that, he played for the Louisville Colonels for the next five years. During this period, he became an acceptable fielder at first base, and his hitting reached new heights. In 1921 he led the American Association with a .386 batting average and set league records for hits (282, in 168 games) and total bases (422). That year he achieved career highs in triples (17), home runs (21), runs batted in (157), and runs scored (125). On June 30, 1921, he sent three home runs over the right-field wall at Neil Park in Columbus, Ohio; the Louisville Courier-Journal reported that this was the first time an American Association player had hit three home runs in one game.36 The Colonels won the 1921 pennant and defeated the Baltimore Orioles, 5 games to 3, in the Little World Series. Kirke went 13-for-36 (.361) in the Series.37 That included a home run in Game Six off future Hall of Famer Lefty Grove.38
Kirke was undeterred by an unfortunate incident that occurred in Minneapolis on August 31, 1921. In the ninth inning, he was struck in the mouth by a pitch from another southpaw — Lefty George. The pitch knocked out several of Kirke's teeth and his face was "badly cut and bruised."39 It was thought that he would miss several days, but he returned to action the next day. Courier-Journal columnist Bruce Dudley, with input from Louisville catcher Brad Kocher, described the aftermath of this incident:
"The loss of those teeth frequently caused the Colonels much concern for the 'concrete' teeth that replaced them persisted in going astray, whereupon Jay would solicit the aid of his mates in the intensive search that would follow. In a critical game at Milwaukee one day, Jay shouted for immediate help in locating the teeth. He was due to bat and his teeth were gone again. A frantic hunt ensued, and Kocher finally found them in mud beneath the water tank that reposed near the bench."40
Kirke was popular with teammates and fans. He had a sunny disposition, but his mood was affected by how well he was hitting, as sportswriter Sam H. McMeekin explained: "Kirke never loses his cheerful mien unless he goes into a streak of poor hitting, then he is inconsolable."41 According to an oft-repeated story, he came home one day after going hitless, and when his wife asked how he did, he responded gruffly, "Never you mind. You take care of the cooking, and I will take care of the hitting."
Joe McCarthy was Kirke's teammate and manager in Louisville. McCarthy told many humorous stories that illustrated Kirke's eccentricities. At spring training in 1920, when McCarthy asked his players whether anyone had read the latest edition of the rule book, Kirke was the only player who said he had read it. After McCarthy praised him for reading the rules, Kirke said, "However, I didn't pay much attention to 'em."42
One time, after striking out, Kirke blamed it on his breakfast. "A fellow can't hit on grub like that," he said.43 Another time, after breaking a bat, he said, "I never feel bad when I bust a bat. It shows I hit the ball."44
Kirke was traded to the Indianapolis Indians after the 1922 season. He suffered a broken arm the following spring when hit by a pitch and was out of action until June. He had an off-year in 1923, hitting only .250 in 128 games for the Indians. But he impressed an 18-year-old high-school student from Indianapolis named Chuck Klein, who said, "If I ever play baseball, I'm going to hit like Jay Kirke."45 Klein, a future Hall of Famer, would hit .320 in the National League from 1928 to 1944.
Kirke's contract was sold to the Minneapolis Millers, and he batted .326 for the Millers in 1924. The following year, he hit .322 for three Texas League teams: the Fort Worth Panthers, Beaumont Exporters, and Shreveport (Louisiana) Sports. Kirke returned to the Sports in 1926 and again suffered a broken arm when hit by a pitch; he appeared in 110 games that year and batted .333.
Kirke played one more season, for the 1927 Decatur (Illinois) Commodores of the Class B Three-I League, and then retired from Organized Baseball at age 39. His teenage son, Judson Jr., was the Commodores' batboy.46 For several seasons after that, Kirke was the manager and first baseman of a semipro team in Fleischmanns, with Judson Jr. at shortstop or in the outfield. Kirke briefly came out of retirement to play for and manage the 1935 Opelousas (Louisiana) Indians of the Class D Evangeline League. He batted .281 in 60 games. Judson Jr. played on that team and many others in a minor-league career that lasted from 1933 to 1950.47
Kirke's third child, daughter Celeste Marie Kirke, was born on May 16, 1929. The family resided in Middletown in 1930 and moved to New Orleans in 1935. Kirke worked for many years as a night manager at an office building in New Orleans. He returned to Louisville for a Jay Kirke Day celebration at the Colonels doubleheader on September 6, 1942.48 Tragedy struck the Kirke family when his wife committed suicide in June 1943; according to relatives, she had been ill for some time.
Kirke, who loved to smoke cigars, died from emphysema and lung cancer at age 80 on August 31, 1968, in New Orleans. He was buried at the Machpelah Cemetery in Pascagoula, Mississippi.
Jay Kirke had an "insatiable appetite for baseball," wrote Bruce Dudley in 1930. "Regardless of the mood in which he happened to be, whether he was in ecstasy over a base hit, in rage over a decision, in embarrassment over an error, … or in elation over a nifty bit of fielding, Jay ever was the most compelling figure on the ball field."49
Acknowledgments
This biography was reviewed by Rory Costello and Len Levin and fact-checked by Alan Cohen.
Sources
Ancestry.com (accessed November 2019).
Kirke's file at the National Baseball Hall of Fame.
Minor League Baseball Stars, Volume II (SABR, 1985), 91.
Richter, Francis C., ed. The Reach Official American League Base Ball Guide (Philadelphia: A.J. Reach Co., 1908-1918).
Photo credit: Minneapolis Tribune, July 12, 1914: 20.
Notes
1 Norman E. Brown, "Sports Done Brown," Moline (Illinois) Dispatch, May 25, 1928: 35.
2 "Shivering Fans Saw Scranton Lose Opening Game of Season," Scranton (Pennsylvania) Truth, May 4, 1911: 10.
3 "He Certainly Knew What to Give Kirke," Joplin (Missouri) Globe, January 5, 1923: 6.
4 Minor League Baseball Stars, Volume II.
5 George A. Barton, "Watching the Sport Show Through the Referee's Eyes," Minneapolis Tribune, July 20, 1924: Sports-4.
6 World War I and II draft registrations at Ancestry.com.
7 The family surname was sometimes spelled "Kirk," without the trailing "e."
8 1900 US Census and 1905 New York State Census at Ancestry.com.
9 Kingston (New York) Daily Freeman, April 6, 1914: 5.
10 "Mack Lands Kirke," York (Pennsylvania) Gazette, June 24, 1907: 6, 7.
11 "'Kid' Kirk May Replace One of Tiger Veterans," St. Louis Star, February 7, 1911: 10.
12 "Daily Growler," Elmira (New York) Star-Gazette, July 31, 1908: 8.
13 Reach Guide, 1908: 239.
14 "Hardy's Debut Was a Success," Scranton (Pennsylvania) Republican, August 22, 1908: 8.
15 Reach Guide, 1910: 299.
16 Reach Guide, 1911: 343.
17 "Scranton 7, Syracuse 1," Wilkes-Barre (Pennsylvania) Record, June 8, 1910: 16.
18 "Kirke's Bat and Schulz's Arm Take Easy Game from Stars," Scranton Truth, June 8, 1910: 9.
19 "Kirke Prevents Miners from Taking Two from Senators," Scranton Truth, July 14, 1910: 4.
20 E.A. Batchelor, "Early Lead Is Too Great to Overcome," Detroit Free Press, September 29, 1910: 9.
21 "'I Am Glad Athletics Won,' Says Jennings Upon Return," Scranton Truth, October 24, 1910: 1, 11.
22 Reach Guide, 1912: 291.
23 Reach Guide, 1912: 285.
24 "Jay Kirke Is Wedded to New Orleans Girl," New Orleans Times-Democrat, October 18, 1911: 11.
25 "Atlanta Will Not Land Kirke; Braves Also Hang on to Devlin," Chattanooga (Tennessee) Daily Times, January 11, 1913: 8.
26 Reach Guide, 1914: 243.
27 "Old Guards in Last Stand to Stem Tide," Minneapolis Tribune, September 27, 1913: 20.
28 William Peet, "Bert Gallia Is Robbed of No-Hit, No-Run Game," Washington Herald, July 28, 1915: 8.
29 Henry P. Edwards, "Three Veterans of Senators May Figure in Deals," Cleveland Plain Dealer, October 22, 1915: 13, 15.
30 Manning Vaughan, "Jay Kirke Traded for New Players," Milwaukee Sentinel, June 22, 1916: 12.
31 Reach Guide, 1918: 177.
32 Red Smith, "Views of Sports," Rochester (New York) Democrat and Chronicle, March 4, 1954: 34.
33 Tommy Fitzgerald, "Kirke Reveals Secret Love as He Returns to Louisville," Louisville Courier-Journal, September 6, 1942: 4-1.
34 "Beebe's Scrapbook," Minneapolis Star, May 26, 1954: 49.
35 Reach Guide, 1918: 164-166.
36 "Kirke Hits Three Homers in Victory over Senators; Koob Twirls Shut-Out," Louisville Courier-Journal, July 1, 1921: 10.
37 Computed by the author from box scores appearing in the Baltimore Sun, October 6-18, 1921.
38 Don Riley, "Louisville Evens Series," Baltimore Sun, October 16, 1921: Sports-1.
39 "Colonels Regain Stride and Overwhelm Cantillon's Team," Louisville Courier-Journal, September 1, 1921: 10.
40 Bruce Dudley, "Bruce Dudley's Whatnot," Louisville Courier-Journal, June 2, 1937: 2-1.
41 Sam H. McMeekin, "Late Players Cause Worry," Louisville Courier-Journal, March 17, 1920: 3.
42 Bruce Dudley, "Bruce Dudley's Whatnot," Louisville Courier-Journal, February 14, 1932: 5-3.
43 McMeekin.
44 J.G. Taylor Spink, "Three and One," The Sporting News, November 27, 1941: 4, 6.
45 Stan Baumgartner, "Just a Moment," Philadelphia Inquirer, March 16, 1933: 14.
46 Howard V. Millard, "Bait for Bugs," Decatur (Illinois) Review, January 24, 1950: 8.
47 Baseball-reference.com, as of November 2019, incorrectly indicated that Jay Kirke played for the 1933 Wheeling (West Virginia) Stogies. It was his son, Judson Jr., who played for the Stogies in 1933.
48 Fitzgerald.
49 Bruce Dudley, "Colonels Rehearse Beneath Stands for Game with Nationals," Louisville Courier-Journal, March 16, 1930: 6-1, 6-3.
Born
June 16, 1888 at Fleischmanns, NY (USA)
Died
August 31, 1968 at New Orleans, LA (USA)
If you can help us improve this player's biography, contact us.
https://sabr.org/sites/default/files/KirkeJay.jpg
600
800
admin
/wp-content/uploads/2020/02/sabr_logo.png
admin
2020-01-06 13:27:33
2020-04-09 14:37:28
Jay Kirke