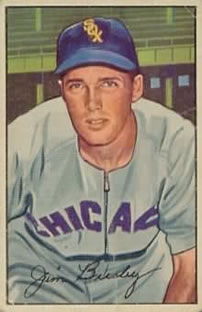 ---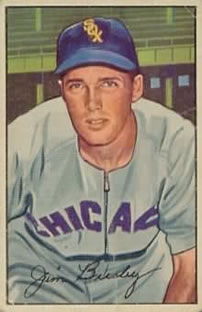 Jim Busby was a speed merchant when teams were buying power.
In the station-to-station baseball of the 1950s, sluggers drove Cadillacs and base stealers hitched rides. Busby never stole more than 26 bases, but he was in the American League's top 5 in steals four times. He used his sprinter's speed in center field, covering three of the majors' most spacious outfields at Chicago's Comiskey Park, Washington's Griffith Stadium, and Baltimore's Memorial Stadium. He recorded three of the top 20 single-season outfield putout totals in major league history.
And, boy, could he run. In a college track meet he dashed 100 yards in 9.8 seconds, one-half second off the world record at the time. In the majors he was clocked from home to first base in 3.4 seconds, 3/10 of a second slower than Mickey Mantle. Busby tried to promote a match race against Mantle, but the Yankees wouldn't allow it.
Yankee manager Casey Stengel, who couldn't remember names but never forgot a ballplayer, said, "That guy there catches singles off his shoetops and steals second base on pitchouts."1 Unfortunately, Busby couldn't steal first base. His weak bat kept him on the bench for much of his career.
James Franklin Busby was born on January 8, 1927, in Kenedy (one "n"), a south Texas railroad stop once known as Six-Shooter Junction for its many gunfights. He was one of four children of James Elbert Busby and the former Florence Smothers. His father, a traveling salesman, moved the family to Corpus Christi.
Jim earned a football and track scholarship to attend Texas Christian University in Fort Worth. In the fall of 1944 the 6-foot-1, 170 pound freshman quarterback became a Horned Frog. Freshmen were eligible for varsity sports during World War II, but there were no student deferments from military service. The draft chipped away at the team throughout the season. By the time they finished 7-2-1, only "Fifteen Fighting Frogs" were left on the roster. The undermanned team won the Southwestern Conference championship and a trip to the Cotton Bowl, where Oklahoma A&M squashed the Frogs, 34-0.
The army claimed Busby soon after football season ended. Stationed at Camp Hood, Texas, he played football and was named most valuable player on the baseball team. He suffered the first of several injuries to his right (throwing) shoulder during his military service.
When he returned to TCU after his discharge in late 1946, Dutch Meyer, the head coach in football and baseball, recruited him for the baseball team. Apparently because of his bad shoulder, Busby played first base in 1947, and was among the conference's leading hitters. When he could find time, he competed for the track team in the 100-yard dash and broad jump, but he played no more football.
After he led the conference with a .509 batting average in 1948, Busby signed with the Chicago White Sox. He tripled in his first professional at-bat for Class A Muskegon, Michigan, but was sent down to Class B Waterloo, Iowa, where he hit .304. He started the 1949 season in Muskegon as a switch-hitting center fielder, but after another shoulder injury he batted only right-handed. Returning to Waterloo, he compiled a .318 average in 78 games.
The White Sox, a perennial loser, had few prospects, so they took a look at the 23-year-old from Class B during spring training in 1950. Even after Busby batted over .400 in exhibition games, manager Jack Onslow was not convinced. When the season opened, he gave the rookie only 10 starts. Busby hit .208 with no extra-base hits, and was sent to Triple A Sacramento at the end of May.
Playing in the Pacific Coast League against many former big leaguers, Busby broke out with a .310/.357/.425 batting line. His only disappointment came at the Sacramento State Fair, where lost a race to Sonny Hill. Sonny had an unfair advantage: four legs. He was a racehorse.
Busby impressed one opposing manager, Paul Richards of Seattle, who was hired to manage the White Sox in 1951. Taking over a sixth-place team, he handed the center-field job to Busby. "The way he can run and field he doesn't have to knock down any fences," Richards said. "He has to learn two things—how to bunt and how to wait out a pitcher for a walk."2
Richards and Busby put their stamp on the team in the home opener at Comiskey Park. Leading off the bottom of the fourth, Busby singled, then stole second and third on consecutive pitches. With pitcher Randy Gumpert at bat, Richards flashed the suicide squeeze sign and Busby raced home. "That was the birth of the Go-Go Sox," Richards remembered years later.3 Soon fans were shouting "Go! Go!" whenever a runner reached base, and the nickname stuck with the team for decades.
The White Sox, who hadn't won a pennant since the Black Sox were banned in 1920, took over first place early in the 1951 season in a tight four-team race. Richards and general manager Frank Lane built a roster that emphasized pitching, defense, and speed. Winning with a staff of no-name pitchers, Richards credited his up-the-middle defense of Busby, shortstop Chico Carrasquel, and second baseman Nellie Fox. All three made the All-Star team.
One hot day, when starter Billy Pierce was being hit hard and often, and Busby was chasing down the left-hander's mistakes, Richards visited the mound. "Don't ask me how I feel," Pierce told him. "Ask Busby how he feels."4
The Sox's Minnie Minoso topped the league with 31 stolen bases, followed by Busby with 26. The team stole 99, the most in the majors. Although they faded to finish fourth, the Sox set a franchise attendance record.
Busby led the AL in batting during the early weeks, but slumped along with his team in the second half. He finished at .283/.344/.354 and was named to The Sporting News major league rookie all-star team. He shared the outfield with Willie Mays and Mickey Mantle, whose batting averages were lower. (Minoso made the team as the first baseman, a position he played only seven times.)
Frank Lane, the White Sox' impatient general manager, was hungry for a power bat. The 1952 season was less than three weeks old when Lane swapped Busby to Washington for outfielder Sam Mele. At the time of the trade, Mele was leading the league with a .429 batting average while Busby was hitting .128. Still, it looked like a lopsided deal; Busby was just 25, and Mele, five years older, had never been more than a journeyman. "It was the hardest thing I ever had to do, letting that boy go," Lane said. "But Paul and I decided we needed more power and we had to get Mele."5 Richards made sure the sportswriters knew that it wasn't his idea.
Busby hit only .244 for the Senators, but he led AL center fielders in putouts and range factor per game, and was second in assists. His 3.28 putouts per game ranked in the all-time top 10 for outfielders as of 2016. Washington's Griffith Stadium had some of the deepest outfield fences in the majors, giving him plenty of room to roam.
Late in 1952 manager Bucky Harris changed his batting stance and had him punching the ball to the opposite field; he hit .350 in the final month. "I discovered that I'm just a spray hitter," Busby said. "I'm better when I don't try to pull the ball. I'm at my best when I'm just trying to meet the ball."6
The next two seasons, 1953 and 1954, were the apex of Busby's career. He batted .312 and .298, led the league's outfielders in putouts both years, and was twice voted the Senators' most popular player. He was also popular with the owner, the ancient Clark Griffith. "They can have all the Mantles and [Jimmy] Piersalls they want," Griffith said. "I'll take Busby in the field or at bat. He's my kind of boy."7
Teenage girls cheered Busby from a special section in center field. He broke some hearts in January 1953 when he married Marie Cameron Meyers, whom he met at their Methodist church. Marie was a licensed pilot, worked in a real estate office, and had a son and daughter from a previous marriage. The first of their two children, James Cameron Busby, was born in October.
Through 1954, the 27-year-old Busby had amassed a batting line of .282/.328/.364 in his first four seasons. Then he forgot how to hit. For the rest of his career he batted .239. There is no obvious reason for his sudden decline. His batting average on balls in play had been above .300 (.290 to .300 is average), then plunged to a low of .239 in 1956 and never recovered. Normally that would mean he was "hitting in bad luck," but bad luck seldom lasts eight years.
It's easy to speculate that a series of injuries caught up with him. Busby played all-out, all the time. He once made a mind-boggling catch of a drive by the Yankees' Gus Triandos, crashing into the center-field wall and knocking himself out of the lineup—in a game the Senators were losing 22-1. Writer Shirley Povich called the catch "simultaneously magnificent and indiscreet."8 Busby played with banged-up shoulders, arms, and legs, and his body may have buckled under the punishment.
Clark Griffith had named Busby one of the Senators' untouchables, but a new manager, Chuck Dressen, traded him back to the White Sox in May 1955. Busby's reputation was such that the Senators received three players in return: catcher Clint Courtney, outfielder Johnny Groth, and pitcher Bob Chakales. Dressen said he needed Courtney, a left-handed hitting catcher. Calvin Griffith, the Washington owner's nephew and heir apparent, said, "Jim was everything we could ask for as a ballplayer and a person and I personally am sad to see him go."9
Chicago GM Frank Lane was glad to have him back; Lane had acknowledged that trading Busby was among the worst of his many deals. "Jim Busby could mean the pennant for us," Lane said.10 That was wildly optimistic. Busby hit .243 for the Sox as they finished third. In one of the offseason's biggest deals, Chicago passed him on to Cleveland, with shortstop Chico Carrasquel, for slugging center fielder Larry Doby.
The Cleveland Plain Dealer's sports editor, Gordon Cobbledick, said Busby was on the spot replacing Doby, an All-Star for seven straight years: "He won't be expected to hit home runs, but he'll have to play the outfield superlatively and bat close to .300 or the wolves will devour him."11 Busby summoned memories of Doby on July 5 and 6, 1956, when he hit grand slams in consecutive games. Only Babe Ruth, Jimmie Foxx, and Bill Dickey had done that before. Busby played his usual superlative center field, but never got close to .300; his .235 batting average was his lowest to that point, although he hit a career-high 12 homers.
In 1957 one sportswriter called Busby "the forgotten man of the Indians" as the new manager, Kerby Farrell, tried Al Smith and rookie Roger Maris in center.12 In June Busby was shipped to Baltimore for utility man Dick Williams. The Orioles were in Cleveland that day, and Williams was already dressed in his Baltimore uniform when he saw Busby walk into the visitors' clubhouse. Suspecting what was up, Williams began unbuttoning his shirt.
The person most upset by the trade was Busby's 9-year-old stepson, Bobby Meyers. The boy had just gotten a miniature Indians uniform for a father-son game scheduled that weekend. The club let him play in the game anyway.
In Baltimore Busby rejoined manager Paul Richards, who wanted him to cover Memorial Stadium's vast center field—405 feet to the left- and right-center power alleys. The Baltimore Sun's Jesse Linthicum said he "patrolled that area as if on a motorcycle."13 Shortly after he joined the club, Busby took off on a 12-game hitting streak, but he ended the season batting just .250 for Baltimore.
It was his last year as a regular. He stuck around for four more seasons as a defensive replacement with the Orioles and Red Sox, then went with Richards, who had become general manager of the expansion Houston club, as a player-coach.
After ending his playing career in 1962, Busby stayed with the Colt .45s (later Astros) as third-base coach. He joined a group of Richards cronies—all white southerners, most of them Texans—who moved to Atlanta after Richards became the Braves' general manager in 1966. When Richards was named manager of the White Sox for the second time in 1976, Busby served as his third-base coach for one unhappy last-place season. He finished up with another expansion team, the Seattle Mariners, in the same role for two years before leaving baseball after the 1978 season.
Busby had settled his family of two sons and two daughters on a farm near Yalaha, Florida, where he owned orange and grapefruit groves. The property had three lakes; Marie was crowned the family's champion at bass fishing. Busby helped coach local youth leagues and the Leesburg High team. The Braves drafted his son Jim out of high school as a left-handed pitcher, but the boy chose college instead. He converted to the outfield at Florida State, was drafted by Pittsburgh in the eighth round of 1975, and played four years in the Pirates farm system.
After a series of cold winters damaged his trees, Busby sold out and moved to a farm near Millen, in southeastern Georgia. He established a game preserve and hunted with guns and bow and arrow. He was undergoing chemotherapy for cancer when he died of a heart attack at 69 on July 8, 1996.
Additional Sources
Dallas News, 1944-1945; 1947-1948.
"Jim Busby, 69." Baltimore Sun, July 11, 1996.
Jackson, Ransom Jr., with Gaylon H. White. Handsome Ransom Jackson: Accidental Big Leaguer. Lanham, Maryland: Rowan & Littlefield, 2016.
Williams, Joe. "Baseball Loses An Ally With Busby's Passing." Orlando (Florida) Sentinel, July 14, 1996.
Notes
Born
January 8, 1927 at Kenedy, TX (USA)
Died
July 8, 1996 at Augusta, GA (USA)
If you can help us improve this player's biography, contact us.
http://sabr.org/sites/default/files/BusbyJim.jpg
600
800
admin
/wp-content/uploads/2020/02/sabr_logo.png
admin
2017-01-18 14:01:08
2017-01-18 14:01:08
Jim Busby