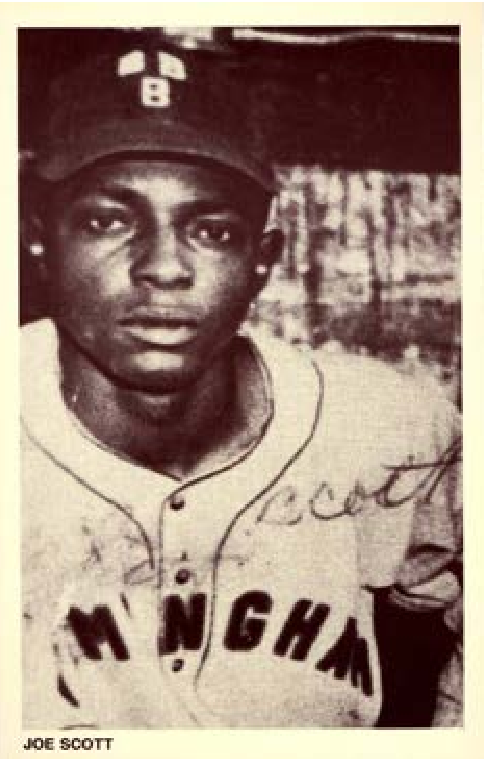 ---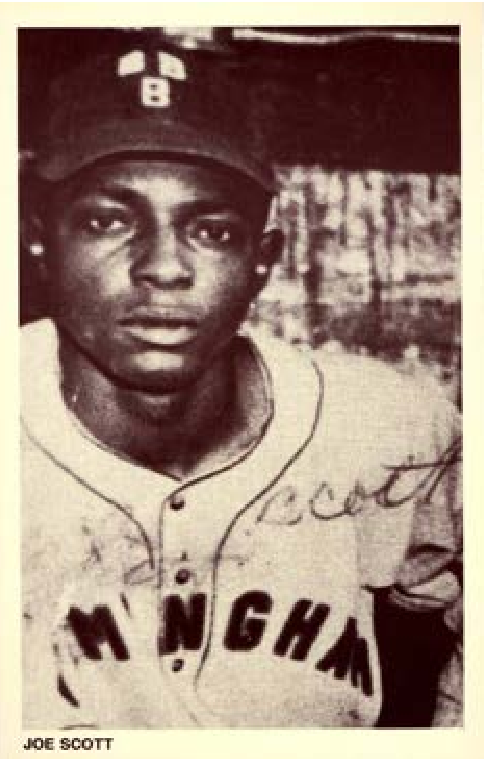 Joe Scott's ancestors were probably kidnapped or purchased by slave traders in West Africa, survived the horrors of the Middle Passage, and were sold into slavery in North America. His great-grandmother Annie Scott, who was born a slave in South Carolina in January 1820, gained her freedom as a result of America's Civil War. She could neither read nor write, but she passed considerable intelligence, drive, and ambition down to her descendants. Annie's son Bearl became a farmer in Alabama; in turn, Bearl's son Elbert rented a farm in Louisiana and became successful enough to buy a home in Shreveport and own a shop.1 Another generation later, Elbert's son Joe had some success in professional baseball, both in the Negro Leagues and with formerly all-white minor-league teams.
Joseph Scott was born on June 15, 1918, in or near Shreveport in Caddo Parish, Louisiana. He was the fifth child and eldest son among the nine children of Elbert and Addie (Caldwell) Scott. Neither parent had attended school beyond the seventh grade, but they insisted on a high-school education for all of their children at a time when the Census Bureau reported that only 17.7 percent of the total adult population and 3.2 percent of the nonwhite adult residents of Louisiana completed four years of high school.2
In the 1920 census Elbert Scott was identified as a renter and a farmer in rural Caddo Parish, and Addie was designated a farm laborer. By 1930 Elbert was working as a laborer in Shreveport, and the family resided on East 72nd Street. By 1940, Elbert was listed as a homeowner and a pipefitter in his own shop while Addie was a cook in a private household. 
Joseph Scott graduated from Shreveport's Central High School, and began to play baseball with the Shreveport Black Sports in 1938. The following year he toured with the Texas Black Spiders; after the squad went bankrupt and disbanded in midseason, he joined the semipro Dunsiath Giants from North Dakota. After traveling through the Midwest and part of Canada with the Giants, he returned home to Shreveport, where he rejoined the Black Sports in 1940.3
Scott joined the US Army in 1941 and served with the 350th Field Artillery, which was attached to the 46th Brigade in the European Theater of World War II. His unit arrived in Normandy six days after the D-Day Invasion in 1944, and Scott found himself in Belgium at the end of the war. He attained the rank of staff sergeant by the time of his discharge in November 1945.4
After his stint in the Army, Scott played for the Los Angeles White Sox of the West Coast Baseball League, a Negro winter league. In 1946 he played for the Detroit Senators before being recruited to the Birmingham Black Barons by catcher Lloyd "Pepper" Bassett. 
At Birmingham in 1947, Scott was a backup to first baseman Piper Davis, who hit .360 in 56 games for which statistics are available; thus, the rookie Scott was no threat to dislodge Davis from his position. Since Scott played sparingly, and since almost no box scores were provided in black newspapers in 1947, his statistics for the season are unavailable.5
This information is vital to the correct identification of the subject at hand due to the proliferation of Joe Scotts in the game. At least three men with that name played in the Negro Leagues during the 1930s or 1940s: 1) Willie Lee "Joe" Scott, a first baseman, who most notably batted .354 for the Indianapolis ABCs in 1932 and who played in the Negro major leagues from 1927 to 1938; 2) Joseph Burt Scott, an outfielder for the Memphis Red Sox from 1944 to 1949; and 3) Joe Scott of the Birmingham Black Barons, whom writers sometimes confuse with one of the other two players by that name.
In 1948 player-manager Davis moved himself to second base, but that did not open up first base for Scott as Alonzo Perry became the starter at that position for games in which he was not the starting pitcher. Scott played primarily in the outfield, and available statistics show that he hit .196 in 68 of the club's 76 games with 3 home runs, 47 runs scored, and 40 runs batted in.6 Perhaps due to his underwhelming statistics, Scott's role on the Black Barons is sometimes overlooked. Willie Mays, for example, devoted a chapter of his autobiography to his time with the Black Barons, but never once mentioned Joe Scott.7 Mays's omission had to be disconcerting to Scott since the two of them had roomed together on the road in both the 1948 and 1949 seasons.8
Under Davis's leadership, the Black Barons won the NAL's first-half championship and defeated the second-half champion Kansas City Monarchs in the playoffs. In Game Two, Davis hit for the cycle while Mays garnered three hits to lead Birmingham to a hard-fought 6-5 victory. Though the Black Barons swept the series, each game was tightly contested: Games One through Three were each decided by one run while Game Four ended as a two-run decision.9
After dispatching the Monarchs, the Black Barons met the Homestead Grays in the 1948 Negro League World Series. Birmingham had faced the Grays, perennial champions of the Negro National League, in the championship series in 1943 and 1944, losing both times. Both clubs still had plenty of star power in 1948. The Grays had started four stars in the 1948 East-West All-Star Games – Luis Marquez, Luke Easter, future Hall of Famer Buck Leonard, and Wilmer Fields – while the Barons had been represented by Artie Wilson, Piper Davis, and Bill Powell, who was the winning pitcher in the first of that season's two All-Star Games which had been played at Chicago's Comiskey Park.
The usual procedure was, of course, for World Series games to be played on the home fields of the competing clubs; however, the Grays were unable to host games in the 1948 series. Homestead is a suburb of Pittsburgh, and the Grays played most of their home games there at Forbes Field while also using Washington's Griffith Stadium as a second home. As it happened, at the time of the 1948 Negro League World Series, both the Pirates and the Senators were occupying their home fields, so the Grays had to play the entire series on the road.
The Black Barons, on the other hand, shared venerable Rickwood Field with the Birmingham Barons of the still-segregated Southern Association. On September 29 the white Barons were wrapping up the Southern Association playoffs in Nashville. They were off on September 30 and in Fort Worth for a Dixie Series game on October 5, thus opening up Rickwood Field for use by the Black Barons on those dates.
In Game One at Kansas City's Blues Stadium on September 26, Joe Scott singled home Ed Steele in the second inning to give the Black Barons a 1-0 lead, but they were unable to hold it and lost, 3-2.10 The series moved to Birmingham on September 29, but home-field advantage wasn't enough to pull the Barons through and they dropped a 5-3 decision and fell behind two games to none. On the next day, in Game Three, the Barons won their only victory of the series, sparked by the heroics of Mays and pitcher Bill Greason. Mays made two outstanding defensive plays and drove in the winning run, while Greason contributed both on the mound and at the plate. He relieved starting pitcher Alonzo Perry in the eighth inning, with the score tied 3-3, and shut out the Grays the rest of the way. In the bottom of the ninth, Greason hit a single, went to second on a walk to John Britton, and scored the winning run on a drive through the box by Mays for a 4-3 victory.11
The series moved to New Orleans for Game Four. On modern interstates the Crescent City is only about a six-hour drive from Birmingham. But in 1948 there were no interstate highways. The Black Barons' bus had to traverse US 11 as it wound its way through the countryside and the city streets of Meridian, Laurel, and Hattiesburg. The trip took most of a day, but there was a reward at the end. At the back of the bus station in New Orleans there was an eating place staffed with black cooks and black waitresses, who gave the ballplayers special service.12
Homestead pitcher Wilmer Fields almost missed his Game Five start. The day before the game, he was at home in Virginia to pick up his wife and son. He drove almost nonstop to New Orleans, taking only a brief nap by the side of the road in Mississippi, which was a dangerous thing for a black man to do in the Deep South of that era. When he arrived in the Crescent City, he said, "I was in such bad shape I was shaking."13Although he was fatigued after driving his car for 25 hours from Manassas, Virginia, to New Orleans, Fields' fastball baffled the Birmingham batters in his 14-1 triumph. Two days later the series returned to Birmingham's Rickwood Field, Where Fields relieved R.T. Walker in the 10th inning and shut down the Black Barons as the Grays won the championship, 10-6.
The 1948 Negro League World Series was the last of its kind as the NNL folded after the season. Too many black stars were now playing in Organized Baseball, and African-American fans were more interested in following the exploits of Jackie Robinson, Roy Campanella, Satchel Paige, and Larry Doby than they were in the Negro teams. A total of 72 players from the Negro Leagues went to the majors between 1947 and 1969, including at least seven who had played at one time or another with the Birmingham Black Barons.14 Bill Greason, Jehosie "Jay" Heard, Willie Mays, and Artie Wilson were with the Black Barons in 1948. The others – Billy Harrell, John Kennedy, and Willie Smith – played for Birmingham at a later time. Though six of those seven players did not achieve success in the majors, Mays became one of the greatest players of all time.
Scott never made it to the major leagues. He retained his position at first base for the Black Barons in 1949, hitting .238 and appearing in a career-high 76 league games and an undocumented number of exhibition games on the barnstorming circuits. NAL salaries were so low that most players toured the country during the offseason to supplement their income, playing wherever and whenever crowds could be attracted. Some players made more money barnstorming than they earned in the entire regular season.
In the Jim Crow era, black ballplayers often had difficulty finding places to eat and sleep while on the road. Problems were not confined to barnstorming in the Deep South. Jack Marshall recalled, "In the Negro American League when we left Chicago to go to St. Louis and play, there was no place between here and St. Louis where we could stop and eat. … From St. Louis to Kansas City, same thing. So many times we would ride all night and not have anything to eat, because they wouldn't feed you."15
In 1950 Piper Davis was back at first base for Birmingham, so Scott sought employment elsewhere.16 He ended up playing for Ted "Double Duty" Radcliffe with the Chicago American Giants, for whom he plied his trade at first base and in left field. He hit .226 in 39 games for the American Giants during his last season in baseball.17 Although he had played in the 1948 Negro League World Series, he had never become a star; even his greatest claim to fame as Mays's roommate during their Black Barons days was largely forgotten  
After baseball, Scott embarked upon a career with the railroads. He moved to Los Angeles, where he initially found employment with the Santa Fe Railroad. After a time he switched companies and went to work for Amtrak for 28 years until his retirement in 1979.  He continued to live in Los Angeles up to his death – on January 12, 1997 – at the age of 78.18
This biography appears in "Bittersweet Goodbye: The Black Barons, the Grays, and the 1948 Negro League World Series" (SABR, 2017), edited by Frederick C. Bush and Bill Nowlin.
Sources
Thanks to Susan Campbell Lounsbury of the Southern Regional Education Board for providing information about the educational attainment of Louisiana residents. Other sources are identified in the Notes.
Notes
1 Data about Minnie Scott and her descendants are taken from reports of the United States Census, 1900, 1910, 1920, 1930, and 1940.
2 US Census Bureau, Decennial Census of Population, 1940 to 2000, Table 11.
3 James A. Riley, The Biographical Encyclopedia of the Negro Baseball Leagues (New York: Carroll & Graf Publishers, Inc., 1994), 704.
4 Ibid. See also baseballinwartime.com/negro.htm.
5 John Holway, The Complete Book of Baseball's Negro Leagues (Fern Park, Florida: Hastings House, 2001), 445.
6 Dick Clark and Larry Lester. The Negro Leagues Book (Cleveland: SABR, 1994), 301.
7 Willie Mays with Lou Sahadi, Say Hey (New York: Simon and Schuster, 1988), 39.
8 Riley, 704.
9 cnlbr.org/Portals/0/RL/Negro%20League%20Play-Off%20Series%20(1940-1955).pdf, accessed July 15, 2016.
10 Blues Stadium had formerly been known as Muehlebach Field and would later be renamed Municipal Stadium.
11 "Grays Hold 3-1 Lead in Series," Afro-American, October 9, 1948.
12 Mays and Sahadi, 39-40.
13 John Klima, Willie's Boys (Hoboken, New Jersey: John Wiley & Sons), 184.
14 Clark and Lester, 144, 256-57. Prior to 1947, 13 players had appeared in both Negro League games and major-league games – Fleet Walker and his brother Weldy in 1884, and 11 light-skinned Cuban players from 1911 to 1929
15 Robert Peterson, Only the Ball Was White (New York: Oxford University Press, 1970), 154-155.
16 Davis would become the first African-American player signed by the Boston Red Sox during the 1950 season, but Scott had already departed for Chicago by that time.
17 Riley, 704.
18 Ibid.
Born
June 15, 1918 at Shreveport, LA (US)
Died
January 12, 1997 at Los Angeles, CA (US)
If you can help us improve this player's biography, contact us.
https://sabr.org/sites/default/files/ScottJoe.PNG
600
800
admin
/wp-content/uploads/2020/02/sabr_logo.png
admin
2015-12-18 11:45:23
2021-09-17 01:07:11
Joe Scott