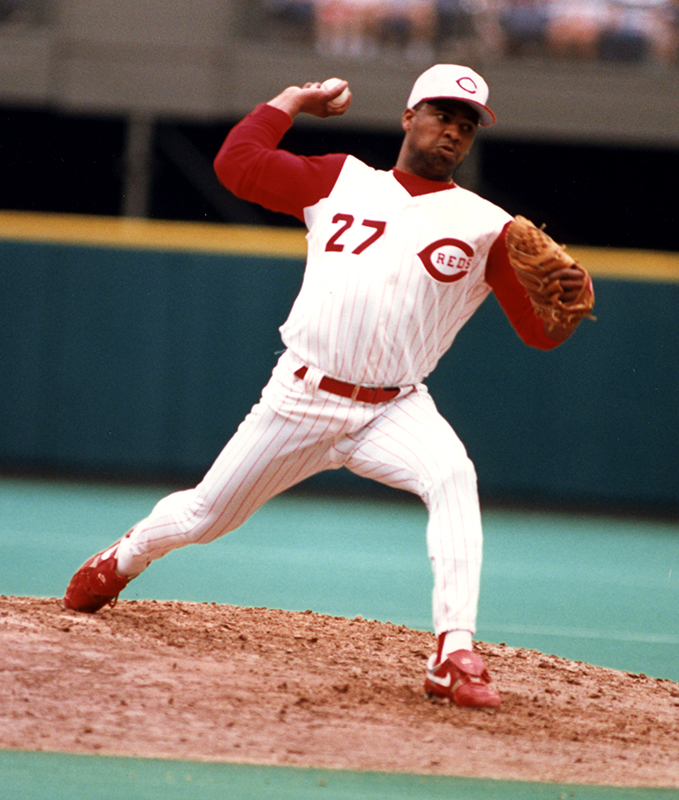 ---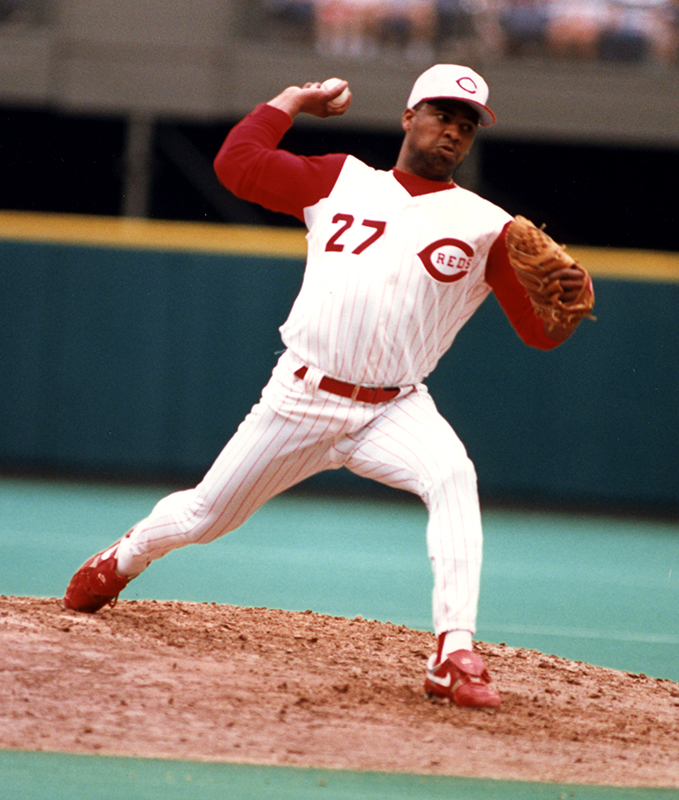 Few, if any, baseball players have ever had as many peaks and valleys in their careers or in their lives as José Rijo. Raised in poverty in the Dominican Republic, he signed a contract with the New York Yankees at age 15. After three years in the minor leagues, he made it to the majors at the age of 18. Battling injuries, he was unable to win consistently and was traded twice in four years. He married the daughter of his country's most celebrated pitcher, and sued her for divorce. Although he missed part of the 1990 season due to injuries, he recovered in time to help pitch the Cincinnati Reds to a world championship, and was named the Most Valuable Player of the 1990 World Series. He became a hero to his countrymen.
In 1995 Rijo was sidelined with a serious elbow injury and was out of baseball for five years. In 2001 he attempted a comeback, but was again struck by injuries. He twice won an award for exemplary conduct on and off the field. He won the Tony Conigliaro Award for his spirit, determination, and courage in overcoming adversity. After retiring as a player he became an assistant to the general manager of the Washington Nationals. He was fired amid allegations of improprieties in a baseball academy he operated in the Dominican Republic. His academy was closed. He was investigated for his association with a person accused of drug trafficking and money laundering. He was not found guilty of any wrongdoing. As of 2015 Rijo was once again helping young Dominicans with baseball aspirations. Once again he is a hero in his native land.
José Antonio Rijo Abreu was born on May 13, 1965, in the municipality of San Cristobal, in San Cristobal Province, Dominican Republic, on the Caribbean coast about 20 miles east of Santo Domingo in the sugar-cane producing area of the island. He was the son of Glady Abreu, a nurse, and Reynardo Rijo, a taxi driver, the 10th of the elder Rijo's 13 children. José's father left the family when the boy was 4 years old. José then shared cramped quarters in an aluminum-roofed four-bedroom house with his mother, grandparents, aunts, uncles, and many of his brothers, sisters, and half-siblings. "We were so poor," José said, "I had to play ball in a friend's shoes, which were too small. The shoes were so tight and worn out I had blisters on each of my toes."1 He didn't see his father again for 19 years.2
Very little is known about José's early childhood. He was called Chago in his homeland, but the nickname never caught on in the United States. Like many Dominican boys he probably learned baseball in the streets of his impoverished hometown. His first baseball may have been homemade, with a small pebble in the center and strips of cloth wound tightly around the core. Bats may have been broomsticks or tree branches. When he was 12 José was playing on an organized club equipped with real balls and real bats. He was very good, a jugador de beisbol estrella (star baseball player).
After Jackie Robinson broke the color barrier, the Dominican Republic became a prime source of major-league baseball players. By the time José was a teenager, scouts were flocking to the Dominican Republic in search of talented players. On August 1, 1980, scout Willie Calvino signed 15-year-old José Rijo to a contract with the New York Yankees for $3,500. The youngster quit school in the ninth grade. "I signed because I hated school, and my family needed the money," he explained. "I knew leaving school was a big gamble. If I didn't succeed in baseball, I didn't know what I would do."3
Rijo never said so publicly, but it must have been quite a thrill for a poor 15-year-old Dominican boy to sign a contract with the New York Yankees, who often were regarded as the most prominent baseball club in the entire world.
Major League Baseball now prohibits the signing of Caribbean players under the age of 16, but that rule was not in effect in 1980. Anyway, Rijo turned 16 before he started his professional career in 1981 in the Yankees farm system at $600 per month. In his first year, he was used sparingly for the Yankees team in the Rookie-level Gulf Coast League, winning three and losing the same number. In 1982 he was promoted to Paintsville, Kentucky, in the Advanced Rookie Appalachian League, where he posted an 8-4 record. Rijo later said that he had had pain in his elbow ever since he was 17 years old. An x-ray taken of his elbow in 1982 showed a bone abnormality, possibly a bone spur. But he kept pitching. Sometimes the pain got worse; sometimes it got better.
In 1983 Rijo was assigned to the Fort Lauderdale Yankees of the Class-A Florida State League. He was a skinny 18-year-old who still didn't speak English. He resolved to try to learn three English words every day.4 He found lodging in a street near the beach that was home to drug users and hoods. Homesick, he spent most of his money on phone calls back to his family in the Dominican. Luckily, he heard about a local family that was known to take in an occasional Latin player. John Cummings was a computer programmer and his wife had come from Mexico. They weren't eager to take in another ballplayer. Caring for players was very demanding on their schedule. They had to take them to and from the ballpark, but they decided to take José in. "He was just like our baby," Cummings said. "He was the only one we got really close to, to the point where he was like a member of the family. He was one of those guys you could never stay mad at. He did what he did because he didn't want anything to mess up his chance at a career in baseball. When he came back for spring training in '84 … there was a major-league rule that players had to stay at the team hotel. Rijo refused to, because he wanted to stay with us."5
Rijo had his best minor-league season in 1983, going 15-5 with an ERA of 1.68 for Fort Lauderdale before being promoted to the Nashville Sounds of the Double-A Southern League (3-2). He led the Florida State League in wins, complete games, and earned-run average. He was named the league's Most Valuable Player. This performance earned Rijo a promotion to "The Show." At age 18 he was on top of the baseball world.
In 1984 Rijo won the James P. Dawson Award as the best rookie in the Yankees' spring-training camp. He achieved his goal of reaching the major leagues. George Steinbrenner, owner of the Yankees, hoped Rijo could compete with Dwight Gooden, the sensational teenage pitcher of the New York Mets, for the affection of Gotham's fans. On April 5, 1984, the 6-foot-1, 200-pound right-hander made his major-league debut. Rijo entered the game against Kansas City at the Royals Stadium in the third inning, with two on, two out, and the Yankees trailing, 14-0. He struck out Greg Pryor, the very first major-league hitter he ever faced. He finished the game, giving up only one earned run on four hits and two walks, while striking out five in 5⅓ innings. It appeared to be an excellent start to a stellar major-league career. However, Rijo's high hopes for a great rookie season soon came crashing down. He won only two games and lost eight that year. He could not match the flamboyant Gooden either on the mound or in the hearts of fandom. On December 5, 1984, he was traded along with Tim Birtsas, Jay Howell, Stan Javier, and Eric Plunk to the Oakland Athletics for Bert Bradley, Rickey Henderson, and cash.
Rijo was pleased about the trade. "I think I had the Yankees mixed up in my head last year," he said. "I had a lot of pitching coaches in New York. One told me to do things one way. One told me to do things that way, and I was kind of confused. … I'm really happy to be here. I hope I play here the rest of my life. There is less pressure here. It is a better place for a young player to play."6
Rijo was disgruntled with the way the Yankees handled him. "I came in as a reliever," he said. "Then two days later they told me I was going to be a starter. People don't know about that feeling."7
When Rijo reported to the A's he was tired from playing winter ball. He told teammate Jay Howell that his arm and shoulder were bothering him and that made him throw everything up. He had no breaking ball. He claimed that he had lost it in New York when they were flip-flopping him between starting and relieving.8
Rijo's stay in Oakland was marked by injuries. In 1985 he split the season between Oakland and the Tacoma Tigers, the A's farm club in the Triple-A Pacific Coast League. While in Tacoma he developed a changeup to go with his fastball and slider. In 1986 he was brought back up to Oakland. During spring training he missed a couple of days of practice because he had an infection on his right toe. Manager Jackie Moore blamed the infection on Rijo trying to be trendy and not wearing socks.9
In the spring of 1986 Rijo was still chafing from comparisons with Gooden. He told Bay Area sportswriter Lowell Cohn that he could have matched Gooden's 24 victories the previous season if he had been given the chance. Was Rijo a cocky kid who should shut up until he gets a respectable season under his belt? Cohn wrote that Rijo knew he had a rare talent, was not bragging but only stating what he believed to be facts. "When you talk to him, he is pleasant enough. He tends to wear loud clothes like flaming red slacks with white shoes and no socks, but he speaks softly, shakes hands with reporters, innocently admits to counting his strikeouts as the game goes along."10 Cohn concluded that Rijo's apparent arrogance was not a character flaw, but a prerequisite to greatness. In order to be successful, Cohn wrote, a pitcher must believe in his abilities, must cultivate the sin of pride.11
When he was healthy Rijo showed flashes of brilliance. On April 19, 1986, he struck out 16 Seattle Mariners at the Kingdome for a club record. Five days later, in a game at the Oakland-Alameda County Stadium against the same Mariners, he pitched a two-hitter while striking out 14. Once again he appeared on the brink of stardom. He was on top of the world. But once again the euphoria didn't last.
Shortly after his outstanding performance against Seattle, Rijo developed a problem with his left leg. At times he had no feeling in the leg. Unable to throw his fastball, he had to rely on his slider. In June he told a writer for the Kansas City Times, "Last night was bad, I couldn't get any sleep. I've got to forget about my leg, but it's a little tough. Right now I'm just running around. I haven't thrown a good fastball yet. I don't feel it yet. … My leg is dancing all over the place when I plant it. I have no control."12
The A's tried Rijo in the bullpen, but that didn't work. They moved him back into the rotation, to no avail. He won nine games for the A's in 1986, and only two in 1987. Before the '87 season was over, he was sent back down to Tacoma.
During the season Rijo was dating Rosie Marichal, a student at San Francisco State University and the daughter of Hall of Fame pitcher Juan Marichal, the most celebrated pitcher ever to come out of the Dominican Republic. Marichal did not know the two were dating, and when the couple announced wedding plans he was furious. "Maybe because he knows how ballplayers are, the lifestyle of the guys," Rijo said. "I don't blame him. I had the reputation of going out a lot. … The hunt was on every day."13 Rosie and José were married in September. It was José's second marriage. Very little is known about his marriage to Alma Rijo, his first wife.
On December 8, 1987, Rijo was traded along with pitcher Tim Birtsas to the Cincinnati Reds for aging slugger Dave Parker. In three years with the A's he had won only 17 games.
Rijo began his Cincinnati career as a middle reliever. His first appearance for the Reds came on Opening Day. He pitched the sixth and seventh innings at Riverfront Stadium as the Reds downed the St. Louis Cardinals, 5-4. His next appearance came in the 16th inning of a game in Cincinnati five days later. He was hit hard, gave up five runs, and was charged with the loss as the Reds fell, 8-3, to Houston. It was the only game Rijo was to lose in relief all season. Over the next several weeks he was dominant in the sixth, seventh, and eighth innings. He credited his success to manager Pete Rose's faith in his judgment. "At Oakland I wasn't smart enough to call my own pitches. They called all of them. I went through hell but I learned," he said.14
By early June Rijo had won six games against only one loss. He was happy as a reliever. However, the Reds traded away starting pitcher Dennis Rasmussen on June 8, and they needed another starter. That very night Rose pressed Rijo to fill that role. In his first start he defeated the San Diego Padres, 7-1, giving up only one run on two hits in six innings and striking out eight Padres. Instead of basking in his success, Rijo was conflicted. "I consider myself a relief pitcher, and I don't want to ruin it by starting over. Tonight I help the team as best I can. Now I hope I can go back to my bullpen. I hope somebody else can do the starts"15
Rose responded by saying, "He wants to go back to the bullpen? Tell him he can go back to the bullpen — until Tuesday night against Houston, his next start. … I have him penciled in for 21 more starts between now and the end of the season. He's a real horse, and he going to win a lot of games — as a starter."16 As it turned out, Rijo made 19 starts and won 7 of 14 decisions as a starter, giving him a 13-8 record for the year. In August he experienced pain and weakness in his shoulder and was placed on the 21-day disabled list on August 18, the first of 10 times he was put on the DL during his career in Cincinnati. He was reinstated on September 8 and pitched well the remainder of the season.
The Reds were counting on Rijo to be one of their top pitchers and perhaps help them win a pennant in 1989. After finishing second in the National League West for four consecutive seasons, the Reds had reasonable expectations for a championship in '89. They got off to a great start, leading the division in April and much of May. Then the injury bug hit. Player after player went down, and the Reds plunged all the way to fifth place. The Reds had counted on Rijo being a big winner. He had a record of 7-6 with a 2.84 ERA on July 17 when he suffered a stress fracture in his lower back, which sidelined him for the remainder of the season.
After the 1989 season ended Rosie and José became parents of a baby boy, José Jr., called Josie. But their marriage was already beginning to come apart. "She didn't want me to visit my friends, go out and have a drink, whatever. She wanted me to let her know everything I do, where I spend my money and what I spend it on. … It's tough having someone trying to control you," he said. "When the woman wants to take control, you know, it ain't going to work. You know a man is a man. And I wear the pants in the house. I bring the food into the house, so I should have control"17 Despite marital discord, the union endured throughout the 1990 season.
How Cincinnati would fare in 1990 depended, among other things, on how the wounded troops recovered from their injuries and how the players responded to their new manager, Lou Piniella. The results were positive on both fronts. Most of the players recovered from their injuries, and most of them responded well to Piniella's fiery leadership. The Reds got off to a terrific start, winning nine consecutive games to start the season, and were never headed, leading their division wire-to-wire. Although Rijo had been expected to be the club's ace, he was unable to contribute to the streak, suffering from tendinitis in his throwing shoulder. However, other pitchers picked up the slack. When Rijo won his first game of the season, on the last day of April, Cincinnati's record was 13-3. Of course, they couldn't keep winning at that pace, but they held onto first place. On June 29 Rijo went on the disabled list with a muscle strain in his right shoulder. The Reds were 45-26 at that point, and Rijo was 5-3. When Rijo returned on July 21 the Reds were 57-32. Rijo won his first game back after being reinstated, but lost three of next five decisions.
During the dog days of August the Reds were losing more often than winning. They lost five in a row from August 17 to 20. On August 21 pitching coach Stan Williams lit a fire under Rijo. He called the starting pitchers together and told them he was thinking about going to a four-man rotation. "Awesome," Rijo said.18 "Well, good, José, because you're not one of them," replied the coach.19 Piniella said the rotation would include Tom Browning, Danny Jackson, Norm Charlton, and either José Rijo or Jack Armstrong — "whoever is pitching well."20
In fact, Williams and Piniella did not go to a four-man rotation. If the gambit was intended as a motivational ploy, it worked. Over his next nine starts, Rijo went 6-2 with a 1.27 ERA. Sportswriters John Erardi and Joel Luckhaupt wrote that Rijo put the Reds on his back and carried them to the finish line.21
The Reds won the division and faced the favored Pittsburgh Pirates in the National League Championship Series. As the ace of the staff, Rijo drew the assignment to start the first game of the NLCS at Riverfront Stadium. He pitched 5⅓ innings, being relieved by Norm Charlton with two on and one out and the score tied, 3-3, in the top of the sixth inning. Charlton escaped the jam, but lost the game, 4-3, on a double by Andy Van Slyke in the seventh inning. After the series moved to Pittsburgh, Rijo started Game Four at Three Rivers Stadium. He picked up the victory this time, pitching seven innings in a 5-3 Cincinnati win. The Reds won the NLCS in six games for their first National League pennant since 1976.
The Reds faced the defending world champion Oakland Athletics in the 1990 World Series. Led by the "Bash Brothers," Mark McGwire and José Canseco, and featuring an outstanding pitching staff, the A's were overwhelming favorites. Manager Lou Piniella chose Rijo to start Game One, and Rijo was masterful, pitching seven shutout innings before turning the game over to Nasty Boys Rob Dibble and Randy Myers to nail down the 7-0 win. The Reds won Game Two, 5-4, and took Game Three, 8-3. It was Rijo's turn again in Game Four and he wrapped up the world championship for Cincinnati with another outstanding performance, pitching 8⅓ innings and giving up only one run. Myers came in to shut the door and the Reds claimed the game, 2-1. Rijo was named the Most Valuable Player of the World Series.
In the Series Rijo had twice defeated Dave Stewart, the ace of the Oakland staff. Stewart was not a gracious loser. He implied the Reds win was a fluke. "It's not always the best team that wins. It's the team that plays the best," he said. "I didn't take anything away from Cincinnati. I just wouldn't admit they were a better team than we were. I don't feel they were. I don't feel that now. They were just better than us in four games. It wasn't me that made the odds for the World Series. Someone else said we were going to win, we were the better team. Even the Cincinnati fans thought the Reds were going to lose."22
Less than two months after the end of the World Series, Rijo filed for divorce from his wife, Rosie. He alleged in the suit, filed in the Hamilton County (Ohio) Court of Common Pleas, that he and Rosie were incompatible and that Rosie was guilty of gross neglect of duty. Rosie denied the charges. "My husband, José, is a wonderful baseball player and a world-class athlete, but he has a lot to learn about marriage. José does not understand that a successful marriage, like a winning ballclub, requires the efforts of more than one player."23 Rosie claimed that José never told her he was planning to sue for divorce. She said she learned about the divorce proceedings from news reports. "I'm in shock," she said. "We just came back from a cruise, and I'm pregnant."24 (The Rijos' daughter, Sasha, was born the following summer.)
"I did tell her," José said, "but I think she always thought I was joking. She never thought I was going to do it. … I love Rosie. I love my wife. I don't think I'm ever going to find anyone better than her. She's a beautiful wife. She's the best cook I've ever seen. I treasure her a lot. She's a very reliable person. I just think her attitude was a little tough to deal with. She thought she was boss."25
Marge Schott, owner of the Reds, had tried to save the marriage. "There has been a problem that I worked very hard on with Rijo and his wife. … I got into their thing about a year ago. They've got a child, she's pregnant again. There's nothing I want more than Rijo and his wife to stay together."26
For his part, José resented Schott's interference. When her efforts to bring about a reconciliation failed, Schott provided a lawyer to look out for Rosie's financial interests. "She recommended her a lawyer," Rijo said. "That's personal life. Nobody should interfere with my personal life. But she tried to talk to me about getting back together. She didn't want me to get a divorce."27
"I don't want to be changing wives liked I've changed uniforms," Rijo said. "But a man's got to do what he's got to do."28
With divorce proceedings under way, it appeared the marriage was irretrievably doomed. Then, surprisingly, the couple quietly reconciled. Many pages had been written about the pending divorce, but no newspaper articles heralded the reconciliation. It was mentioned briefly in USA Today Baseball Weekly,29 but otherwise ignored by the press. Apparently, news sources considered it a nonstory. Anyway, José and Rosie were back together again.
After his stellar performance in the 1990 World Series, Rijo had good reason to believe he deserved a large pay raise. In order to avoid arbitration, the Reds signed him to a three-year, $9 million contract. Dave Stewart, perhaps still smarting from his World Series losses, had some comments. "The money has gotten ridiculous in the game for mediocre players. I'm not saying he's not worth $3 million. I'm saying I don't think his statistics right now indicate he should be paid that kind of money. Maybe they're paying him on potential. You look at his statistics the last two, three years and I don't see $3 million worth. … If you can get it, that's great. I can appreciate that. But a lot of guys are getting a lot of money when they haven't quite earned it yet. But if the owners want to give it, O.K. It works out good for players like myself who have earned it.30
Schott was asked if she thought Rijo was worth $3 million a year. Even though she was the one who authorized his salary, she replied. "He only had one really good year — last year. No, I don't, but I'm as guilty as the rest of the owners. I mean, who's worth that kind of money anyway? A person who runs General Motors doesn't get that kind of money. The president of the United States doesn't get that kind of money. Plus (pitchers) only play part-time."31 Rijo, of course, thought he was worth every cent he was paid.
During the offseason Rijo spread some of his money around in the Dominican Republic. The World Series star was accorded a new status in his homeland. "I became a king," he said. "I was like some kind of hero, which I'm not. I'm just a very lucky person."32 "I had 30 people a day asking me for money," he said. "And people started calling me El Millionario. Even my friends started looking at me differently, which made me feel sad."33
"People weren't just asking me for $100," he said. "I had people asking me for 2 million pesos to make a business. One person wanted to sell me a hotel. Everybody had a different problem. Some people said, 'I need medicine for my baby.' Other people said, "I need some money to buy rum. … It's sad. I like to help people who really need help. But people were trying to use me. And I hate to be used."34 He built a fence around his mother's house to keep solicitors out.
In some ways Rijo was generous with his new-found wealth. When he returned to the Dominican, he took a load of gloves, bats, T-shirts, and tennis shoes to give to children. He spent about $60,000 for two ambulances, one for the police department, one for his hometown's hospital. "They deserve it," he said. "They need it. They suffer a lot. I've seen a lot of people die there because they didn't have transportation to a hospital. I figure as long as I've got the money, I can help them."35
Rijo didn't give all his money away. He spent plenty on his passion for classic automobiles. In 1989 he had purchased a cherry-red Porsche 960 Turbo from Pete Rose. By 1991 he was proudly driving a white BMW 750IL, one of seven cars he kept in his three residences in Florida, Ohio, and the Dominican Republic.36
During spring training in 1991 Rijo discussed his prospects for the future. "I'm capable of doing a lot of things if I can stay healthy for a full season," he said. "That's what I'm praying for, to be healthy for one full year and see what I can do. I've got one goal in mind, being in the All-Star Game and being the Cy Young winner."37
When asked about his inability to stay healthy, he replied: "It bothers me big time. It's happened the last three years and now you wonder if it's going to happen again."38
Rijo couldn't stay healthy. Shortly before Opening Day, he had some wisdom teeth removed, which contributed to manager Lou Piniella's decision to start Tom Browning rather than Rijo in the season's first game. Rijo was irate about the manager's action. "I don't think it's fair," he said.39
Injuries continued to haunt Rijo. In a game against the Montreal Expos at Riverfront Stadium on June 20, he broke an ankle while trying to steal second base. He missed six weeks, not returning to action until August 5. Meanwhile, dissension disrupted the clubhouse. The togetherness and camaraderie that had marked the championship season of 1990 was gone. Rijo contributed to the rancor. After a 13-0 loss in San Diego on August 11, he said, "It's hard to comprehend the situation, but when you see it, you believe it. I see a losing team. I see a team giving up with two months to go. Look at the game today. If you'd said we'd play like that, I'd have said 'No way.'"40
Four days later Rijo was pitching a shutout in the early innings of a game at San Francisco's Candlestick Park until Reds third baseman Chris Sabo committed an error that led to two unearned runs. After the Reds lost the game, 4-1, Rijo confronted Sabo in the dugout and took a swing at him. It took the efforts of six players to separate the two and prevent a real knockdown fight.41
His problems with his teammates were soon patched over. Around the first of September his elbow started hurting again, Rijo pitched through the pain and pitched some of the best baseball of his life. Seven shutout innings against Houston on September 15 earned him his sixth win in a row and brought his season record to 14-4. There was talk about Rijo as a candidate for the Cy Young Award. Piniella said, "José is developing into the best pitcher in the National League, pure and simple. He's really got it all together out there. … As far as the best pitcher in the league, he's got my vote."42
José said, "I'm right at the top in almost every category. I don't know if they're going to take that (broken ankle) into consideration, but if they do, I'll have a fair shot. … I think I'm quickly developing into the luckiest pitcher in the league, the way my elbow feels."43
Alas, Rijo lost two of his last three starts and came in fourth in Cy Young voting. Nevertheless, he had a great season. Despite missing six weeks with a broken ankle, he won 15 games for the first time in his major-league career. He led the league in won-lost percentage and WHIP (walks plus hits per innings pitched), and was second in earned-run average and strikeouts per innings pitched.
In 1992 Rijo won 15 games again, despite another stint on the disabled list. He was on the DL from April 18 to May 3 because of an inflammation of his right elbow. When he returned, Piniella, with the advice of Dr. Frank Jobe and Dr. James Andrews, placed him on a pitch count of 65-70 pitches for the next six or seven starts. He was afraid Rijo would break down again if he tried to come back too quickly. When Rijo protested the pitch count, Piniella advised him to keep his mouth shut. "He's being paid to pitch. He'll do what we tell him. We're doing what's best for him."44 According to Retrosheet, over the next seven games Rijo pitched, his lowest pitch count was 83; three times he exceeded 100 pitches.
While he was on the DL, Rijo was taking four capsules of a powerful anti-inflammatory drug daily. Because of possible dire effects, the drug, Butazolidin, commonly called Bute, was given only in cases of severe pain. Dr. Mark Siegel of the Cincinnati Sportsmedicine and Orthopaedic Center said, "It's kind of a drug of last resort. It's usually used in cases where you need a good response quickly because it's usually this or possibly surgery.45
Rijo hedged his bets on which religion could help him most. For a long time he kept a voodoo doll and a bottle of snake oil in his locker. In 1991 he looked for a new source of help. He started carrying a picture of Pope John Paul II in his shaving kit. Before a start in Pittsburgh, he removed the picture from the case and propped it on a hook in his locker. He told himself, "If he falls off the hook, we lose. And if he hangs in there, we win."46 Perhaps papal intervention paid off. At any rate, on July 2 Rijo pitched seven innings of six-hit ball, and the Reds beat Pittsburgh, 2-1, to end a three-game losing streak.
Rijo made it through the 1992 season without recourse to surgery, but it was extremely difficult. In July he didn't know if he could make it. His sore elbow was a major concern. "All I know is it's not getting any better. I'm trying to take it like a man. But I'm not having any fun even though we're winning. … I'm trying. I'm doing my best. It's bad, but I've been able to swallow my pain and go out and pitch. … but it's getting harder and harder."47
Somehow Rijo made it through the season. It may have been the Bute, or voodoo, or snake oil, or the pope, or just sheer determination on his part. His numbers weren't quite as good as they had been in '91, but they were still good. His strikeouts-to-walks ratio was second best in the National League.
The Cincinnati chapter of the Baseball Writers Association of America yearly presents the Joe Nuxhall Good Guy Award to a player who shows exemplary conduct on and off the field. The 1992 recipient was José Rijo. (Ten years later he won the award again, the first Red to be so honored twice.)
For the first time in six seasons with the Reds, Rijo avoided a stay on the DL in 1993. He won 14 games again. He could have won several more had he received a little more help from his teammates. Five potential victories were blown by the bullpen in the ninth inning and three more were lost by relievers in the eighth. In eight of his losses the Reds had scored a total of seven runs. He had good reason for his claim. "Given the lineup (Atlanta) had last year, and I probably would have won 25. It definitely would have been at least 20."48
Rijo led the league in strikeouts in 1993. He ranked second in ERA and third in WHIP. He led the league in games started and ranked second in innings pitched. Rijo finished fifth in balloting for the Cy Young Award in 1993. Despite those stellar numbers, Rijo was not a happy camper in 1993. He and Rosie had marital problems and broke up again. (This breakup appeared to be permanent.) The Reds were beset with troubles. Owner Marge Schott was suspended from Organized Baseball for a year because of inappropriate remarks. Manager Tony Perez was fired. Rijo clashed with some of his teammates, including one expletive-filled tirade when he thought they were not supporting Perez. "To me he is the best manager we've ever had here. He lets us have fun, and he lets us know when we've done something wrong. He's been great.49 After Perez was fired, Rijo said, "We've definitely reached the highest level of embarrassivity."50
The Reds lost 89 games, the most they had lost in a season since 1984. "There was no happiness," Rijo said. "There were no good times at all. It was all aggravation, irritation. To lose every day is not fun. Even though you're throwing the ball good, it's no consolation because you're supposed to do that. You've got to win. That's the most important thing."51
The Reds turned things around in 1994. They got off to a good start and led their division almost every day until the season came to an abrupt halt. Rijo's slider was one of the principal reasons for the Reds' success. While José was still a teenager, Pascual Perez taught him how to throw the pitch. The slider is typically so hard on the elbow that some clubs refuse to teach it to their young hurlers. Perhaps overuse of the slider is partially responsible for the elbow and shoulder injuries that plagued Rijo throughout much of his career. He refrained from throwing sliders between starts and in early exhibition games, but when the season started he was willing to throw sliders at any time. By 1994 he was throwing the slider 50 percent of the time. In a poll conducted by The Sporting News, Rijo's slider was voted best in the National League by an overwhelming margin. He received 43 votes; John Smoltz and Larry Andersen tied for second with four votes each.52
Rijo achieved one of his goals by being selected for the 1994 All-Star Game, although he did not pitch in the game. His record was 8-4 at the time. He won only one more game after the break. His hopes of competing in another World Series were thwarted when the baseball season was ended by a strike on August 12. Although the Reds were in first place at the time, there was no postseason for them or any other team. Rijo had a record of 9-6, with an ERA of 3.08. He led the league in games started and was second in strikeouts.
The work stoppage ended when US District Judge Sonia Sotomayor issued a preliminary injunction against the owners on March 31, 1995. After an abbreviated spring training, the season began in late April. The Reds were again expected to win the National League Central. Sportswriter Bob Nightengale foresaw Rijo winning the Cy Young Award that he had coveted for so long.53 Instead Rijo's world came crashing down on him again.
On June 2 Rijo was placed on the DL with tendinitis in his right elbow. He came off the DL on June 17 and attempted to pitch again, but even with the help of cortisone shots the pain was too much. The bone spurs that had troubled him for years were getting worse. By 1995 the bone spurs were 2½ times larger than when he was 17. On July 19 he was put on the DL again in the hope that rest would relieve the pain and enable him to pitch effectively again. It didn't work. Magnetic resonance imaging (MRI) showed a partially torn ulnar collateral ligament (UCL) as well as some bone formation within the ligament. Some bleeding was detected.
On August 22, 1995, Tommy John surgery was performed on Rijo's right elbow by Dr. James Andrews in Birmingham, Alabama. The surgery consisted of removing a UCL and replacing it with a tendon from elsewhere in the body. Andrews estimated Rijo would be able to pitch again in about one year. He thought there was an 80 percent probability that Rijo would regain his full pitching capability. He cautioned that physical recovery after surgery is but a fraction of the recovery process. "What we're really talking about here is mind over matter," Andrews said. "We're talking about six months to a year or even more in recovery, and a player has to prepare for that mentally even more than what he has to endure physically. Surgery is just the first step in a long journey."54
Rijo was soon ready mentally to pitch, but the surgery did not end his physical problems. Rijo has been cited as one of the greatest failures of Tommy John surgery.55
Rijo was expected to miss most, if not all, of the 1996 season, but in early spring he appeared to be making great progress and was already throwing sliders in addition to fastballs. The Reds were not eager to reactivate him; not only did they not want to jeopardize his recovery by rushing him back too soon, but it was also to their financial advantage to keep him on the DL. Their insurance company was picking up all of his
$5.9 million salary. They were right. Rijo did push himself too soon. During spring training he developed excruciating pain. He had to undergo a second surgery on his right shoulder on April 4, 1996. It was an arthroscopic procedure to remove elbow calcification, bone formation in his elbow and scar tissue. He started throwing again in late May, but he couldn't handle the strain. He had to undergo surgery again on November 20 to repair a ruptured flexor tendon, his third time under the knife in 15 months. There seemed no chance that he could pitch in 1997. By early March of that year, it seemed likely that Rijo would never pitch in the majors again.56 On April 7 Dr. Andrews removed some sutures and scar tissue. However, Rijo kept trying. In August he severely injured the flexor tendon in his right elbow. The tendon was torn completely off the bone. The result was a fourth elbow surgery by Dr. Andrews on August 27. The Reds
granted Rijo free agency on October 29. On January 8, 1998, they signed him to a minor-league contract for 1998, but it was doubtful that he could pitch.
Rijo reported to the Reds' 1998 spring-training camp in Sarasota able to throw, but was told to wait a few weeks before pitching off a mound. He agreed to stay with the club as a scout if his comeback failed. He was told that the position of scout could lead to a role in management or as a pitching coach.57 Nothing came of this agreement. He was granted free agency again on October 15, 1998.
In the spring of 1999, Rijo opened a baseball academy he built on a hillside on the southern coast of the Dominican Republic, near his hometown of San Cristobal. Lomo del Sueno, he called it, Hill of Dreams. "I know a lot of dreams are going to come true there," he said.58 The complex included seven baseball fields, 10 indoor batting cages, a track, two weight rooms, two dining rooms, four locker rooms, and housing for 600 youngsters. "This is my biggest pitch of my whole life. I can pass on all the knowledge that I learned about the game to those kids," he said.59 In its first two years, his academy helped nearly 100 youths sign minor-league contracts.
For five years Rijo worked very hard at rehabilitation. He kept trying to come back but met setback after setback. In 2000 he said, "I'm going to lay off for a whole year, start traveling, eat steak, drink wine, have fun and forget about baseball for a year. … I was resting my mind and my arm both."60 To keep himself in shape, the 35-year-old Rijo played basketball with the youngsters at his academy.
As he had so many times in the past, Rijo tried to make a comeback in 2001. His slider had lost some of its bite, but he had developed a forkball that dropped almost straight down, and he still had an effective fastball. In May he traveled to Cincinnati for medical exams to see if his rehabilitation had been complete enough for him to resume pitching. He passed the tests; On July 1 Rijo signed a free-agent contract with Cincinnati. The Reds sent him to Dayton of the Class-A Midwest League. He started one game for the Dragons, pitched three innings in which he allowed only one run, and was ready to move on. His next stop was at Chattanooga in the Double-A Southern League. He pitched three innings for the Lookouts, struck out three, walked one, and allowed one hit, but no runs. "Those were three good innings," he said. "My arm feels outstanding. My mechanics were good. … I feel ready (for the major leagues.)"61
In order to prove that he was indeed ready for the big leagues, Rijo needed to be tested at the highest minor-league level. He made four starts and two relief appearances for the Louisville Riverbats of the Triple-A International League before Jim Bowden, Cincinnati's general manager, pronounced him ready for prime time. He was called up on August 17. He pitched the eighth and ninth innings of a loss to the Milwaukee Brewers that evening. In two innings he gave up two hits, walked two, and struck out two. It was his first major-league appearance since 1997. Rijo became the first pitcher to return to the majors after having been out of Organized Baseball for five seasons.
Rijo's joy at returning to the majors was almost more than he could express. "I cannot describe with words how I feel right now. It's beyond anything in my life that I ever accomplished," Rijo said. "No moment could beat this moment today, until I die and go to heaven and meet Jesus. This feeling is that close. … I never thought it would take this long. Nobody has any idea how hard it was to be here today."62
After posting a 2.12 ERA in 13 appearances with the Reds in 2001, Rijo joined the Florida Instructional League to stay in shape so he could pitch in the Dominican Winter League. In January Rijo signed a minor-league contract for 2002, but he fully expected to pitch in the majors. That expectation was fulfilled. In March he was added to the Reds' 40-man roster and given a one-year contract for $500,000. "I feel like I'm a walking miracle right now," he said.63
Rijo started the 2002 season as a long reliever, but moved into the starting rotation on April 21. He went 4-3 in eight starts until his shoulder began giving him trouble. He went on the DL on June 7. He returned to action as a reliever on July 13. During the season he made nine starts and relieved 22 times, while compiling a 5-4 record. He didn't know it at the time, but his last major-league appearance came on September 28, 2002. The 37-year-old right-hander pitched the seventh inning of a 6-0 loss at Montreal, giving up one earned run on two hits and a walk.
Rijo received two well-deserved awards at the end of the season. Cincinnati baseball writers presented him with his second Joe Nuxhall Good Guy Award. The Boston Red Sox honored him with the Tony Conigliaro Award, given annually to the major-league baseball player who best overcomes adversity through spirit, determination, and courage.
Rijo was looking forward to another good year in 2003, but again adversity struck. During spring training his elbow began giving him trouble. On March 11 he flew to Birmingham, where Dr. Andrews performed an arthroscopic procedure to remove a bone spur, the sixth surgery on Rijo's elbow. Rijo expected to be back in action in a few weeks, but it didn't happen. By June he was feeling pain in a different part of the elbow. Dr. Andrews told him another operation was not an option. He had two choices — to pitch with the pain or to retire.64
Rijo could pitch through pain. He had done it before, and he was willing to do it again. But he couldn't pitch if he couldn't get the ball over the plate. Rijo admitted he couldn't handle any more surgeries.65 So he really had no choice. He never threw another pitch in Organized Baseball. The Reds granted him free agency on October 15, 2003; his playing career was over at the age of 38.
For the next few years Rijo worked mainly at his baseball academy in the Dominican Republic. On November 1, 2004, Jim Bowden, Cincinnati's general manager, became general manager of the Washington Nationals. He hired Rijo as a special assistant, primarily to increase the organization's ability to attract Latin ballplayers, especially Dominicans. The Nationals developed a special relationship with Rijo's academy. Rijo also spent time in Washington during the season, working with the club's pitchers. "I have a lot of knowledge of the game," he said, "and it means a lot to me to share that knowledge with the young pitchers to help them get better."66
Rijo was credited with saving six young Cuban players from deportation. "They had left (Cuba) to look for a better life. They came over in a boat and were caught by the police.
They were very scared. When they learned they were going to be sent back to Cuba, they almost started crying. They said they would rather be shot in the Dominican," Rijo said. "They did not want to go back to receive the punishment they were going to receive."67
Rijo appealed to Dominican officials and got the players released so they could live and play at his academy.
Meanwhile, Rijo's career in Cincinnati was not forgotten. On June 11, 2005, he and Eric Davis were inducted into the Cincinnati Reds Hall of Fame. They were the first two players from the world champion 1990 Reds to be so honored. Rijo came back to the Queen City for the ceremony. "There were so many people I was looking forward to seeing here. It reminds you of some people who have left the game. It reminds you of the World Series. It reminds you of how far you've come and how much you can help other people. There are a lot of memories for me here; it has a place in my heart."68
Rijo reflected on Dominican baseball. "I think when you play the game in the Dominican, a Dominican kid does a lot with a little, doing the only thing he knows how to do, and that's playing ball. … The desire to become a major-league player is unbelievable. You know that's the only way you're going to make a difference in your country. If I'm healthy, I'm happy. Every day when I wake up, I feel good, and I feel motivated. When I wake up in the morning, I think about the kids in the Dominican. There, 70 percent of the kids don't really have education; they help provide for their families. Some of them don't even know what they're going to eat in the morning."69
When asked about his responsibilities with the Nationals, Rijo replied: "Responsibilities? I have too many. I'm assistant GM, I'm a scout, and I'm also a part-time coach at the major-league level. But I'm going to do everything I can to stay around the game."70
Those were heady days for José Rijo. He zipped around the Dominican in his fire-engine-red Mercedes convertible, basking in the adoration of his countrymen. Rijo's relationship with the Washington Nationals lasted for more than four years. It came to an unhappy conclusion in February 2009. The Nationals fired Rijo and ended its association with his academy less than a week after it was revealed that prized prospect Esmailyn Gonzalez, who had trained at Rijo's academy before receiving a $1.4 million signing bonus in 2006, had lied about both his name and his age. Rijo denied any knowledge of wrongdoing.71
Rijo defended the lengths to which Dominican players will go, including identity fraud, to gain a foothold in North American baseball. Sociologist Alan Klein reported Rijo as saying, "We used to have a factory with 3,000 jobs. It's gone. We used to have a gun factory. Gone. Duty-free, gone. We used to have a hotel in this town. We don't have one anymore. We used to have three movie theaters. We don't have movies anymore. All the job opportunities here are gone. What's people going to do? Be honest? And get a job where?"72
Supply and demand outweighed some other considerations. The Dominican has a seemingly inexhaustible supply of young men seeking baseball careers. The major leagues have a demand for more and more talented players. Baseball academies are thriving on the island. Every major-league club now operates an academy. Other academies are operated by entrepreneurs, called buscones, who furnish room and board, baseball training, and sometimes English-language instruction to 13- to 15-year-olds, In the expectation of receiving 15 percent of the player's signing bonus, if he is offered a professional contract at age 16.
Soon after Rijo was cleared of any wrongdoing in the Gonzales case, Rijo was back working in an academy as a buscon. In 2009 he was still indulging in his passion for automobiles, driving a white Lexus SC430 convertible. But he couldn't avoid suspicion. In December 2011 he was subpoenaed for questioning about his possible involvement in money-laundering for drug traffickers. No concrete evidence was found, and the case was dropped.
Once again Rijo was back in the good graces of his countrymen. How long that would continue remained to be seen.
Last revised: March 21, 2019
Notes
1 Washington Post, April 11, 1991.
2 Ibid.
3 Washington Post, April 11, 1991.
4 USA Today, February 28, 1991.
5 Clipping in Rijo's Hall of Fame File, no date.
6 HOF file, April 3, 1985.
7 HOF file, no date.
8 HOF file, no date.
[9] The Sporting News, March 10, 1986.
10 HOF file, no date.
11 Ibid.
12 Kansas City Times., June 24, 1986.
13 Washington Post, April 11, 1991.
14 The Sporting News, May 9, 1988.
15 The Sporting News, June 20, 1988.
16 Ibid.
17 Washington Post, April 11, 1991
18 John Erardi and Joel Luckhaupt, The Wire-to-Wire Reds. (Cincinnati: Clerisy Press, 2010), 164.
19 Ibid.
20 Ibid.
21 Ibid.
22 New York Times, March 1, 1991.
23 Washington Post, April 11, 1991.
24 HOF file, December 14, 1990.
25 The National Sports Daily, no date.
26 USA Today, February 28, 1991.
27 New York Times, March 13, 1991.
28 USA Today, February 28, 1991.
29 USA Today Baseball Weekly, March 4-10, 1992.
30 New York Times, March 1, 1991.
31 Washington Post, April 11, 1991.
32 New York Times, March 13, 1991.
33 Washington Post, April 11, 1991.
34 Ibid.
35 USA Today Baseball Weekly, March 4-10, 1992.
36 Washington Post, April 11, 1991.
37 New York Times, March 13, 1991.
38 Ibid.
39 HOF file, March 22, 1991.
40 The Sporting News, August 19, 1991.
41 The Sporting News, August 26, 1991.
42 HOF file, no date.
43 Ibid.
44 The Sporting News, May 18, 1982.
45 HOF file, June 28, 1992.
46 Ibid., July 13, 1992.
47 USA Today, July 26, 1992.
48 HOF file, April 4, 1994.
49 The Sporting News, May 3, 1993.
50 The Sporting News, June 7, 1993.
51 The Sporting News, May 4, 1994.
52 The Sporting News, July 11, 1994.
53 The Sporting News, May 1, 1995.
54 The Sporting News, March 20, 1996.
55 W. Laurence Coker, Baseball Injuries: Case Studies by Types in the Major Leagues (Jefferson, North Carolina: McFarland, 2002), 69.
56 The Sporting News, March 3, 1997.
57 The Sporting News, March 2, 1998.
58 The Sporting News, January 5, 2001.
59 Ibid.
60 USA Today, March 25, 2002.
61 Cincinnati Post, July 10, 2001.
62 New York Post, August 18, 2001.
63 USA Today, March 25, 2002.
64 Associated Press, June 11, 2003.
65 Cincinnati Enquirer, June 11, 2003.
66 Washington Post, March 4, 2005.
67 Washington Times, March 4, 2005.
68 Dayton Daily News, June 9, 2005.
69 Ibid.
70 Ibid.
71 Espn.go.com, February 26, 2009.
72 Alan Klein, Dominican Baseball: New Pride, Old Prejudice (Philadelphia: Temple University Press, 2014), 4.
Born
May 13, 1965 at San Cristobal, San Cristobal (D.R.)
If you can help us improve this player's biography, contact us.
https://sabr.org/sites/default/files/RijoJose.jpg
600
800
admin
/wp-content/uploads/2020/02/sabr_logo.png
admin
2012-01-04 20:47:11
2022-04-04 17:48:07
Jose Rijo