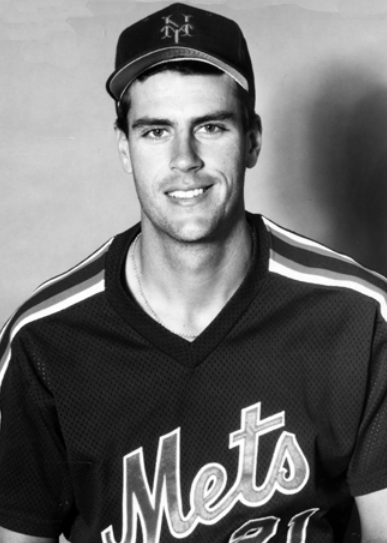 ---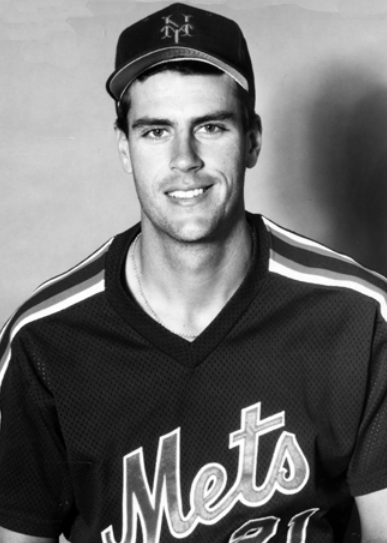 After 13 years in the major leagues and at the age of 37, Kevin Elster's defensive skills still got noticed.
In 2002, after sitting out the 2001 season, Elster went to spring training with the New York Yankees. A pair of players who each knew what it took to play shortstop in the major leagues noticed Elster.
"Elster's hands are as good as anyone I've ever seen," Derek Jeter said.1
Former infielder Clete Boyer said Elster's release was so quick and effortless, "it's like he puts on a clinic" during infield practice.2
Early in Elster's major-league career, Mets coach Bud Harrelson, who spent 16 years in the big leagues and won a Gold Glove at shortstop in 1971, said, "Defensively? I don't mess with him. He's got it all."3
But it took a while for Elster's skills to develop. Born on August 3, 1964, in San Pedro, California, Elster was encouraged to play baseball by his father, Don, who was one of his youth baseball coaches. After graduating from Huntington Beach Marina High School in 1982, Elster began his college baseball career at nearby Golden West College, a two-year college.
"Kevin told us we were the only one that recruited him," said Golden West coach Fred Hoover. "We recruited him for his athletic ability. We couldn't project then that he would be in the big leagues (as a regular) by 1988, but by the middle of his first season, we knew he had something special."4 Before his second season at Golden West, the 6-foot-2, 180-pound Elster was selected by the New York Mets in the second round of the January 1984 draft, and signed with the Mets after the college season. Elster, who had been offered a scholarship by Arizona State, received a reported signing bonus of $44,000.
The Mets assigned Elster, who wouldn't turn 20 until August, to Little Falls of the New York-Penn League, where he began his quick ascent through the Mets' minor-league system. In 71 games with Little Falls, Elster batted .257.
He opened the 1985 season with Lynchburg of the Class A Carolina League. In 59 games with Lynchburg he batted .295 with 7 home runs and 26 RBIs to earn a midseason promotion to Jackson of the Double-A Texas League. In 59 games with Jackson, he batted .257. Defensively, his range at shortstop was considered outstanding.
Elster returned to Jackson in 1986. In 127 games, he batted .269 with 52 RBIs. In late August, as the Mets were cruising to the NL East Division title, manager Davey Johnson was considering his postseason roster.
"You look at your ballclub and see where you have a weakness," Johnson said. "I experimented with shortstop in the year, but I quit experimenting. As good as Rafael (Santana) has played, what if I have a bases-loaded situation and I'm down in a game? I would need another shortstop if I hit for him."5
With a trade not considered realistic, Johnson said, "So, you go to your system. What's the closest you've got at shortstop?"6
The closest was in Jackson, Mississippi, where manager Mike Cubbage informed the 22-year-old Elster that he was being called up by the Mets.
Elster's major-league debut came on September 2, 1986, against the San Francisco Giants as an eighth-inning defensive replacement. The next day, Elster singled off Giants reliever Frank Williams in his first major-league at-bat (in the eighth inning of the Mets' 4-2 victory).
Over the final month of the season, Elster played in 19 games and was 5-for-30. Given a spot on the postseason roster, he played in four games in the National League Championship Series against the Houston Astros and in one game in the World Series as a defensive replacement. 
Elster blossomed offensively in 1987. He opened the season at Triple-A Tidewater. In 134 games with the Tides, he batted a career-high .310 with 170 hits, 33 doubles, 8 home runs and 74 RBIs. In September, he was recalled by the Mets and he went 4-for-10 in five games.
After four seasons in the minor leagues, the Mets were so confident that Elster was ready to be their starting shortstop in 1988 that they traded Rafael Santana, their starting shortstop for the previous three seasons, to the New York Yankees in December 1987. And in spring training the Mets returned 20-year-old Gregg Jefferies, the minor-league player of the year the previous two seasons, to the minors with the plan of moving him from shortstop to third base or the outfield.
"Sure it puts pressure on me," Elster said of the moves, "but all baseball players deal with pressure every game. You just have to learn to deal with it — how to turn it into good nervous energy."7
For most of the next four seasons, Elster was the Mets' regular shortstop.
As a rookie in 1988, Elster batted just .214 but made only 13 errors, none after July 19. (His errorless streak of 88 consecutive games at shortstop — then a major-league record — ended on May 9, 1989.) In the NLCS against the Los Angeles Dodgers, Elster started three of the seven games (Howard Johnson started the others) and was 2-for-8.
In 1989 Elster showed some offensive improvement, hitting .231 with 10 home runs and 55 RBIs. Defensively, he was solid, making just 15 errors while compiling a .976 fielding percentage in 150 games. He led NL shortstops with 235 putouts.
Elster got off to a slow start in 1990, hitting just .207 in 92 games and committing a career-high 17 errors. In August he was placed on the disabled list because of shoulder pain. Later in the month Elster had surgery and missed the rest of the season.
Elster wasn't expected to be ready for the start of the 1991 season, but he was on the Mets Opening Day roster.  Howard Johnson, the Opening Day shortstop, started the first six games before manager Bud Harrelson gave him a day off on April 14. Elster, making his first start, got three hits, including a double and home run, in the Mets' 7-1 victory over the Montreal Expos. Elster made four starts in the next week and won back the starting job, as Harrelson shuffled his infield — moving Johnson to third and Gregg Jefferies to second.
On May 6 Elster was placed on the disabled list with a groin injury. After returning to the lineup, he struggled, hitting .194 in June and .176 in July. But he hit .297 in August and .260 in September to finish the season with a .241 batting average in 115 games.
In 1992 Elster's shoulder problems returned in spring training. He opened the season with the Mets but played in just six games before returning to the disabled list on April 13. On May 7 Elster had surgery again and he missed the rest of the season.
The Mets didn't offer Elster a contract after the 1992 season, and he became a free agent. In January of 1993, he signed a minor-league contract with the Los Angeles Dodgers. He opened the 1993 season with the Dodgers' San Antonio farm team in the Double-A Texas League. He batted .282 in 10 games before being released on May 17. On May 22, he signed a minor-league contract with the Florida Marlins but was released two weeks later.
In December of 1993, Elster signed with the San Diego Padres, but was released near the end of spring training. On May 1, 1994, he signed with the New York Yankees. He hit .240 in 44 minor-league games (three with Class A Tampa and 41 with Double-A Albany-Colonie). In late June the Yankees called him up and he played in seven games, going hitless, before returning to the disabled list with shoulder inflammation.
Off the field in 1994, Elster appeared in the Hollywood movie Little Big League.
Elster opened the 1995 season with the Yankees. In 10 games, he hit .118 and was released on June 8. He signed with Kansas City in late June and played in 11 games with Triple-A Omaha before being released. Elster quickly signed with the Philadelphia Phillies. After five games with Triple-A Scranton/Wilkes-Barre, he was called up by the Phillies (joining former Mets Sid Fernandez, Lenny Dykstra, and Gregg Jefferies). In 26 games with the Phillies, managed by former Met Jim Fregosi, Elster hit .208. He was released after the season and signed with the Texas Rangers for the 1996 season.
Completely healthy in 1996, Elster had a career year. He set career highs in games (157), at-bats (515), hits (130), doubles (32), home runs (24), RBIs (99) and batting average (.252) to earn AL Comeback Player of the Year honors from The Sporting News. He had a .981 fielding percentage and led AL shortstops with 285 putouts while committing just 14 errors.
After the season, Elster signed a one-year contract with the Pittsburgh Pirates. He broke his left wrist in a collision at first base with Kurt Abbott of the Florida Marlins and missed all but 39 games of the season. Released after the season, Elster returned to the Rangers for 1998. After hitting just .232 in 84 games, he was released by the Rangers on July 31.
Elster sat out the 1999 season, retiring to live in Las Vegas where he planned to open a bar, but in December of 1999 he got a phone call from former Mets manager Davey Johnson, now managing the Dodgers.
"Davey called out of the blue," Elster said. "…He said that he needed a shortstop and invited me to come to the Dodgers spring training camp. I won the starting job."8
Elster got off to a good start in 2000 — hitting three home runs and driving in four runs in the Dodgers' 6-5 victory over the Giants on April 11 in the first game played in San Francisco's Pacific Bell Park.
In 80 games with the Dodgers, Elster slugged 14 home runs (second-most of his career) and hit .227. After the season he retired. But in early 2002, the Yankees invited the 35-year-old Elster to spring training. "I figured, why not give this one more shot? I've got nothing to lose and it just might work out," Elster said.9
But Elster did not make the Yankees' regular-season roster as a backup infielder, despite his hands that were, according to Yankees scout Gene Michael still "the best in the world."10
Sources
In addition to the sources in the Notes, the author also consulted:
Notes
1 Bergen County Record (Hackensack, New Jersey), February 23, 2002.
2 Ibid.
3 New York Times, July 31, 1988.
4 Orange County Register (Anaheim, California), March 30, 1988.
5 New York Times, September 2, 1986.
6 Ibid.
7 Orange County Register, March 30, 1988.
8 Utica (New York) Observer-Dispatch, September 7, 2013
9 Bergen County Record, February 23, 2002.
10 Ibid.
Born
August 3, 1964 at San Pedro, CA (USA)
If you can help us improve this player's biography, contact us.
http://sabr.org/sites/default/files/Elster-Kevin.png
600
800
admin
/wp-content/uploads/2020/02/sabr_logo.png
admin
2012-01-04 20:09:44
2023-01-09 02:46:53
Kevin Elster